List of Cheap Wifi smart Coffee Maker includes voice command by using Alexa compatibility.
Proctor Silex Cheap Wifi Coffee Maker
Affordable, durable and smart with such a low cost, at that price with Alexa compatibility and 4.5 star rating from over 1000 reviews, I think it would be the best choice for anyone who want cheap but quality product.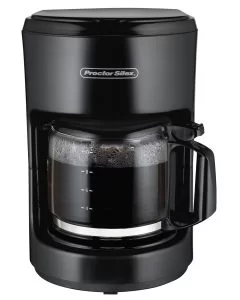 Features:
Smart plug compatible: plug into any compatible smart plug to voice control with Alexa or Google home hub. *Smart plug sold separately
10 cup capacity: with its compact design, This Coffee maker takes up less space but still makes up to 10 cups
Automatic Pause and serve: the brewing cycle will pause when the carafe is removed so you can pour your first cup before the whole pot is ready.
On/off toggle switch
Easy to clean: dishwasher safe accessories
Connect to a smart plug and add to routines to enable shut-off after a designated amount of time
Relevant: Moderate To High End Smart Coffee Makers 
Mr. Coffee Smart Coffee Maker with Wemo
Whether you have last minute company on the way and you need to brew a pot of coffee from your car or, you just want to use your smart device to brew coffee from your bed in the morning–you will have a hot pot of coffee ready whenever you want one with the WeMo-enabled Mr. Coffee 10-Cup Optimal Brew Smart Coffeemaker.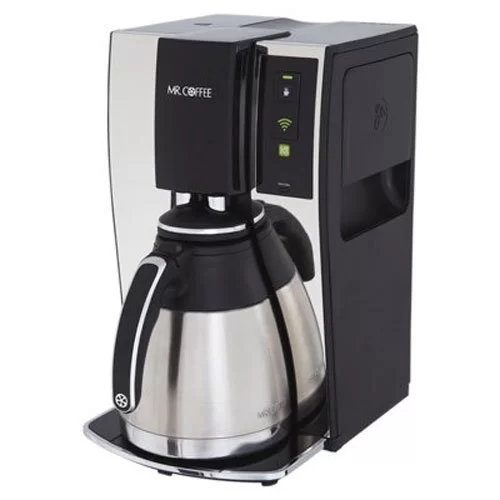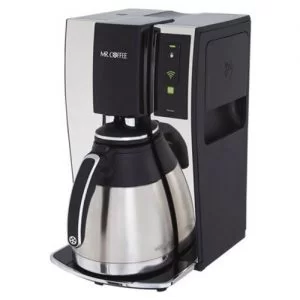 Features:
Simply plug it into an outlet in your kitchen and download the free WeMo app from the Google Play Store, the Apple App store, or the Amazon App store onto any smart device.
The free WeMo app keeps you connected to your Coffeemaker anywhere you are–over Wi-Fi, 3G, or 4G networks. It is compatible with Apple (iOS 7 and higher) and Android (4.0 and higher) devices and your existing Wi-Fi router.
Easily add filter and grounds, and then remove for quick cleaning.
Optimal Brew technology that infuses artisan-style coffee brewing with the convenience of an automatic coffeemaker.
More Info: Dish Integrates Google Nest Hello Into Hopper
Hamilton Beach Smart Coffee Maker
The Hamilton Beach Smart Coffee Maker, Works with Alexa Certified, offers convenience for any household with a smart phone. Simply pair with the Alexa app to begin using voice commands, or use any of your home Amazon Echo smart speaker devices.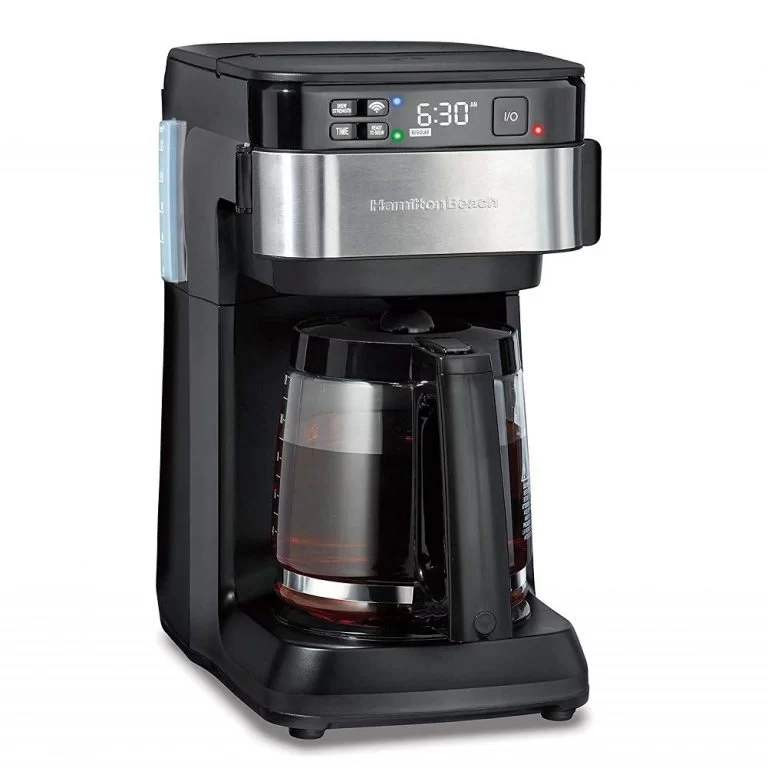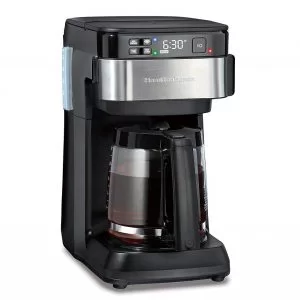 Features:
Ask Alexa to turn on your coffee maker to brew up to 12 cups in the glass carafe. Easily add your favorite coffee to the swing-out brew basket and pour in water without pulling the coffee maker out from under the cabinets, thanks to the front-fill water reservoir.
You can even choose your desired brew strength — regular or bold — through the Alexa app, smart speaker or manually. Use the Alexa app features to easily program to brew in the morning by creating a new routine.
You can also turn off the connected coffee maker by using voice controls, the app, or by turning it off manually.
The front fill design of the reservoir lets you add water without moving the smart coffee maker from under the cabinets. The brew basket uses a standard coffee filter and swings out for front filling.
Pour a cup without messy spills or drips. The glass carafe is designed with a drip-free pour spout so every drop makes it into your mug.
More Info: How To Connect Google Home To Samsung Smart Tv
Atomi Smart Coffee Maker
The perfect cup of coffee ready when you are! The Atomi Smart Coffee Maker lets you start the brew process anywhere and adjust daily schedules using the free Atomi Smart app on your mobile device. Use Amazon Alexa or Google Assistant for added convenience.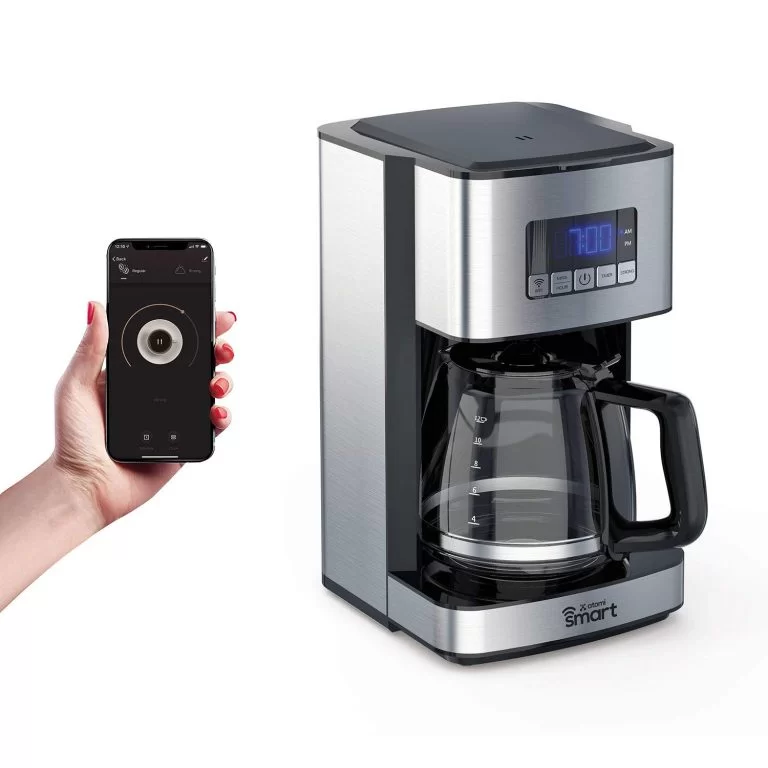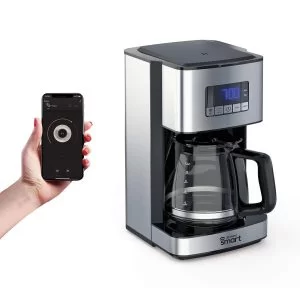 Features:
Brew coffee remotely from your phone anytime, anywhere.
Brew your coffee using the free Atomi Smart app on your smart device or control directly from the coffee maker.
Combining functionality and style, you can set daily schedules to suite your lifestyle so your Smart Coffee Maker knows exactly the right time to start brewing your coffee.
Control your Smart Coffee Maker with simple voice commands. Compatible with Google Assistant and Amazon Alexa.
The Smart Coffee Maker works with a secured 2.4GHz wireless network without the need for a separate hub. All you need is your smartphone, the Atomi Smart app and a Wi-Fi connection to start controlling your Smart Coffee Maker from anywhere.
Manage all your Atomi Smart products from anywhere at any time. The free Atomi Smart app brings you the convenience of home automation right at your fingertips. This means you can control your lighting, TV, wall plugs and all your home appliances using the same mobile application.
More Info: How to Stop Google Home and Alexa from Recording User's Voice
Apart from above listed devices, you can make most of the normal coffee makers into smarter using smarter plug, whether it is Alexa, Google Assistant or TP Link.
Coffee makers that are compatible with a smart plug require a mechanical on/off button. Let me say this again: a coffee maker needs to have an old-fashioned on/off switch, and cannot have an auto-off function. You can explore some of our select drip coffee makers (some of them are compatible with smart plugs.
In order for a coffee maker to work with a smart plug, it's necessary to flip the switch to the "on" position, and leave it there.
How to make more Cheap coffee maker smarter with a smart plug?
Get a basic coffee maker with a mechanical on/off switch.
Turn the machine on.
Plug the machine into a smart plug (Alexa smart plug, Google Assistant smart plug, or TP Link smart plug).
Plug the smart plug into an outlet.
Once this is complete, your coffee maker is now compatible with a smart plug and can be operated through a smart plug of your choice.
Using a smart plug is perfect for someone who already has an Amazon Echo device and is willing to bring an extra flair of innovation to the home, but without spending too much money. The smart plug is really inexpensive and the coffee machines that go with it are usually basic and don't cost much either.
Incompatible coffee makers with smart plugs:
Coffee makers with more modern, digital switches are not compatible with smart plugs. Further, coffee makers that come with auto-on or auto-off will most likely not work with smart plugs.
Note:
To get more for example having the ability to start brewing from your bedroom, then you'll have to get ready to spend a bit more. A drip coffee maker will still make the same quality of coffee, even when it is connected to a smart plug.
Smart coffee machine can do a lot of innovative things, like allowing you to select your coffee brewing settings via an app, storing your settings, and ordering coffee for you from Amazon, But they aren't cheaper as above and the ones with smart plugs.
Home Automation

>>

Brands

>>

Amazon

>>

Cheap Wifi Coffee Maker