A smart feeder is a device that automatically dispenses food to pets at scheduled times. There are several different kinds of automated feeders, and they can be used for both cats and dogs. A pet feeder helps pet owners monitor how much their pet is eating and can also reduce the risk of overeating or related health problems like obesity. If you're considering getting one for your own pet or as a gift for someone else's cat or dog, read on to learn more about what they are, which ones are the cheapest and most expensive options, and everything in between!
What is a Smart Pet Feeder?
The pet feeder is a device that is designed to dispense food to pets at predetermined times. The smart pet feeder is a device that can be programmed to provide food based on the owner's schedule. It can also be programmed to dispense food at other times in response to certain stimuli, such as noise or movement.
Some of these devices are voice-activated and allow owners to dispense food remotely using their smartphones or tablets.
Smart pet feeders are a great way to make sure that your pet is eating healthy and on time. They also can help you save money on food and the hassle of feeding your pet.
| | | | |
| --- | --- | --- | --- |
| Options | Product | Price at Amazon | Price at Walmart |
| Cheapest Option | Arf Pets Automatic Pet Feeder | $66.00 | $66.99 |
| Cheapest Option | WOPet Feeder | $79.00 | $96.99 |
| Moderate Option | PetSafe Smart Feed Automatic | $129.00 | $129.95 |
| Moderate Option | VOLUAS Smart Feed Automatic | $90.00 | n/a |
| Expensive Option | Petnet Smart Feeder | $140.00 | $157.99 |
The benefits of using a smart feeder include:
– A more convenient way to feed your pets.
– You don't have to worry about forgetting or skipping a meal for your pets.
– You can monitor how much food they're eating, which helps you know if they're getting enough nutrients.
– You can rest easy knowing that the food is being stored in an airtight container, so it won't spoil as quickly.
Choosing Criteria:
The features will differ based on whatever feeder you choose. If you already have smart devices, you may be wondering which ones are compatible. Which is the best and cheapest feeder? Which feeder is the best and most expensive? Which one supports Wi-Fi and which one does not?
Continue reading to discover out. Do your homework before investing money to learn what to look for in a smart pet feeder.
Why Purchase a Smart Pet Feeder?
Investing in a smart pet feeder may be really useful when life gets in the way. We understand that life may be hectic, and that unexpected events sometimes cause you to be away from home. Emergencies occur.
Be prepared and enjoy these benefits:
Portion Control Your Pet's Food
Portion control is important for all animals, but it can be especially difficult when it comes to pets. A smart pet feeder can help you with this problem. By providing a portion-controlled feeding option that is designed for your pet. 's specific needs.
A portion-controlled pet feeder provides your pet with an automatic, measured amount of food — so you don't have to worry about how much or how little your pet eats. This is especially helpful for dogs and cats that need to gain weight, because they have a tendency to overeat without this feature.
Feeding Schedule
If you own a pet, you know how difficult it can be to remember when it's time to feed them. Technology is making this easier by creating smart pet feeders that are often connected to an app. The app allows owners to create a feeding schedule, monitor how much food has been consumed and set reminders for when it's time for the next meal.
Remote Feeding
A lot of pet owners are on the go, and with the invention of smart pet feeders, they can now feed their pets remotely. It is a great way to ensure that your pet is always well-fed and not hungry.
Smart Compatibility (Alexa, Google, Nest, and So Forth)
Would you like Alexa to feed your pets? New generations of smart gadgets have more smart interoperability.
Battery Backup
(Features vary) Are you concerned that your pet will not be fed if the power goes out? In the event that this occurs, there are battery backups accessible.
Wi-Fi Connectivity and App Management
Wi-Fi connectivity and app management (features may differ) Can you feed your pet with the click of a button while you're gone? Perhaps a smart pet feeder will link to your Wi-Fi and notify you through an app whenever your pet is fed, how much it has been fed, and whether the hopper is running low.
Messages on Voice Recording
Whenever it is meal time, your pet can hear your voice-recorded messages. Whether you want to play a recorded message every time you feed your pet.
Camera Monitoring
a smart pet feeder may have this feature so that you can keep an eye on them while you are gone. Are you happy to see your pet eating via a camera while you are away? Many smart pet feeders have cameras so you can keep tabs on them while they eat. Perfect for puppies.
What to Look For In a Smart Pet Feeder?
It would be unfortunate if you were hoping to be able to access your smart feeder via an App on your smartphone but discovered it could only be adjusted on the device.
Meal Frequency
If you have a busy schedule, you might want to consider a pet feeder that can dispense your pet's food throughout the day. Many of these feeders accommodate different sizes of pet food and can be programmed to deliver portions at certain times of the day. Some even have the capability to send you a notification on your phone when your pet's next meal will be dispensed.
Amount of Food That Can Be Dispensed
There are many pet foods with a controlled diet, such as senior food, low-calorie food, and therapeutic diet that require the right amount per serving. If you have a dog, there are dog feeders that can help them eat at the right speed to maintain the right amount of food per intake. These feeders are a great way to assist dogs with joint issues to eat comfortably and prevent them from overeating. There are also cat feeders available, but they are mostly recommended for indoor cats only.
So, Here Is A List Of Smart Pet Feeders Ranging In Price From Low To High.
Cheapest Smart Feeder Options
Arf Pets Automatic Pet Feeder
The Arf Pets Automatic Pet Feeder Food Dispenser is our favorite economical smart pet feeder. It fulfills the requirements of a decent smart pet feeder. It accomplishes what it must and is on the economical side of the pricing spectrum.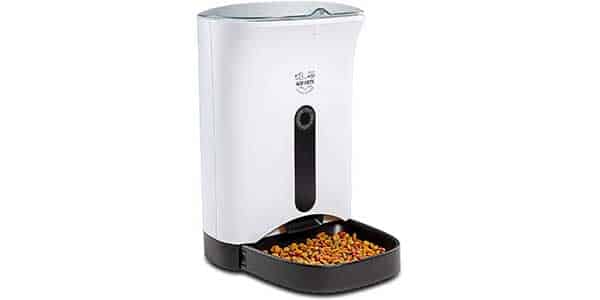 Pros
· Automatically dispenses food at scheduled times
Dispense and feed your pet at 8:00 AM, 2:00 PM, and 6:00 PM every day – No more hassle!
· Portion control available
Use the portion option to make sure your cat (or dog) is eating the correct amount.
· Magnetic Lock Lid
Many owners have mentioned how their pets can't get into their Arf feeder, even when they try to claw their way to their food. A lot of other pet feeder owners complain about how their pets can get into their containers. The Arf is not one of them!
· Personal audio messages can be recorded for up to 10 seconds during mealtime
Have the ability to play your voice each time it's time to eat for your fur friend!
· Back-up Battery option available
This is great for power outages. When you are away on an emergency and your power goes out – the Arf backs you up with the batteries you put in. This is optional because you can power it by having it plugged in.
It's been under $100 for most of the time it's been on sale, but check online for accurate pricing. We suspect it's been under $100 the whole time but another seller may have sold it for more than $100 which cause the spike to go up temporarily. There were a handful of improvements we wish the Arf had. But being at this price point, it's excusable.
Cons
· There is no camera provided
A camera would be helpful to check on our dogs, but it is not required. It would be wonderful to have, however.
· There is no Wi-Fi connectivity or app to control the device
Everything must be programmed on the device, which requires some programming preparation. We wish it had a connecting app so we could configure everything from our phones (like everything else).
· No Alexa or Smart Compatibility
We wish this was at least Alexa compatible, but it isn't. It's not a deal breaker, but it's worth noting for those who want it.
· Small servings for tiny animals
This is in the Amazon "Small Animals" category. You may be apprehensive if you have a huge dog or numerous dogs to feed.
· Programming time in Military time
This isn't a deal breaker, but more of an annoyance. Having to remember that 13:00 is 1:00 PM can be a nuisance. But it still works and does the job.
Key Specs
Food Type: Dry
Capacity: Dispenses 1-10 portions a meal
Up to 4 daily distribution alarms and light-up LCD clock
Magnetic lock lid
Smartphone app for iOS and Android
Included DC wall adapter; optional backup battery (3 D batteries not included)
This is why you should get it
If your pet requires a tight food plan due to medical concerns, or if you simply want to maintain your pets on a healthy schedule, the Arf Smart Pets Feeder is the way to go. It is the perfect nutritional strategy for pet owners!
Independent Review Rating:
2nd in Line of Cheapest Smart Feeder Options
WOPet Feeder
The WOPet Feeder is the runner-up for the most affordable choice because it is still within the price range of smart feeders. It covers all of the major components of a feeder, such as portion control, voice recording, and up to four meals every day.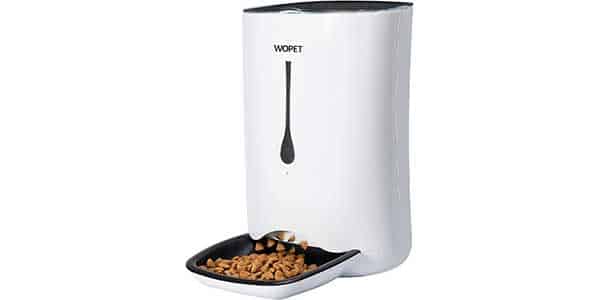 Pros
· Big 7L Capacity or 20 Cups of Food
Great for big dogs or multiple pets
· 4.6 out of 5 stars on Amazon (as of 8/21/2022)
4.4! Yes you read that right. That is a monster rating on Amazon. The biggest online seller in the world.
· Record custom messages up to 10 seconds long
Getting 4 stars and above on Amazon with over 300 reviews is not an easy task. The WO Pet Feeder does that, and is well above 4.0. It has a sleek design that is hard to ignore.
Cons
· Instructions for changing the hopper from smaller foods to bigger foods are confusing
I often find myself confused by the instructions given to me when I'm supposed to change the hopper on my Friskies cat food dispenser. I'm supposed to pull the smaller hopper out, but the directions don't make it clear which one I'm supposed to use.
· Portion Sizes
Portion sizes can be tricky to figure out
· Customer Service is unresponsive
I have contacted the company numerous times, and have never received a response. They have been consistent in their lack of response, and have not been helpful.
I think that any high-quality product should be accompanied by excellent customer service. If your high-quality product breaks or causes problems, you need solutions. You require assistance. Unfortunately, the WO Pet's lack of it takes it down a level.
Key Specs
Food Type: Dry
Capacity: 18 cups
Controls: Smartphone App, Amazon
Power Source: Wall adapter; optional battery backup (3 D batteries not included)
This is why you should get it
Say bye to having to cancel plans or believing you can't go out because your dogs have been left alone with no one to feed them. WOPET has you covered and will feed the pets in your place, according to your pre-set schedule and quantity. To give a personal touch to this fully modern device, record your voice to contact them around feeding time.
---
This one has the same features and an excellent Amazon rating of more than 4.1 stars out of 2300 reviews, so I thought you should check it out to see if it's the one for you. Automatic Cat and Dog Feeders by VOLUAS price at $90.00
---
Independent Review Rating:
Moderately-Priced Smart Feeders
PetSafe Smart Feed Automatic Dog and Cat Feeder
More functions are accessible if you have a bit more money.
The Petsafe Auto Pet Feeder is our favorite mid-range feeder. If you have the extra funds to purchase a more expensive choice, this is the one to choose.
It ticks all the boxes for a smart pet feeder, but these are the standout features:
Pros
· Voice Command
This is built into your feeder and allows you to Communicate with your pet!
· Alexa Compatibility
There aren't many smart feeders on the market that are Alexa compatible right now. It is uncommon to come across one. And an excellent one at that.
· Modern Design and Good Material
There are cheaper alternatives that are made of cheap plastic. The petsafe is not one of those products. This is well designed and the food trays feel like good quality.
· App is user friendly
One thing I hate is when a product has an App that goes along with it, but the App sucks. This is not the case with JEMPET. The app is very intuitive, user-friendly, and easy to use. +1 brownie points
petsafe performs all of the functions of a smart pet feeder, including scheduling, portion management, and remote control through an App. These are the distinguishing traits that set it different from the competition.
Cons
· Expensive for a 'Mid-Range' option
· Meals can only be scheduled through the app
· Does not work with Google Home
Key Specs
Food Type: Dry
Capacity: 24 cups or one 6-lb. bag
Controls: Smartphone App, Amazon Alexa
Power Source: Wall adapter; optional battery backup (4 D batteries not included)
This is why you should get it
PetSafe SmartFeed is ideal if your pet has health issues such as hypoglycemia, which requires them to consume a set amount of food every 3 hours or so. Furthermore, the design will not allow for sly creatures that claw their way to extra food servings. If your cat or dog eats too quickly, you can have the food dispensed in smaller intervals for fifteen minutes.
Independent Review Rating:
Most Expensive Smart Feeder Options
Petnet Smart Feeder
The Petnet Smart Feeder, which is Wi-Fi enabled, not only dispensing precise volumes of food and allowing you to trigger feedings from your phone, but it also analyses your dog or cat's calorie intake and gives nutritional information.
Pros
· Easy to Setup and Configure
We don't want to spend 30 minutes trying to figure out and assemble this bad boy. Petnet did a great job designing this.
· Locking Lid is reliable
The pet-Proof self-locking lid is great. It's also dishwasher safe.
· Alexa Compatible
This is rare. Great for home automation folks.
· Google Assistant Compatible
Another rarity. Great to tell Google to feed your pet.
· Nest Camera Compatible
If you want a camera to hook up and is compatible, the Nest is a reliable camera. It has always been a good camera brand. This is also optional since it doesn't come with one.
· Removable Bowl
This is so convenient. It seems simple but comes in handy.
Cons
· App is Terrible
It is obvious they did not spend enough money or attention when they designed the software with users in mind. Very glitchy and slow.
· Support is unreliable and takes long to respond
We need customer service that will respond soon, not after 5-7 days.
· Cannot Disable Button to Manually Feed
There is a big nice button to manually feed your pet. Unfortunately, you can't disable it. Once your pet has figured it out, it's game over.
Key Specs:
Food Type: Dry
Capacity: 28 cups or one 7-lb. bag
Controls: Smartphone App, Amazon Alexa, Google Assistant
Power Source: Rechargeable battery.
This is why you should get it
The Petnet Smart Feeder is a great option for pet owners who want to control their pet's feeding routine. The app tracks your cat or dog's meals and will notify you if a feeding is missed or when the hopper is low on food, but more significantly, it will provide suggestions on the sort and amount of food you should give your pet depending on its age, weight, and activity level. When the Smart Delivery service is launched, Petnet will bring your preferred pet food straight to your door.
Independent Review Rating:
Related Queries You Might Need To know:
Can Batteries Be Used in Smart Pet Feeders?
Yes, almost all smart pet feeders feature a backup battery option. They typically utilize D-size batteries and require 3 to 4 to operate.
How Do Smart Pet Feeders Work?
They are normally powered by plugging them into a wall. Furthermore, they can be powered by batteries.
Is it true that Smart Pet Feeders create a lot of noise?
It sometimes depends on the one you buy. Some people may be both silent and loud.
Can Dogs and Cats Use Smart Pet Feeders?
Yes, both may be used on dogs and cats. Just keep in mind that some are only for cats and small dogs. If you have a large dog, you should consider the quantity that can be administered and how much food it contains.
How can I program an intelligent automated feeder?
These machines are made to be easy to operate. First, connect your device. Then, using the app that was installed, link it to your phone. You may change the modes and programs either manually or with the help of your phone. After you've finished these procedures, fill up your food storage and you're ready to go!
Is automatic pet feeds useful?
Many people have expressed their satisfaction with their automated pet feeding. It has really aided them in tracking and monitoring their dogs when they are away on business or travel. Furthermore, several versions store food and provide quantity management, removing the guesswork from keeping your pet healthy.
Is it difficult to clean automated pet feeders?
According to several reports, certain pet feeders are difficult to clean. We intentionally picked easy-to-clean feeders to give you with the greatest available possibilities. Who has time to fiddle with a slew of different components? Many feeders contain dishwasher-safe pieces, allowing you to save even more time.
Is it true that all automated pet feeders are suitable for both cats and dogs?
Automatic pet feeders are available for a variety of species, including cats and dogs. However, some have a treat-throwing element that may drive cats away but is entertaining for dogs. Furthermore, if you have a little pet, you may want to use a smaller feeder so food does not linger for too long.
Can I use a single automated feeder to feed many pets?
There's a potential that if you leave many pets alone with food, they'll fight. If your pets are resource guarders, you'll need numerous feeds, ideally separated by a pet gate or in different rooms. Some feeders, such as the PetSafe Smart Feed, may be used with a splitter kit, which is supplied separately if you can trust your pets to share. It has two bowls and a divider so your pets may dine together without crowding around a single dish.
Home Automation

>>

Brands

>>

Amazon

>>

What exactly a Smart Pet Feeder? (Cheapest and Most Expensive Options)