Here are few of a problems that occurred most of the time while using xvim camera, therefore to ensure that user will not face these problems in the future and a detail xvim camera troubleshooting against them are listed below.
List of Xvim Camera Troubleshooting
Xvim Camera Not Recording
Misconfiguration, lack of storage capacity, and malfunctioning DVR components are major explanations if your CCTV camera is working fine but the DVR is not recording anything. Don't worry: today's DVR units are user-friendly and simple to troubleshoot.
Make sure that recording is turned on. It may seem self-evident, yet it occurs. The DVR box may cease recording without your knowledge if you return a device to its factory settings, or if the settings became damaged and were automatically returned to factory defaults.
Check your CCTV and DVR settings to make sure that recording is turned on permanently, or at least for the time you're troubleshooting. Some devices may be set up to exclusively capture footage at specific intervals.
Make sure your DVR's recording media has enough storage capacity. Remove any video that you don't require.
Check the network connections of your DVR if it uploads footage to a network server or a cloud account. It's possible that its local storage is full.
The hard drive in your DVR might be deteriorating. Because many DVRs contain a limited on-board Flash storage for their software and solely use the hard drive for recording, your DVR may continue to operate even if it can no longer save footage.
Xvim CCTV not working on mobile
If you can't see your CCTV on your mobile device, it's because your Internet Router (WiFi) isn't delivering an internet connection to your CCTV Recorder (DVR / NVR). There might be a number of causes for this, so please start by identifying the app you're using from the list below.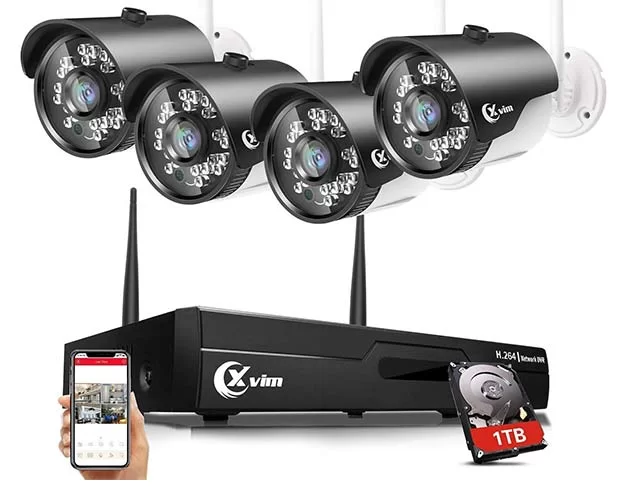 Once you are sure about the setup is done with zero error then go down the list and see how you can troubleshoot this problem, however a complete setup is in detailed below.
Check the internet connection is actually working at home / businesses first. Can you connect to your Wi-Fi? Can you load internet pages?
If the connection between the router (internet Wi-Fi) and recorder (DVR/NVR) is hard wired, then please reboot both your router and your CCTV first and check again.
If you are using the TP Link Powerline Adapters then please ensure that the adapters are displaying three green lights on them. If the adapters display two or less lights the connection will not work. This usually happens during a power surge or spike. To rectify this, you will need to turn off the TP Link Plug from the mains switch, count to five – then turn it back on. You should then see three green lights on the plugs, thus restoring the internet connection to your CCTV.
Does your phone receive an internet signal? Is it connected to Wi-Fi or 4g?
If the above is all correct, and your app is still showing the device as 'offline', please refresh your app by dragging down with your finger the camera list view. This will update the feed within your app.
If you checked all of the above and are confident the issue it not with your internet, then please contact their support via email and log a ticket.
How to connect XVIM CCTV Camera to Mobile?
After downloading app via from QR Code or download directly as listed above.
The system setup with the cameras were super easy. Setting up the mobile app was easy also. The difficult part was setting up email and remote access.
Things you need to do, setup Email, Phone App and Remote Access:
Network
Then direct Connect the DVR with a patch cable to a Modem.
Enable DHCP on DVR and Test Network.
Email
You have to create another Gmail account so you could setup the email option.
Under Email, Enable, Select My SMTP server, Gmail was port 465 (you have to research that)
Selected SSL
Username keyed in the new email address and new password
Sender will be your original Gmail account
Receiver is whomever you want to receive the alert.
Cloud
Enabled Cloud service
Went to App store and scanned the Android (depends on your phone) and installed the XVRView app to my phone.
Open XVRView app, add new device and scan the Remote Access bar code
In the app, selected local, menu, Plus sign and add your device
Remote access DVR settings
Select Network and note the HTTP and Mobile ports
Select Net Service and note the RTSP port and enable RTSP
Modem configuration
Remote into your Router and select advanced and Port Forwarding (Modems differ with Make and Model)
Add the ports for the above-mentioned ports for both TCP and UDP
Home Automation

>>

Surveillance & Security

>>

Smart Outdoor Cameras

>>

Xvim Camera Troubleshooting