Aptar Pharma has introduced a novel linked gadget that has the potential to transform traditional metered dosage inhalers into smart connected devices. HeroTracker Sense was created to aid patients suffering from chronic respiratory disorders caused by COVID-19, such as asthma, COPD, cystic fibrosis, and other respiratory ailments, by supporting proper inhalation technique and adherence.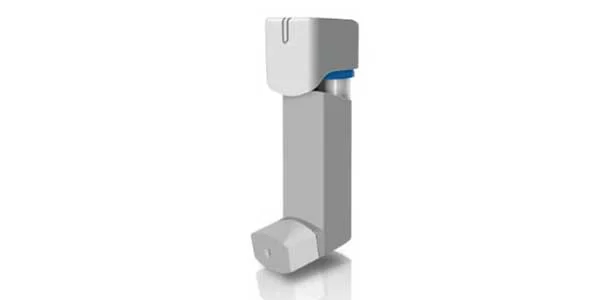 HeroTracker Sense uses sensors to facilitate coordination of inspiration with actuation, flow rate, and inhalation length. It is designed to attach to an inhaler canister. According to Aptar Pharma, the BreatheSmart app includes date and time stamps to show when patients should take their prescription, as well as environmental monitoring warnings on temperature and humidity.
"The launch of HeroTracker Sense establishes Aptar's digital respiratory portfolio as a world-class solution, delivering insights into patient behaviors and how they will affect how the patient interacts with their device and understands their indication." In the release, Marcus Bates, director, business development, digital healthcare, Aptar Pharma, stated, "We see this as a product for the future and one that will demonstrate significant value, creating real-world evidence that can aid the support of reimbursement models in numerous different markets."
More: Sensors Could Enhance Health Care At Home
The Aptar Pharma Cohero Health BreatheSmart Connect Portal, which is both HIPAA and GDPR compliant, may also give healthcare practitioners important statistics and insights about patient training, onboarding, and performance, according to the business.
"HeroTracker Sense is a strategic addition to Aptar's portfolio of digital health solutions in the respiratory space," said Sai Shankar, president of Aptar Pharma's digital health division. "It highlights Aptar Pharma's progress in the field of digital therapeutics, as well as our commitment to providing tools that will improve the lives of patients."
HeroTracker Sense has been designed and developed using Aptar Digital Health's ISO 13485 certified Quality Management System; it is CE marked and is pending FDA approval.
In 2020, Aptar Pharma worked with Lupin Limited on Adhero, reportedly India's first "connected device" for metered-dose inhalers. Adhero attaches to the top of an inhaler.
Home Automation

>>

Other

>>

Health

>>

Could A Smart Inhaler Add-On Be A Lifesaver For COPD And Asthma Patients?