These are by far the finest smart life app compatible plugs on the market, with schedules, no need for a hub, Alexa and Google Assistant integration, and a few IFTTT integrations, so you can get a lot of features for a low price.
In terms of quality, durability, and, most importantly, smart voice command integration, all smart life plug devices received a 4-star rating.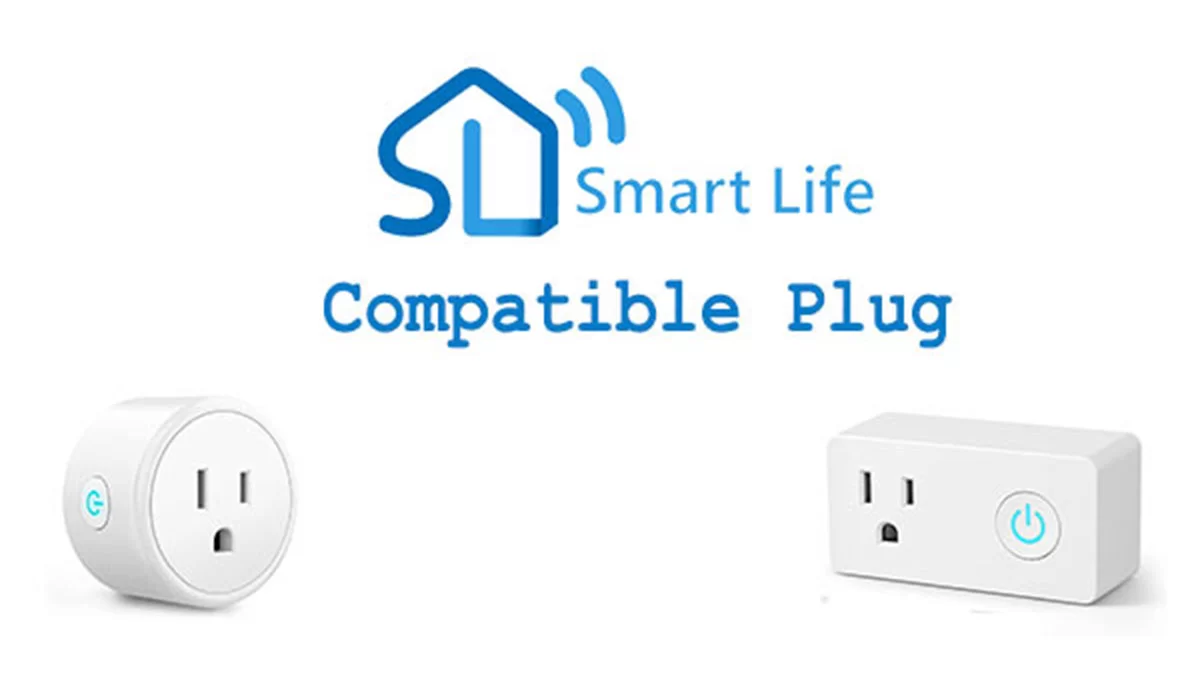 Here are the list of Smart Life App Compatible Plugs
| | | | | |
| --- | --- | --- | --- | --- |
| Brand | Supports | Wi-Fi Network | Hub | Price |
| Aoycocr | Amazon Alexa & Google Assistant | 2.4 GHz | No Hub Required | $8.99 |
| BN-LINK | Amazon Alexa & Google Assistant | 2.4 GHz & 5.0 GHz | No Hub Required | $16.99 |
| KMC | Alexa, Google Assistant & IFTTT | 2.4 GHz | No Hub Required | $27.99 |
| Avatar | Alexa & Google Assistant | 2.4 GHz | No Hub Required | $15.99 |
| Amysen | Alexa & Google Assistant | 2.4 GHz | No Hub Required | $10.99 |
| EZH WiFi | Alexa & Google Assistant | 2.4 GHz | No Hub Required | $12.99 |
Download Smart Life App:
Aoycocr Bluetooth WI-Fi Smart Plug
Price: $8.99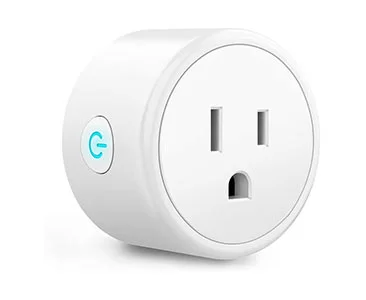 Features:
Upgraded Bluetooth Wi-Fi technology allows you to instantly connect your tiny Wi-Fi smart outlet to your smartphone using your Bluetooth function on the POPOTAN app (Compatible with Smart Life app too). Only 2.4 GHz Wi-Fi networks are supported.
Connect your household appliances to a small smart plug, download the free Smart Life app, and control your appliances from your phone. There's no need for a hub or a subscription because its Wi-Fi enabled.
Compatible with Amazon Echo, Google Assistant, and other smart speakers Control your home appliances with the smart home outlet by speaking to Amazon Alexa or Google Assistant, and it will switch on or off automatically.
Create a custom timer to switch on or off your household gadgets and appliances automatically. Allows you to limit the amount of time that power-hungry gadgets are left on. It will make your life simpler and more intelligent
Set a group for all Wi-Fi Smart Plugs and control them in one command. Share your smart plug to all family members in a minute. No more worries, everyone can control it easily.
BN-LINK Wi-Fi Heavy Duty Smart Plug Outlet
Price: $16.99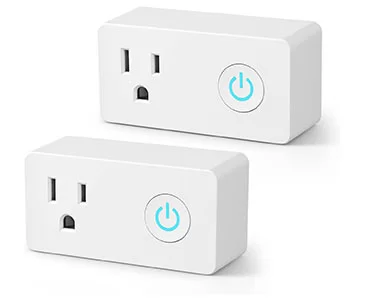 Features:
Using Alexa or Google Home, control numerous home devices with a single voice command. Enjoy the ease of managing any household electronic equipment without having to use your hands. Made for everyone, including the elderly, handicapped, and those with difficult-to-reach plugs.
With the BN-LINK app on your smartphone, you can turn gadgets on or off from anywhere in the globe, or just give voice instructions to Amazon Alexa or Google Home Assistant. There is no need for a hub because it works on a 2.4GHz network.
Set the smart plug to turn on and off most electronics automatically as needed. With the timer feature, you may program lamps, fans, humidifiers, and other lights to turn on at dark and off at any time.
Requires a secured 2.4 GHz Wi-Fi network connection. If you only have 5.0 GHz network they offer advance pairing mode allows you to connect BN-LINK smart plug through Bluetooth. ETL certified, rated: 15 A, 125 V, 1875 W.
KMC WI-FI Mini Outlet
Price: $27.99
Features:
Works flawlessly with Alexa, Google Assistant & IFTTT. No hub required. Requires a secured 2. 4 GHz WI-Fi network, Android 4. 3 or above & iOS 8 or above.
Smart plug work with Alexa/Google Home/IFTTT, only say to them if you need turn on/off electricals.
KMC Controls smart plug with many group timing,, never come home to a dark house, also share the device to your family, it is no worried when you go out or if the phone not stand by.
Choose "Socket" on Smart Life APP, set up and remote control the smart plug, smart life, no hub required.
Avatar Controls Smart Plugs Wi-Fi Outlet
Price: $15.99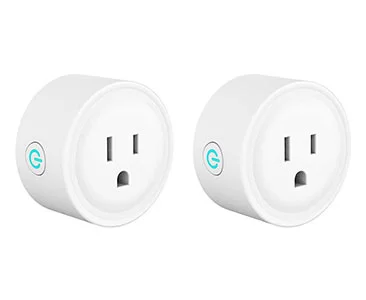 Features:
At the moment, these Wi-Fi plug smart outlets can only connect to 2.4 GHz Wi-Fi. Please ensure that your smart outlet plug and router are close to your Wi-Fi plugs and smartphone in order to receive excellent signals.
The app-programmable Wi-Fi outlet plug ensures that you will never return home to a gloomy house. When you configure the schedule with precise timings, the lights will automatically turn on at nightfall and switch out at dawn every day.
These smart outlets' strong compatibility with Alexa and Google Assistant allows you to effortlessly operate your smart devices by using simple voice commands to your smart dot or Google Home, which is connected to the smart Wi-Fi plugs.
These smart outlets that work with Alexa can be installed in many places indoor, as a switch for bed lamps, reading lamps, a table lights, TV, floor fans, etc. Just Note: Maximum 1100 Watts, so don't use it for high-power appliances such as air conditioners
EZH WiFi Smart Plug
Price: $12.99
Features:
Wi-Fi Smart plug have 12-month warranty. Replace or refund and friendly customer service.
Set up your Wi-Fi smart plug with 2.4 GHz WI-Fi network, No Hub required, plug it into an outlet, connect a device (Android or IOS) to the smart plug.
Get rid of the limitation of space. Works with Amazon Alexa, echo dot and Google home.
You can control devices from anywhere. Turn on/off with mobile or tablet using the Smart Life App by your voice.
Share the smart plug to all family or group created in a second. People don't have to set up the smart plug on their device again.
Set on/off schedules on your smart phone as needed. With this smart outlet, repeat ON/OFF cycle daily to automatically power electronics to save energy.
Amysen Wi-Fi Smart Plug
Price: $10.99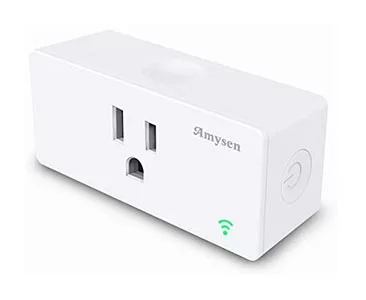 Features:
The smart plug works with amazon Alexa and google home which helps to manage your home devices through voice control.
You can control home appliances remotely and smartly by your phone or tablet when you use the smart life app.
Switch your home appliances on/off automatically and intelligently by setting a specific time with the smart plug. You can make a schedule for the air conditioner and pre-set your house lit before coming home.
This smart plug connects with internet through Wi-Fi network (only 2.4Ghz). no hub and subscription required, just plug it into an outlet, and connect a device to the smart plug, then wirelessly control home appliances whenever and wherever.
Any home device, such as lights, electric ovens, toasters, fans, air conditioners, and coffee grinders, may be plugged into the smart socket. A strong signal guarantees that the network and sockets are connected.