If you have ever had a bad experience in the past after hiring a handyperson or this is your first time attempting to hire one, you will know that the process can be quite daunting. Because your home is one of your investments, you want to ensure it is safe from potential damage and liability from hiring an unskilled and unreliable handyperson.
This decision is no easy feat as you wouldn't want to expose your home to shady strangers who aren't trustworthy or spend more money trying to fix damages resulting from poorly done jobs.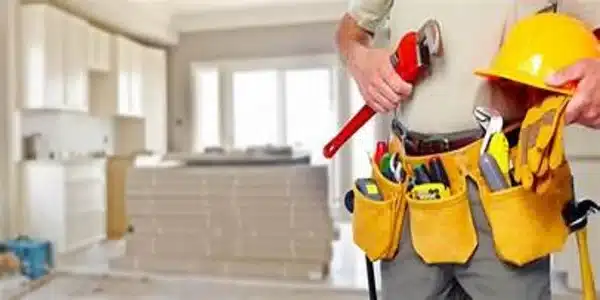 That's why we have put together some tips on protecting yourself and your home—you'll find them helpful in your quest for a handyperson that meets your expectations. Let's delve in to learn more!
1- Check for Licensing and Insurance
Checking for proper licensing and insurance ensures that the handyman has met the requirements necessary to do the task legally. It also protects you from any liability when accidents or damages happen. Verify the information with relevant insurance providers or authorities. Even while it could take some time, doing this will ultimately spare you a ton of hassle.
2- Ask for Referrals or References
Referrals and feedback from previous clients will go a long way in revealing their work ethics and reliability. You need someone whose references show they are trustworthy and won't expose your home to danger. You can check if a person is who they are supposed to be on PhoneHistory as well.
Word of mouth also plays an important role in getting a reliable repair technician. So, ask friends, family members, and neighbors about maintenance specialists they hired in the part and their experiences. Eventually, you may get a technician you can trust as a recommendation from your family or friends.
3- Get Multiple Quotes
You should get multiple quotes to compare prices and services, ensuring you get the best value. Settling for the first quote you get may not give you a good estimate of the work at hand.
This step isn't about finding the cheapest option; instead, it gives you a wide range of experience levels, reputation, and job quality. So, reach out to 3 or more handypersons and get their estimates; you will be glad you did.
4- Discuss Payment and Timeline Upfront
Don't underestimate the need to discuss payment and timeline upfront before hiring anyone to work in your home. Understand their pricing structure and determine what percentage they require as a deposit and other payment milestones.
Discussing the timeline for the project is also important so you will know when to expect the work to be completed. Having these conversations early helps avoid misunderstandings and puts both parties on the same page.
5- Clarify the Scope of the Work
You need to let your handyperson know your expectations and project goals early enough, so they have clarity on the scope of the work and specific tasks you expect them to handle.
While clarifying these, ask questions and ensure both parties understand the project completely. Taking the time to do this upfront will help avoid disappointments, surprises, and misunderstandings later.
6- Inquire About Experience and Specializations
To find out how experienced and specialized whoever you are hiring is, you need to ask specific questions. Find out their exact experience in whatever area you are hiring them for. Ask for their duration in the industry and examples of projects they have worked on. Ensure they are the right fit for the specific job before hiring them.
This information, when gathered, will boost your confidence in the serviceman's abilities and lead to a more successful home improvement project.
7- Check Online Reviews and Ratings
You can gauge a handyperson's reputation by checking online reviews and ratings on websites like Angie's List or Yelp. These sites will show you testimonials and experiences from their former clients. The positive feedback, if any, should be consistent. You should also keep an eye out for negative feedback and red flags other customers mention.
After reading these reviews and ratings, you'll be able to make an informed decision regarding the repairer you're going to let into your home.
8- Understand Their Availability
Before hiring a repairer, you should know their availability and whether it fits into the timeline for your home improvement. How does their booking work? Will you have to book for weeks in advance, or will they start working on your project as soon as they are hired?
If possible, know their schedule and the number of projects they are presently working on. This way, you can know whether or not they will complete your project promptly.
9- Determine If They Have the Right Tools and Equipment
The work you need a repair technician for will determine the type of tools and equipment needed. Is your handyperson equipped with the right tools for the specific task? The more advanced the tools, the more efficient the work done. Find out the quality of their tools and how effective they will be at doing an excellent job.
10- Request a Written Contract or Agreement
Don't hire a repair technician without a binding contract or agreement outlining the scope of the work, payment terms, timeline, and other home project details. A written contract is important because it protects both parties and prevents misunderstandings later on.
More so, you shouldn't sign any contract your technician brings to you without reading and reviewing it carefully. Ask questions if any part seems unclear until you understand every contract detail.
11- Ask About Warranties and Guarantees
Another thing you should find out from a handyperson before hiring one is whether they offer any warranties and guarantees for their work. They should be able to fix any problems that may arise after the completion of the project without extra charges.
Knowing they come with a warranty or guarantee makes them more reliable and gives you peace of mind. Therefore, discuss this aspect before choosing the best serviceman for the job.
12- Set Expectations Early
Communication is key when you're working with anyone, hence the need for clear and open communication. So, don't hesitate to discuss your needs, specific project details, and timeline in a language that both parties understand well. Open questions you throw at each other and provide all the information the repairman needs for the job.
13- Watch Out for Red Flags
If you have been working with repairers for some time, you should find it easy to spot red flags. These include negative reviews, refusal to provide references, lack of proper insurance or licensing, and inconsistent communication.
If you feel uncomfortable at any point, hire someone else. A reliable repairer will happily provide all the papers necessary to get and maintain the job. So, take note of these red flags and save yourself unnecessary headaches later on.
14- Keep Records and Receipts
Another way to protect yourself and your home from repairmen-related issues is by documenting records and receipts as proof of payment. Records and receipts will also help to keep tabs on the work done, and you'll need them to stay organized and protected while your home repairs are going on.
15- Evaluate the Finished Product and Provide Feedback
Once your chosen serviceman completes the home project, evaluate the work and give honest feedback. If, upon inspection, you are satisfied with the work, appreciate and pay them as agreed.
However, constructively let them know if you notice areas that are not done right. Your feedback helps your serviceman to improve their skills and understand your standards or preferences for future projects.
Final Thoughts
The decision to hire a handyman for your home improvements greatly impacts your home's safety and quality. Knowing that you may not be able to navigate this process alone, we have provided 15 tips to protect you and your home.
These tips, which range from checking licensing and insurance to evaluating the finished work and providing feedback, serve to ensure you hire a reliable and skilled person for your projects. You must follow these steps closely to save time, money, and stress.
Home Automation
Average rating:
0 reviews
Home Automation

>>

Blog

>>

Tips for Hiring a Handyman: How to Protect Yourself and Your Home