integrated in your walls. Sure, you could put smart bulbs into your fixtures or connect a couple of lamps into smart plugs and call it a day, but if the light fixture is controlled by a dumb switch, you won't be able to operate that smart bulb if the switch is turned off.
While they can be difficult to install (hire an electrician if you aren't comfortable doing it yourself), once installed, a smart light switch allows you to turn your lights on and off on a schedule, via a smartphone app, and—with the installation of accessories—in response to voice commands, motion, or even your location (provided you have your smartphone with you).
Here is the List of Best Smart Switches for Home
Works with: Alexa, Google Assistant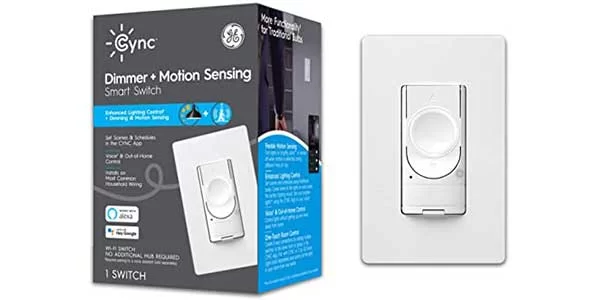 The GE C-Start Smart Switch isn't the most attractive or stylish, but it's the finest smart light switch since it works well and is filled with functions. The Wi-Fi-connected switch is compatible with all types of bulbs, includes iOS and Android apps, and allows you to control lights with a touch, voice, motion, or remotely via a smartphone.
Installation, like most other smart switches, necessitates the use of a neutral wire, although it is quite simple. The switch incorporates an ambient light sensor (so it doesn't turn on during the day) and a motion sensor to automatically turn on the light. The latter function was flawless. If you turn it off using the switch, C-Start will activate the motion sensor again after a few minutes, or you may disable the sensor via the app if you don't want it turned on in the middle of the night.
The C-Start dimmer responds to voice commands like other Alexa-enabled switches (it also works with Google Assistant), but the C by GE Android app could use some improvement; setting up an automation for a room is confusing, and it can be difficult to tell when you've scheduled it to turn on and off. It's more expensive than most other smart light switches at roughly $70, but the C-Start Smart Switch offers a lot for the money.
Pros
No hub necessary
Supports Alexa, Google Assistant
Motion sensor
Cons
Utilitarian design
Confusing Android app
Works with: Apple HomeKit, Google Assistant, Amazon Alexa, Nest, SmartThings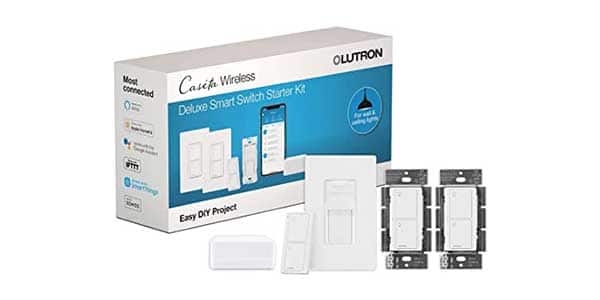 While more expensive than a normal individual smart switch, Lutron's Caseta Smart Dimmer Starter Kit is an excellent starting point for homeowners interested in converting to smart lighting. The bundled Caseta Smart Bridge connects to your Wi-Fi router and acts as a hub for all of your Caseta Wireless goods. The Smart Bridge is simple to set up, as is the in-wall dimmer switch, which, unlike other smart switches, does not require neutral wire.
The kit also includes a Pico remote control, which can be put to the wall with a mounting bracket (available separately) to function as a 3-way switch, allowing you to control your lights from a different position. Buying and connecting extra smart remotes might provide you with more control points in the room or throughout the house.
Once you've configured your hardware, the free Lutron app provides the standard set of smart controls, including remote dimming, timers and scheduling, location-based settings, and more. It supports voice controls via Amazon Alexa and Google Assistant, as well as Apple HomeKit and Siri, as do other smart switches. It can even interact with Ring, Google Nest, Samsung SmartThings, and a variety of other smart home devices, offering up practically limitless automation possibilities.
Pros
Easily install multiple dimmers
Wide compatibility
Neutral wire not needed
Cons
Must use Caseta hub
Pricey
Works with: Google Assistant, Amazon Alexa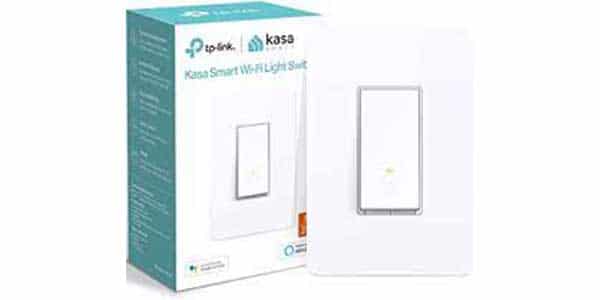 If you want to construct a smart home without spending a fortune, TP-Kasa Link's smart home devices are a wonderful alternative.
One of the nicest things about the Kasa Smart Light Switch HS200 is that it doesn't require a hub to get started—just connect the switch to your home Wi-Fi network and you're ready to go.
The switch is compatible with a variety of speech assistants, including Google Assistant and Alexa. The Kasa app for Android and iPhone also provides complete remote control of the switch. Schedule choices, an away mode, scenarios, Smart Actions, and other features are available.
When installing the Kasa Smart Light Switch HS200, you will need to make sure the light switch you're replacing has a neutral wire, however. Neutral wires are in many modern houses, but if you're living in an older home, you'll need to make sure the wire is available first.
Pros
Simple to set up
Inexpensive
No hub required
Cons
Requires a Neutral wire to work
Works with: Apple HomeKit, Google Assistant, Amazon Alexa, SmartThings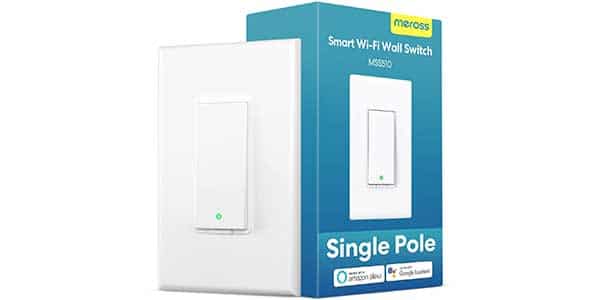 Most smart switches support Amazon Alexa and Google Home by default, but customers seeking to operate gadgets with iPhones and iPads and the Siri voice assistant are frequently disappointed. The Meross Smart Wi-Fi Wall Switch is readily compatible with all of the above while also being a dependable, simple-to-use, and reasonably priced solution.
The single-pole switch may be installed in 15 minutes. Existing neutral wire is necessary to keep them powered at all times, as is customary with smart switches. The switch seems to be a rocker or paddle switch, but it is actually a lower-half button with a little LED light.
There is no need for an external hub, although operating it remotely through HomeKit needs an iPad, HomePod, or Apple TV set up as your "home hub." Otherwise, the Meross app allows you entire control over your mobile device, including timers, on/off schedules, and sceneries that can be used in conjunction with other Meross smart appliances.
Pros
Simple installation and use
Affordable
Cons
Neutral wire required
No three-way support
Works with: Amazon Alexa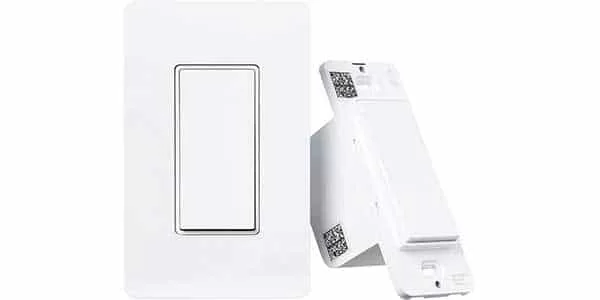 Amazon offers a few in-house brands, one of which is the low-cost private label Amazon Basics. You'll discover affordable, essential products for your home like cooking utensils or tech items like cables or chargers under the name.
Amazon's Basics brand has lately released its own smart switch that is not only inexpensive but also works flawlessly with Amazon Alexa.
The Amazon Basics Single Pole Smart Switch is simple to install, but it requires a neutral wire and a 2.4 GHz Wi-Fi connection to function correctly. You can either install it yourself using Amazon's step-by-step tutorial or hire an electrician to do it for you, but the latter will cost you more.
Once the smart switch is up and running, you'll be able to schedule your lights with Alexa routines or control them with voice commands via the Alexa app or your Echo speakers.
Pros
Simple to setup
Inexpensive
Cons
Works with: Google Assistant, Amazon Alexa, HomeKit, IFTTT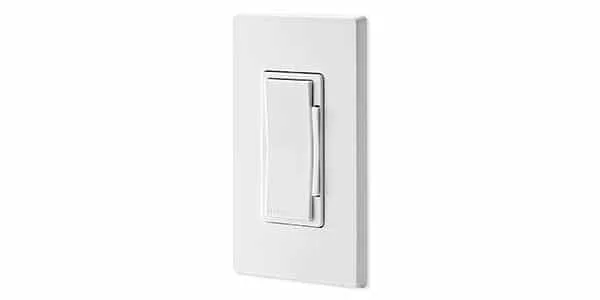 The Leviton Decora Smart Wi-Fi Dimmer 2 appears quite similar to the original — a subtle paddle switch with a smaller toggle on the right. This type, on the other hand, is a little easier to install. It works with three-way switches as previously, but Leviton has now produced an Anywhere Dimmer (available separately), which allows you to install a secondary light switch without connecting any wires.
The Leviton Decora is compatible with Alexa, Google Assistant, HomeKit, August, and IFTTT, although it supports fewer smart home systems than the Lutron. The Leviton does not have the geofencing functionality featured in the Lutron app. It also lacks two-factor authentication, so we wouldn't suggest it unless paired with HomeKit.
Leviton has introduced two new smart switches for those with older homes, the Decora No-Neutral Dimmer ($49, Amazon(opens in new tab)) and a No-Neutral Switch ($44, Amazon(opens in new tab)), which work with the Decora Smart Wi-Fi Bridge ($20, Amazon(opens in new tab)); all are compatible with Alexa, HomeKit, and Google Home, and appear to be good, less expensive alternatives to Lutron's lineup.
Pros
Supports three-way switches
Doesn't require a hub
Pretty robust app
Relatively Easy Installation
Cons
Lacks geofencing
No two-factor authentication
Leviton Decora Smart Switch Troubleshooting
Works with: Amazon Alexa, Google Assistant, Apple HomeKit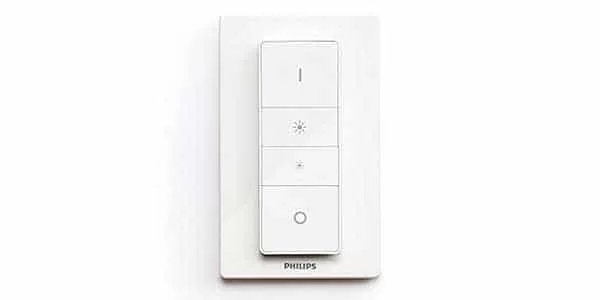 The Philips Hue dimmer is a useful small gadget for individuals who have already furnished their houses with Philips Hue bulbs or do not want to change their wall switches. It may be used as a wireless remote or a wall switch, but it requires no installation other than peeling the covering off the adhesive on its back.
This switch only works with Hue bulbs, but it's nearly magical when it does. Simply turn on the light housing the Hue bulb as usual (even if it's via a standard wall switch), then begin using the Philips dimmer, and it will function automatically. And don't worry, there will be no interference or conflict between the Hue Dimmer and your standard wall switch. The dimmer's magic is in the Philips Hue Bridge, which is required ($59) for the dimmer to function and is required for any Philips Hue system.
The Philips Hue app is packed with entertaining features and imaginative themes for your Hue lamps. You may program your Hue lighting to be controlled by speech using Amazon Alexa, Google Home, or Apple HomeKit. It also works with a variety of other smart home systems.
Pros
Controls LED, CFL and incandescent dimmable bulbs
Works with multiple smart home systems
Cons
Works with: Apple HomeKit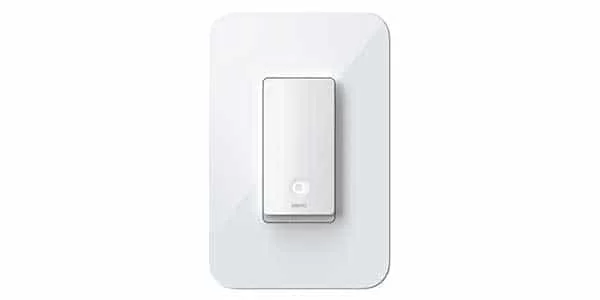 Belkin's WeMo extended HomeKit compatibility to a number of its devices in 2018. Since then, the business has released more WeMo devices that have HomeKit functionality, such as the WeMo Smart Light Switch.
In a nutshell, HomeKit is Apple's smart home software framework that businesses can add support for, allowing them to be managed from a single app on your iPhone, iPad, Apple Watch, or Mac. The Apple Home app is similar to the Google Home app in that it allows you to control all of your HomeKit-enabled goods as well as perform routines and light automation.
Because the WeMo Smart Light Switch supports HomeKit, you can connect it to your Home app and control your switches. You can also operate your WeMo smart switch with Siri from your iPhone, iPad, Apple Watch, Mac, or HomePod.
HomeKit compatibility can sometimes be hard to find, so going with the WeMo light switch is a safe bet.
Pros
Easy control via the Home app
Can use Siri to control your devices
Straightforward setup process
No hub required
Cheaper than some other Homekit compatible switches
Cons
More:
Amazon Has Released Four New Smart Switches
Works with: Amazon Alexa, Google Assistant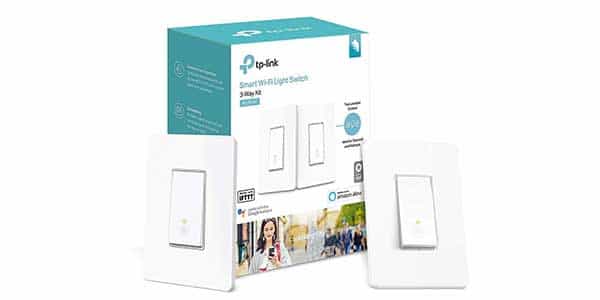 Three-way wall switches are the most prevalent form of switch in houses after single-pole switches. They let you to operate a light (or group of lights) from two distinct locations, such as the top and bottom of a staircase or each end of a corridor.
Adding smart features offers you even more control over your lights, and Kasa Smart's 3-Solution Wi-Fi Light Switch is a simple, inexpensive, and effective way to do so. Because it will still operate with a regular, non-smart 3-way switch, you just need one new 3-way smart switch.
If you wish to deploy smart switches in both places, Kasa Smart sells them in reduced sets of two. Installation necessitates the existence of a neutral wire, although it isn't much more difficult than installing a single-pole switch (and the Kasa Smart 3-way switch can also function as a single-pole switch by itself).
From Alexa and Google Assistant voice controls to personalized schedules via the Kasa Smart app, the smart capabilities perform as expected. You can group the switch with other Kasa Smart devices using Smart Actions, but you can only have three of them.
Pros
Simple installation
Works with traditional three-way switches
Nice value for 1- or 2-pack
Cons
No Apple HomeKit
No dimming
Limited to three Smart Actions
Works with: Amazon Alexa, Google Assistant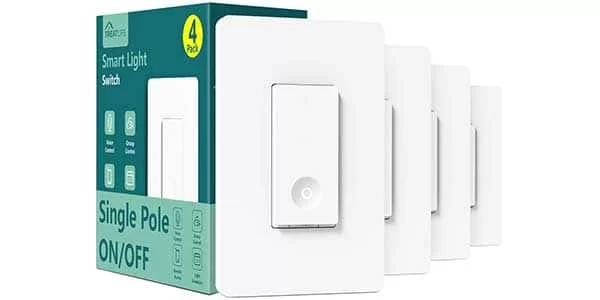 You can adjust the light dimming range to a certain percentage by moving your finger up or down or via app or a voice, the smart switch can remember and turn back to the last setting after powered off. Use for non-smart but dimmable LED 150W Max, Halogens/Incandescent 400W Max, CFL 150W Max bulbs.
The dimmer smart switch is compatible with Alexa and Google Home Assistant, allowing you to adjust the light with a simple voice command while your hands are busy or when your room is dark. There is no Hub needed. Make your Christmas decorations more intelligent.
Manage your home's lighting from anywhere at any time using an APP on your smartphone. Ideal for when you're away from home or relaxing on your snug sofa or a comfy bed.
You may program the light to turn on and off at particular times using the preset brightness. You may also share the App with family members in order for them to operate the switch.
Pros
Simple to set up
Inexpensive
No hub required
Cons
Requires a Neutral wire to work
How to Select the 2022 Smart Switches for Home?
Smart light switches vs. smart light bulbs vs. smart plugs
The first consideration is whether you require a smart light switch or a smart light bulb. The difference is that with a smart light bulb, you can control the bulb directly rather than the switch with your phone. As a result, smart light bulbs are a fantastic alternative if you only want to operate one light. If that's the case, we've compiled a list of the finest smart light bulbs to assist you in making your decision.
Smart light switches are a better alternative if you need to handle many rooms or have a large number of bulbs. They are also significantly less expensive than purchasing a large number of smart light bulbs.
If you want to light your house with floor and table lamps, one of the finest smart plugs is definitely the ideal option for you. You just put in your lamp and the smart plug into your wall socket, no wiring is required! Smart plugs are also less costly than smart light switches.
Wi-Fi, Zigbee, or Z-Wave?
Wi-Fi, Z-Wave, or Zigbee smart light switches typically link to the internet. Wi-Fi connects your switch to your router, whereas Z-Wave and Zigbee require smart home hubs. While the later alternatives necessitate the purchase of a separate hub, they do allow you to use the smart light switch even when the internet is unavailable.
Neutral wire
Some smart light switches will require a neutral wire to function. Ones built in or after the 1980s are likely to have one, although older homes may not. As a result, before making a purchase, you should check to see if your property has a neutral wire. If you're not sure what a neutral wire is or what to do if you don't have one, here's a breakdown.
Three-way switches
If your lights are controlled by more than one switch, a three-way smart switch is required. These are great if, for example, you have light switches at both the top and bottom of the stairs.
Dimmer
Some smart switches offer a dimmer function that allows you to control the brightness of the lights. While they are often more expensive than non-dimmer switches, they provide useful capabilities.
Motion sensor
If you don't want to deal with pressing a light switch, look for versions with built-in motion sensors. These can detect your presence in a room and immediately switch on the lights. Just make sure it's at a location where it can detect you the entire time you're in the room, otherwise it'll switch out the lights on you!
Smart home connectivity
Most smart light switches are Alexa, Google Assistant, or Apple HomeKit compatible, allowing you to link them to other smart home devices and manage them with your voice.
Away Mode
This is a feature we like: If a smart light switch has this feature in its app, it will automatically turn your lights on and off randomly while you're away, to make it look like you're home.
How our choices compare in terms of privacy and security
Does it require a username and a password?
GE C-Start Smart Switch Motion Sensing Dimmer: No
Lutron Caséta: Yes
TP-Link Kasa Smart Light Switch HS200: Yes
Meross Smart Wi-Fi Wall Switch: Yes
Amazon Basics Single Pole Smart Switch: No
Leviton Decora Smart Wi-Fi Dimmer: Yes
Philips Hue Dimmer: No
WeMo Smart Light Switch (2nd Gen): Yes
Kasa Smart Wi-Fi Light Switch, 3-Way: Yes
TREATLIFE Smart Light Switch: Yes
Is two-factor authentication available and/or required?
GE C-Start Smart Switch Motion Sensing Dimmer: No/No
Lutron Caséta: No/No
TP-Link Kasa Smart Light Switch HS200: No/No
Meross Smart Wi-Fi Wall Switch: No/No
Amazon Basics Single Pole Smart Switch: Yes/Yes
Leviton Decora Smart Wi-Fi Dimmer: No/No
Philips Hue Dimmer: No/No
WeMo Smart Light Switch (2nd Gen): Yes/Yes
Kasa Smart Wi-Fi Light Switch, 3-Way: No/No
TREATLIFE Smart Light Switch: No/No
Will this device still operate if my internet goes out?
GE C-Start Smart Switch Motion Sensing Dimmer: Yes, Without a connection, the switch will operate the light, but it won't be remotely controllable
Lutron Caséta: Yes, Most Features work
TP-Link Kasa Smart Light Switch HS200: Yes. Without a connection, the switch will operate the light, but it won't be remotely controllable
Meross Smart Wi-Fi Wall Switch: Yes, Without a connection, the switch will operate the light, but it won't be remotely controllable
Amazon Basics Single Pole Smart Switch: Yes, Without a connection, the switch will operate the light, but it won't be remotely controllable
Leviton Decora Smart Wi-Fi Dimmer: Yes, Most Features work
Philips Hue Dimmer: Yes
WeMo Smart Light Switch (2nd Gen): Yes, , Without a connection, the switch will operate the light, but it won't be remotely controllable
Kasa Smart Wi-Fi Light Switch, 3-Way: Yes, Without a connection, the switch will operate the light, but it won't be remotely controllable
TREATLIFE Smart Light Switch: Yes, Yes, Without a connection, the switch will operate the light, but it won't be remotely controllable