The most natural place to start developing a smart home is with a smart lock. It allows you to restrict entry to your home while also keeping track of who enters and exits. It also acts as a stopgap for forgetful family members by automatically locking the door. Today's door locks are capable of much more than simply locking and unlocking the door from afar. They let you program codes to provide family members, acquaintances, contractors, and housekeeper's temporary access. They'll lock themselves if you forget, feature sophisticated technology like fingerprint recognition, and can be controlled with your voice, a smartphone, or a keypad.
Choosing the ideal one for your house might be a difficult task with so many alternatives available on the market. This post will go through the characteristics to look for when looking for the best smart lock, as well as some of the finest models available.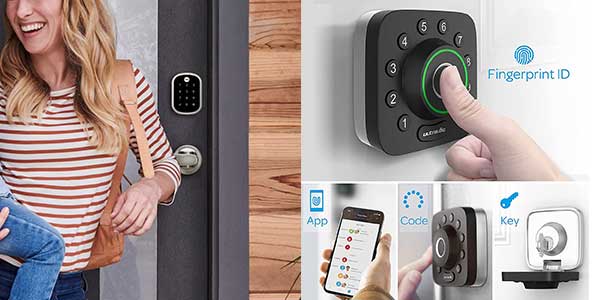 So Here are the List of The Best Smart Locks in 2022
Why It Made The Cut: An ingenious design that makes it easy to install coupled with Wi-Fi connectivity and compatibility with a variety of platforms makes the August the best smart lock overall.
Specs:
— Connectivity: Bluetooth, Wi-Fi
— Product Dimensions: 2.8 inches L x 1.8 inches W
— Auto Lock: Yes
Pros:
— Easier to install than most any other lock
— Automatic lock for forgetful occupants
— Sleek design
Cons:
— Expensive
— Batteries don't last long
August Lock is the best solution for automating the lock on a home's front entrance because of its ease of installation and low cost. Rather of replacing an existing lock, the August is designed to fit over most existing deadbolt lock switches, removing the need to replace the old deadbolt.
While there was nothing August could do to better its smart lock in its most recent update, it did. The lack of Wi-Fi capability in the prior Smart Lock generation was a major flaw. The August door lock's fourth generation includes an inbuilt Wi-Fi radio, so it doesn't require a bridge to connect to your home's network, unlike previous generations. Amazon Alexa, Google Assistant, Apple Homekit, and a slew of other devices and platforms are all supported by the August.
The August, which was previously a bulbous bulk on the door, has shrunk with each successive edition, and this one is the smallest yet, measuring roughly half the size of the previous model. This version also has interesting auto-locking and unlocking capabilities. It will either automatically lock the lock after a specified amount of time has passed or automatically unlock the lock when you return home. If there's one complaint about the August, it's the battery life. It only lasts three months on the two CR123 batteries that power it.
Why It Made The Cut: This is one of a handful of locks that offers fingerprint recognition technology making it our choice for the best smart lock with a fingerprint reader.
Specs:
— Connectivity: Wi-Fi with bridge (included)
— Product Dimensions: 3 inches L x by 3 inches W by 1.2 inches H
— Auto Lock and Unlock: Yes
Pros:
— Unlocks with fingerprint, code, smartphone or key
— Small profile
— Works with Google Assistant and Alexa
Cons:
— Short range to wireless bridge
— Fingerprint sensor doesn't always work
As if remotely locking and unlocking your door through an app or even voice commands weren't enough, the Ultraloq adds spy thriller protection to your door with fingerprint recognition. The lock appears identical to the previous Ultraloq version, but it has a customizable fingerprint sensor in the center that unlocks the lock using fingerprint ID. The lock and fingerprint reader are illuminated with green light to keep with the future technological motif.
In addition to using your fingerprint, you may use the 10-digit keypad to enter a code or use a smart device app to open the lock. Also, if your phone is in near vicinity, the lock will auto lock after a specified length of time or auto unlock. If everything else fails, a mechanical key lock override is available.
The Ultraloq lock is compatible with most platforms, including IFTTT, Google Assistant, and Alexa, and has built-in WiFi, allowing you to control it via an app from anywhere in the globe. You may input many codes and arrange them to operate only at specified times, much like other smart locks, such as when the maid or repairman is due to come to your property.
Keep in mind that this lock comes with a bridge that must be plugged into an outlet within 15 feet of the door to guarantee a solid connection with the lock, which may be a problem depending on where your outlets are located in your home.
Relevant:
Why It Made The Cut: The ability to operate and program this lock via Wi-Fi from virtually anywhere in the world coupled with its battery saving features make it a worthy choice for rental property.
Specs:
— Connectivity: Wi-Fi
— Product Dimensions: 5.2 inches L x by 3.2 inches W x 1.5 inches H
— Auto Lock and Unlock: No
Pros:
— Supports vacation rental platforms
— Long battery life
— Can add and remove access for guests remotely
Cons:
— Requires a paid subscription to access its full slate of services.
RemoteLock, formerly known as LockState, introduced one of the first Wi-Fi-enabled smart locks to the market in 2014, allowing homeowners to operate their locks from nearly anywhere on the world. Many other businesses have already introduced their own Wi-Fi connected door locks, but RemoteLock continues to be one of the finest smart locks for renters.
The most recent version of the company's RemoteLock offers Wi-Fi connectivity and is compatible with a variety of vacation rental systems. The battery-saving technology is one of the characteristics that makes this lock ideal for rental usage. The lock can be put to a battery-saving mode, which allows it to get the most out of its AA batteries, which could only last a month or so otherwise.
An app or a PC can be used to control the lock. It keeps track of use by keeping note of when and by whom the lock was locked and unlocked, as well as allowing you to add and remove guest access remotely. This lock does need an EdgeState membership, which starts at $3 per month and includes the ability to give access to users and guests as well as examine activity history. Keep in mind that the lock is only rated for indoor usage; however, if you want to use it outside, you may purchase an outside weather cover.
Why It Made The Cut: With its affordable price and easy installation, this front door lock is one of the best budget smart locks we could find.
Specs:
— Connectivity: Wi-Fi with bridge (included)
— Product Dimensions: 2.5 inches L x 2 inches W by 5 inches H
— Auto Lock and Unlock: Yes
Pros:
— Fits existing deadbolt lock, making installation easy
— More affordable than other smart locks
— Can alert you if door is left ajar
Cons:
— Requires a bridge (included)
— Bulkier size than similarly designed smart locks
With most front door locks costing $200 or more, this Wyze door lock is one of the more economical options for adding a smart door lock to your house. The Wyze smart door lock comprises a device that fits over the inside section of your current deadbolt lock, similar to the August smart door lock, but it's noticeably larger at 2.5 inches by 2 inches by 5 inches.
The smart lock works with Alexa and Google Assistant and is connected to a bridge that plugs into an outlet at the front entrance. It has comparable features to other smart door locks, such as a setting that unlocks the door when your smartphone is close by and an auto lock feature that prevents the door from being left open accidently. You may use the Wyze app to plan and share access with friends, family, and maintenance staff, as well as keep track of who comes and departs.
Wyze also features a unique function that notifies you not only if the door is unlocked, but also if it is ajar, which is essential if you have little children who like to make a break for it now and then.
Yale Assure Lock SL Key Free Touchscreen Deadbolt: The Best Design.
Why It Made The Cut: With its touch screen, sleek look, and three finish options, this is one of the most attractive smart locks we found.
Specs:
— Connectivity: Wi-Fi
— Product Dimensions: 2.8 inches L x 1.8 inches W
— Auto Lock and Unlock: Auto lock
Pros:
— Supports a broad range of platforms
— Attractive sleek look with touch screen
— Audible keypad
Cons:
— No override key if batteries die
Many smart locks are large, which might distract from a front door's appearance. The Yale SL is one of the more aesthetically beautiful door locks on the market, with its sleek aesthetics and touchscreen keypad. It also goes with almost every door type because it comes in three different finishes.
When you touch the Yale's keypad, it illuminates and produces a faint chirp, signaling that it's ready. If you wait too long, the lock will read "time expired," and you'll have to restart. The Yale SL is compatible with Google Home, Alexa, HomeKit, and SmartThings, among other smart home systems. This means you may use digital assistants like Amazon Echo and Google Nest, as well as a smartphone app, to operate it.
Keep in mind that this lock does not have any manual controls. You may either manually enter in the code or utilize an app. As a result, it's critical to keep track on your battery's life. (If you're locked out, you may use a 9-volt battery to connect to connectors on the lower section of the panel.) The Yale can save up to 250 key codes, each of which may be set to operate only at specific times or days, or for one-time usage.
Home Automation

>>

Brands

>>

Amazon

>>

2022 The Best Smart Locks To Improve Your Home's Security