The ADT smart Thermostat is an aesthetically pleasing, smart thermostat. It combines streamlined hardware, sophisticated cloud services, and an ecosystem of connected devices with your ADT Command System for an uncompromising energy management solution.
Homeowners who change their thermostat also see in the temperature of their home the greatest possible cost savings and extra convenience. The Wi-Fi thermostat not only helps you to schedule your preferences, but also connects with our smartphone app for fast and simple on-the-go adjustments.
You can also set up custom alerts to alert you if your home's temperature has risen too high or fallen too low. Get in contact with our home control specialists to learn more about our smart thermostats and other ADT smart home solutions in order to see what works best for you.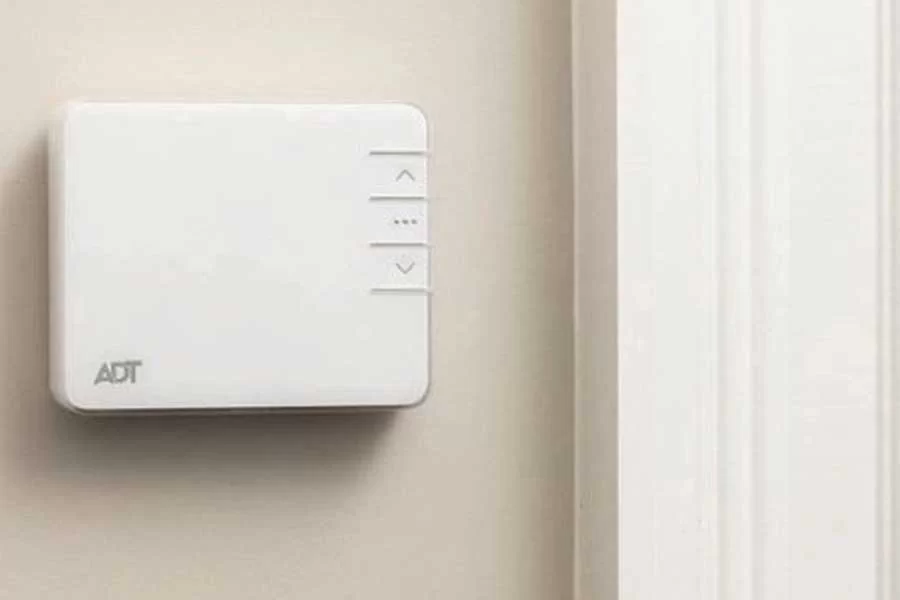 Features
Auto schedules: Schedule your smart thermostat setting to help save on energy costs when you're not home.
Set up schedules to automatically adjust your home's temperature
Keep your pets comfortable when you're away using your phone to adjust the temperature
Get alerts if your home's temperature drops too low so you can prevent frozen pipes
Remote control: Use ADT's mobile app to control your smart thermostat with your mobile device.
Wherever you happen to be, you can remotely adjust, automate, schedule and monitor your home's temperature with your smart device or computer.
Custom alerts: Set up custom smart thermostat notifications to alert you if your home is too cold or too warm.
Create custom scenes like At Work, At Home or On Vacation, and your system will respond automatically with the touch of a button.
Set your home's temperature, have lights turn on and off randomly, and arm your system.
You can even create emergency automations that happen if a fire or CO sensor is triggered.
Additional Features:
Designed specifically for smart homes, it provides you with the ultimate in convenience.
It works with most standard heat pumps and HVAC systems.
The ADT Thermostat easily syncs with your ADT smart security network.
ADT Smart Thermostat Compatibility
As long as the device uses z-wave technology, it can work with your system. These products consist of door locks, lighting, and thermostats)
Voice Support
Pros
Devices work at home and away.
Features are up to standards
Z-wave compatible devices
Cons
The installation process is charged and has to be set up by a professional.
Comparatively more expensive.
Customer service is okay
How to Install
A professional will help you choose the right smart thermostat for your home. Their automation experts will also make sure your smart thermostat is installed correctly and working to your specifications.
They are available in most of Europe, the United Kingdom and the United States, and provide third-party providers that work in their respective countries and cities.
Technical Specification
Z-Wave Plus Certified
Yes
FCC ID
2AC3T-B36T10RB
IC
Display
Dimensions (W x H x D)
4.75" x 4" x 1" (120.65 x 101.6 x 25 mm)
Operating Temperature range
0°C to 50°C (32°F to 122°F)
Power requirements
(4) AA Batteries or 24V Power
Setpoint resolution
.5°C (1°F)
Setpoint accuracy
+/- 1.5°F
COMPATIBLE SYSTEMS:
COMPATIBLE SYSTEMS:
Humidifier
Yes
Dehumidifier
Yes
Heat (Fossil or Electric)
Up to three stages
Cool
Up to two stages
Heat pump with AUX
Up to five stages
AUX heat
Up to three stages
Dual fuel (Fossil AUX Heat)
Yes
Forced air zoned heat
Up to three stages
Forced air zoned cool
Up to two stages
TERMINAL DESIGNATIONS:
TERMINAL DESIGNATIONS:
RC
Conventional: Cooling power
Heat pump: Cooling power
RH
Conventional: Heating power
Heat pump: Heating power
Z
Conventional: Configurable: W3, B, H, DH, or O
Heat pump: Configurable: W3, B, H, DH, or O
W2
Conventional: Heat Stage 2
Heat pump: AUX Stage 2
W
Conventional: Heat Stage 1
Heat pump: AUX Stage 1
C
Conventional: Common wire from secondary side of heating transformer (if two transformers)
Heat pump: Common wire from secondary side of heating transformer
y
Conventional: Cool Stage 1
Heat pump: Pump Stage 1
Y2
Conventional: Heat Stage 1
Heat pump: AUX Stage 1
G
Conventional: Fan relay
Heat pump: Fan relay
If you don't want to opt with a monthly subscription, then you should think about the Emerson Sensi WI-Fi smart thermostat with precise features and specs.
Expect:
Works with Amazon Alexa, Google Assistant, Apple HomeKit (c-wire required), and Samsung SmartThings smart home platforms.
DIY
Affordable under $100 Us dollar
Home Automation

>>

Thermostats

>>

Smart Thermostats

>>

ADT Smart Thermostat