HVAC stands for Heating Ventilation Air Control or Conditioners, Usually HVAC or Call (central heating and cooling system) install at homes or offices to maintain a healthy atmosphere for living people.
What Is Mean By Smart Top Intelligent HVAC System?
Smart Intelligent HVAC System comprises of Smart Sensors, which makes HVAC system smarter and efficient.
Now a days most smart thermostat have a built in smart sensors, but if you want to manage each room efficiently then you need additional smart sensors which connect with the main thermostat to be able to work accordingly by reading each room via from sensor.
Smart Sensors
Motion Sensors: Most Thermostat have Built in Motion sensors, it will active when detect any movement where thermostat placed, and deactivate cooling or heating system when it zero movement pick it up by sensors after a certain set period of time.
Similarly in case of Sensors based zoning, when you placed sensors in one or more rooms apart from main thermostat location to be able to maintain more efficient cooling and heating system based upon sensors reading. The sensor will tell your thermostat what temperature it is in the room where it's placed. Whenever the sensor is active, your thermostat will use your sensor's reading to control when your system turns on and off. Your thermostat will ignore its own built-in temperature sensor during those times.
Environmental Sensors: Turn on and off according to a set temperature or track the temperature of a daily routine at a time and set accordingly, some sensors take outside temperature by taking a weather forecast report and set temperature accordingly.
Sensors would also be able to notify you of routine maintenance, such as filter replacements and professional tune-ups
Dehumidifier sensors: Now a days some thermostats and sensors has a built in dehumidifier sensors that can alert to a user about the humidity level, It only works when your HVAC System has built in Dehumidifier or you installed separately.
Geofencing Sensors: Imagine an invisible border surrounding your home. When you're "inside" the border you're considered to be "home", so your thermostat makes things nice and comfy for you. When you're outside that boundary, your thermostat lets the home's temperature rise (or fall) a bit to save you some money so you don't cool or heat an empty place.
For those people, geofencing can be a useful feature that takes some of the effort out of adjusting the thermostat. Let it figure out when you've left and when you've returned, and take all the effort out of trying to develop a schedule that suits your unpredictable days.
What benefits of having a Top Intelligent HVAC System?
Save your energy bill
You can control and monitor using phone or tablet
Smart HVAC system maintain a health and active environment by keeping the temperature ideal and keep the air clean in case you have installed environmental sensors or the thermostat you are using has built in sensor.
They track your daily comings and goings, as well as heating trends over time, and create a heating and cooling schedule based on when you are usually home or away and what temperature you prefer during those times.
A bright colorful touch display makes it easy to configure and program the thermostat and gives it a touch of style, and it can usually be read from across a room.
You can controlled via from voice some thermostat has an Alexa or Google built in.
If you have other smart devices installed around your home, look for a thermostat that will work with as many of those devices as possible.
These are some of the Thermostat that can be compatible to almost all HVAC system after 2011.
| | | | | | | |
| --- | --- | --- | --- | --- | --- | --- |
| | Product | Sensors | Motion Activation | Geofencing | Smart Home Integration | Price |
| | Ecobee Smart Thermostat With Voice Control | Available | Available | Available | Apple HomeKit, IFTTT | $254.99 |
| | Ecobee 4 | Available | Available | Available | Apple HomeKit, IFTTT | $232.88 |
| | Nest Learning Thermostat (3rd Generation) | | Available | Available | IFTTT, Nest | $219.00 |
| Sensor | Honeywell Home T9 Smart Thermostat With Sensor | Available | | Available | IFTTT | $169.00 |
When Constructing A New Or Renovating A House And Planning To Install Central Heating And Cooling System Then You Can Consider Any One Of These, Top Trending And Most Reliable, Efficient And Smart Sensors.
List of Top Intelligent HVAC System
And For Those Who Doesn't Have A HVAC System but Split Air Conditioner or Windows A/C And Wants To Convert them in to Smart Then:
A smart ac controller gives your "dumb" air conditioner brains. Using infrared technology, it connects with your air conditioner unit and allows you to add smart controls.
They often connect with your existing smart home technologies and devices to upgrade your appliances, without buying all new air conditioning units.
How Does A Smart A/C Controller Work?
A smart ac controller mimics the infrared signal from your air conditioner's remote while using your WiFi network to connect with an app on your phone.
The end result is that you can control your air conditioner from the convenience of a mobile app. And better yet, some even connect with your existing smart home integrations, giving you whole-home control.
| | |
| --- | --- |
| Products | Price |
| Sensibo Sky Smart Air Conditioner Controller | $119.00 |
| Cielo Breez Plus, Smart Air Conditioner Remote Controller | $109.00 |
| Ambi Climate 2 Ai Powered Smart Air Conditioner Controller | $129.00 |
Sensibo Sky Smart Air Conditioner Controller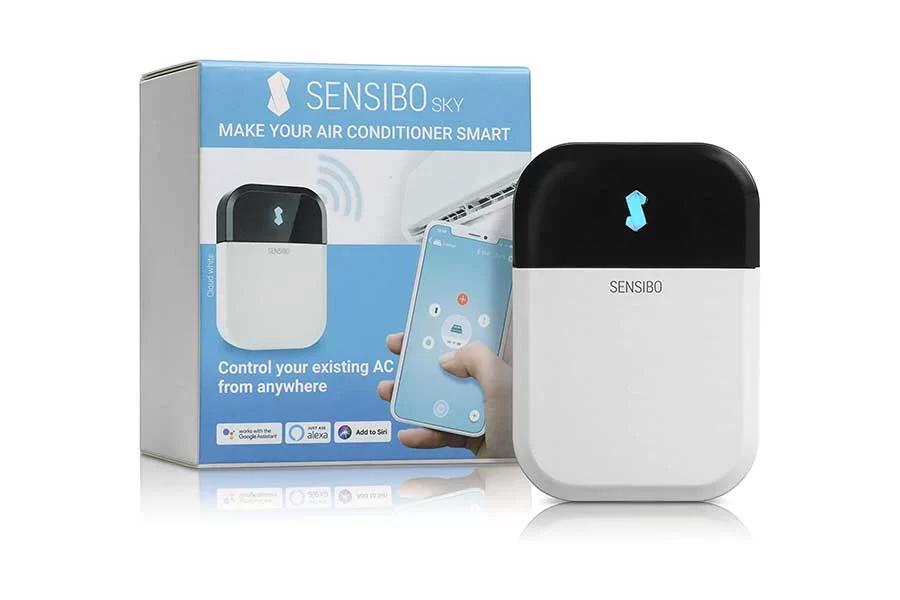 If you already have a working air conditioner, there's no reason to go out and spend hundreds of dollars to get a smart model. The Sensibo Sky can make your "dumb" air conditioner smart, by sending commands via infrared to turn your air conditioner on and off; you can control the Sensibo Sky from an app on your smartphone, and set timers and rules for when the air conditioner should run.
It has a geofencing feature; it can sense when you're getting near home, and start up the air conditioner to cool things down for when you arrive. Conversely, it can automatically shut off your A/C when you leave the house. The one thing we wish it had, though, was a display on the device itself.
Works with: Alexa, Google Assistant
Cielo Breez Plus, Smart Air Conditioner Remote Controller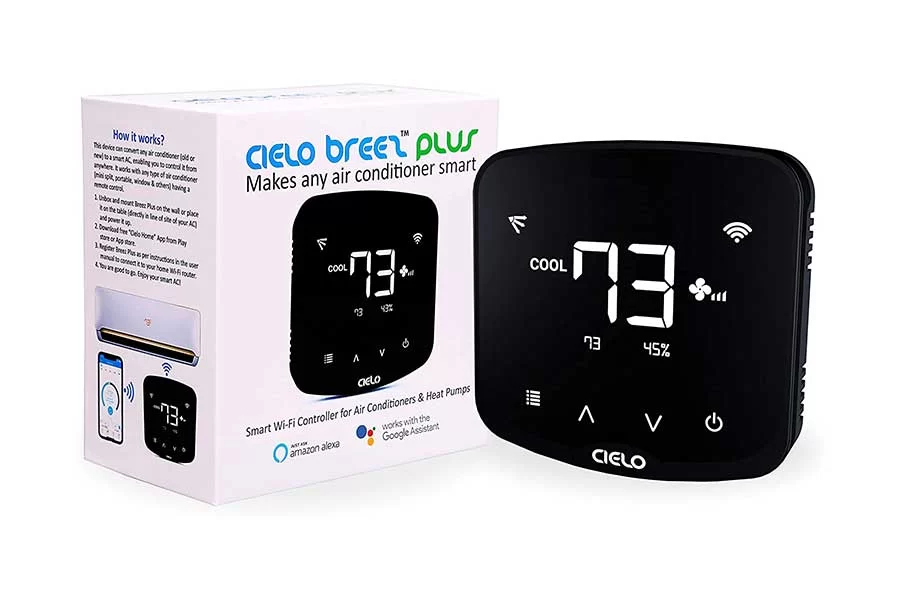 Your choice for perfect air conditioning, Full range of local controls on the device enable you to control the air conditioner even without Wi-Fi, Control your AC from anywhere via your smart phone. You can even use the controller in a local mode via its on-device controls just like a normal thermostat. Manage & monitor the temperature, humidity, fan speed and modes either through your phone or through local controls on the device.
Comfy mode lets you set triggers to personalize the operation of your AC. Helps you automatically change your AC settings if room temperature or humidity goes above or falls below a pre-set value. Saves energy with lot of convenience.
Your ACs are automatically switched OFF after you leave and switched ON before you arrive.
Powerful 7 Days scheduling helps you schedule your ACs as per desired settings and time.
Always keep track of your AC air filter cleanliness level in real time for clean air conditioning.
Works with: Alexa, Google Assistant
Ambi Climate 2 AI Powered Smart Air Conditioner Controller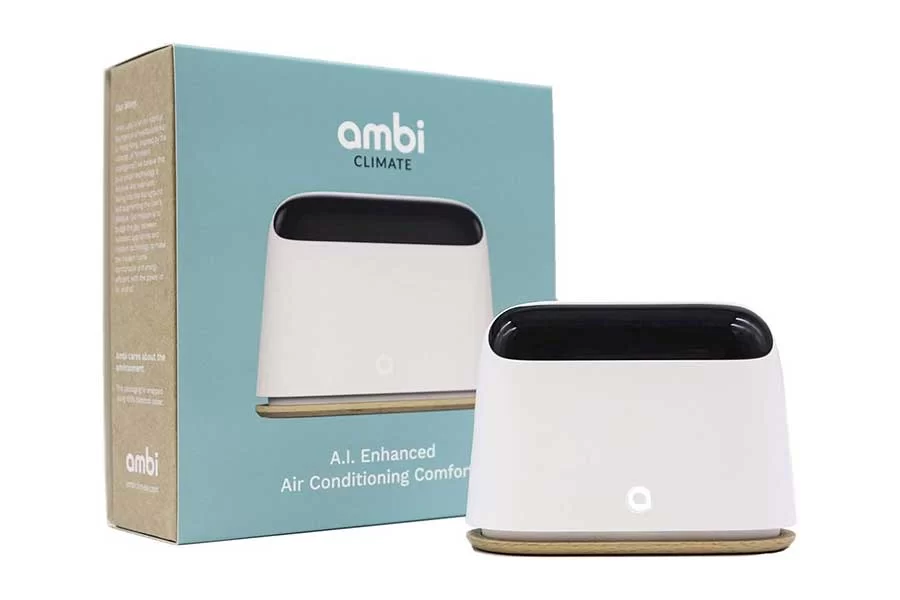 The Ambi claims to be the smartest smart AC controller around, employing AI to perfect your comfort and save you money. It does this by taking in to account weather, relative humidity and temperature and adjusting your climate accordingly – a bit like the Nest Thermostat does.
Another interesting feature is you don't choose a temperature; instead using the smartphone app you tell Ambi what your current comfort level is and have it adjust accordingly. It sounds super smart, but also slightly creepy. If you don't like it however, you can switch over to manual mode and operate it like a normal controller.
Ambi also has geofencing abilities so can adjust based on whether you're at home. You can set schedules and timers, and create rules to control the system with. It also integrates with Alexa and IFTTT and is by far the best looking AC controller on the market.
Works with: Alexa, Google Assistant, Apple Siri
Here's A Look At Some Of Your Best Options For Smart Air Conditioning Unit, In Case You Want A New Smart Air Conditions Which Has A Both Heating And Cooling System.
Before Choosing Smart Air Condition Instead Of Central Heating And Cooling, You Need To Know These.
Types of Air Conditioners:
Portable air conditioners: These units are each about the size of a small suitcase and have large exhaust tubes that you must stick out a window. They're the easiest to install, but they are by far the least efficient type of air conditioner.
In-window air conditioners: Maybe the most common type, these air-conditioners just slide into an open window. These are the simplest to install after portable units but these block the bottom of your window and keep you from opening the window. Additionally, to avoid hot air from entering and cold air from leaving, you must close the openings on either side of the air conditioner.
In-wall air conditioners: Just like in-window systems, these are inserted into your wall through an opening. These are usually more costly than in-window devices, and will require skilled installation — especially if you need to cut a hole in your house's wall — but they do not take up precious window space, and allow less air leakage.
Ductless air conditioners: Often known as split air conditioners, these have an indoor component that is connected by a small pipe to an outdoor panel. While they are the most effective of the various types listed here, they are also the most costly to install; you would need a professional to install. And the interior section's appearance can be polarizing.
| | |
| --- | --- |
| Product | Price |
| LG Dual Inverter Smart Air Conditioner |  9500BTU $494.00 14000BTU $649.46 22000BTU $654.67 |
| Midea U Inverter Window Air Conditioner |  8000BTU $339.00 |
| Bosch Ultra-Quiet |  12000BTU $1,269.40 |
LG Dual Inverter Smart Air Conditioner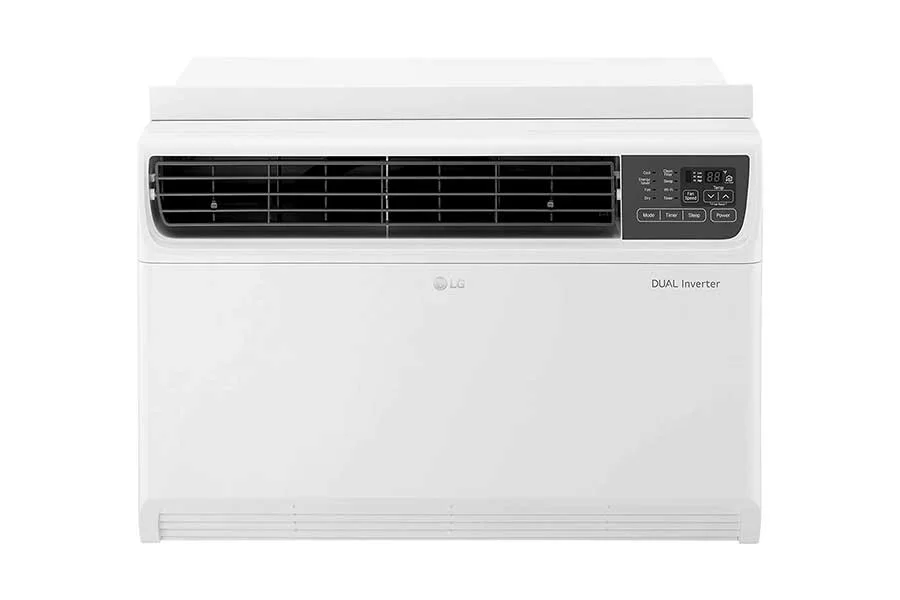 LG's Dual Inverter window air conditioner comes in four sizes, with three different power efficiency levels. The lowest is the $419, 9,500 BTU model; there are also 14,000, 18,000 and 22,000 BTU options, going up to $659. All the models use LG's SmartThinQ technology, which lets you take control from the app or, if you prefer, with Alexa or Google Assistant. Using your voice you can switch the LG AC on/off and even request it set to a specific temperature. It doesn't have geofencing so you'll have to remember to turn it on your way home.
One of the best features of the Dual Inverter is that it constantly adjusts speeds to keep it efficient. And because of these gradual adjustments, it's less noisy than a lot of other AC units – LG reckons it'll get to 44 decibels, which is pretty reasonable in our book.
BTUs: 9,500, 14,000, 18,000, 22,000 | Room size: 450, 800, 1,000, 1,300 square feet | Energy Efficiency Ratio: 14.7 | Works with: Alexa, Google Assistant
Midea U Inverter Window Air Conditioner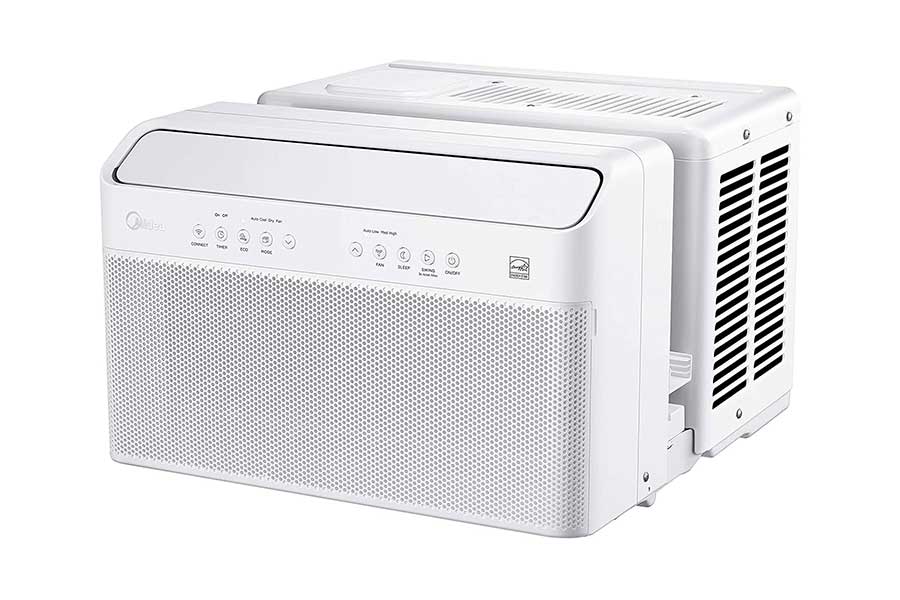 The Midea U Inverter Window Air Conditioner gets its name from its unique "U" shape. That's right, there's a large slot in the middle of this smart air conditioner, which allows you to slide your window up and down. Not only does this feature let you open your window to allow fresh air in, but when your window is closed, it provides a much more effective barrier, so your air conditioner doesn't have to work as hard to keep your room cool.
Because of this design, the company also claims that the Midea U is quieter and more efficient than similar window air conditioners. The Midea U can be controlled from a smartphone app, or with Alexa or Google Assistant. It comes in three models: 8,000 BTUs, 10,000 BTUs, and 12,000 BTUs. In our Midea U smart air conditioner review, we really liked its quiet operation and innovative design, but did note that it's trickier to install than other window air conditioners.
BTUs: 8,000, 10,000, 12,000 | Room size: 350, 450, 550 | Energy Efficiency Ratio: 15 |Works with: Alexa, Google Assistant
Bosch Ultra-Quiet 12K BTU 230V Mini Split Air Conditioner & Cooling System with Inverter Heat Pump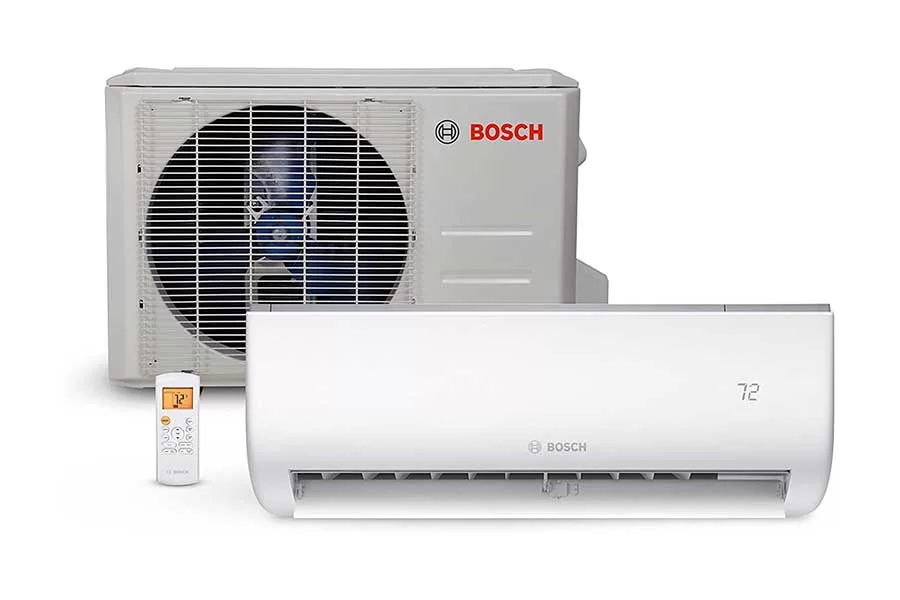 The Bosch Mini Split system provides high-efficiency heating and cooling comfort with the flexibility to fit virtually anywhere. This innovative system features a sleek indoor air handler and a compact outdoor air condenser that regulate temperature through every season. Find what option works best for you: system without lineset, system with 16-Foot lineset, or system with 24-Foot lineset.
Program your unit to make any space fit your desired comfort level. Specialty features make it so you get your desired temperature at the time and place you desire. Schedule your unit on the 24-hour timer function to regulate temperatures all day and night.
BTUs: 8,000, 10,000, 12,000 | Room size: 350, 450, 550 | Energy Efficiency Ratio: 15 |Works with: ac controller
Home Automation

>>

Thermostats

>>

Smart Thermostats

>>

Top Intelligent HVAC System