Alarm clocks as their name implies when broken down perform two simple functions: time-telling; and duty of warning. And while smart alarm clock with Wireless Charging retain those two primary functions, their accessibility and facilities are what sets them apart from traditional clocks.
List of Smart Alarm Clock with Wireless Charging
iHome iBTW39 Alarm Clock Bluetooth Stereo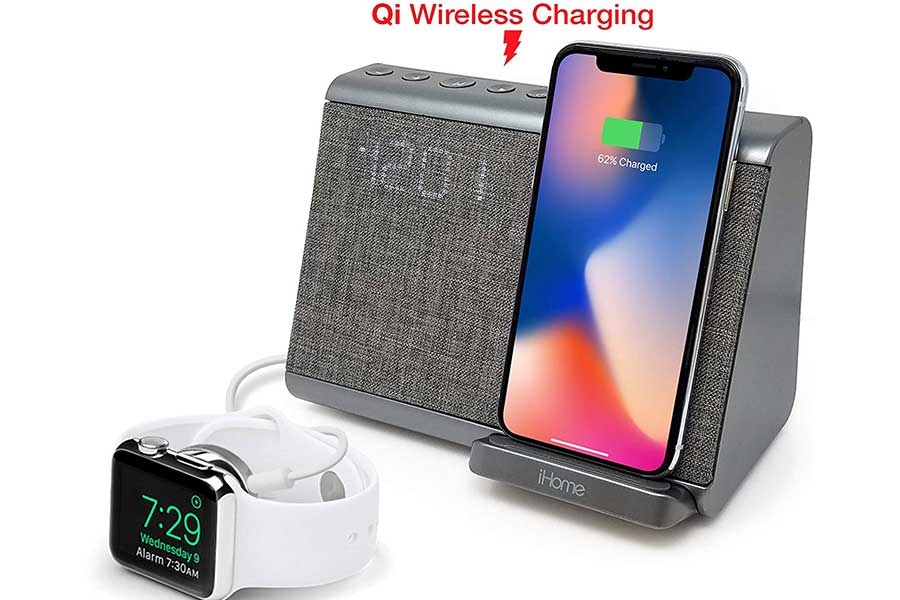 The iHome iBTW23 is a fantastic device featuring an alarm clock, wireless charging pad Qi-certified, and Bluetooth speaker system. This also comes with a USB charging port for those who don't have wireless charging capability to charge devices.
The Bluetooth speakers produce high-quality sounds, allowing you to play your favorite songs from connected devices.
Its noise cancellation feature lets you answer calls without noise interference when using the hands-free functionality.
It also has a built-in microphone, as well as call pickup and drop button.
The iBTW23 has a dual alarm system which enables users to set multiple alarms to ensure they never wake up late.
It is lightweight, compact and can enable wireless charging of iPhones and Samsung mobile devices. With a customization snooze feature, you get to wake up without any hassles whenever you want.
Support:
Qi Certified. Wirelessly charges iPhone X, iPhone 8 Plus and iPhone 8 wirelessly fast charges Samsung Galaxy S8| S8+| Note8
Pros
It supports hands-free calling.
Customizable snooze feature.
Noise-canceling speakers.
Dual alarms.
USB charging port.
Built-in microphone.
Cons
The sound produced may not be loud enough for specific users.
Some products are defective
I-Box Radio Alarm Clock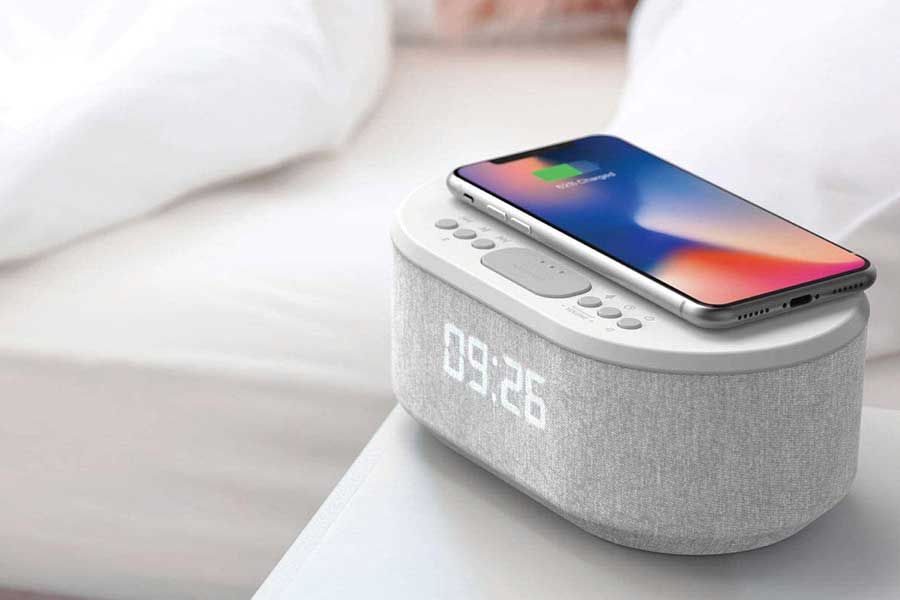 If you're looking to save money with wireless charging technology on a Bluetooth alarm clock, the I-Box device is an ideal option. It features an FM radio that supports up to 10 preset stations, enabling you to wake up to your favorite shows at various times. It comes with an AC power cord for charging, as well as a 12-month warranty that is quality proof.
The Qi-certified wireless charging pad allows you to charge your device at your bedside without connecting cords conveniently.
With the built-in 1A USB charging port, you can power other portable devices that cannot be wireless charged.
There is a five-level LED dimmer that lets you reduce the brightness of the clock display.
It ensures that your room remains dark enough to help you sleep better during bedtime.
Comes with 6W Stereo Speakers that produce excellent sounds when connected to Bluetooth enabled devices.
Support:
Compatible with iPhone XS Max/XR/XS/X/8/Plus, 10W Galaxy S10/Plus/S10E/S9, All Qi Compatible Phones
Pros
Dual alarms.
USB charging port.
It has a five-level LED dimmer for adjusting screen brightness.
FM radio up to 10 preset stations.
12 months' warranty.
User-manual.
Cons
No backup battery.
The clock display is quite blurry in well-lit rooms.
Think Gizmos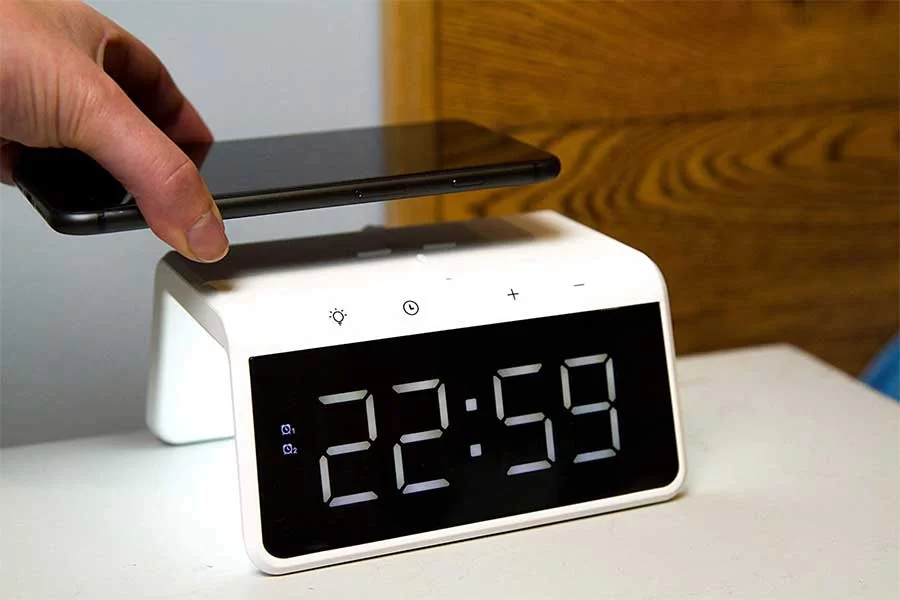 This Wireless Charger for iPhone and Android. This Awesome looking Alarm Clock has a variety of features including an easy to read backlit display, 2 programmable non ticking alarms, Qi-Certified Wireless Charging, additional USB Charging Slot and Color Changing Night Light.
2 programmable non ticking alarms
The modern arched design of the Wireless Charger Alarm Clock means it will look great anywhere in your home, on your bed side table, on your desk or in your office.
It has a built-in adjustable back light and color changing night light.
Save time with the included backup battery which, stores the time in case of power failure. No need to keep reprogramming the time if you lose power.
A perfect digital alarm clock for your home or business which could also be the perfect gift. USB cable, fully translated manual in English, French, Germany, Italian and Spanish included with the clock.
Pros
1 year Warranty
Dual Alarm Clock
Cons
Buttons touch accidently due to its design
Led Too bright, lowest brightness setting is actually an offsetting which is puzzling and frustrating.  
iLuv Morning Call 5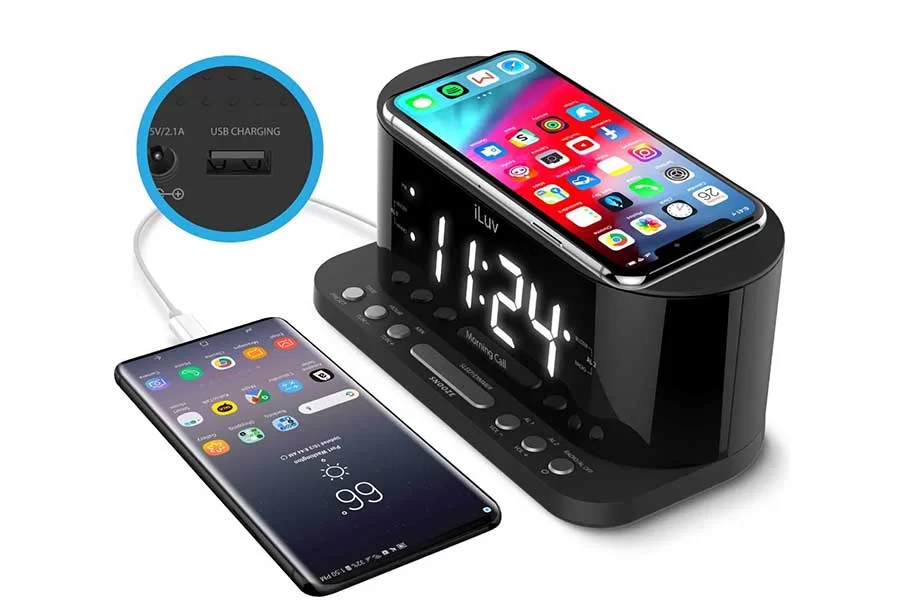 Another excellent smart device at a budgeted price, iLuv is the leading supplier of the most comprehensive line of alarm clocks, smart devices, and mobile lifestyle accessories and smart home accessories. By offering a continuous stream of quality and value to new and emerging products, iLuv is the ideal option for all your mobile lifestyle needs.
Equipped with a Qi certified wireless charging platform as well as a USB charging port, the Morning Call 5Q allows 2 devices to charge at the same time. Place your Qi enabled smartphone on the top of the unit and connect another device via USB port.
Wireless charging is compatible with most non-metallic/magnetic cases.
A large 1.2" white jumbo LED clock display, time can be clearly viewed from anywhere within the room. The Morning Call 5Q also has an adjustable 3-level dimmer brightness control to reduce eye strains for sensitive eyes in the bed room whenever lighting is reduced or dark.
Set up two alarms to accommodate different wake up schedules or share an alarm with your roommate.
Listen to digital FM radio with up to 10 preset stations right at your bedside or deskside. You can fall asleep while listening to your favorite music with the auto-off sleep timer.
Support:
Compatible with iPhone 11, 11 Pro, 11 Pro Max, X, XS, XS Max, XR, 8, 8 Plus, AirPods Pro, AirPods with Wireless Charging Case (2nd generation) and All Qi Compatible Phones/Tablets and other accessories.
Pros
Dual alarms.
USB charging port.
FM radio up to 10 preset stations.
User Manual
Warranty
Cons
Problem with wireless charging
Too loudly
Emerson Smart Set Alarm Clock Radio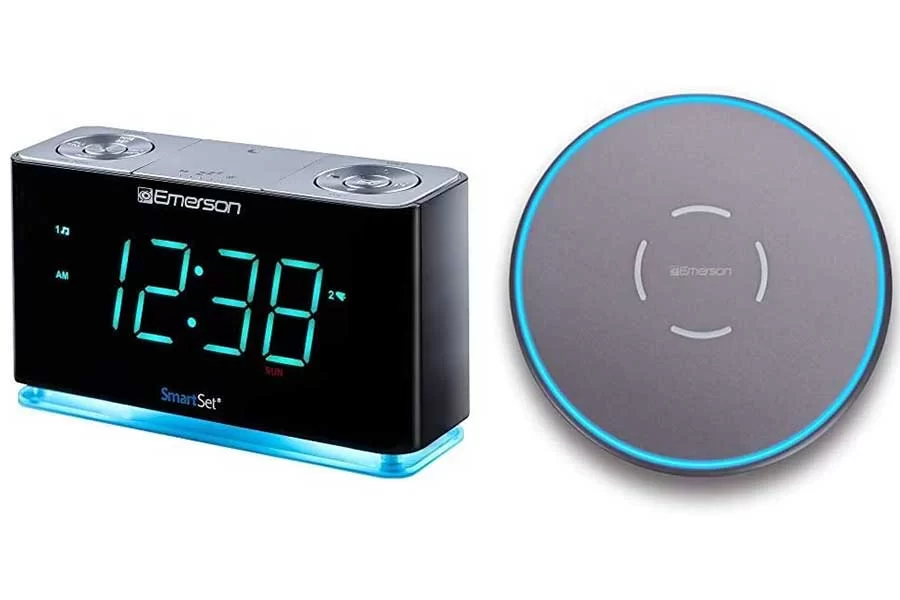 One of the best Budget alarm clock with wireless charging of 5W, you can opt for 10W for an extra $15.00 US, Apart from that it's an excellent clock with down below features.
  Bluetooth V4.1
USB output for mobile charging 2.1a 5V.Button cell battery (included) maintains time & alarm settings
Digital Tuning FM radio, 20 station memories. Patented smartest automatic time setting system. Automatically sets itself to the correct year, month, date, day and time as soon as you plug it in and after every power interruption
Quick charge 10W – quickly charge your phone without the hassle of dealing with wires
Simply place your compatible mobile device on top of the charger and your phone will begin to charge
Support:
Compatible with iPhone XS Max/XR/XS/X/8/Plus, 10W Galaxy S10/Plus/S10E/S9, All Qi Compatible Phones
Cons
It does jolt you out of your sleep and makes you want to punch someone.
Display is too bright even at lowest setting.
Pros
Super easy to handle clock.
Value for money.
Home Automation

>>

Surveillance & Security

>>

Smart Alarm System

>>

Smart Alarm Clock with Wireless Charging