You can play and control your Audible audiobooks through your Alexa speaker with most popular commands.
"Alexa, what's free from Audible"
Audible on Alexa will help you power through every routine, whether it's a relaxed stroll or an intense sprint.
"Alexa, read The Guardians"
Just ask Alexa to read every Audible title without raising a finger and have a wonderful listening experience. Start by reading Alexa…
"Alexa, read faster"
It's easy to change the narration speed of your Audible book. Whatever speed you choose, it will sync across all your Alexa-enabled devices.
"Alexa, set a 20 minute sleep timer"
Set a sleep timer before you go to bed so you're sure to never miss a moment of your listen.
"Alexa, what should I read next?"
Alexa will send you tailored tips if you're not sure what the next listener should be.
"Alexa, go back 10 minutes"
If you want to go back or skip forward, Alexa will change your listening location in seconds or minutes.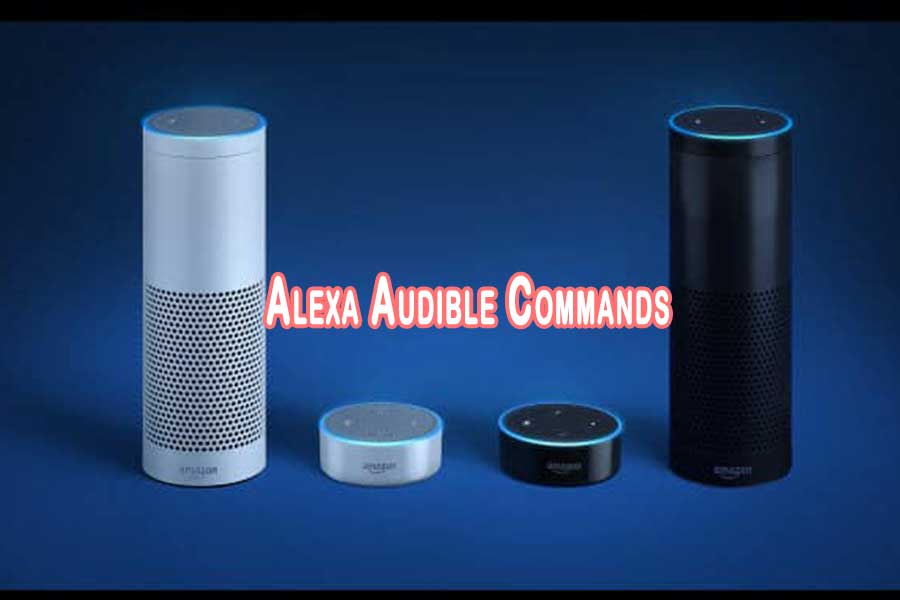 Other Popular Alexa Audible Commands
| | |
| --- | --- |
| To do this… | say this |
| Oh, listen to the audiobook | "Alexa, read my book" (plays your last books listened to) "Alexa, read [Tom Sawyer]" "Alexa, read [The Hobbit] from Audible" |
| Listen to a podcast | "Alexa, play my podcast" (plays your last podcast listened to) "Alexa, play the podcast [West Cork] from Audible" |
| Pause your audiobook | "Alexa, pause" |
| Resume your audiobook | "Alexa, resume" "Alexa, play" |
| Go back or go forward | "Alexa, go back" "Alexa, go forward" "Alexa, go back [45 seconds]" "Alexa, go forward [2 minutes]" |
| Skip chapters | "Alexa, next chapter" "Alexa, previous chapter" "Alexa, go to chapter number [7]" "Alexa, go to last chapter" "Alexa, restart" |
| Play individual episodes of the podcast | "Alexa, next episode" "Alexa, previous episode" "Alexa, go to episode 5″ "Alexa, play episode 15 of the [West Cork] podcast" |
| Get a book recommendation | "Alexa, what should I read next?" Note: This is only available to Audible members. |
| Narration speed | "Alexa, read faster" "Alexa, read slower" "Alexa, read at normal speed" |
| Set a sleep timer | "Alexa, stop reading in [12 minutes]" "Alexa, set a [6 minute] sleep timer" |
| Access your library | "Alexa, what are my books?" "Alexa, what's in my Audible library?" |
| Switch profiles | "Alexa, switch profiles" when listening to an audiobook Note: Available if have more than one profile setup through Amazon Household. |
| Discover free content | "Alexa, what's free from Audible?" |
| Start an Audible trial | "Alexa, start an Audible trial" Note: If you're having trouble signing up for a trial |
| Purchase Books | "Alexa, buy [Name of Book]" Note: Audible members with credits available can purchase audiobooks using Alexa. |
| Harry Potter Quiz | "Alexa, play Harry Potter quiz." |
| Choose Your Own Adventure | "Alexa, open Choose Your Own Adventure." |
Home Automation

>>

Brands

>>

Amazon

>>

Alexa Audible Commands