We're living in the golden age of technology development. In the past couple of decades, we've gone from relying on corded phones for the bulk of our communication to tiny computers in our pockets that are capable of dozens of simultaneous communication functions.
If smartphones were one of the major tech developments of the 2000s, a next big step in the 2010s, is the development of smart homes.
WHAT IS SMART HOME AUTOMATION?
Smart home technology generally refers to any suite of devices, appliances, or systems that connect into a common network that can be independently and remotely controlled. When your home technology works together in one system, it can also be referred more loosely as a "connected home". For example, your home's thermostat, lights, audio speakers, TVs, security cameras, locks, appliances, and more are all connected into a common system, which can be controlled from your smart phone or through a mobile touch screen device.
Smart home automation allows you to tap into high-tech functionality and luxury that wasn't possible in the past. As technology development continues to expand, so will the possibilities for consumer home automation to make life easier and more enjoyable.
The benefits of smart homes automation typically fall into a few categories, including savings, safety, convenience, and control. Additionally, some consumers purchase home automation for comfort and peace of mind.
Here are the Benefits of Smart Homes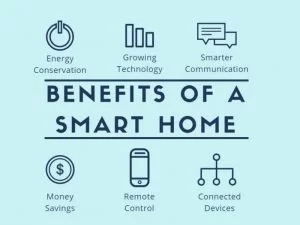 Savings
Smart thermostats and smart light bulbs save energy, cutting utility costs over time. Some home automation technologies monitor water usage, too, helping to prevent exorbitant water bills. Certain devices even offer rebates.
Home Security
An automated home system will allow you to have automated door locks that will fortify your home security. You can remotely control these door locks using a web-enabled device such as smartphone, tablets or PC. You can always make sure to lock your doors with only one tap of your finger.
This is an excellent feature for situations like forgetting to lock your doors when you leave the house or when you have to go to work before you kids leave for school. Having electronic door locks also eliminates the risk of being locked out from your home. You can always secure your home from anywhere with web access.
Security cameras offer benefits through either remote monitoring of package deliveries or real-time video of home inhabitants or unwanted visitors.
Convenience
If you want to control temperature, lighting, music, or your home's security system, you can set up various configurations to suit your tastes and manage them all with the touch of a button from any of your devices.
Control
Consumers also choose smart home devices to better control functions within the home. With home automation technology, you can know what's happening inside your home at all times.
Safety on Your Appliances and Lighting System
A home automation system will give you added protection to your home and family. With a smart home technology you will have the full control of your lighting, heating and power, switch every light, heating device and electrical device on or off with a touch of your fingertip. Having this advantage will allow you to check if an appliance is left operating which can lead to fire hazards and other severe scenarios. Not only that it will keep you and your family safe and prevent hazards like fires, but it will also prolong the life your electrical devices.
All the Cool Kids Are Doing It
Smart technology is a means of networking your home entire home in order to control a variety of systems including lighting, data, video, wireless, climate, security, and other key aspects that impact your life.
Help Save Precious Time
Since home automation allows you to run your home from anywhere fully, you won't have to waste precious time to go home to open the door for your children. Home automation is also a very useful system for a person on the go, a busy person that has plenty of "to do" list at work. With a home automation system installed, you can focus on your work while running your home while you're at the office or travelling.
Remote control of home functions
Don't underestimate the power of being able to control your home's functions from a distance. On an exceptionally hot day, you can order your house to become cooler in just enough time before you get home from work. If you're in a hurry to get dinner started but you're still at the store, you can have your oven start to preheat while you're still on your way home. You can even check to see if you left the lights on, who is at your front door, or make sure you turned off all your media while you're away.
Peace of Mind
Finally, many consumers invest in home automation technology for peace of mind. A new mom or dad can check on their little one thanks to smart cameras and other technologies. Or, if you can't remember whether you closed the garage after you left, you can verify remotely with an app.
Apart from these there are a lot of other Benefits of Smart Homes you could get by having these small systems in every day life would help you and your family by many ways.
Home Automation

>>

Blog

>>

Benefits of Smart Homes