Open the Blink app on your smartphone and enter your password (iOS or Android).
Begin the process by opening the Alexa APP on your Mobile Device
Tap on the three horizontal lines to open the Menu.
Select Skills from the main Menu.
Now search for Blink for home.
Then select the Skill. Tap "ENABLE TO USE".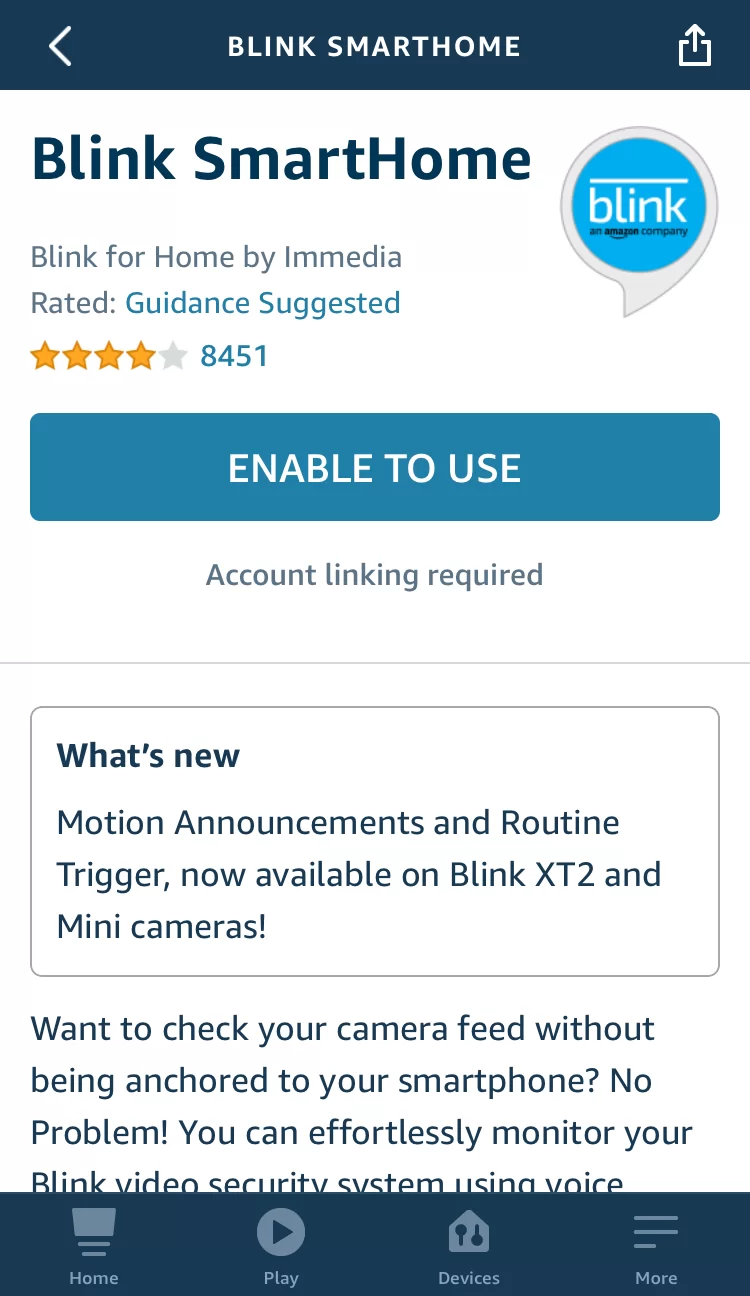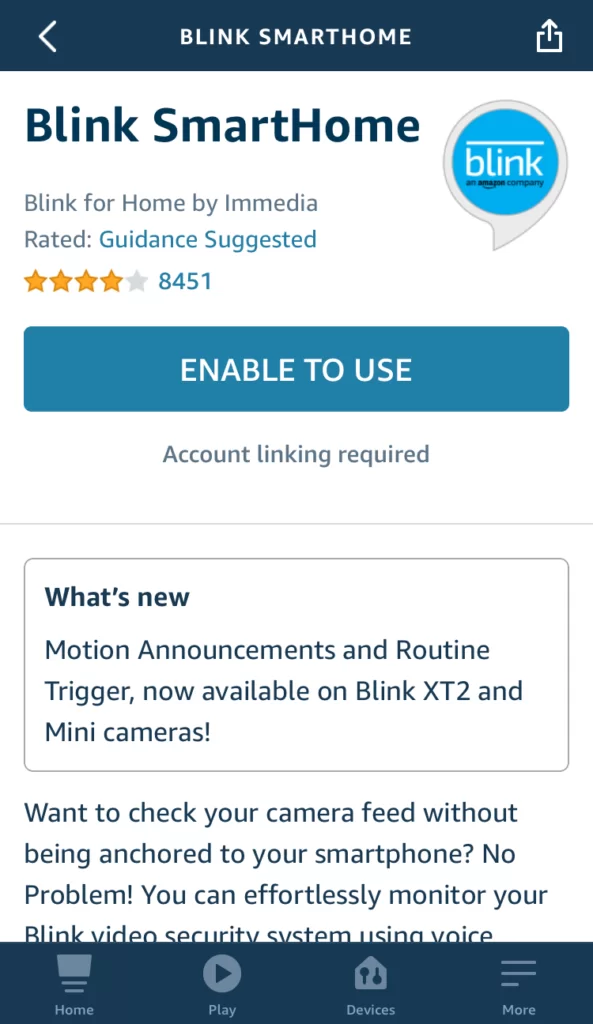 Once you have enables the skill, you will be redirected to another window asking you to sign in with your Blink Username and password
Enter your login credentials (Username and Password).
Once you have type the required details tap Sign in.
Now you will be at a screen saying Grant access.
Enter your desired 4 digit pin. (It will also be used to disarm your Blink system).
Tap Grant access to finish the setup of Blink and Alexa.
Once the setup is completed, you will see a message saying Blink skill was successfully Linked.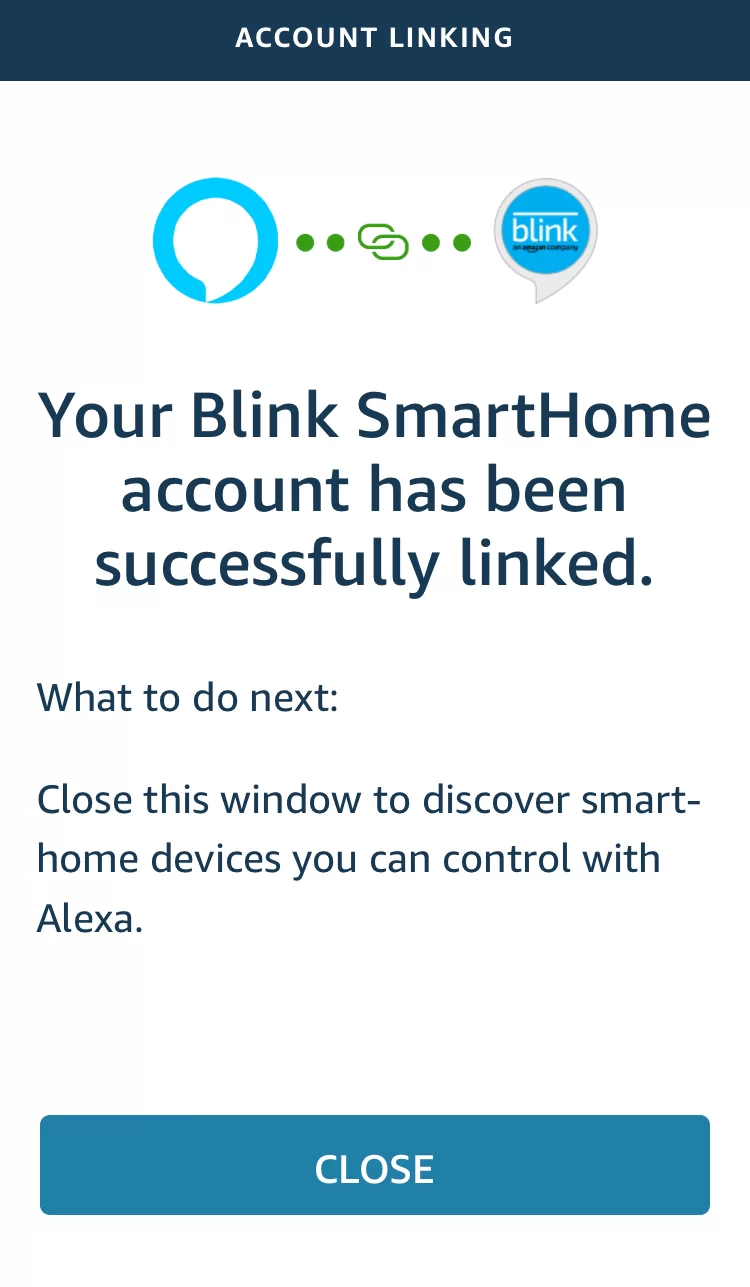 Now tap Close to discover your Blink devices.
Now you have linked your Blink account with Alexa. You can start using Blink with Alexa through Voice Commands.
Tap the Discover Devices option.
Wait for at least 45 seconds.
A new screen will appear saying – Devices have been found and connected with the Blink SmartHome Skill.
Choose your Device from the list to begin the setup Process.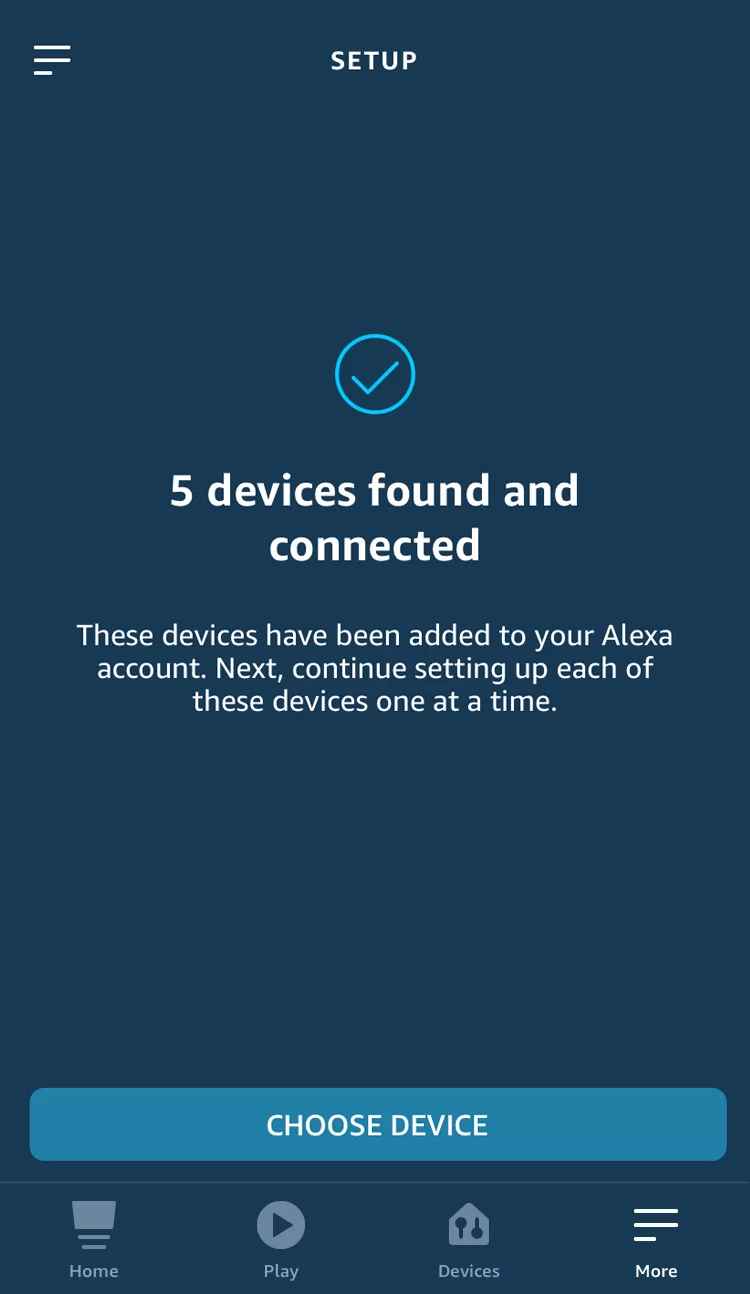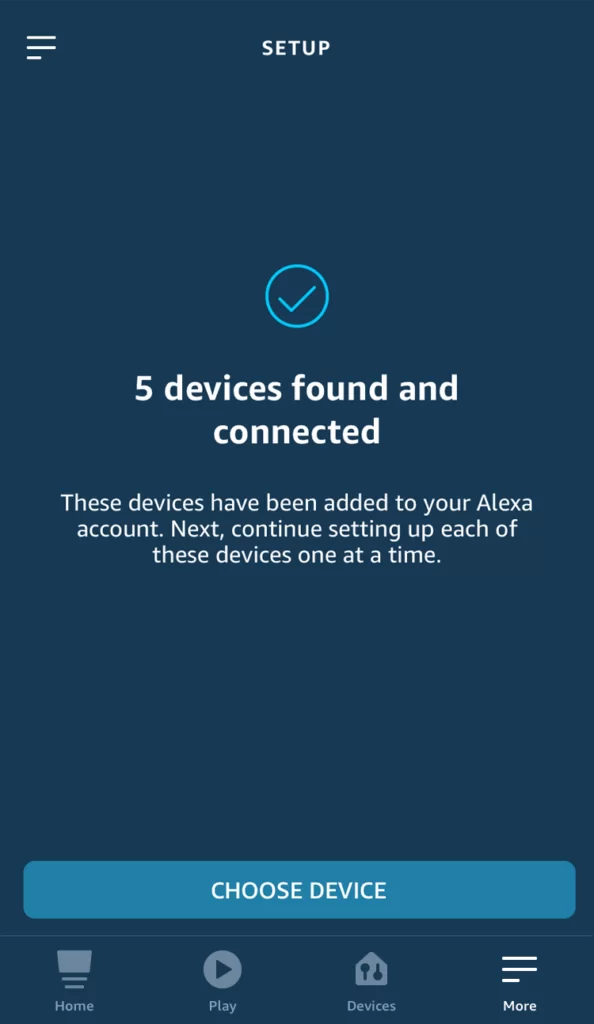 As a result, here are the exact steps to Link Blink to Alexa in the simplest manner; in general, the procedure takes a few minutes to finish if no stages are skipped. Connect your Blink to Alexa to have complete control over your home.
Auto View Blink Camera on Echo Show (Motion Detection)
To do this simply:
Open your Alexa App & select "More" located on the bottom right corner
then select routine
Name your routine
Once you named your routine click on "Next" and proceed to the "When this happens" tab
Select "Smart Home"
Select your Blink camera
If you would like Alexa to make an announcement when it detects motion then simply click on Add action > Alexa Says > you can type in whatever you would like your Echo show device to announce to you when motion is detected
Then simply pick your device you would like to get notified on in this case it will be the Echo Show
Then simply add a new action > Customize action > When Blink detects motion > name your routine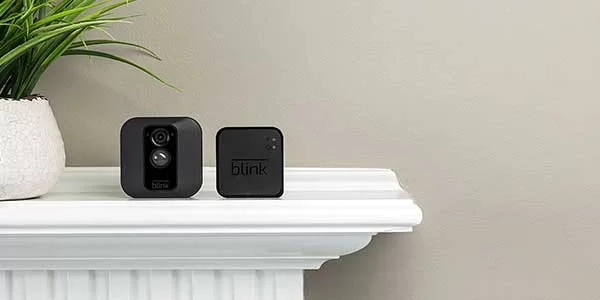 Relevant: How To Connect Blink Mini To Echo Show
Frequently Asked Questions:
What is my blink pin?
What is the pin? When you first enable the Blink SmartHome skill, you are asked to sign in with Blink account credentials and to create a personal identification number (PIN) code. When you ask Alexa to disarm your system, you are asked to provide the 4-number PIN code.
Why does my blink camera say live view not supported?
Live View can fail if the internet connection is too slow, or not steady. Cameras with microphone and speaker display a tap-to-talk button on the Live View screen of the Blink app. … Two-Way Audio‍ is supported on the Blink Video Doorbell, Outdoor, Indoor (gen 2), Mini, and XT2 cameras.
How do I get blink to work with Alexa?
How does blink work with Alexa?
Go to the Alexa app and search for Blink Smarthome under skills, you should find the skill with the Blink, an Amazon company logo.
Search for "Blink SmartHome", then tap into that Skill.
Tap the Enable button.
How do I get blink alerts on Alexa?
2. Enable Motion Announcements in the Alexa app:
Tap the "Devices" icon on the bottom right corner of the screen to reach the Devices view, then tap the "Cameras" icon on the upper left.
Tap a Blink camera that you wish to use for Alexa interaction, and enable the "Motion Announcements" toggle on the settings screen.
How do I connect my Echo show do you Alexa app?
Use the Alexa App to connect your Alexa Gadget.
Make sure your Alexa Gadget is powered on and in pairing mode per the manufacturers instructions.
Open the Alexa app .
Select Devices .
Select Echo & Alexa.
Select the Echo device you want to pair with your Alexa Gadget.
Can you use Alexa to spy on someone?
You cannot use Alexa to spy on someone. The only theoretical way is by using the 'drop in' function, although you need approval as a contact, and the recipient will receive an alert. Alexa always listens for an alert word, usually 'Alexa', but it can't be used to listen to someone remotely.
Can I use my Alexa as a camera?
Alexa Home Monitoring is a feature that lets you use your Echo Show devices like security cameras. When this feature is on, you can use the Alexa app on your phone or tablet to view a live feed from your Echo Show. You can also view the live video feed from any other Echo Show that's connected to your Amazon account.
Does Amazon Alexa spy on you?
Is Alexa spying on me? The truth revealed. As far as we know, Amazon isn't using your Alexa to eavesdrop on everything you do. … However, Alexa will sometimes record you without your knowledge, because she thought you said her name.
Can you drop in on Alexa without them knowing?
But can you drop in on Alexa without them knowing? No, you can't silently eavesdrop with Alexa's drop in feature. When someone drops in to an Alexa-enabled device, that device makes a distinct ringing noise and continuously flashes a green-light, for as long as the drop in occurs. Neither can be turned off.
Do Alexas listen to your conversations?
You may wonder if Alexa is listening to conversations, or listening to everything you say. You may want to know whether Alexa listens to you when you're not directly interacting with an Echo device. The answer to those questions is no. Alexa and all of our Echo devices are designed with your privacy in mind.
How do I make sure Alexa is not listening?
What to Know
Press the microphone button on your Echo device to immediately stop Alexa from listening.
When the button or indicator light is red, it means Alexa is no longer listening.
Stop recordings being sent to Amazon: Settings in Alexa app > Alexa privacy > Manage your Alexa data > Don't Save recordings.
How do I keep blink camera on live on Alexa?
More videos on YouTube
Open the Alexa App on your phone and locate the "Devices" tab located on the bottom of your screen.
Click on the + symbol locater on the top right corner of your screen then select Add Device.
Scroll down to camera & select Blink, once selected simply follow the instructions & select continue.
Why won't my blink Camera Connect?
Restart your device, or try switching the Wi-Fi setting off and on again to establish a connection. Make sure your mobile device is within range of your router or access point. Check that your router and any access points are powered on. Restarting your Wi-Fi router may also resolve this issue.
How do I get blink motion notifications?
From the Blink app, tap on Notifications from the Manage Account side menu.
Make sure that the toggle is set to on.
Tap on the words "Motion Notification"
Be sure that you have this set to either Urgent or High in order for sounds to accompany the notification.
How do I get blink motion alerts?
Android users:
To test notifications, head to the Blink app home screen, arm the system, ensure that the camera is enabled for motion detection (the 'running man' icon is blue color), and then make a motion in front of the camera. Within a few moments, you should receive a notification that a motion was detected.
How do you put Alexa in pairing mode?
Use the Alexa app to pair your phone or Bluetooth speaker with your Echo Device.
Put your Bluetooth device in pairing mode.
Open the Alexa app .
Select Devices .
Select Echo & Alexa.
Select your device.
Select Bluetooth Devices, and then Pair A New Device.
Can you FaceTime from Echo show?
Can You FaceTime on Amazon Echo Show? No, you can't FaceTime on an Echo Show. FaceTime is Apple's proprietary video chat app which only runs on Apple devices. Echo Show devices can only place video calls to other Echo Show devices and the Alexa phone app, and only Apple devices can FaceTime.
How do I sync Alexa devices?
Pair Your Echo Device With the Alexa App
In the Alexa app, tap Devices, the plus (+) button in the top-right corner, and then Add Device. You will be asked what kind of device you would like to set up. Since this is an Amazon Echo, choose the first option under All Devices.
Is Alexa always listening?
Yes, Amazon Alexa is always listening to you, but it's not quite as creepy as it sounds. … While Alexa devices — like the Echo or Echo Dot smart speakers — are listening all the time, they do so to monitor your voice for the wake word.
Can Alexa be hacked?
So far, there is no reported evidence hackers are using devices like Echo to hack Amazon's servers. But there is no denying the fact that voice-assisted speakers can and do continue to be hacked.
Can Alexa tell me if someone is in my house?
The Alexa voice assistant has several built-in security features to help protect your home, such as Alexa Guard, which can detect if someone is breaking into your house, and Alexa Drop-In, which lets you listen in to see what the detected noise could be.
Home Automation

>>

Brands

>>

Amazon

>>

How to Connect Blink to Alexa