When you intend to install a security system at your home, then Vivint is one of a few systems that enables your house to be totally safe and protected, it is one of a few systems that has a robust cyber hacking framework that prevents intruders from hacking Vivint security installing devices.
Vivint takes pride in how well its devices integrate with home automation technologies – this includes both the in-house and third-party equipment it manufactures. Which include items such as smart locks, video doorbells, and fire and smoke detectors.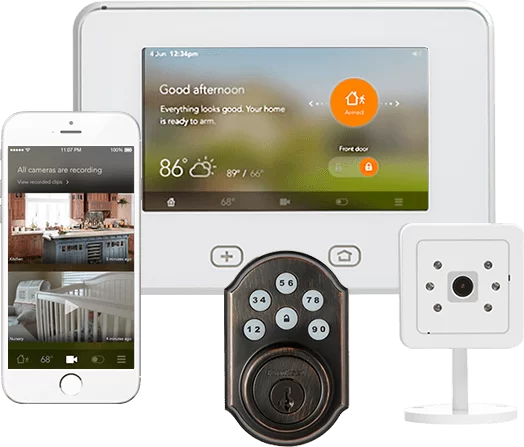 What Is Vivint Smart Hub Panel?
The main control panel for your Vivint system is the Vivint Smart Hub. This helps you to monitor your entire home from a single touchscreen on your wall. Additionally, the Vivint Smart Hub lets you see camera feeds and conveniently communicate with the in-house skilled monitoring specialists at Vivint 24/7. If you need to contact emergency services or visitors at your porch, you can do it all right from the Vivint Smart Hub.
Basically Vivant smart hub offers to configure in to three security system at once.
Home Security Protection (Burglary)
Fire Protection
Emergency Protection
It also provides several home automation capabilities.
Door locks
Wireless video cameras
Thermostats
Outlets to control lights
And more third party below listed devices
How The Vivint Hub And App Works To Control A Whole System?
The Vivint Smart Hub color touch screen panel and the Vivint Mobile App are both capable of handling your device. The Smart Hub has a 7-inch screen and is white to better fit with walls of light color. The interface of both the Smart Hub and the app is simple to use, with different menus for the various tasks, such as device arming and disarming, bypassing sensors and controlling smart door locks, cameras, and other smart home devices. You can also manage who has access to the system and see live feeds from your cameras. For security, a four-digit PIN is required to make changes to the system.
Other Features include:
Smart Hub is two-way talk (allows you to communicate with the professional monitoring service).
Up to 48 people can each have their own security code.
App alert you when you are not at home about any unusual activity such as arm or disarming system.
You can arm your home system at a remote location anytime you want.
App provides remote notifications and two-way talk via your Vivint doorbell camera or Vivint Ping indoor camera.
Home automation system that gives homeowners the power to control their home from any Internet connected device, whether they're at the office or vacationing around the globe.
You can control all devices from a single app anywhere whether you are at the office or at a restaurant, homeowners can remotely turn lamps on or off, adjust the thermostat, lock or unlock doors, and even watch live video of their home.
One significant feature that separates Vivint Control panel from other home automation systems is that it's designed to study your habits and adapt to them.
Let's say you head out for a run every day at 6:00 a.m., and habitually lock the front door behind you. One day you forget to lock the door, but Vivint Sky remembers and does so for you. Or maybe you consistently turn down the thermostat every night before you go to bed. Vivint Control panel takes note, and will conveniently adjust the thermostat on your behalf.
You can program Vivint Control panel to automatically unlock the front door at 3:00 p.m. when your kids get home from school, or turn the living room lamps on moments before you arrive home from work.
What Devices Are Available With Vivint Smart Home System?
There are many packages you can get which we discussed in the later section under Vivint monitoring heading. Here are all the devices that are Vivint devices and third party compatible devices you can connect with it.
Direct devices
Smart Vivint Hub
Motion sensor: $100
Smoke detector: $100
Glass-break sensor: $100
Carbon monoxide (CO) detector: $100
Water sensor: $50
Vivint Outdoor camera Pro: $399
Vivint Smart Drive: $249
Vivint Doorbell Camera: $249
Vivint Ping indoor camera: $199
Vivint Outdoor Camera Pro: $399
Vivint Element Thermostat: $169
Compatible with Vivint smart system
Amazon Echo
Google Home
Nest's thermostat
Nest Protect
Philips Hue lighting
Kwikset smart locks
August Smart Lock
Beddi Smart Alarm Clock
SimpliSafe Home Security System
Ooma Telo
MyQ Garage
Logitech Harmony Elite
Nest Cam
Nest Protect (Second Generation)
Belkin WeMo Light Switch
Belkin WeMo Switch + Motion
Dropcam Pro
Withings Aura
Scout Home Security System
Big Ass Fans Haiku Ceiling Fan with SenseME
Samsung Powerbot VR9000
SkyBell Video Doorbell
Keen Home Smart Vent
iHome iSP5 SmartPlug
Osram Lightify LED Starter Kit
Lutron Caséta Wireless Lighting Starter Kit
Lifx Color Smart Bulb
Brilliant Control
Jibo
How A Vivint Monitoring System Works?
Its depends on your requirement, how much you want to add, however the starting price of a package start at $29.99 per month for Smart Security. The Smart Home package (including smart home integration) is $39.99 per month, and Smart Home Video (including video monitoring) is $44.99 per month. But how much is Vivint after the cost of equipment? That will depend on the devices you want. A Vivint Smart Home Pro™ determine after consultation which you ask for free quote by calling them.
Call Vivint at 1-877-361-9616
However There Are Certain Packagers That Vivint Offers To Their Client
Flex Pay model
Purchase equipment NOW No contract
OR
Pay monthly at 0% interest 42 or 60 months
| | | |
| --- | --- | --- |
| SMART SECURITY MONITORING | SMART HOME MONITORING | SMART HOME VIDEO MONITORING |
| Starts From $29.99/month | Starts From $39.99/month | Starts From $44.99/month |
| Home security icon Mobile Access Home security icon Entry, smoke, and CO detection Home security icon Medical pendant support Home security icon Professional 24/7 monitoring | Home security icon Mobile access Home security icon Entry, smoke, and CO detection Home security icon Medical pendant support Home security icon Professional 24/7 monitoring Home security icon Smart home integration | Home security icon Mobile access Home security icon Entry, smoke, and CO detection Home security icon Medical pendant support Home security icon Professional 24/7 monitoring Home security icon Smart home integration Home security icon Video surveillance |
All these standard packages enable users to get professional monitoring and customer support 24/7. In addition, you can access the system remotely using Vivint mobile app, and a technician will come to your home if you need service.
The Vivint Smart Hub uses a cellular signal rather than a landline to connect to the monitoring station. Components such as motion sensors, door/window sensors, home automation devices, and smoke detectors primarily use radio signals to communicate with each other. The hub and cameras connect to your Wi-Fi network. Software updates are periodically sent over Wi-Fi or the system's cellular network.
However If You Want To Record Your Monitoring And Stored Then?
Vivint offers three camera which can be add on in to any of above standard packages as per your plan after consultation with their support team.
Indoor Ping camera
Outdoor Camera Pro
Doorbell Camera Pro
With a monitoring plan and a Wi-Fi connection, you can view live feeds via the control panel or mobile app. The standalone cameras have motion detectors that trigger the recording of clips – set by you to either 30 seconds, 90 seconds, or five minutes. The clips can be viewed via the control panel, mobile app, or an online dashboard. The newly updated Doorbell Camera Pro has a variety of enhanced features, including.
You can access live and recorded footage from your security cameras from anywhere through the Vivint Smart Home app. For $5 per camera, you get 14 days of 30-second video clip storage for each camera. You can also get 30 days of continuous recording for each camera with the purchase of a Vivint Smart Drive DVR for $229.
Vivint Smart Hub Installation Process?
You cannot simply alone install this system into your house, your only option from Vivint home security is professional installation. It costs between $49 and $99, depending on how much equipment you buy.
Vivint's Smart Hub Vs Sky Control
There is no distinction between smart hub and sky Control Panel versions, both has a touched capacitive multi-touch control panel that is mounted on the same 7 inch wall with similar function and features the same except for sky control 2.0 which has a front panel camera built into the top.
Check Each Control panel in Detail by Getting into Their Vivint Smart Hub Manual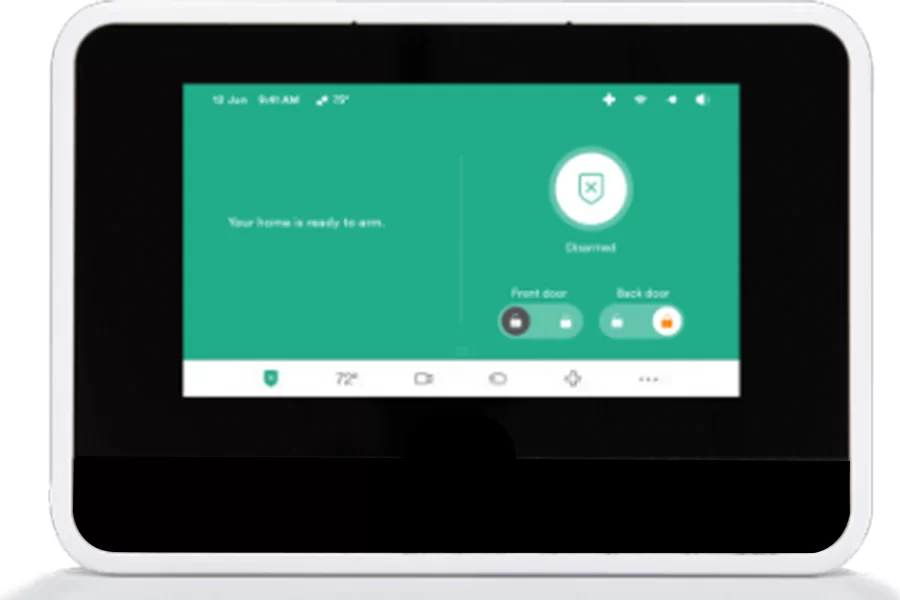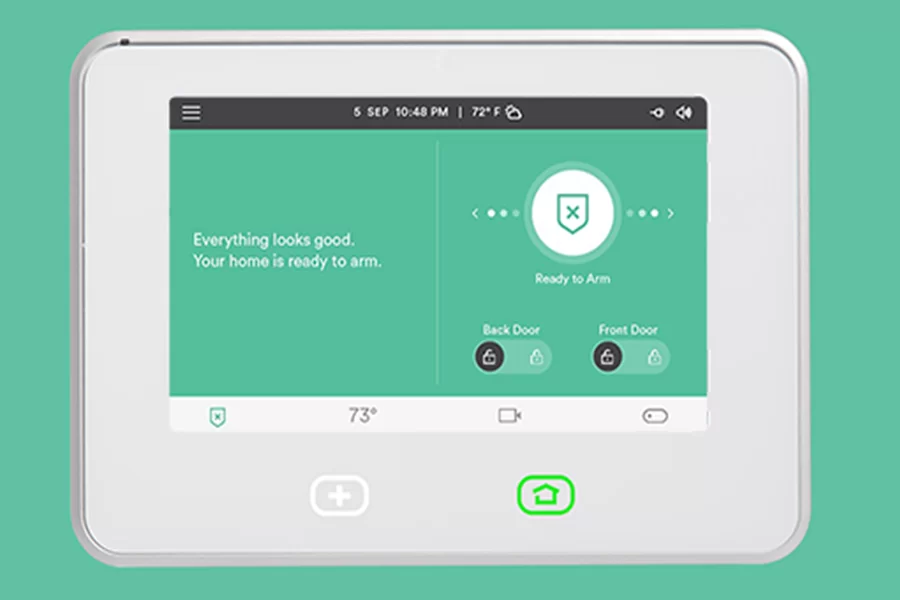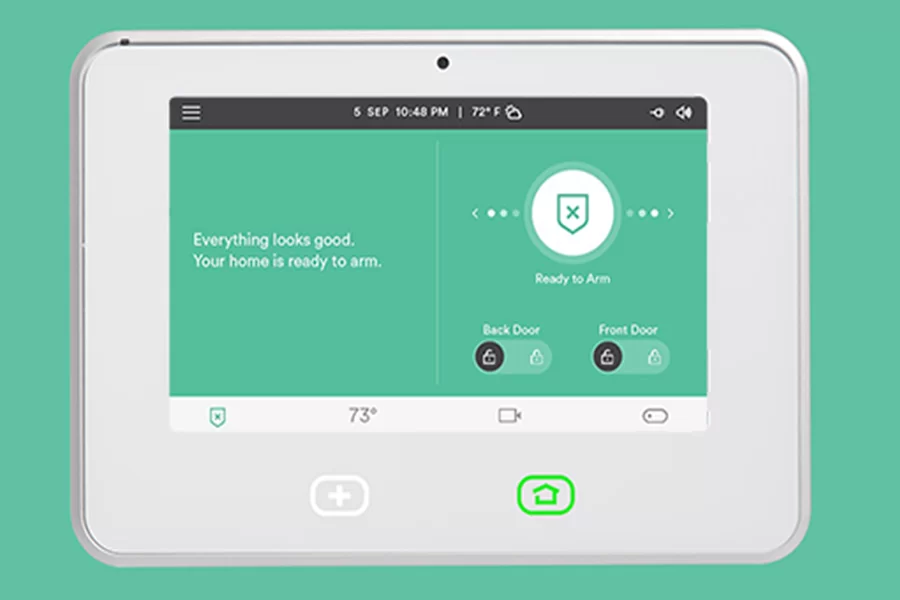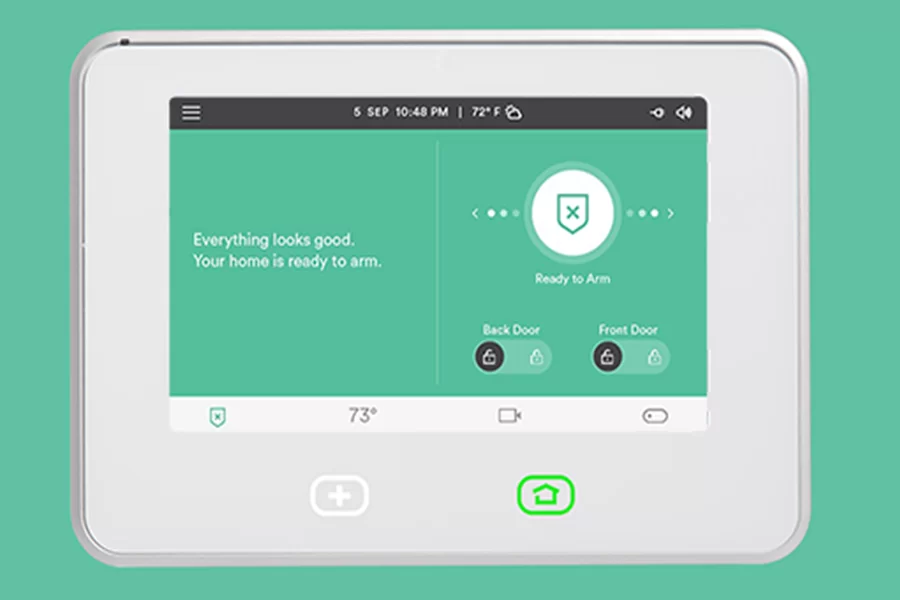 Vivint Smart Hub Specs
| | |
| --- | --- |
| COLOR | White |
| POWER USAGE | 12 VDC / 1.5A; backup battery powers device for at least 24 hours |
| AUDIO | Built-in speaker and microphone, supporting 2-way voice |
| SIZE | 5.7" h x 8.1" w x 0.9" d |
| TOUCH SCREEN | 7″ with 1024 x 600 resolution and capacitive multi-touch |
| SIREN LEVEL | 100dB |
Here Are All Video Tutorials of Vivint… Vivint
Home Automation

>>

Surveillance & Security

>>

Hubs & Bridges

>>

The Hub Vivint