A smart home thermostat is a perfect way to make your home more efficient in terms of electricity. Six of the most common smart thermostats on the market have been looked at and the four best smart thermostats have been identified.
To help make your quest a little easier, we analyzed them based on their functionality, energy savings, and prices. See which thermostats for the smart home made our list below.
To review each of these smart home thermostats, and other smart home products, we used the following categories to evaluate each brand and compare with the others on our list.
Mobile app – Can you remotely control the device with a mobile app, and what kind of features does the app provide you with? Is it consistent with other devices or systems which are smart?
Energy savings – Through installing this unit in your house, how much electricity can you save? For the most effective goods, we are searching for products and devices that bear the ENERGY STAR seal.
Installation – Does it offer DIY installation or does it require professional installation?
Price – How is the product priced compared to other brands and the amount of money you could save on your energy bill?
Learning capability – Does the thermostat learn your preferences automatically, or do you have to program them yourself?
Warranty – Does the brand offer a warranty on the thermostat, and how long does it cover your device?
Here Are the List of Best Energy Efficient Smart Thermostat
Emerson Sensi Touch
Price: $121.55
The Emerson Sensi Touch smart thermostat is both ENERGY STAR certified and includes a top-rated mobile app.
It offers smart updates via the app to keep you up-to-date with the system on any weather fluctuations or issues. To send you a more complete picture of the comfort level of your house, it even provides humidity monitoring.
Amazon Alexa, Google Assistant, Apple HomeKit, and Samsung SmartThings devices work with the Sensi Touch. It contains everything you need, with step-by-step instructions in the app, for simple DIY installation.
Emerson advertises that you could save 23% on your energy usage with the Sensi Touch system.
It was also selected as the PCMag.com Readers' Choice for best smart home thermostat, and USA Today's Editors' Choice for best overall smart thermostat.
Nest Learning Thermostat
Price: $218.99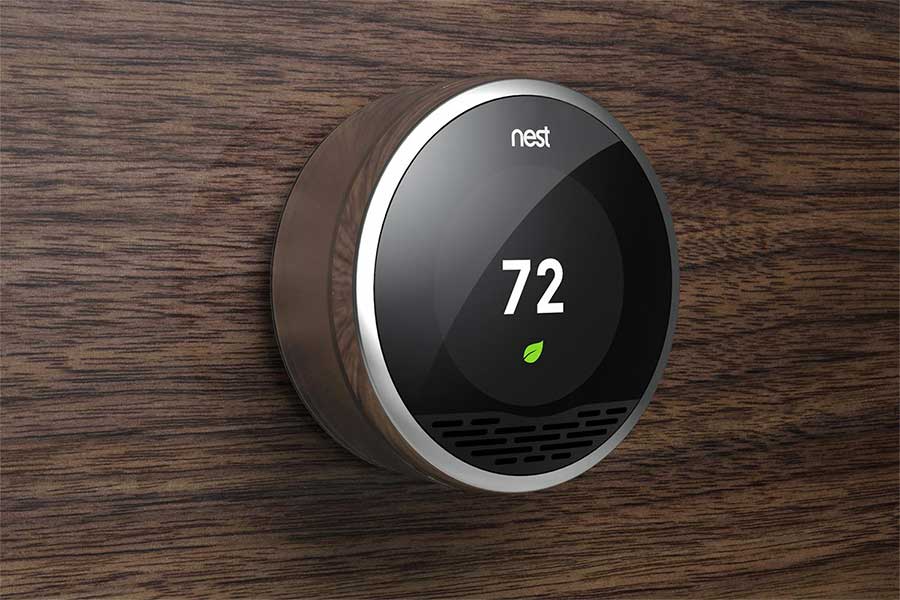 The Nest Learning Thermostat 3rd generation features an innovative learning framework that makes it a "smarter" alternative than most other brands. The Nest thermostat learns your preferences with sophisticated geo-fencing and learning algorithms and generates a fine-tuned cooling and heating routine that matches you after only a few days.
One of the most elegant smart home thermostats out there is also the Nest Learning Thermostat. Seven different colors and a stainless-steel rim can be chosen by consumers.
There's sure to be a nest that suits the inner look of your house. It also has a basic display monitor; it is more attractive than most other products on the market because of this feature.
The only drawback to Nest is that it is not compliant with all smart home configurations. The Nest is great if you are planning on using the Google Home app and smart hub. But certain other products, such as the Apple HomeKit framework, may not be compliant with it.
You can save 10-12% on heating as well as 15% on cooling systems.
ecobee Smart Thermostat With Room Sensor
Price: $200.00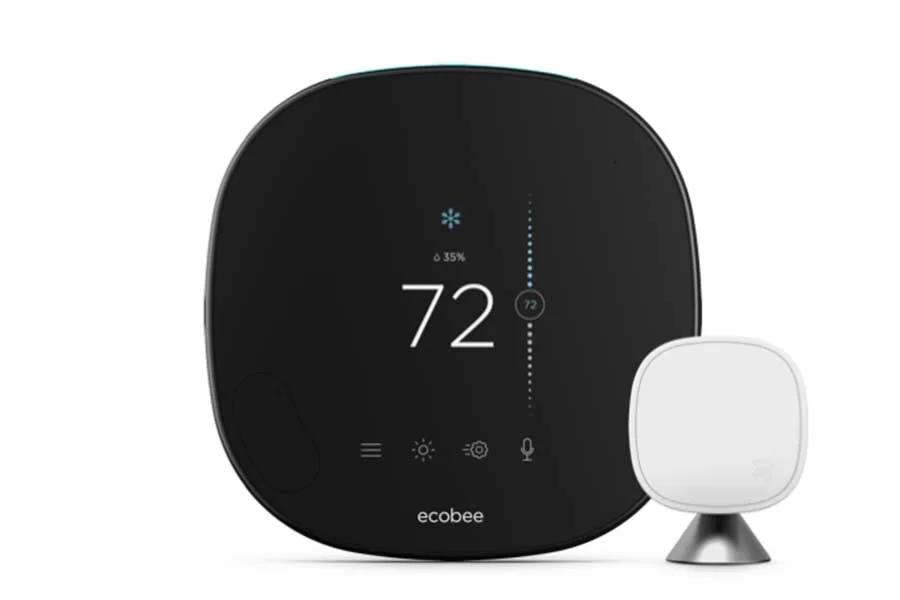 The ENERGY STAR-rated ecobee Smart Thermostat with voice control is our choice for the best energy saver.
This thermostat is the next-gen descendant of the ecobee4 from the brand. It is compatible with the most common Amazon Alexa, Apple HomeKit, IFTTT, AND Samsung SmartThings smart home systems.
Another huge bonus for the Smart Thermostat ecobee is that it comes with the built-in Amazon Alexa voice assistant, so you can change your voice command temperature settings. As a smart speaker, an intercom, and even making phone calls, your thermostat can serve.
Another huge bonus for the Smart Thermostat ecobee is that it comes with the built-in Amazon Alexa voice assistant, so you can change your voice command temperature settings. As a smart speaker, an intercom, and even making phone calls, your thermostat can serve.
The ecobee Smart Thermostat could potentially save you 23% on your annual energy costs.
Honeywell Lyric T5+
Price: $74.00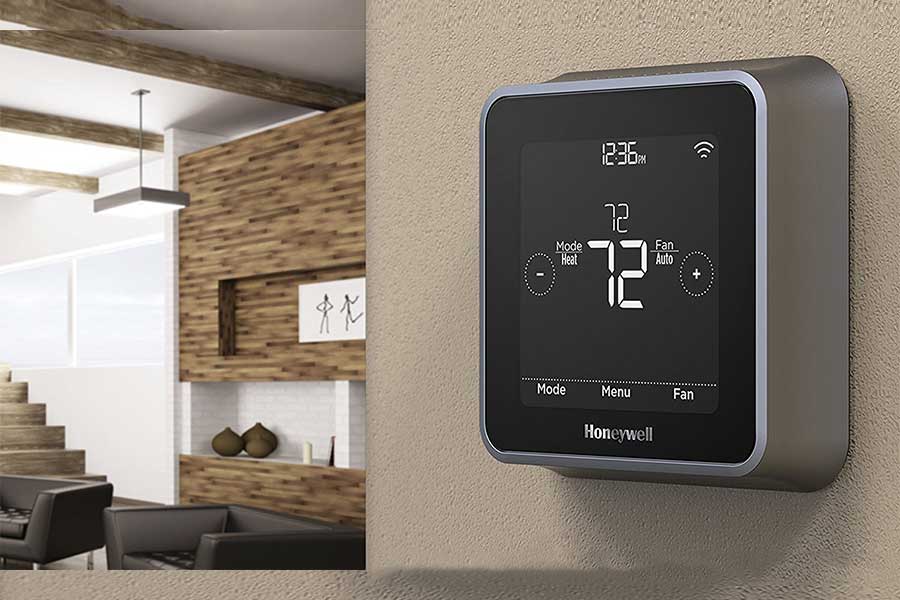 The Honeywell Lyric T5+ Wi-Fi smart thermostat is an affordable and dependable smart product that can help you reduce your energy use and costs.
The Honeywell Lyric T5+ comes with a geo-fencing mechanism that helps change the temperature of your home when it senses that you are not home, using less electricity. By adjusting your 'Home' and 'Away' settings, you can conveniently change the temperatures.
In order to consider your routine and temperature expectations, it also includes intelligent comfort management so that your comfort settings can be properly calibrated.
When it comes to compatibility, the Honeywell Lyric T5+ works with Amazon Alexa, Google Assistant, IFTTT, Cortana, and Siri in Apple HomeKit for full voice control.
Smart Home: Apple HomeKit-Smart Devices Ready to Buy in 2021
The Honeywell Home software also helps you to remotely monitor and manage the heater and air conditioner of your home, as well as any other Honeywell Home related gadgets. It also provides an extra power adapter in case a C-wire link is not included in your house.
What Features to look for in smart home thermostat?
When comparing smart thermostats, here are some important features to consider
Smart home integration
Compatibility with your HVAC system
Geo-fencing and remote sensors
Compatibility with your home's wiring
Advanced learning capabilities
ENERGY STAR certification
Home Automation

>>

Thermostats

>>

Smart Thermostats

>>

Best Energy Efficient Smart Thermostat