Moving into a new home is an exciting thing to do, even if that home is on the diminutive side. With the cost-of-living crisis, it can be hard to justify the rent or market price for full-scale homes, leading to a surge in demand for flats and other small homes.
Whether renting or recently having come into ownership of a flat, security is a chief and going concern for a given resident. According to recent crime statistics, the risk of burglary increased by as much as 7% between 2021 and 2022. For those in smaller homes and flats, what are the best ways to protect against criminal entry or activity?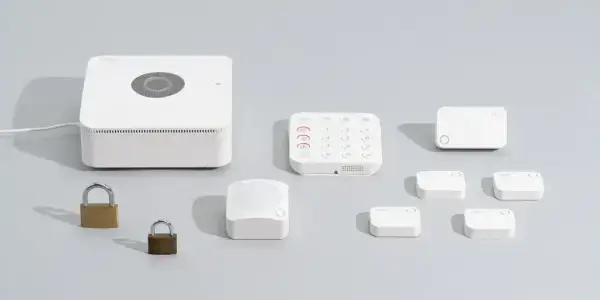 Door and Window Sensors
The first port of call when it comes to protection from trespass is the securing of key points of entry – namely, the doors and windows. Most flats are relatively safe from entry in these manners, as a result of being well above ground and inaccessible without potential entrants first making it into the main apartment building. Still, though, forced entry remains a threat; an inoffensive and inexpensive way to police entry could be through a small sensor system, wherein sensors detect passage through a door or window and alert one's phone.
Indoor Security Cameras
While not wholly preventive, surveillance measures can be excellent security features – if not as a deterrent for burglars, then as a method for identifying them after a break-in. As a tenant in a rented flat, cheap camera systems can be a useful form of back-up for a renters insurance policy; in the event of a break-in, the footage from your CCTV can help with your claim, and ensure that the value of your possessions is protected as a result.
There is an added benefit of reduced cost to consider, too. Traditionally, CCTV systems were bulky and expensive. Today, though, the average smartphone can achieve a great deal more than purpose-built camera systems. Indeed, old and surplus-to-requirement phones can be transformed into a network of CCTV cameras, costing relatively little to the average flat-dweller.
Video Doorbells
In the same vein, video doorbell systems can be extremely useful as a deterrent for would-be trespassers. Video doorbells have exploded in popularity, with pioneering brands like Amazon's Ring paving the way for a new era of inexpensive home security and safety. These devices require little in the way of installation, and take up as little space as a regular doorbell would. They are instantly recognisable, and app-capable – meaning real-time security updates.
Keyless Entry
For the homeowner, more drastic security measures are possible – including a complete overhaul of your door locks. Simple locking mechanisms are easily defeated, and the prepared burglar could force or pick entry with relative ease. New technological innovations have allowed the invention of keyless entry mechanisms, whether via fob, PIN code or even smartphone access. These remove the mechanical weaknesses of the regular lock, and make it easier for you to control who has access to your home.
Home Automation

>>

Blog

>>

Flat-Friendly Security Gadgets – Compact Security Solutions for the Smaller Home