Basically gosund smart plug available in 10Amp and 16 Amp with single and dual socket with rectangle and circle design.
Gosund mini smart plug for UK doesn't not support IFTTT, only compatible with Alexa and google, apart from that for USA products they are compatible with IFTTT, Google and Alexa, so many features under the basket you can enjoy with just little amount to spend.
Overview of all Gosund smart plug
These smart plugs are compatible with 2.4G Wi-Fi networks and can be controlled right from your smartphone. Simply plug your appliance to this Wi-Fi smart plug then plug it into your wall outlet. You can control which appliances to turn on/off without getting up from your sofa.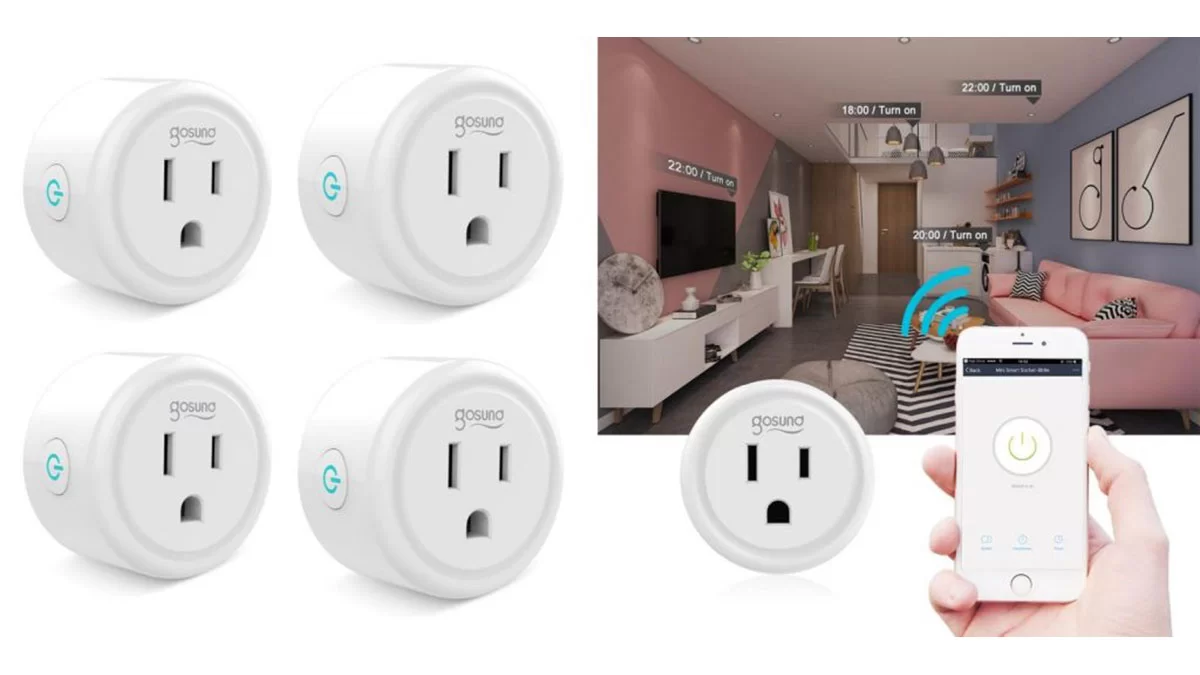 Features
Automatically turn on/off lights and fans or connected devices, this would allow you to save some energy bill when not in use.
Simply set scheduled timers for different appliances and let your wifi plug do the heavy lifting for you.
All you need is a Wi-Fi network, android 4.4, ios 8.0 and your home will be truly connected.
Instruction Manual of Gosund Step By Step
How To Setup Gosund smart plug?
Initial Installation
Search for Go Smart App on App store/Google Play Store, or just scan the QR code below to download.(For iPhone, you can use build-in camera to scan the QR code. For Android, you may need barcode scanner to do that.
Please confirm the App icon before downloading.)
PS: You can also add this smart plug to smart life app directly if you already have it on your phone, it is compatible and works the same way
Register an account and memories the password, enter your email address or your phone number, then obtain verification code to complete the registry
How do I connect my Gosund smart plug?
For Easy Mode Installation
Please make sure that plug has connected with electricity at the beginning then open the "Smartlife"APP.
Tap the Add Devices or the + at the upper right corner of the page and select Electrical Outlet.
Long Press off/on for 5 second until light indicator flashing and interface page steppes then Add Device page as above
Choose the local Wi-Fi and make sure enter the correct password
Wait for configuration then tap Done
Ap Mode
If the Easy mode connection failed, please remove and install the smart plug into your power outlet again. When you make sure the indicator light is quickly blink again for Easy mode, hold the power button for about 7seconds to plug to AP mode
Once you see the indicator light slowly blink (every 7 seconds ), you can start to try the AP mode connection
First go back to the Add Device "+" interface, choose the AP Mode on the upper right corner
Then Long press on/off button until the indicator light flashes slowly
Make sure the indicator light is flashing slowly and confirm it in App
Choose your 2.4G Wi-Fi and enter the password and confirm it in App
Tap "Connect now" and choose Wi-Fi hotspot named "SmartLife-xxx", then go back to Go Smart application
Wait till successful configuration and then tap "Completed"
How do I connect my Gosund smart plug to Alexa?
Requirements
Amazon Alexa Device and Alexa App
The Smart Plug connected with Go Smart App
Go Smart App user ID and password. Open Alexa app and choose Skills & Games –> Search for Go Smart –>ENABLE TO USE –>Enter the Go Smart account
Authorize to use
–>Choose Go Smart. And then, the devices you added on will sync to Alexa App. You can also ask Alexa to discover new devices for you in this moment
How to ask Alexa to turn on/off Smart Plug
First you need to set exact name for the plug on Go Smart app. If not, Alexa may tells you: "Sorry, I can't find the device named xxx…" You can say to Alexa "Alexa, turn on/off bathroom plug", this command will help you to do the work
Things you can do with Alexa
Voice Control the smart plug
Remote Control the smart plug via Alexa App.
Add the smart plug to certain groups on Alexa App For other questions about Alexa, please find out with Amazon Alexa support page, or contact us for help directly by email
Tips for using Alexa Voice Control
Please make sure the device name you set for the smart plug is unique and recognizable for Alexa voice assistant
You should make sure all the smart devices names at your home are no repetitive and recognizable for Alexa
Voice assistant system needs the exact command to do the work
How to Connect with Google Home?
After you connected the smart plugs with go smart app successfully, you can start to link them to
Google Home app
Open Google Home app and find "Set up device" –>Click "Works with Google"
>Search go smart –>Enter your go smart account –>Authorize to use
After that you will see the smart plug in the home page of Google Home as "Linked to you",but you still haven't set the device name and assign a home or a room for it
Now click the device that "Linked to you" or open "Works with Google" again to manage your linked devices
Follow the steps and set up the device names, rooms and home for the smart plug, you won't be able to voice control it before you complete that.
How do I reset my Gosund smart plug?
You can reset smart plug from smart app by going at the bottom of the app and see a Factory reset button.
Or
You do physically by pushing the on/off plug button for about 8 second until you see the light indication initially fast and then turn slow, this will confirm that your plug is reset.
Connect with Your Cellphone Instruction
Requirements: 2.4GHz Wi-Fi condition at home
If you only have 5GHz Wi-Fi router, you will not be able to complete the connection
If you are using a dual Wi-Fi router and it broadcast 2 Wi-Fi signals, make sure that your phone was connected with the 2.4GHz Wi-Fi signal, it should be the Wi-Fi signal that next to "_5G"
If you are using a dual Wi-Fi router but it broadcast only 1 Wi-Fi signal, you will have to manage your Wi-Fi router and change the settings to have 2.4GHz Wi-Fi
Download PDF Files of Instruction Manual
Home Automation

>>

Outlets

>>

Plug in modules

>>

Gosund Smart Plug