When you switch on your Hisense smart TV, your TV does not come on but you can see your Hisense TV blinking red light and your Hisense TV does not start or does nothing and displays only black. So, let us go through how to get rid of this red blinking light on Hisense smart TV in detail.
Hisense TV blinking red light flashes for a variety of causes. It might be as easy as switching to standby mode or as serious as a malfunctioning power board. In terms of repairs, you may simply reset your TV or replace the power board.
Although the specific causes and their solutions are listed below, here is some short information on what to look for and what actions you should take to address this problem right away:
| | |
| --- | --- |
| What to do? | Why do it? |
| Reconnect the TV to the wall outlet. | Verify that your TV is securely plugged into the wall socket. Maybe the cable is not completely plugged in and your connection is loose. |
| Check if your TV is turned on | Your TV may not be receiving power because the wall plug is broken. |
| Change your power cord | It's possible that a damaged power line won't get enough current. |
| Try disconnecting your devices | There are instances when connected devices, such as set-top boxes or streaming devices, may not work properly. |
| Check whether the backlight is on | Your TV won't display any images because the backlights are broken. |
| Check your router's settings | See whether unplugging or resetting your router fixes the problem. |
| Do a hard reset | If nothing works, give your TV a hard reset. The mess will be cleaned up, and maybe now your TV will switch on. |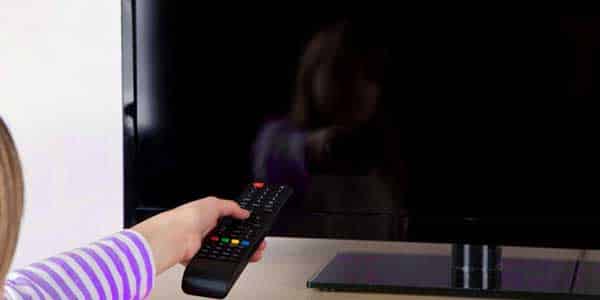 The Most Common Causes of Hisense TV Blinking Red Light
LED back array problem
Though this is an uncommon event with Hisense TV, there is a possibility. When this happens, it usually doesn't affect your normal TV operations, but you'll identify a red light flashing on the power button. Ideally, here is where the LED panel problem might be occurring. The solution to this problem is simple, however, you may need to contact a specialist at some point.
Only the three suggestions above are likely to result in a blinking red light on your Hisense screen. It is much easier to narrow down and repair a problem after you have identified which of them is the core cause.
How to fix it:
The light array or board of your television, like the power board, might fail. It's not as severe as the power board, but it's still aggravating. To resolve this issue, just remove the LED light panel and replace it with a new one.
Stuck on standby
Every manufactured item has the potential to break, and your Hisense television is no exception. After a time of use, your television may get "stuck on standby." When this happens, the power button blinks red and does not respond when you hit the remote control or any other operational manual button.
How to fix it:
This is a relatively simple problem to resolve in your Hisense television. All you have to do is reset your television, and the problem should be resolved. Here's how to reset your television to resolve the issue.
Unplug your TV from the wall. And keep it that way for about 10 to 15 minutes.
After that, press and hold the TV power button for about one minute.
Then, plug in your TV and turn it on.
This resets the TV, and it should work like before.
Power board failure
It is one of the critical reasons that will cause your Hisense TV to blink red. Power board failure happens when your TV experiences internal issues majorly resulting from:
Bad capacitor
Faulty fuse
Blown out internal components
Though other factors contribute to power board failure, inflated caps and burned capacitors are the most common. Whatever the cause, power board failure is an issue that should be addressed by a professional.
How to fix it:
If you are unsure, don't chance it with repairs! Allow a technician to complete the task. Without the necessary technical expertise, you may never get into all of the technical things. Most issues can be solved by installing a new power board.
The red light on Hisense TV blinks twice and 3 Times
People frequently report that the Hisense TV's red light blinks twice and the TV does not turn on after that.
One of the most common causes of this error is a problem with the TV's power supply, the power supply board within the TV, or a brief software defect that prevents the device from operating.
How to fix it: 2 Times or 3 Times Blinking Red Light, steps will be same
One of the first steps you should take to resolve the problem is to power cycle your Hisense TV.
Unplug the TV from the power supply.
Wait for about five minutes.
Plug the power supply back in and restart the TV.
If a simple power cycle and restart do not work, here are a couple of methods for resetting the Hisense TV.
Unplug the TV from the power supply.
Wait for about 15 minutes.
Press and hold the power button on the TV (not the remote) and plug the TV back to the power supply.
Keep the power button pressed for about 60 seconds once you've plugged in the TV and turned it on.
If this doesn't work, continue with the steps below.
Press and hold the Volume and Menu/Guide button on the remote.
Press and release the power button (on the TV, not the remote).
In both circumstances, look for a blue light. If it does, hold down the Volume and Menu keys for 15 seconds before releasing them.
Checking the Power Supply
The Red light on the Hisense Smart TV frequently starts flashing owing to a malfunctioning power source.
You can try a different outlet or plug in something else to see if it solves the problem.
It might potentially be caused by the Power Supply component located within the TV's back panel. It is not suggested that you open the TV rear panel without the assistance of an expert.
Internal hardware problem: A poor led driver (inverter board) and/or led strips are most likely to be responsible.
How to fix it:
Considering a do-it-yourself (DIY) repair? If so, an electronics background as well as expertise with electronics parts, tools, and test equipment are required.
If not, I would recommend sending your TV in for service. It's often cheaper to buy a new TV than to fix an old one. Please get an estimate of the repair cost and compare it to the current TV pricing (brand new).
What should you do if your Hisense TV won't switch on but displays red light flashes?
In other situations, your Hisense smart TV will not switch on or will display red light flashes. You should not be concerned in this scenario. There are a few reasons why this happens. It's usually not due to a faulty television or other severe issues. It may take a few minutes to rectify the issue and get your screen back up and running.
How to fix it a Hisense TV that's not turning on
Check the remote control
If you use a remote to turn on your TV and nothing seems to work, check the remote batteries and replace them with stronger ones before giving it another try. If this still does not work, switch on the TV using the power button. If it turns on this manner, it's time to get a new remote.
Power cycle your TV
Several power-related issues can get resolved by power cycling your Hisense TV. How to do it:
Unplug the power cable from the current outlet and leave it disconnected for some minutes
Press and hold the power button for at least ten seconds
Plug in back the power cable and turn on the TV. If these two don't work, then try the following:
Examine the condition of the power cable. You need to ensure that the power cord is well plugged into both the current outlet and the TV.
Replace internal components– if you know electronics and their work, you can then troubleshoot the boards to ascertain the potential power problems. If you don't, it's time you hired qualified personnel to do the job for you.
Check the inputs
Your TV may not turn on if you use the incorrect input. Examine if all HDMI inputs are properly matched or not, as they are crucial to the display.
Unplug all network devices
The Hisense TV will blink red or blue light 2-6 times and will not turn on. This is caused by your television's network connection. Attempt to reset your modem or router from which the internet connects to the TV by following the procedures below;
In the case of an internet router, keep it plugged into the television.
Hold the reset button for 30 seconds. It is located at the back or front of your Hisense TV,
Release the reset button and allow the router to power on, and finally,
Examine whether the Hisense TV is operating as required or not.
Examine the Backlight
Failure of LED backlights is a typical hardware issue that may prevent your Hisense TV from turning on. Even if the audio is loud and crisp, the screen will not display any red light blinking. LED backlights typically fail owing to low power inboard circuitry or mainboard. before repairing you can do certain steps first, there is a good chance that it will fix it by following this. let's see how can you fix that?
Turn on your phone flashlight and closest point to your TV
Keenly observe the screen to identify any visible content.
If you can see anything, then the backlight is broken. Thus don't try to fix it by yourself. It's a significant issue that needs the examination of a technician.
Common Hisense TV Hardware Problems
Your TV may have hardware problems. Among these issues are:
If your Hisense TV starts flashing red when you press the power button on the remote, it's time to replace the power board.
If your TV's red light isn't flickering while the red LED is on, your mainboard isn't working properly.
Your Hisense TV may occasionally display a flickering screen, which means the images will disappear after a short period of time. In such a situation, you'll need to replace the circuit board's capacitors.
Summary:
Hisense TV red light blinks 2 times
Hisense TV red light blinks 3 times
Hisense TV red light blinks 4 times
Hisense TV red light blinks 5 times
Hisense TV red light blinks 6 times
Hisense TV red light blinks 9 times
Hisense TV red light blinks 10 times
And many more…..
All the above codes have their inner meaning and indicate the error your TV is currently facing.
Step-1 Reboot and reset your Hisense TV
Reset your Hisense TV to its factory setting
First, remove the power cable from the wall outlet. Then disconnect any additional wires that are attached to it.
After that, press and hold the reset button on the TV for around 30 seconds.
You won't need to do anything to boost the process while it's doing its job.
It may take up to 30 minutes to complete the reset. During this period, please do not touch it.
Lastly, plug in and power on the TV once time has elapsed.
You can also reset your Hisense TV using the remote control. Follow the below guide to do this…
First, press the "Home" button on your remote.
Go to "settings" and then scroll down.
Click on "Device preference" and go to the bottom.
Finally, click on "reset."
Step-2 Check for damage on the motherboard
If you have any doubts, all you can do is hand it up to be checked. Don't force yourself to do something you don't want to. The best option is to have it repaired by Hisense. After all, who knows more about television than they do?
Step-3 Consider submitting a warranty claim
The worst aspect is that a replacement mainboard for a Hisense TV is tough to come by. Most of the time, the only alternative is to completely replace the TV. The good news is that this may be covered by your warranty. Before claiming a new television, be sure the term is still in effect.
Final Verdict
In conclusion, the Hisense TV blinking red light is a minor issue that may be resolved quickly. All of the fixes and remedies are quite common. The good news is that you don't have to spend a lot of money to address the problems. Also, most of the time, it's just a standby issue that can be resolved with a simple reset. So everything works out nicely.
Frequently Asked Questions:
The flickering red light indicates that the TV is either receiving too much or too little power.
This issue could be caused by a bad connection with your modem or router, a power deflection issue, or a motherboard issue with your TV.
Does Samsung own Hisense?
Samsung does not own Hisense, despite the fact that the two businesses are partners.
Do Hisense TVs have issues?
Because different people may have varied opinions regarding its performance, there is no definitive answer to this question. While some customers could have experienced issues with their Hisense TV, others might consider the company to be dependable.
Related:
Home Automation

>>

Home Theater

>>

Other Home Theater Devices

>>

Hisense TV Blinking Red Light – Causes- How To Fix?