Blink SmartHome is an Alexa skill that lets you use your voice to control your blink cameras. For a variety of access and notification options, enable the skill in your Alexa app and link it to an Alexa-enabled device.
Please note that the Blink SmartHome Alexa Skill is currently only available in the US, Canada, UK, Germany, France, Italy, and Spain.
Alexa Routines and Motion Announcements (click to learn more) are supported only in the US and Canada at this time. Please learn about new feature releases in our updates section.
How To Connect Blink Camera To Echo Show 8
Here are the Steps:
Open the Alexa app, pick "Skills & Games" from the curtain menu in the bottom right-hand corner.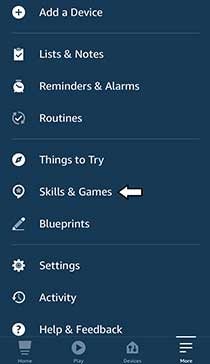 2. Select the Skill after searching for "Blink SmartHome." You'll be sent to the Link Account Sign In screen after tapping "ENABLE TO USE."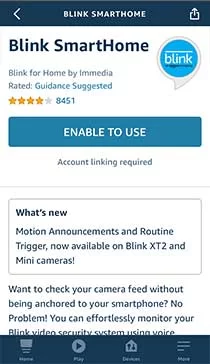 3. Enter your Blink account's email address and password. You'll also be prompted to establish a four-digit pin number for Alexa to use in order for her to do duties that require more security. Then press and hold the Sign In button.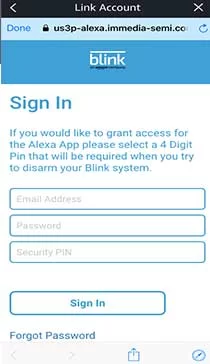 4. "Your Blink SmartHome has been successfully linked," says the Alexa app, after communicating with Blink account servers and detecting devices.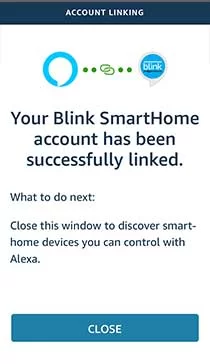 5. When you press CLOSE, the Discover Devices screen appears. It's possible that your devices have already been found, but it's safer to try again. Select Discover Devices from the menu.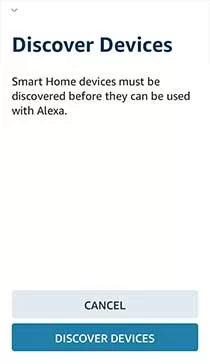 6. The Setup page comes after around 45 seconds, telling you that devices have been discovered and linked to the Blink SmartHome Skill. To begin configuring a device, tap "select device."
Note: Occasionally, the app message will say that no new devices were discovered. In that case, tap the Devices icon on lower right of the screen for a list of known devices.
7. The Cameras screen shows your discovered devices.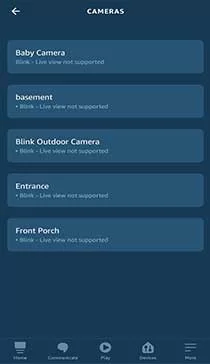 Note: Alexa has its own feature named "Live view" and indicates if your camera can use it. Since Blink cameras have their own Live View feature, the Alexa app shows you have a Blink camera that does not support Alexa Live view.
More;
How To Connect Blink Mini To Echo Show
Common Errors while connecting with Alexa Device
"Sorry, cameras don't work on this device."
If you see this error notice, it's possible that the voice command you're delivering isn't supported by the Alexa device you've linked to the Blink SmartHome skill.
To fix this, see what kind of Alexa-enabled device you're using and see if the command(s) you're trying to issue are compatible with it.
Viewing motion clips or Live View commands are supported only on the following devices: Echo Show, Spot, Fire Tablets (sold in the US), Fire TV, Stick, and Cube
Blink XT and Indoor (gen 1) cameras are not supported on some Alexa Built in devices like newer smart TVs, the Alexa PC app, and other clients that use the Alexa web player.
"Couldn't find a device name Blink."
This error message appears when the Alexa app does not recognize all of your devices. Alexa won't know which device to send a command to until all Blink devices are found.
Open the Alexa app > Tap "Devices" > Tap "Cameras" > Check to ensure all of Blink devices are listed there.
If all Blink devices are not discovered, go to "Devices" > Tap "plus sign" located on upper right-hand corner > "Add Devices" > "Cameras" > "Discover Devices"
If you continue to experience issues with the command, please follow the below troubleshooting steps to delete and relink the "Blink SmartHome" skill:
Tap the "Curtain Menu" located on top left corner of the Alexa App.
Tap "Skill & Games" > "Your Skills" > locate "Blink SmartHome" and disable the skill.
Once the Blink SmartHome skill is disabled, tap "Devices", located on bottom right corner.
Tap "Cameras" and select each one of Blink cameras listed, then delete each by tapping on the "Trash" icon.
After the Blink SmartHome skill is disabled all Blink devices are removed, follow the Enabling Blink SmartHome skill steps to relink the skill.
"Please specify a system"
You'll get this warning if you have numerous Blink systems on your account and don't provide the system name when giving the command (i.e. "Alexa, ask Blink to arm"). In this scenario, make careful to provide Alexa the precise system name so she can tell the difference between your several systems. "Alexa, ask Blink to arm Home," for example, if your System is called "Home."
"Hmmmm, Camera is not responding" or "Ok. I'm not quite sure what went wrong" or just "OK"
This error message occurs if your devices are muted when you use a voice command "Alexa show me the camera name". It is only an issue when the Echo Show has the firmware version 6.5.4.1 installed. The solution is to enable the microphone for that camera in the Blink app's Live View settings.
Home Automation

>>

Brands

>>

Amazon

>>

How To Connect Blink Camera To Echo Show 8