Philips Hue makes one of the most extensive and flexible lines of smart lights on the market, and you'll often use the Philips Hue Bridge to control all of your installed bulbs.
What if you don't want to go to Hue? The good news is that you haven't reached a fork in the road. There are alternative methods to access your Hue bulbs without all the official hardware thanks to the Hue bulbs' interoperability with the Zigbee standard.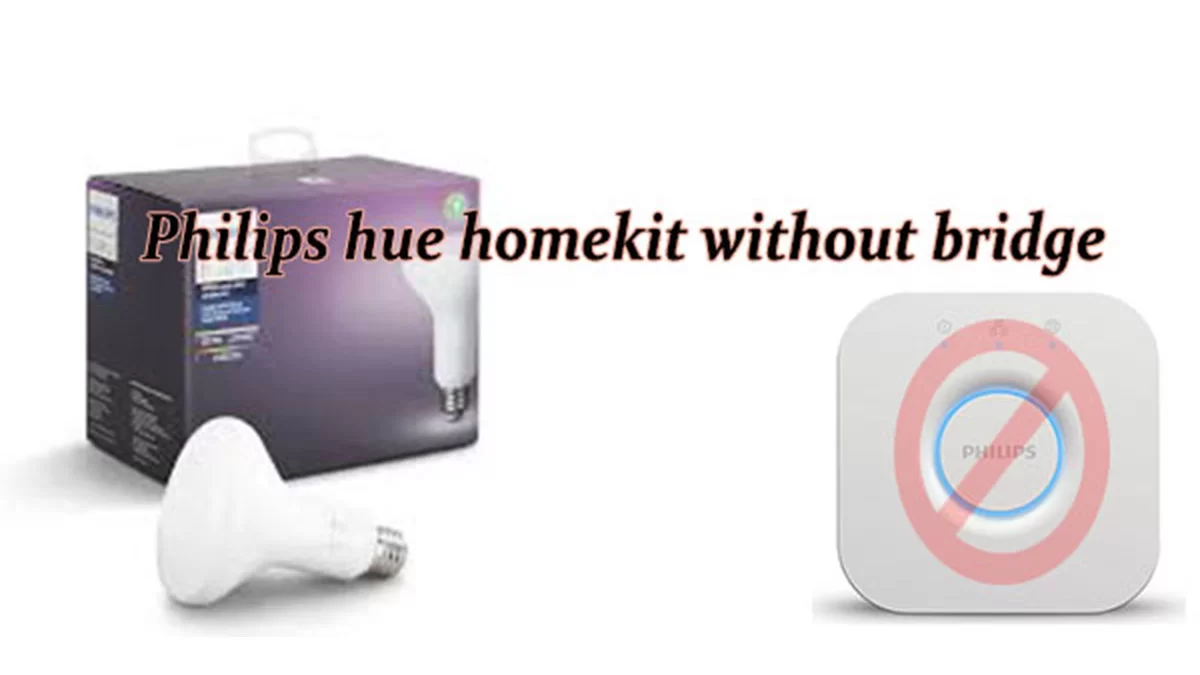 It's worth pointing out that installing the Hue Bridge is the best way to go — it gives you the best, most reliable control over your Hue smart lights, and access to all the functionality of the Hue apps.
Here are 3 methods of How to connect Philips Hue Homekit without Bridge
Use Bluetooth lights from Philips Hue.
Signify found the Bluetooth standard in 2019, and all Hue lights will now support both Bluetooth and Zigbee, providing you more options when it comes to setup.
One of those possibilities, thanks to Bluetooth, is not to utilize a hub at all. Instead, simply screw the bulb in and link it to your phone through Bluetooth. However, it does necessitate the use of a separate standalone Hue BT app.
Nonetheless, Hue's increased flexibility should make it more enticing to those who aren't ready to go "all in" by lowering the entrance fee. However, there are some restrictions: you can only connect up to 10 bulbs, there is no remote control after you leave the house, and third-party app integrations are not available.
Although you can theoretically form groups in rooms, so you could do a "bathroom" and a "kitchen," building an upstairs group would be a reach given that you need to be in Bluetooth range (hence the rooms limitation). Alexa and Google Assistant, on the other hand, get along.
How to Set Up Philips Hue with the Hue Bluetooth App?
Screw your Philips Hue bulbs into a light socket and download the Philips Hue Bluetooth app to get started. Then, to set up your account and find your bulbs, follow the on-screen instructions. To operate your Philips Hue bulbs, go to the Lights tab.
Turn on your Philips Hue lamps after they've been installed. Screw your Philips Hue bulbs into your light socket in the same way you would any other light bulb.
Then get the Philips Hue Bluetooth app on your phone. The Philips Hue app is available on the Apple App Store and Google Play Store. Make sure you don't get the standard Philips Hue app.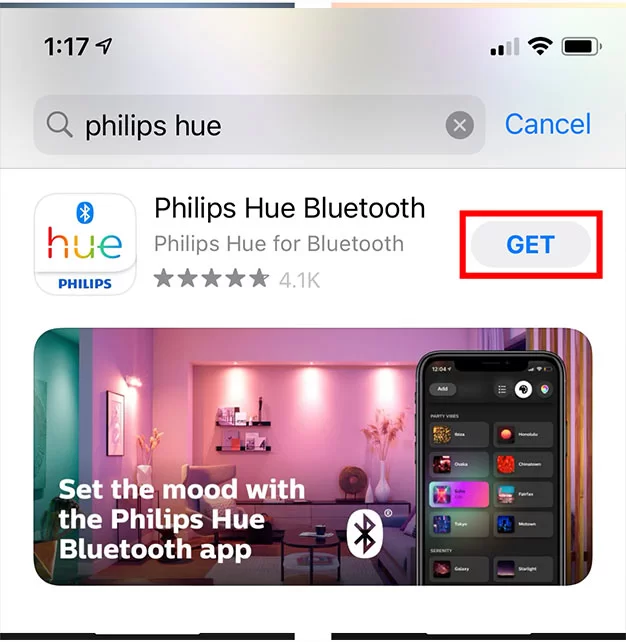 Next, open the app and select Get Started.
Then tap yes. If you select No when asked if your lights are Bluetooth compatible, you will be asked to set up a Philips Hue Bridge.
After that, you'll need to create an account. You'll need to provide your name and email address. You'll also have to accept the terms and conditions by touching the bottom slider.
Then choose whether or not you want to utilize a voice assistant. If you use Alexa or Google Assistant, you should only pick yes. Select not right now if you don't want to wait. You can always use your voice assistant to control your Philips Hue lamps.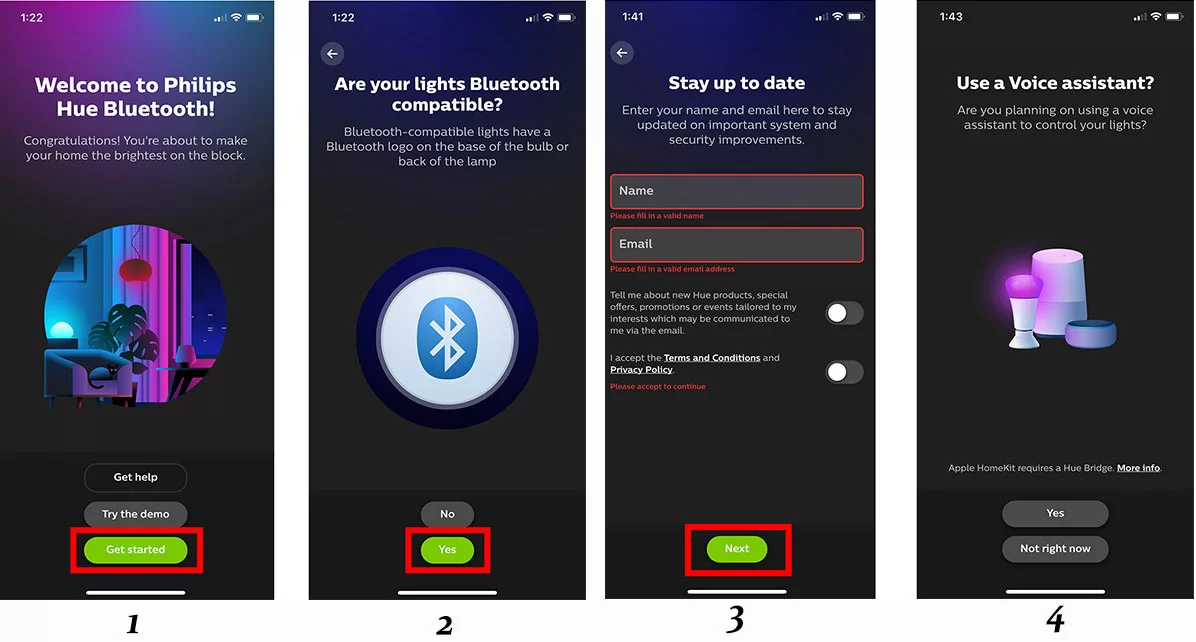 Turn on your light switch and tap Add light. The app will immediately start searching for your Hue lights.
Next, tap Pair. You will see a pop-up prompt asking you to allow the app to access your device's Bluetooth.
Then tap Next or Search for more. Once your device finds one of your bulbs, you can tap Next to continue. If you are installing more than one bulb, tap Search for more. You can find out which bulb your device paired by tapping Hue bulb. This will cause your light to turn off and on quickly. Once you have paired all your bulbs, tap next.
Then select which voice assistants you want to use. You can only choose between Alexa and the Google Assistant. If you don't have a smart assistant, or you want to set up a voice assistant with your Philips Hue bulbs later, you can also choose Setting up a voice assistant later.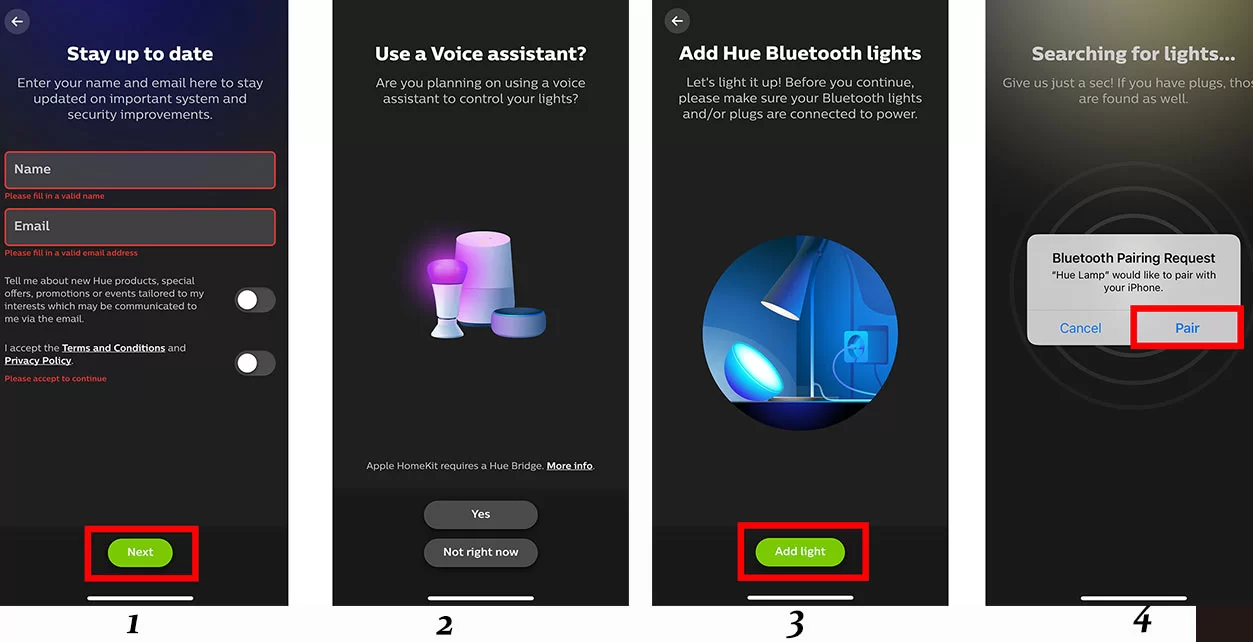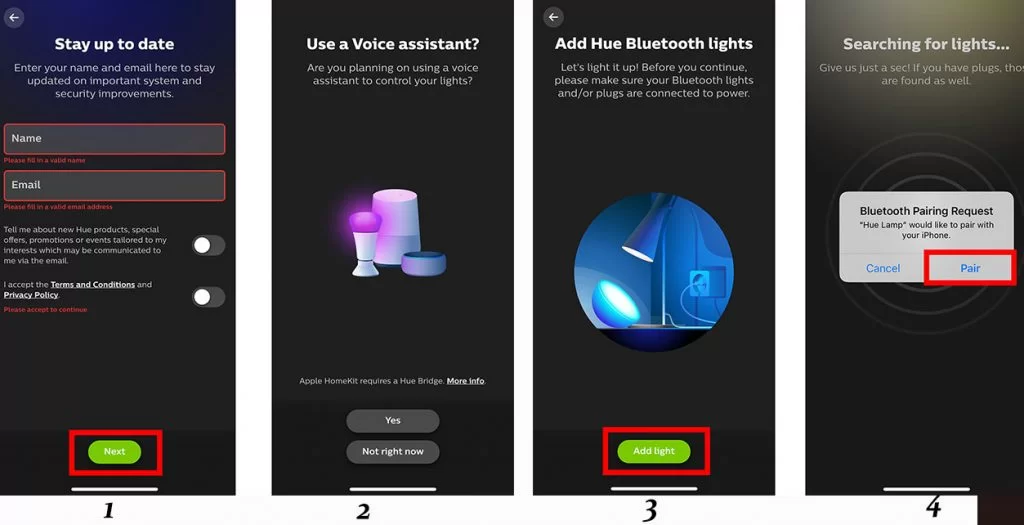 Assign a name to the Hue bulb. Tap the text box at the top of your screen to change a bulb's default name.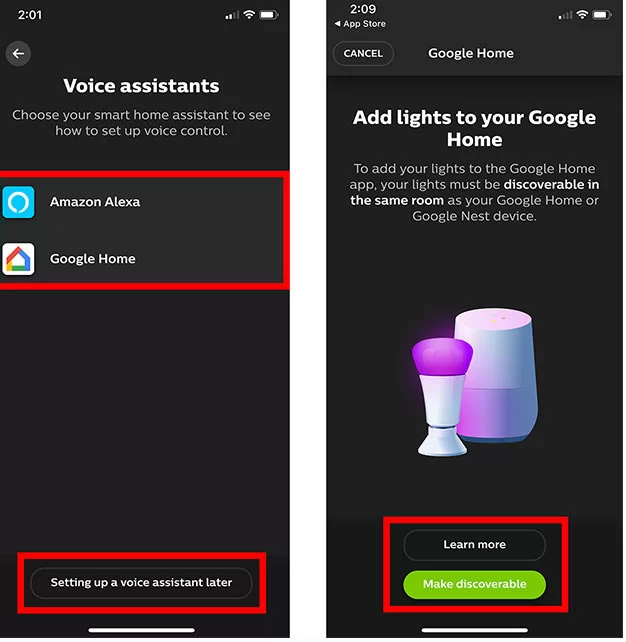 Finally, tap Next to finish the setup process. Now you can control your Philips Hue Bluetooth light straight from the app.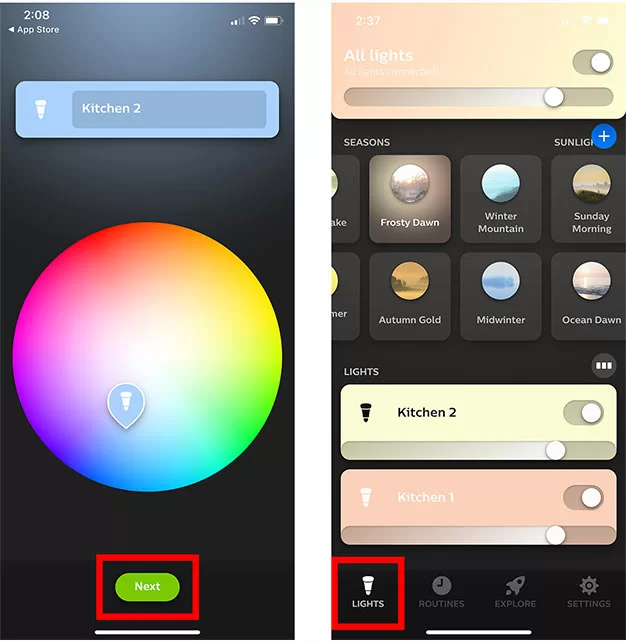 Philips Smart Home Products and Services
Using the Hue Dimmer Switch
When you buy a Hue Dimmer Switch and a Hue bulb together, they're immediately linked when you open the box. Simply screw the bulb into an empty socket, turn on the light switch, and then insert the battery into the Dimmer Switch.
You may use the Dimmer Switch to control the Hue bulb straight away, turning it on and off and changing the brightness. You have no control over the colour (which is one of the reasons you might want to invest in a Hue Bridge), but it does provide some utility.
Philips Hue bulbs work with a regular light switch too, of course — even if you don't buy the Dimmer Switch or the Hue Bridge or any other accessory, you can turn the bulb on and off using the standard light switch on the wall.
Up to ten lights can be controlled by each Hue Dimmer Switch. Install the bulb and turn it on if you don't have a Hue Bridge, then bring the Dimmer Switch next to it and push and hold the On button. The Dimmer Switch will light up with a little LED light, and the bulb will blink to confirm the connection.
All these connected bulbs (up to 10 of them) are going to respond in the same way to the Hue Dimmer Switch, but this is one way of adding Philips Hue smart bulbs to your home without a Hue Bridge.
Use Amazon Echo as a hub
Because Philips Hue bulbs employ the Zigbee protocol, they may be used instead of a Hue Bridge with some Zigbee smart home hubs. However, the integration isn't always as stable or as feature-rich as it is with a Hue Bridge.
Some Amazon Echo speakers, such as the Amazon Echo Plus, Amazon Echo Show, and the most recent (4th-generation) Echo, may act as Zigbee hubs. If you already have one of these speakers, you may add more Hue bulbs using Alexa and the Philips Hue ability.
Make sure your Hue bulbs are connected and powered on, then head into the Alexa app (which you should have already installed when setting up your Echo). Select Devices, then the Plus button, then Add Device. After a few seconds of searching, your Hue lights should be detected and added.
If you prefer you can use a voice command instead: say "Alexa, find my devices" and your Alexa smart speaker will scan your house for compatible Hue bulbs.
However you add the Hue bulbs, once they're connected you can control them through the Alexa app or via your voice, with commands like "Alexa, turn the bedroom lights off".
Frequently Asked Questions:
Do I need a Hue Bridge?
The Hue Bridge considered the brains of the Hue smart lighting system, connects to your Wi-Fi through Zigbee technology. This allows you to operate your Philips Hue smart lights from anywhere in the globe with an internet connection, using the Philips Hue app.
The Hue Bridge, on the other hand, is not required to use Philips Hue smart lighting. Most Philips Hue smart lights are Bluetooth-enabled (check for the icon on the package) and can be operated without a Hue Bridge using the Philips Hue Bluetooth app – but a Bluetooth configuration has certain limits. (Source Philips support)
Hue Bluetooth vs. Hue Bridge
With a Hue Bridge, you can connect up to 50 lights across your house.
With the Hue Bridge, you can manage your lights from anywhere in the home – and, indeed, anywhere in the world.
---
If you use Bluetooth to operate your smart lights, you can only connect up to 10 lights in one area.
With Bluetooth control, you can only control your smart lights within Bluetooth range – roughly 30 feet or 10 meters.
Home Automation

>>

Surveillance & Security

>>

Hubs & Bridges

>>

Philips Hue Homekit without Bridge