These are few one of the best smart home ceiling light in this list, it includes all ceiling lights compatible with Alexa, google and Bluetooth connectivity.
Utorch UT30 Smart Voice Control LED Ceiling Light 18W AC 220V – White 30CM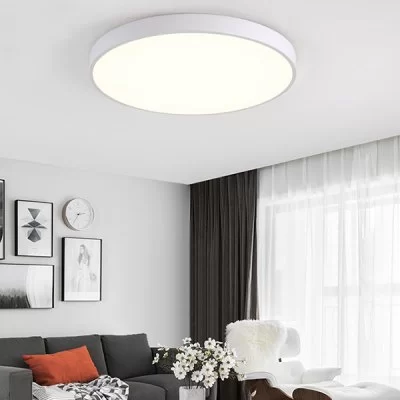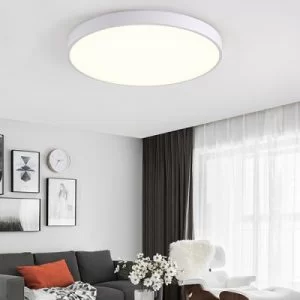 Utorch smart voice control LED ceiling light works with Amazon Alexa and Google Home, you can control it with your voice or via Smart Life App and Wi-Fi, does not require a hub or the purchase of any additional hardware.
You can adjust the brightness with step less dimming or 3 color ( white, warm white, yellow ) dimming, create different atmosphere for bedrooms, classrooms, dining rooms, hotels, etc. This is a smart LED ceiling light for a modern lifestyle. The simple and thinner design leaves you with more spaces. Get this ceiling light and enjoy the beautiful home / office with soft lighting.
App control, turn on / off the light or adjust the brightness / color temperature with your smartphone anywhere at any time
Intelligent voice control, control the light anywhere in the house, compatible with Amazon Alexa and Google Home
Stepless / 3 color dimming, adjust the light to different brightness levels or white / warm white / yellow color, create different atmosphere for office, home or other places
Simple design, minimalist round design for all types of furniture and themes of the room
PVC lampshade to diffuse the light evenly for soft lighting
Thinner appearance, make the interior space more elegant and spacious
Sealed design, insect-proof and dust-proof
Energy-saving and environmental protection
Eye-protection, no flashes or glare
Easy to install
Price:
Ceiling Light with Smart Alexa WiFi Ceiling Lamp 36W, LED Ceiling Light Dimmable Multi Colour by ELINKUME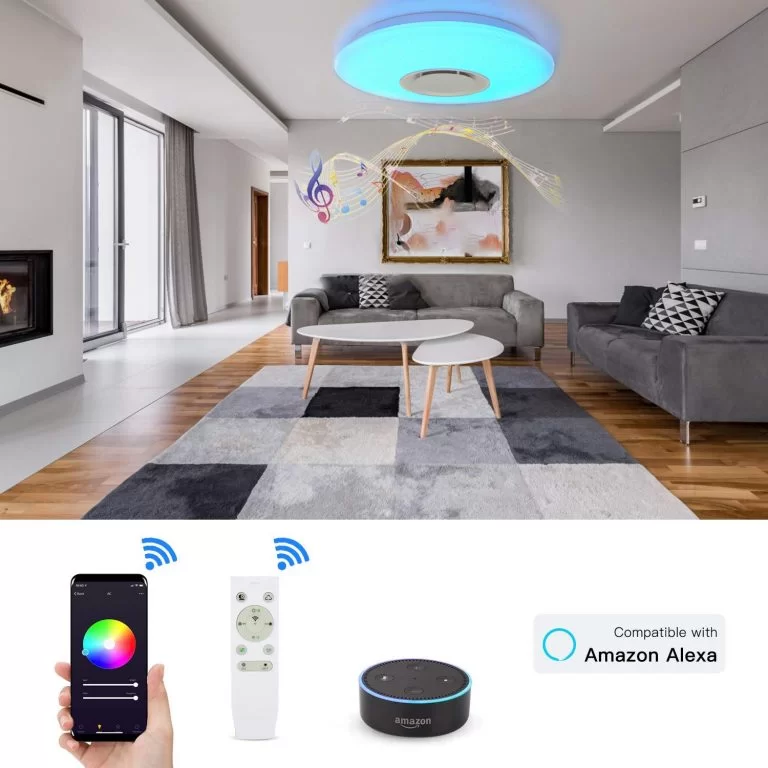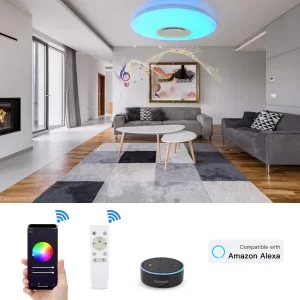 ELINKUME LED ceiling light compatible with Amazon Alexa. With Bluetooth speaker and dimmable multiple color change function suitable for children's room, living room, bedroom, dining room.
Work with Alexa for voice control. You can control the lights in your home with your voice. Turn your lights on/off, dim, change colors and more. All you have to do is ask.
The multicolour and brightness dimmable (2700-6500K) can be changed by the smartphone app and the remote control.
You can use the smartphone App or ALEXA to change RGB colour. Various color changes provide a visual pleasure.
Built-in Bluetooth speaker inside of LED ceiling light fixture.You just link the APP bluetooth of your smartphone.Then you can enjoy your favorite music melodies and stories via this light.Let your family member to relax their mood and enjoy an audio feast.
Alexa ceiling light fits for 10-20 square meter. Suitable for kid's room, bedroom, living room or anywhere you want to light.
Price:
Yeelight YLXD01YL 320 28W Smart LED Ceiling Light AC 220V ( Xiaomi Ecosystem)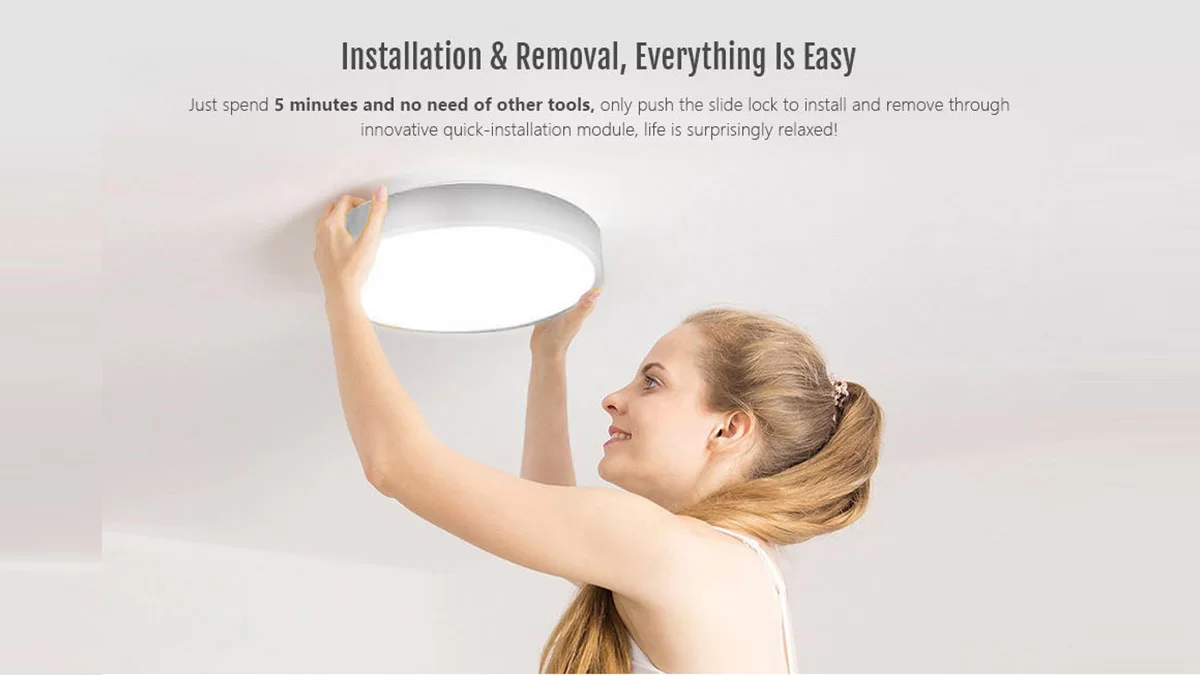 he Yeelight smart ceiling light is designed as sporting white color in a circular shape. It equipped with 240pcs OSRAM LEDs of a color rendering index that is up to 95Ra, providing museum lighting effect. The dual-chip three-way dimming system allows a flexible adjustment of brightness and color temperature. In addition, a moonlight mode which gives the look of the moon when turned on is surprisingly comfortable. Being a smart lamp, the light can be controlled by smartphones through WiFi or Bluetooth.
It also comes with a Bluetooth remote controller that allows you to remotely switch on and off your light without necessarily being in the same room. What's more, an innovative quick coupler module lets you push and slide to lock the lamp into holder with ease. Ever since then, life is surprisingly easy!
Simple, Beautiful and Intelligent.
5min Fast Installation: innovative coupler module for quick assemble and disassemble ( II electric shock resistant )
95Ra: 240pcs OSRAM LEDs of high CRI provides museum lighting effect
Cozy Moonlight: the moonlight mode offers warm and cozy lighting
IP60 Dustproof: protects it from dust, and could get rid of the pesky insects
Dual-chip Three-way Dimming System: color temperature range from 2700K to 6500K, brightness range from 0.1Lm to 2000Lm
APP Remote Control: control via smartphones by WiFi or Bluetooth
Mi Band Linkage: turns off automatically when you fall asleep
25000 Hours Lifetime: constructed by premium materials and specified processes
Efficient Heat Dissipation: unibody aluminum plate maintains highly efficient cooling
Yeelight App or Mi Smart Home App in App Store or Google Play, supports Android 4.4 and iOS 8 systems or above
Work with IFTTT – brings everything together
Price:
Philips Hue White Ambiance Being white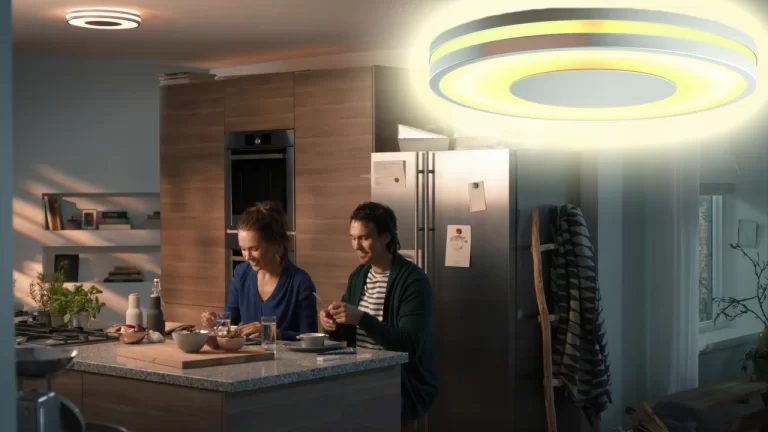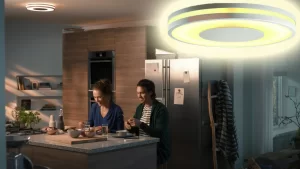 he Philips Hue Being LED ceiling lamp delights even when turned off as it is a special highlight on the ceiling due to its round, satin-finished plastic lampshade with white rings all around. However, it is not only the design that is a special feature of this ceiling lamp but also the fact that it comes with the so-called ZigBee standard.
This means that the light can be integrated into an existing smart home system – prerequisite is a Hue bridge (see the accessories) – and conveniently controlled via the free app on your tablet or smartphone. The luminous colour and brightness as well as a variety of lighting scenarios can be set and saved as desired.
Four lighting modes have been pre-programmed (relaxing, reading, concentration and energy) and, when connected to the Hue system, you can also create your own individual lighting scenarios.
Controllable via the Hue dimmer switch (included)
Compatible with an existing Philips Hue system
Can be controlled via the Hue app
Voice control possible with Amazon Alexa, Apple HomeKit (Siri) and Google Assistant
Compatible with ZigBee-based systems such as Innogy, Bosch, Magenta (German Telekom) and Busch-Jäger
Please note that a bridge, such as the Philips Hue bridge, is needed in order to be able to use the intelligent lighting control functionality
Price:
24 Watt Smart LED board and 1920 Lumen for this star light effect ceiling light by B.K Licht Smart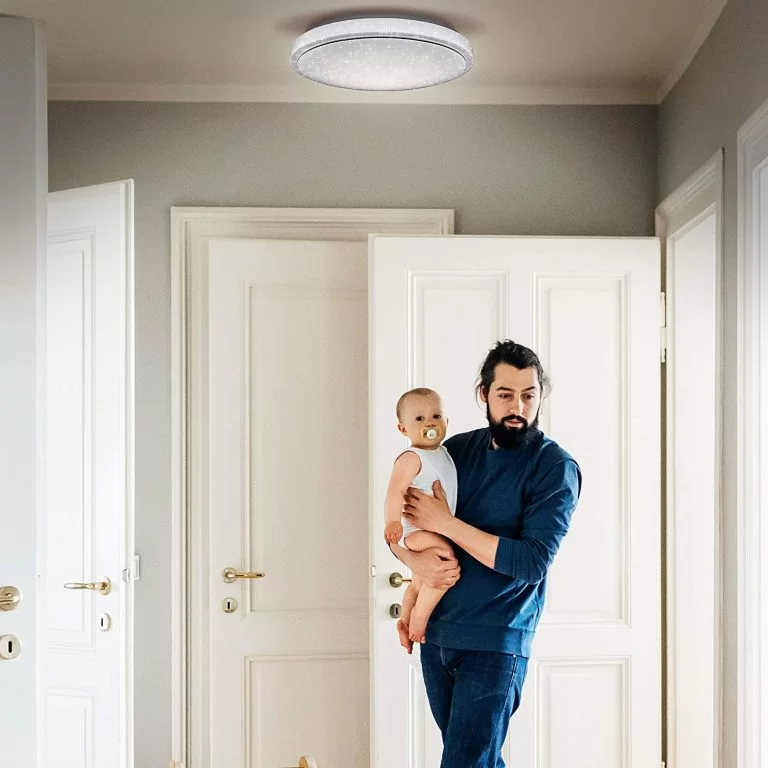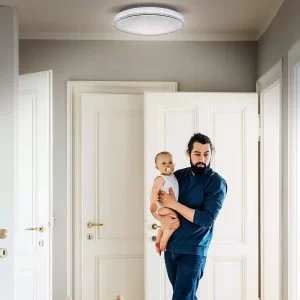 Powerful 24 Watt LED WiFi ceiling light. 1.920 Lumen for large and powerful illumination.
You may connect this light to your WiFi and smartphone for easy operation with the free "Tuya App" from AppStore or Play Store. Smart-Home devices such as "Alexa" or "Google Home" are also compatible with this star effect ceiling lamp.
WiFi ceiling light with star pattern
24 Watt built-in LED board, 1,920 Lumen
Colour temperature infinitely adjustable by app – warm white, neutral white, cold white
Tuya app allows to connect and operate several lights with your smartphone. Groups may be created to control different lights and rooms simultaneously
Infinitely dimmable by app
Timer for automatic on and off switch
Voice control with Alexa and Google Home
Free Tuya App for Android and iOS
Price:
EGLO connect Voltage-C LED ceiling light round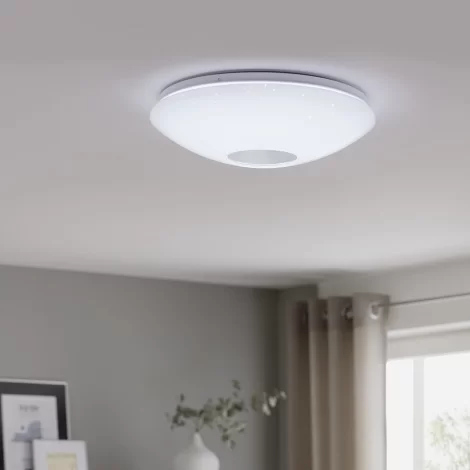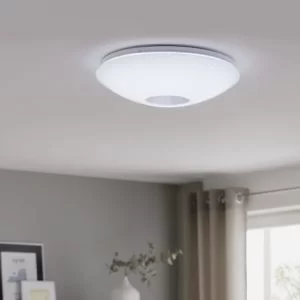 The Voltago Connect LED ceiling light is a light source with a plastic lampshade and has a pretty crystal effect. It fits into almost any interior and colour scheme.
It offers countless lighting options, as it can be controlled by Connect Bluetooth from your tablet or smartphone via the app that is free for Android and IOS systems. There is a variety of light settings available.
Selection of white light in a seamless spectrum between 2,700 K to 6,500 K
Setting of coloured light from a selection of more than 16 million colours
Seamless dimming of the light in any selected luminous colour
Selection of colour changes at different speeds
Creation and storage of your own light settings
Retrieval of pre-set or stored scenarios
Getting woken up in the bedroom by a light setting that you have created yourself or simulating a sunrise for waking up, turning on the light at home when you are on holiday so that your home appears inhabited – the Voltega Connect LED ceiling light and the free app allow you the greatest possible flexibility for your lighting.
If the light is not controlled via an app, a remote control is available as an accessory and can also be used to make the light settings. This remote control can also be integrated into the app as a group.
Price:
LE Smart LED Ceiling Light 15W 1250lm, App or Voice Control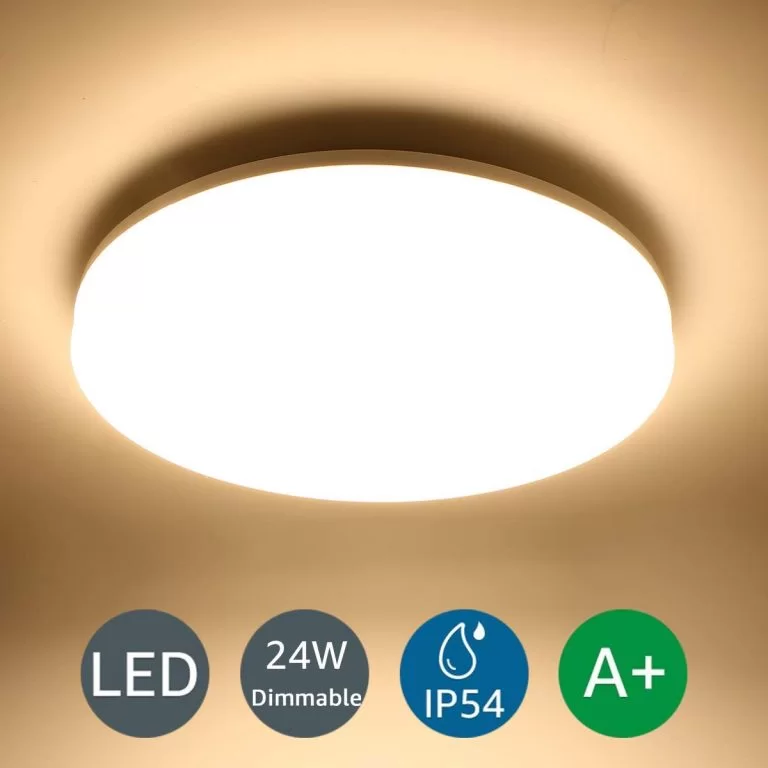 Save 85% energy by replacing 100W incandescent with 15W LED ceiling light, Simple and sealed design with an IP54 rating, water splashing proof, ideal for bathroom, kitchen, outside porch.
No hub or bridge required, just download the app, and then connect it to your Wifi network (2.4GHz only for Initial setup) and voice assistant device (Alexa and Google Home).
With the "LE LampUX" or "Smart Life" app, you can control your lights on your fingertips, whenever and wherever you are in the world.
With the "LE LampUX" or "Smart Life" app, you can control your lights on your fingertips, whenever and wherever you are in the world.
Easily create the right atmosphere for all your moments. Set a festive mood for a party or holiday, turn your living room into a movie theatre.
Choose from the white light tones from 2700K to 6500K for daily needs. Warmer light for a cosy relaxing scene, and cooler light to refresh, concentrate or energize.
Allows you to control your lights hands-free with a single voice command, to turn your lights on or off, change brightness, set the light colour, etc.
Price:
Eglo Capasso Ceiling Light – White & Chrome & Eglo Sarsina Ceiling Light – White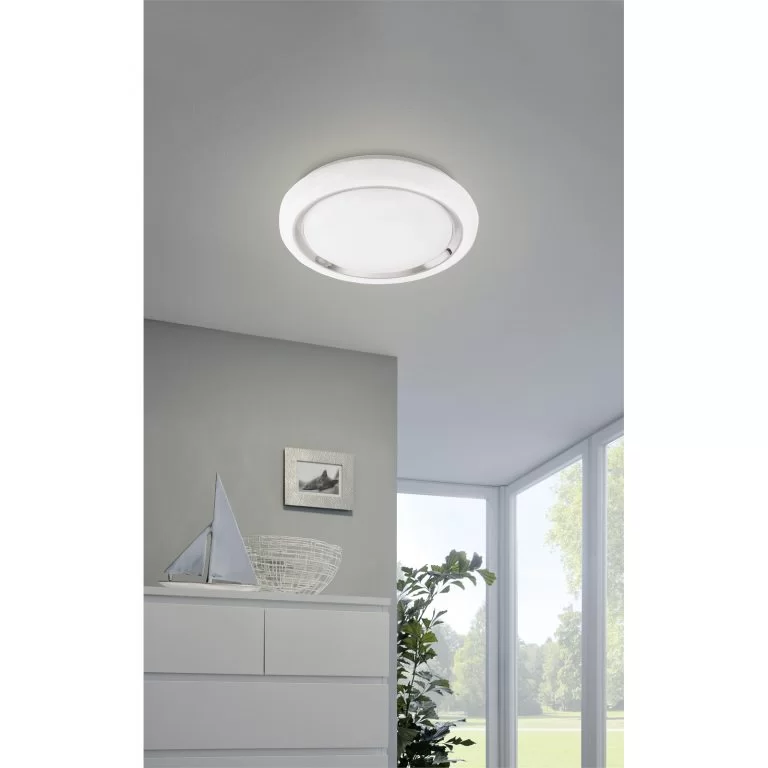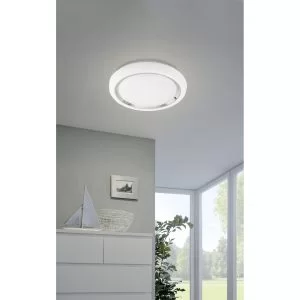 The Capasso-C features the EGLO bluetooth CONNECT system. The fitting does not include, but can be paired with a single bluetooth controller which handles simple functions, including fading between any of the 16 million colours within the colour palette.
Controlled via a smart device app, this includes further programmable functions to suit the users needs. The system is based on the bluetooth MESH system, allowing for each fitting to connect seamlessly with each other, and can connect to each other within a 15 meter radius.
Price:
LIFX 100mm Downlight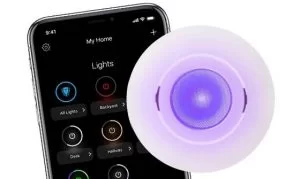 A complete lighting fixture delivering you vivid LIFX colour and tunable warm to cool whites everywhere in your home. The LIFX 100mm Downlight produces a staggering 800 lumens from just 13 watts.
550 billion colours
Warm and cool whites – probably the widest white range in smart lighting
Connects via Wi-Fi – no bridge/hub needed
Dimmable via app and voice control devices – never roll your eyes when you see the bathroom light on
HomeKit, Alexa, Google Assistant, Smart Things and Cortana compatible (and more)
Two year limited hardware warranty
Requires installation.
Schedule on-off, fade, colour change for:
Convenience
Energy efficiency and
Security when away from home
Price:
Additional Information
In this list only one product of Philips have been added, but can be considered all Philips ceiling lights, a bit expensive but very reliable, similarly Elgo and Yeelights are the best in this class regarding smart compatibility with Alexa and Google.
Home Automation

>>

Lightening

>>

Others

>>

Smart Home Ceiling Light