Many different types of game consoles, audio systems, DVD players, and more can be connected to your Roku TV. The antenna can be connected to Roku TV to get free over-the-air channels. However, you'll need to change the input on your Roku TV if you want to control any of these devices. More so, switching the input on your Roku TV is simple. But what if I don't have a remote and want to change the input of Roku TV, don't worry the steps are very simple on how to change the input on Roku TV without a remote.
First Let's Talk About the Roku TV's Inputs
A normal Roku TV has a wide variety of inputs, so you can plug in almost anything you need for your home theatre.
There are 3 separate sorts of inputs on a Roku TV, allowing you to connect a wide variety of devices.
HDMI input: A high-definition multimedia interface (HDMI) input is ideal for connecting set-top boxes that receive TV signals via cable or satellite.
TV's AV IN input: You can plug your cable box into the TV's AV IN input.
Cable and Antenna Input: Connect your antenna to the cable and antenna input.
Some of the more expensive models support high-quality audio equipment like soundbars and home theatre systems by including HDMI eARC.
Additionally, HDMI inputs are capable of receiving a 4K 120Hz signal from an input device, which is great if you own a gaming console that can handle such resolutions and framerates.
A Guide to Selecting an Input on a Roku TV
Selecting an input on a Roku-enabled TV is as simple as using the remote and navigating to the appropriate menu item.
Using the following steps, you can change the input on your Roku TV to one of your choosing.
Go to the homepage by clicking the menu button.
Go into the menu marked "Settings."
Press the right arrow button on the remote to access the configuration options.
Follow this link to the TV's inputs.
Pressing the remote's right arrow button again takes you back to the inputs screen.
Once each input has been selected, click set up Input.
Let the conversation box close before moving on.
Simply return to the main menu to examine your previous selections.
To quickly switch between inputs, select one of these.
Now you may easily switch between them as needed and access all of your information from the home screen.
Choose Input on Roku Streaming Devices
Roku streaming players can be connected to your TV through HDMI to give older models cutting-edge features.
They are not integrated with the TV, thus they have no way of adjusting the inputs or making other adjustments, and in cases where data may be modified, and they have fewer alternatives.
By just pressing the power button on the Roku remote, you may effortlessly switch from your regular TV to Roku if your TV supports HDMI-CEC.
The Roku remote can also be used to power off the TV.
How to Change the Default Input on Your Roku TV?
Need to stop your Roku TV from starting up when an HDMI cable is plugged in but not in use?
A no-signal message will appear on the screen, and you'll need to use the remote again to switch channels.
Thanks to Roku, you can choose which input your TV automatically switches to when it's turned on.
This feature is not available on Roku streaming devices that connect to your TV's HDMI port but is available only on Roku-enabled televisions.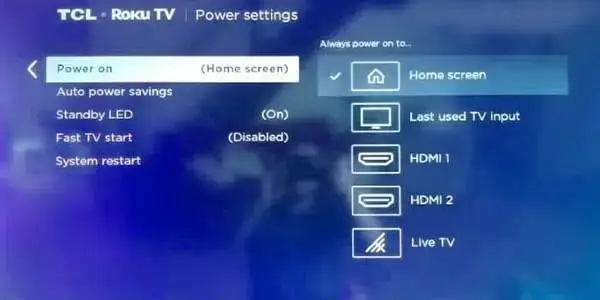 These steps will show you how to change your Roku TV's default input.
In order to access Roku's main menu, please press the HOME button.
Navigate to the Settings menu.
Choose System > Power from the menu.
Choose Power on.
Before powering up the TV, select the input you'd like to see it on.
Finish your edits by clicking "Save" before leaving the preferences box.
To test if the input you selected has been activated when you turned off your Roku TV, try turning it back on.
How to Change Input on Roku TV without Remote
Roku TV allows you to switch inputs in two different ways when you don't have the remote
1. You May Switch Inputs On Your Roku TV By Using The Set's Physical Buttons.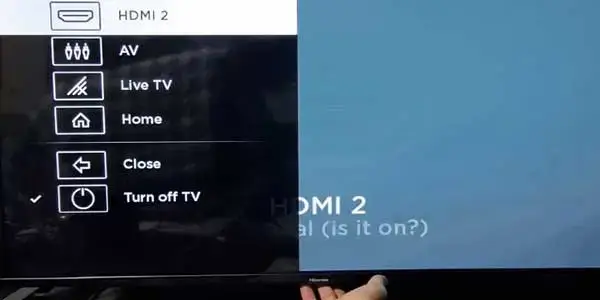 The following is how to use the physical button on the back of your TV to switch its input.
The first step is to press the button on the back of your TV. The Roku TV menu will open.
Tap the Roku TV button once to scroll down the menu.
Select the input you wish to use, then wait two seconds.
By doing this, you can change the Roku TV's chosen input.
2. Change the TV's Input by Using the Roku Remote App
If you're having trouble with your existing remote, the Roku remote app is always an option. After that, you won't need a remote to control your Roku TV. Then, you can switch input by using the Roku remote app on your smartphone as a virtual remote.
The app functions as a remote control for your Roku, letting you watch content on your TV with nothing more than your smartphone.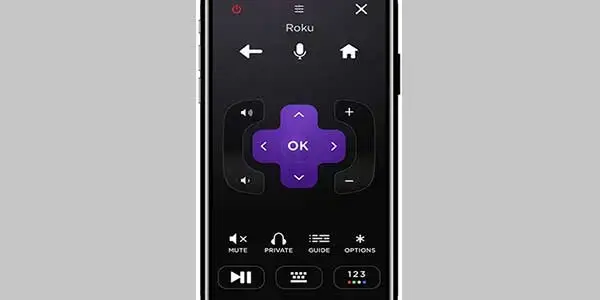 The following are the procedures to take in order to connect your TV to the Roku Mobile app:
Ensure that both your Roku TV and your phone are connected to the same Wi-Fi network.
The Roku home button must be pressed.
Go into the menu marked "Settings."
To access the advanced configuration options, select System > Settings from the main menu.
You Can Choose Control via Mobile Apps.
Set the default setting to "Network Access."
Launch the Roku Mobile app on your phone and follow the on-screen instructions to connect it to your television.
Frequently Asked Questions:
How can I go from Roku to HDMI without using the remote?
Updating Settings without a Remote
To change between HDMI inputs, simply raise or lower the control stick. To make a choice, highlight it with the stick, then press and hold it to confirm.
The Roku TV's Power button on the rear can be used as a manual selector if the remote is lost or forgotten.
What should I do if there are no HDMI inputs?
The HDMI input can be manually set up under Settings > TV Inputs.
How do I add channels to my Roku TV?
To add channels to your Roku TV, press the Home button on your remote, navigate to the Streaming Channels option, and browse through the available channels. You can also search for specific channels by name. Once you find a channel you want to add, select it and follow the prompts to add it to your channel list.
How do I troubleshoot connectivity issues with my Roku TV?
If you are experiencing connectivity issues with your Roku TV, try restarting the device and your router. If that doesn't work, check to make sure your network settings are correct and that your internet connection is stable. If the problem persists, contact Roku customer support for further assistance.
Can I mirror my phone or tablet to my Roku TV?
Yes, you can mirror your phone or tablet to your Roku TV using the screen mirroring feature. To use this feature, you must have a compatible device that supports screen mirroring, such as an Android device. Once your device is connected to the same Wi-Fi network as your Roku TV, you can enable screen mirroring and start streaming content from your device to your TV.
You might want to see this:
Home Automation

>>

Home Theater

>>

Other Home Theater Devices

>>

How to Change Input on Roku TV without Remote