Putting up LED strips as a form of decor in your room has provided you with a wonderful opportunity to get aesthetically pleasing shots of your rig.
However, the LED light's remote control could become misplaced at some point.
You search your entire house, starting with your back pocket, but you can't seem to locate it. Perhaps you need a simpler method of activating or adjusting them.
You've come to the right place; I'll show you how to control your LED lights without a remote, Bluetooth, or your phone. You can even adjust the color of your LEDs without touching the device.
Without a remote, there are a few options that will be discussed in this post.
| | |
| --- | --- |
| What to Do? | Explanation |
| Get a new remote control. | The best solution, and a cheap one, is to get a new remote that is compatible with your LED strips. |
| Connect the LED strip light to a power outlet. | However, not all LEDs will turn on simply by being plugged into their power supply. |
| Use smartphone as a remote. | Connecting your LED strips to your phone can do amazing things if the strips are compatible with an app. |
| Buy a new LED strip light. | Buying a new set of LEDs is sometimes the only option for recovering control of the room's ambiance. |
How to Control Led Lights without Remote
Use a Power Supply Adapter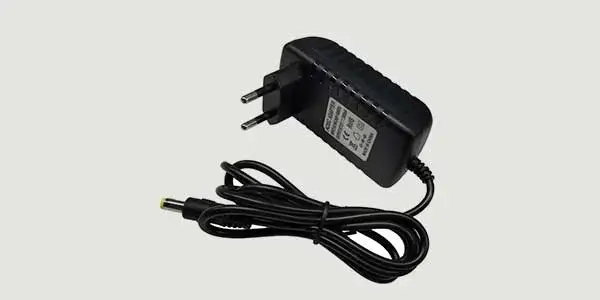 This approach is simple to implement, but it may not be the best one in the long run. Your LED strip light only requires being plugged into the wall, left on, and then unplugged to turn off.
After being installed, the majority of LED strips require a power source and a controller.
There is a switch typically connected to it as well. Near the main light switches, of course.
Turning them on and off without a remote is not a big deal if you have them wired to a switch.
If not, every time you use it you'll have to make an extra effort to walk to an outlet and plug it in.
"Hold on, mine is missing the AC adaptor."
If that's the case, you'll need some electrical expertise.
However, you shouldn't panic; it's actually quite simple.
First Step: Disconnect The Strip Receiver.
The question, "What is that?"
Several components make up the circuit for your LED lighting. A single one of them is the lucky recipient.
It is in charge of receiving commands from your remote control. You may adjust the brightness and color temperature of your LED lights via digital signal.
Only in LED circuits with dimmer and color-changing capabilities will you find the receiver. Plus, we have added LED lights that can be controlled wirelessly.
The light strips and the power supply are physically separated by the controller.
Second Step: Plug In The Power Adapter And Connect The Wires.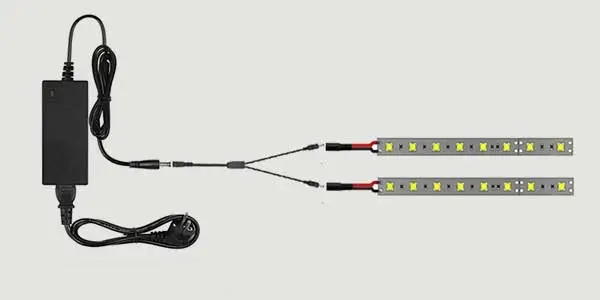 Join Ac Power Adapter
The adapter for the power source is in charge of maintaining a consistent voltage throughout the system.
Lighting systems designed for use with lower voltage cannot be powered directly from the wall outlets.
It's up to you now to use the acceptable power adaptor.
If the voltage is too high, the circuit could be damaged. Alternatively, it may not shine as brightly as advertised.
Make sure you follow all instructions and read all labels before using anything.
What you need to do is, essentially, avoid using the controller. You no longer have the remote, therefore it is of little use.
If by some miracle you do happen to recover your remote, you need only reconnect the controller to the system. The lights in your home should now be functioning normally again.
Note: Please be aware that this is just a quick remedy. No longer will you have command over your lighting. When you remove the controller, the LEDs revert to their factory configuration. No dimmer. There aren't any other colors available. None else than pure white (or whatever color your lights are in).
Get a New Remote Control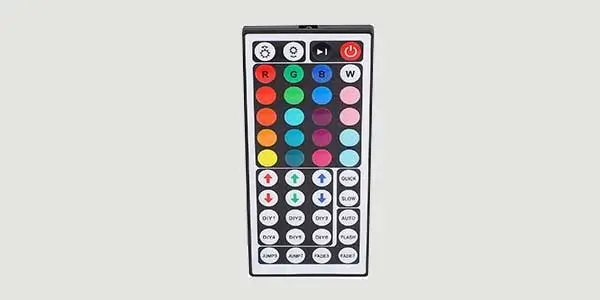 This is probably the easiest solution that came to me, but it's also the most sensible. LED remote controls may usually be replaced for a small fee at electronics retailers or on the web.
If you misplaced the remote for your lights, the firm that made them should be able to offer you a replacement. Stop by the store you purchased them from and ask whether replacement remotes are available.
The LED light strip set you bought is probably among the hundreds available in online stores. When you do, you can contact the vendor and inquire if they sell spare remotes.
If the worst happens and you lose your light strips and have no idea who made them, you should probably go out and get a universal replacement remote. These remotes are compatible with many varieties of LED light strips.
The word "universal" is used here in a very loose sense, so bear that in mind. However, the LED strips' voltage and the remote controls' IR frequency must still be compatible for the remote controls to work.
Use Your Smartphone as a Remote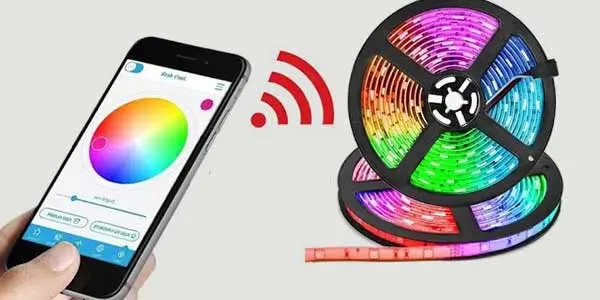 It also answers the most frequent question of how to connect the led light to the phone without the remote.
The vast majority of today's LED strips either ship with or can be used with a dedicated app. A remote control doesn't allow you to sync your LED lighting with your music as the app does. As soon as you connect with a mobile device, you'll have more options for streamlining your setup's appearance.
All you need to do is determine whether an app is compatible.
Look in the manual.
Run a quick internet search if the handbook is no longer available.
Simply enter the model number of your LED lights and the word "app" after it. If an app suggestion appears in the search results, that is probably the one. To be certain, read the descriptions and reviews.
If your lights don't work with an app, you may consider purchasing a Smart Wi-Fi LED controller to add WIFI connectivity to your previously boring lights.
Step 1: Purchase a smart LED controller.
Step 2: Connect the adapter to the power source or the stripped receiver.
Remember that the remote is what the current strip receiver is for. You need to use an adapter to add that capability if you want to be able to control the lights through an app.
The strip connector can be taken apart fully. Nothing will change if you leave it there, either. Your choice.
Connect the adaptor to the strip lights using the 4-pin connector that is provided with the item.
Step 4: Join your phone to the controller's wireless network.
The box contains the Wi-Fi login information.
Step 5: Establish a direct connection with the controller on the app as well.
Just click the device tab's "LED strip" button.
By doing this, the software enters "hotspot mode" automatically. As an option, you can use your home's Wi-Fi. Just modify the app's settings.
Wi-Fi is only compatible with 2.4GHz networks; 5G networks are not supported.
Both the Apple Store and the Play Store include the app. You can also: in addition to choosing colors and dimming your lights:
The lights should be timed to the beat of your phone's music.
Make the lights turn off automatically by setting a timer.
Use voice commands (with Alexa or Google Home).
Finally, but not least, A New LED Strip Light Purchase
If you can't find a remote or get it to work with an app, you'll need to get a new LED strip light. Even if this isn't the ideal approach, it's best if you need to use the least amount of electricity possible to drive your LED strip lights. LED strip lights are now more reasonably priced than ever, and installation is not too difficult.
Do Led Lights Come With A Remote?
Yes, the majority of LED lights—if not all—will have a remote control. A controller is usually included when you buy a light-changing lamp or even an LED bulb.
On the other hand, certain LED devices may come with an app that you can download to a phone, tablet, or computer in its place.
For instance, a mobile application is more typical than a small plastic remote control when LED light bulbs are used in your floor lamp or ceiling fixture.
Furthermore, you may typically control your lights directly if your LED lighting is connected to your energy (through a wall socket or switch).
Even LED lights may be purchased that plug into your TV and change color and switch on depending on what is being watched. Whatever the case, you will be able to manage your lights in at least one way.
How Long Do LED Lights Last?
An LED light should normally last between four and six years, though each one will vary slightly. Of course, how much you use your lights and whether or not their connection is secure and safe will determine how long it takes.
Additionally, LED strip lights typically last a lot less time than genuine light bulbs. It is astounding to think that LED bulbs can survive up to 50,000 hours, according to experts.
Frequently Asked Questions:
How to Control LED Lights with Phone without Bluetooth?
One way to control LED lights with a phone without using Bluetooth is through the use of a Wi-Fi-enabled smart bulb or a Wi-Fi-enabled smart plug. These devices can be controlled using a smartphone app, and do not require a separate Bluetooth connection.
Another way is using an IoT-enabled microcontroller like ESP8266 or ESP32 which can be programmed to control the lights over Wi-Fi and can be controlled by sending HTTP requests to the local IP address of the microcontroller.
Can I use my phone to turn on and off my LED lights?
By using your smartphone and a number of different apps, you may manage your Smart LED lighting system.
DAYBETTER and LampUX are two popular examples of such software. Smart LED lights are available on Amazon, and most of them can be controlled by a mobile app that lets you alter the brightness, color temperature, and on/off schedule of the lights.
Can I use a different remote control with my LED lights?
If the LED lights are the same voltage as the remote, you can use them to control the lights.
Keep in mind that different LED light brands may have varying color temperatures, wattages, and LED kinds. Due to these many considerations, the ease with which several LED light kinds can be controlled by a single remote is not guaranteed.
Can the RGB LEDs be controlled via a mobile device?
Follow these steps to properly link the RGB LED Strip: Using the Android app Dabble, you can manipulate the RGB LED Strip from your phone. Join the device's Bluetooth Module with your phone's wireless radio. Please launch the Gamepad Module now. The Gamepad module's buttons control distinct effects on the LED Strip's rainbow color palette.
How do you change the color of your LEDs?
When turned on, the light bulb now gives off a different color than before. Just switch out the paper for a different color to achieve the effect you want. Directly coloring your LED bulb is another option for altering its color. You should start by sending your bulb until it starts to mist up.
You might want to see this:
References:
https://www.livescience.com/how-do-energy-saving-light-bulbs-work
https://www.daybetterled.com/daybetter-led-lights-app/
Home Automation

>>

Other

>>

Software & Apps

>>

How to Control LED Lights without Remote