LIGHT HAS THE ABILITY TO SET THE SCENE. Warm, quiet lighting may quickly create an intimate setting; bright, cold lighting can help you focus; and color splashes can bring the party vibe. It does not have to be fixed. Synced or reactive lighting may improve the quality of music, make movie action jump off the screen, and make gaming more immersive. Smart home lighting has become significantly smarter in recent years; it now comes in a wider range of forms and sizes and is more inexpensive than before.
In this guide, we'll delve deep into the area of decorative or accent lighting, which is smart lighting that isn't intended to be your primary light source but instead adds beauty and ambiance to your room. These are our favorites among the many we've tried, ranging from panels to light strips, and lamps to light bars. More smart home choices may be found in our Best Smart Bulb, Best Smart Plug, and Best Smart Speaker guides.
List of The Best LED Strips Smart Lighting Panels and Ambient Lamps
Best Smart Light Panels
Nanoleaf Shapes Triangles Smarter Kit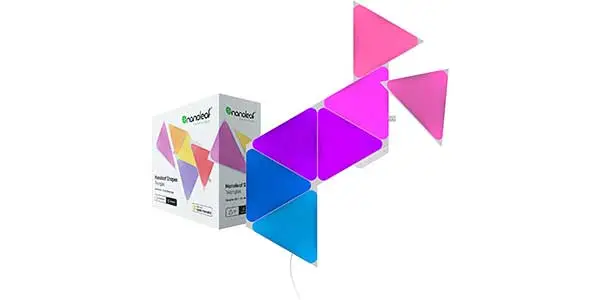 Nanoleaf is the finest solution for adaptable smart lighting. This modular system allows you to mix and match hexagon, triangle, and mini-triangle forms. The components are simple to slot together and install if you take your time, and the Nanoleaf app allows you to select from a wide range of colors and lighting effects. I like the built-in rhythm module for parties since it syncs the panels to your tunes. For dark winter days, the daylight option is also ideal. You may build your own effects and color combinations, but the app's active community is continuously adding to an already extensive collection. Visitors always compliment these panels, and I normally operate them using voice instructions via Google Assistant.
The Shapes themselves are touch-sensitive, so you can change the lights by swiping in four directions (essential if you have children), however, they don't always operate properly. The entire kit is very pricey, and intriguing patterns require a number of panels. I had regular connectivity troubles at first, but this improved dramatically once Nanoleaf upgraded the firmware to enable Thread support. I don't like the white plastic appearance when they're turned off, and you're stuck with an unattractive power wire hanging down the wall.
Works with Google Assistant, Apple HomeKit, Amazon Alexa, Samsung SmartThings, IFTTT, and Razer Chroma
Best for Gamers
Nanoleaf Lines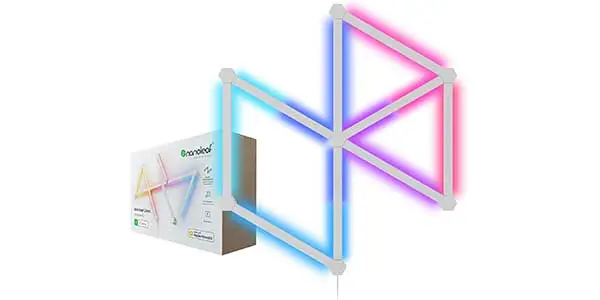 This clever modular smart lighting features hexagonal joints that stick to the wall with lines to join them together in whatever pattern you like. Nanoleaf Lines project light from the back of each line onto the wall, casting colors and creating a lovely ambiance. Even when turned off, the Lines look better than most decorative smart lighting, because they cast shadows on the wall and could pass for sculptural art.
On gloomy days, I utilize the daylight effect to brighten my workspace, and I love the screen mirroring feature in the Nanoleaf desktop software when I'm gaming. They also function with Razer's Chroma system if you use the Synapse program, which allows you to sync all of your RGB lights and delivers real-time lighting interactions with popular games (such as flashing red when you run out of ammo).
Although they are not touch-sensitive, one of the hexagonal joints functions as a physical control unit. A power wire will run down the wall, which will be difficult to conceal. Because the Lines reflect light onto the wall, they are not suitable for every environment; bright colors and wallpaper will have an influence on the aesthetic. Screen mirroring with the Nanoleaf Desktop app was also a bit difficult to set up.
Works with Google Assistant, Apple HomeKit, Amazon Alexa, Samsung SmartThings, IFTTT, and Razer ChromaA Great Alternative
Govee Glide Wall Lights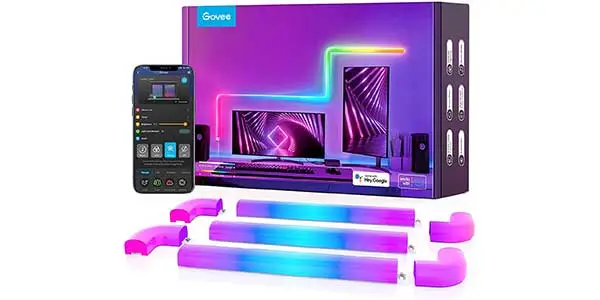 These modular bars provide a fantastically colorful, brilliant, and diffused light. They are quite simple to install and appear to be pretty sturdy. Govee's program has a variety of colors that may be applied to particular portions of the bars. There are also some beautifully animated sequences (my favorite is the rainbow effect) and a reactive mode that syncs to music. The program allows you to design your own sceneries, although the procedure is complicated. (There are several predefined sceneries to select from.) I usually use Google Assistant to switch the light bars on and off and to alter the colors or scenarios in the app. It's a shame there are no tactile controls. These light bars are very expensive, and the number of possible configurations is restricted unless you buy many sets. These Glide Wall Lights are likewise translucent white plastic with apparent seams between pieces, so when turned off, they don't look wonderful. You're also stuck with the power wire that runs down the wall and connects to a control box before connecting to the power adapter.
Works with Google Assistant and Amazon Alexa
More:
Best smart lights clocks and other devices that do not rely on voice control such as Alexa
Best Light Strip
Philips Hue Gradient Smart Lightstrip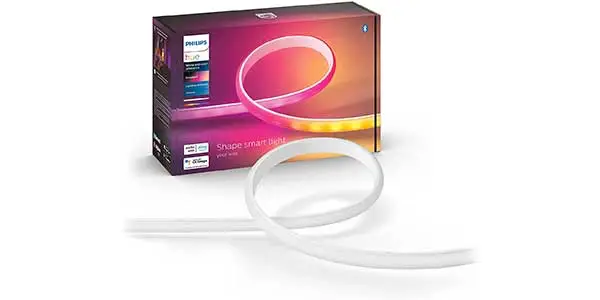 Smart lighting pioneer Philips has many excellent ambient options in its Hue range. This light strip is bright, offers rich colors, and is easily configurable in the Hue app. You can find the precise color or tone of white you want, and the Hue app offers a good range of preconfigured scenes. You can cut this light strip or extend it to fit any space. I recommend pairing it with a Hue Hub for the fastest operation and to unlock all the features (controlling the strip remotely, more smart home integration, and movie or music syncing with the Sync Box).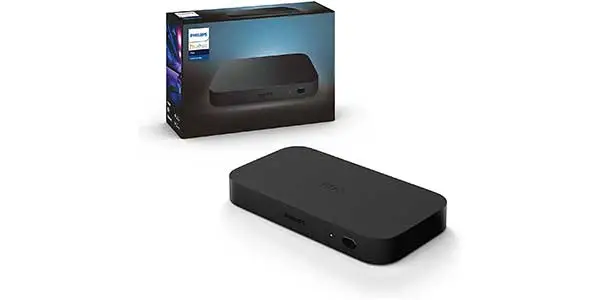 Functionally, there's not much to criticize here. It works as advertised, though my light strip did peel away from the back of my TV slightly after a few months—the adhesive could be a little better. But the real problem with the Hue range is that it's so expensive. This light strip is an obvious pick for anyone already invested in the Hue system, and it's an excellent option, but you don't have to spend this much to get almost all the same features.
Works with Google Assistant, Apple HomeKit, Amazon Alexa, IFTTT, and Microsoft Cortana
Best Budget Light Strip
Govee RGBIC Pro LED Light Strips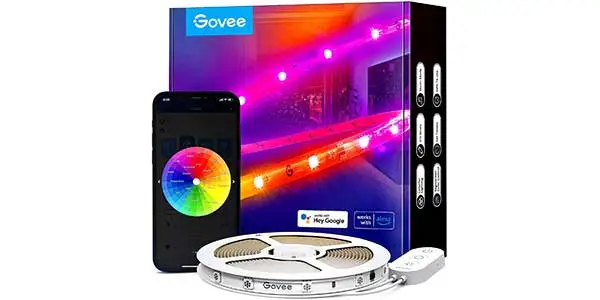 If you're looking for an inexpensive LED light strip to place in a recess, behind furniture, or somewhere else out of sight, this Govee strip is a good choice. It's simple to set up, and you can choose colors by part in the Govee app, as well as choose from a variety of animation effects or create your own. This light strip can also sync to music and has a convenient physical control box with a power button, color cycle button, and music syncing button. I use Google Assistant to switch on and off this strip, and it works well.
Works with Google Assistant and Amazon Alexa
Best Diffused Light Strip
Govee Neon Rope Light Strip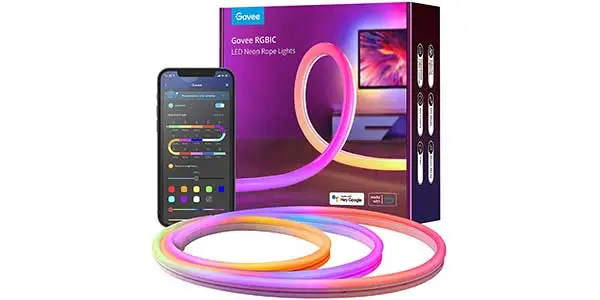 Most light strips perform best when the LEDs are covered—the light is less bright, especially when the LEDs cannot be hidden from view in a recess. That is why I am drawn to this diffused light strip. It's mounted on my stairs and serves as a discreet night light while also cycling through colors and playing animations via the Govee app. It keeps in place owing to the adhesive-backed metal brackets. It works nicely with Google Assistant, but there's a useful control box with a physical power button, a button to enable music synchronization, and a button to cycle among colors.
You may need extra sticky brackets depending on the design you choose. (There are ten of these in the package.) The voice controls only function for turning on and off the light, altering the brightness, and switching to solid colors. To switch between scenarios, you must first launch the program. Because the LEDs are divided, certain picture transitions appear blocky. It's also a shame that you can't make this strip longer.
Works with Google Assistant and Amazon Alexa
Best Smart Lamp
Cololight Plus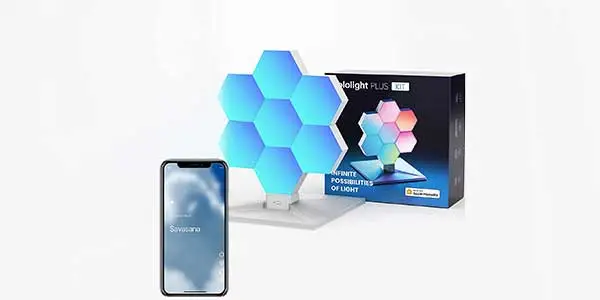 This inventive, reasonably priced modular light is fascinating. If you rent or simply don't want to risk the paint peeling off the wall with most ambient smart lights, this is a great way to get a taste of this world without the use of adhesives (though you can mount it). It's simple to assemble, and the hexagonal panels may be reconfigured into whatever form you like. The program provides a variety of solid colors as well as captivating dynamic effects. Music and voice instructions are also recognized by the panels.
The stone foundation of the original Pro model is more visually appealing, but the broader plastic base in this Plus edition gives additional stability. My cat would periodically bump into the Cololight, knocking panels off (some configurations are more stable than others). The software is a little puzzling, particularly the ability to create dynamic effects, and it periodically loses connection. While some of the dynamic effects are impressive, the quality varies.
Works with Google Assistant, Amazon Alexa, Apple HomeKit, and Steam Deck
Home Automation

>>

Brands

>>

Amazon

>>

The Best LED Strips Smart Lighting Panels and Ambient Lamps