Wi-Fi 6, the newest wireless networking standard, has brought in a new range of premium routers designed to benefit from increased speeds and performance. We checked these routers to help you determine it's the right time to update your wireless network and make it a future-proof one.
TP-Link AX6000 WiFi 6 Router, 8-Stream Smart WiFi Router
The Archer AX6000, at 2.4 by 10.3 by 10.3 inches ( HWD), is one of the largest routers we've found. It uses a black textured enclosure with eight non-removable folding antennas and a square LED indicator at the top that shines solid blue when everything functions normally, pulses blue during startup and firmware updates, glows solid orange when connected to the internet but is wireless is disabled, and glows solid red when there is no internet connection. Connectivity ports are plentiful. The rear panel contains eight gigabit LAN ports, a 2.5-gigabit WAN port, a power port and power button, and a reset button. The left side holds a USB 3.0 Type A port and a USB 3.0 Type C port, and there are WPS, LED On/Off, and Wi-Fi On/Off buttons on the front edge of the router.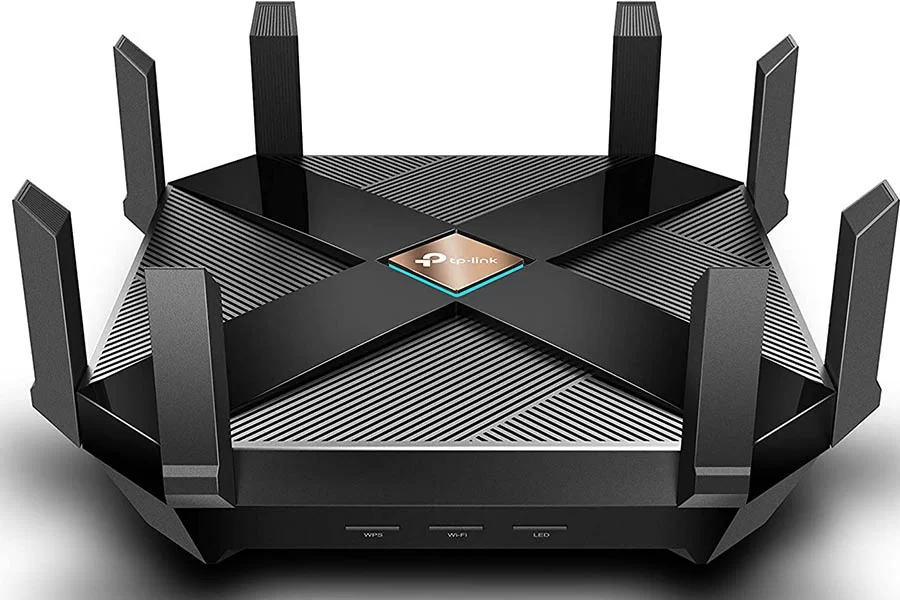 The Archer AX6000 is powered by a 1.8GHz quad-core processor, 1GB of RAM, and 128MB of flash memory. It's a dual-band eight-stream router (four streams on each band) that utilizes the latest 802.11ax tech with 1024 QAM (Quadrature Amplitude Modulation) to achieve maximum theoretical data rates of up to 1,148Mbps on the 2.4GHz band and up to 4,804Mbps on the 5GHz band. It also supports 160MHz channel width, automatic band-steering, MU-MIMO data streaming, and direct-to-client signal beamforming, but it does not yet support the new WPA3 encryption protocol, which is required for Wi-Fi 6 certification.
Asus RT-AX88U
Asus RT-AX88U is the best Wi-Fi 6 router for top performance and feautres. It comes loaded with advanced features and very capable management software. While all that drives its price up somewhat, it's still the top future-proof router you can buy right now.
Wi-Fi 6, also known as 802.11ax or High Efficiency (HE) Wireless, is the next technology iteration for wireless routers. An evolution of 802.11ac technology, 802.11ax promises increased throughput speeds of up to 4.8 gigabits per second (Gbps). That means less network congestion, greater client capacity, and better range performance courtesy of several new and improved wireless technologies. Orthogonal Frequency-Division Multiple Access (OFDMA) improves overall throughput by breaking Wi-Fi channels into sub-channels. This allows up to 30 users to share a channel at the same time. 
Wi-Fi 6 also takes advantage of previously unused radio frequencies to help boost 2.4GHz performance, and it uses refined uplink and downlink bandwidth management to provide enhanced QoS (Quality of Service). It also offers uplink and downlink MU-MIMO streaming (802.11ac only supports downlink MU-MIMO). 802.11ax is backward compatible and will work with devices that use older 802.11a/b/g/n Wi-Fi tech, but only 802.11ax clients can take full advantage of its enhanced performance and features, and they are few and far between right now.
D-Link EXO Mesh AX1500 Wi-Fi 6 Router (DIR-X1560)
The DIR-X1560 is a smallish router with a traditional desktop router design. Its black enclosure measures 2.0 by 9.9 by 7.6 inches (HWD) and sports four non-removable adjustable antennas and four LED indicators for power, Internet, and both radio bands. You won't find any multi-gig ports, link aggregation, or USB ports on this model but it is equipped with four gigabit LAN ports, a WAN port, a reset button, a WPS button, and a power button.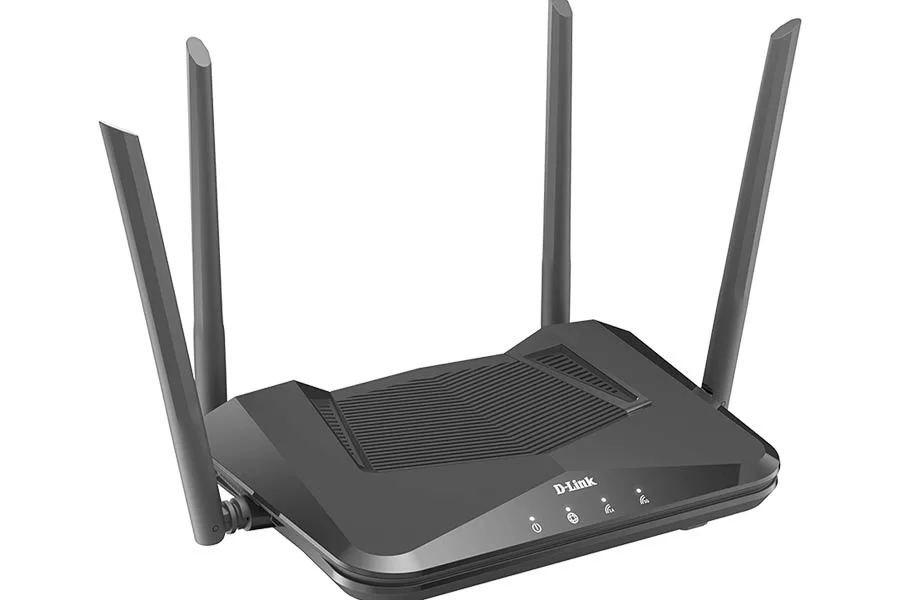 The router is powered by a 1.5GHz tri-core CPU, 256 megabytes (MB) of RAM, and 128MB of flash memory. It's a dual-band AX1500 router capable of throughput speeds of up to 300Mbps on the 2.4GHz band and up to 1200Mbps on the 5GHz band, and it utilizes 802.11ax technology including Orthogonal Frequency-Division Multiple Access (OFDMA ),1024 Quadrature Amplitude Modulation (QAM), Target Wake Time, WPA3 encryption, MU-MIMO data streaming, and beamforming. However, it lacks support for 160MHz channel bandwidth that you get with more expensive Wi-Fi 6 routers, such as the Asus RT-AX88U and the TP-Link Archer AX6000.
You can combine the DIR-X1560 with one of D-Link's mesh-enabled range extenders to create a network that lets you use a single SSID for seamless roaming, and you can configure the router to choose the best available radio band by enabling SmartConnect. Alexa and Google voice commands allow you to do things like enable and disable guest networking and reboot the router, and you can give specific clients bandwidth priority using D-Link's Intelligent QoS (Quality of Service) settings. Missing are the robust parental controls with age appropriate presets that come with the TP-Link AX6000: instead you are limited to basic website blocking and access scheduling. Moreover, this router does not offer any malware protection, a feature that is showing up in many of the latest high-end routers.
Home Automation

>>

Blog

>>

The 3 Best Wi-Fi 6 Routers for 2020