"Convergence" is a key trend in consumer electronics. More and more technology is being incorporated into gadgets so that they may perform several functions. The TP-Link Voice X20 is a good example. This ingenious wireless mesh networking system is part of the TP-Link Deco family, a collection of wireless access points and routers that can be combined to form a single mesh network for complete Wi-Fi coverage throughout your house. The Deco family's attractiveness is that any of the units may be used with any other from the collection. It's extremely adaptable and extensible.
The Voice X20 is one of the newest models to join the Deco family. Extra units may be added to an existing Deco mesh system whenever and wherever they are needed, as these wireless mesh devices are equipped with the current Wi-Fi 6 standard. I should highlight one significant caution at this time. Although the Deco Voice X20 units are Wi-Fi 6 compliant, data rates will only be as fast as the slowest link in the chain if they are utilized as part of a Deco mesh network built on devices that employ the older Wi-Fi 5 standard. So, if the Deco Voice X20's speed tempts you, it's usually a good idea to keep your options open.
Unlike the other Deco units, which are largely white, the Voice X20 has a conical red stand on its base that makes it stand out. It resembles an Apollo Lunar Module in appearance, which may not be to everyone's liking. The purpose of the little red stand is to allow sound to escape from the device. The Voice X20 is a mesh device that may also be used as an Alexa-enabled speaker. It combines a Wi-Fi network mode with a wireless speaker, making it a great example of merging technologies.
A top plate sits atop the Deco Voice X20, with the controls you'd expect to see on any Alexa speaker. In addition to the Alexa Action button, there's a mute button for the array of four built-in microphones, which you can use when you don't want Alexa to listen in on your dinner table talks. There are also two volume controls to increase or decrease the volume. When you speak "Alexa" and execute a command, a circular LED light around the rim of the top plate lights in blue. When you hit the microphone mute button, the LED turns red, indicating that you are no longer being heard.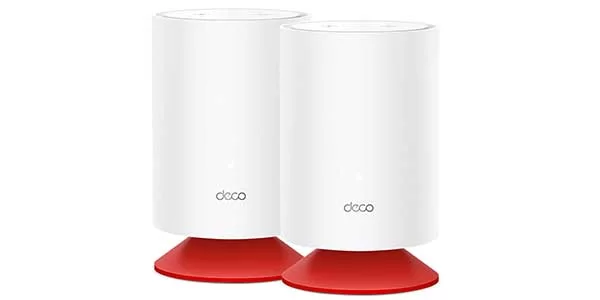 Two Gigabit Ethernet ports with auto-sensing WAN/LAN functionalities are located on the side of the Voice X20. These ports can be used to connect Ethernet-enabled peripherals such as a network-attached storage device, a printer, or anything else. If you're lucky enough to have a wired network at home, one of the ports may also be utilized as an Ethernet backhaul to the main Deco router device.
Might Be Relevant For You:
The Deco Voice X20 has Wi-Fi 6 AX1800 as its wireless standard. On a mesh system that supports the 802.11k/v/r protocol, this translates to a potential throughput of 1,800Mbps. The data signal rate is shared between the 2.4GHz frequency and the 5GHz band, with 574 Mbps on the 2.4GHz band and 1,201 Mbps on the 5GHz band. The Deco Voice X20 can have a Guest network feature in addition to the regular network, allowing guests to access the internet without poking around the edges of your home network. WPA/WPA2-PSK/WPA3 encryption is also supported across the system.
More: 4 Great Wi-Fi Extenders To Boost Your Wireless Connection At Home
Other features included with the Deco Voice X20 include TP-Link's basic HomeShield protection, which can filter out viruses and other cyber nasties at the hardware level. For strong reception, there's OFDMA, 1024-QAM and MU-MIMO. Using the built-in web interface, it's possible to access advanced settings like address reservation, QoS, port forwarding, TP-Link DDNS, IPTV, IPv6 and firewall rules. It's also possible to turn off the LEDs as well as Smart Connect. This enables the router to automatically assign connected devices to the Wi-Fi band that provides the fastest speed. By balancing the load and assigning devices to the most appropriate band, Smart Connect can reduce delays and interruptions.
The beauty of a mesh network like the Deco Voice X20 is that you only need one network that spans two bands and covers your entire home, allowing your device to seamlessly switch and join to the various Deco mesh devices without you having to do anything. It's similar to roaming on a cell phone network. You'll always be allocated to the strongest and quickest Wi-Fi connection, whether you're using a smartphone, tablet, computer, or other Internet-enabled device.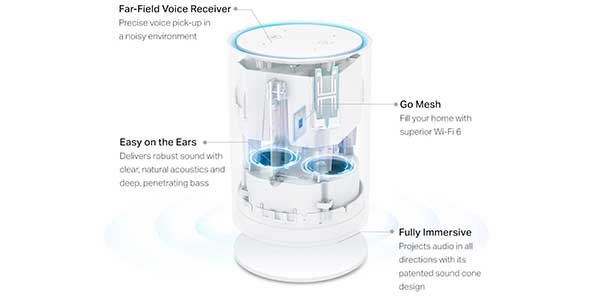 Thanks to the superb Deco smartphone software, setting up a mesh network with the Deco devices is a breeze. The network may be up and running in minutes. You may add more Deco units as needed, and the entire process is simple to follow owing to a transparent dashboard. The Deco app also monitors the mesh's performance and maintains the software up to date.
We've now arrived to the Alexa feature. This is the first wireless mesh system I've seen with an integrated Alexa speaker. It operates in the same way as any other Alexa speaker, and all you have to do is say "Alexa…" and then your command. Voices are picked up using a set of four very sensitive microphones, so there's no need to yell.
Music or audio may be transmitted over several Voice X20s speakers, or each one can function independently. You can ask questions or do anything else that an Amazon Echo speaker can do, just like other Alexa-enabled speakers. It can handle smart devices around the house, so you could ask Alexa to switch on the lights, turn down the heat, and manage nearly any smart device. It's simple to set up the Deco system to operate with Alexa, and the Deco app handles everything. It's as simple as logging into your Amazon account.
The speaker built into the Deco Voice X20 outputs just 5 Watts but there's a a couple of passive radiators to beef the bass up a bit. It's not boombox quality and, it's fair to say, is a little on the thin side, but it does an adequate job. There's no separate analog audio output for feeding the sound to, say, an amplifier or a larger speaker to create room-filling sound. However, at this price, you probably weren't expecting that.
Users may subscribe to TP-premium Link's tier to obtain the maximum security for their whole network and all of the devices on it, in addition to the basic TP-Link HomeShield service. Up to 150 devices may be connected, and TP-Link has added parental controls to prevent children from accessing unsuitable content. Each family member's internet access times may also be tightly managed.
Tech Specs:
Ethernet: Two Gigabit ports per Deco Voice unit with auto-sensing WAN/LAN.
Buttons: Reset, Mute, Alexa and Volume per unit.
Microphone: Quadruple microphone array.
Speaker: 5-Watt full frequency speaker with two passive radiators.
Power consumption (without power adapter): 14 Watts max.
Dimensions (W × D × H): 4.13 × 4.13 × 6.69 in (105 × 105 × 170 mm).
Power Adapter Input: 100-240V~50/60Hz 0.6A.
Power adapter output: 12V 1.5A.
Wireless Standards: IEEE 802.11a/n/ac/ax 5 GHz, IEEE 802.11b/g/n/ax 2.4 GHz.
Mesh protocol: 802.11k/v/r.
Frequency: 2.4 GHz and 5 GHz.
Signal rate: 574 Mbps on 2.4 GHz + 1201 Mbps on 5 GHz.
Wireless security: WPA/WPA2-PSK/WPA3 encryptions.
Working mode: Router, Access Point
WAN Type: Dynamic IP/Static IP/PPPoE/L2TP/PPTP.
DHCP: Server.
Protocols: Supports IPv4 and IPv6.
Guest network: 2.4 GHz Guest Network × 1, 5 GHz Guest Network × 1.
Features: TP-Link HomeShield, BSS Color, OFDMA, 1024-QAM, MU-MIMO, Optional Ethernet backhaul, assisted setup, address reservation, port forwarding, TP-Link DDNS, IPTV, IPv6, firewall rules, LED control, Smart Connect.
Management: Local Management; Remote Management; Multi-Managers
Home Automation

>>

Brands

>>

Amazon

>>

The Deco Voice X20 Mesh System from TP-Link includes a smart speaker