If you're a homeowner who leads an active lifestyle or a busy parent with children who come and go frequently, Schlage TouchTM is ideal. Schlage TouchTM allows you to accomplish more with less effort and can help you simplify your life. Don't go for a run with a home key in your sock. When you're not at home, let the housekeeper in. There's no key to lose, fumble with, or pick with Schlage TouchTM because there's no cylinder to pick for would-be invaders. You can do all of this without ever worrying about being locked out. Schlage TouchTM is more than simply another item to carry; it's a new sort of freedom, backed by Schlage's power and knowledge as a security leader for over 90 years.
List of Top Selling Schlage Keyless Entry Lock
| Products | Estimated Price |
| --- | --- |
| Schlage Camelot Touch Keyless Touchscreen Electronic Deadbolt Lock | $85.35 |
| SchlageTouch Century Lock | $120.45 |
| Schlage Camelot Keypad Lock with Accent Lever | $216.27 |
| Schlage Camelot Keypad Deadbolt | $118.00 |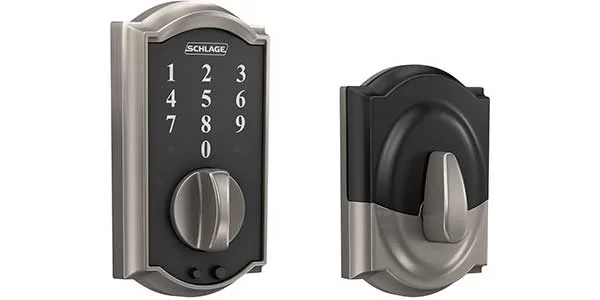 Available Colors
Aged Bronze
Antique Brass
Bright Brass
Bright Chrome
Matte Black
Satin Chrome
Satin Nickel

Features:
ANSI 156.5/ BHMA grade 2 for higher residential security
Easy installation that only requires a screwdriver and no wiring
Easy to program with memory for 19 different access codes
Illuminated, fingerprint-resistant touchscreen works in the rain and when you're wearing gloves
2 year battery life with 9V battery included
For left or right handed application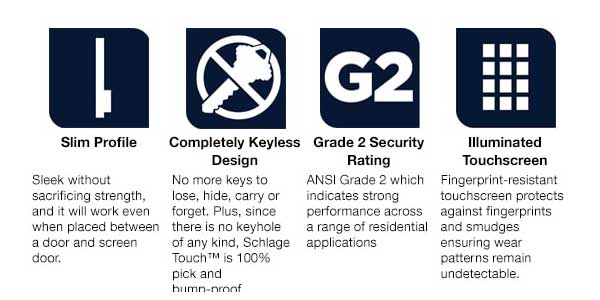 More: 2021's Best Smart Locks
Featured Technologies:
To use the keyless entry function: Simply input the 4-digit code you want to use. It may be used in the same places as a regular keyed entry, but with additional ease.
Design Is Completely Keyless: There are no more keys to lose, conceal, carry, or forget, bringing simplicity and convenience to a whole new level. This lock is completely picks and bump resistant because it lacks any form of a keyhole.
Low Battery Warning: Schlage Touch provides you plenty of warning with a dedicated, lighted low battery symbol, as well as a tiny annoyance delay to draw your attention to the fact that it's time to change the battery. Even if the battery dies for some reason, Schlage Touch has connections that allow you to "jumpstart" it with a 9V battery, ensuring you have access to your house at all times.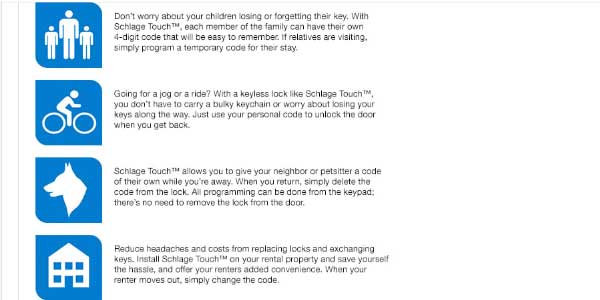 Specifications:
Backset: 2-3/4″, 2-3/8″, Adjustable 2-3/8″ or 2-3/4″
Cross Bore: 2-1/8″
Edge Bore: 1″
Door Thickness: 1-3/4″, 1-3/8″
Latch Faceplate: Drive-In, Round Corner, Square Corner
Product Weight: 3.31 lbs
Schlage Smart Wi-Fi Keyless Entry Locks
| Products | Estimated Price |
| --- | --- |
| Schlage Encode Smart Wi-Fi Deadbolt | $225.46 |
| Schlage Connect Smart Deadbolt with Alarm  | $310.50    |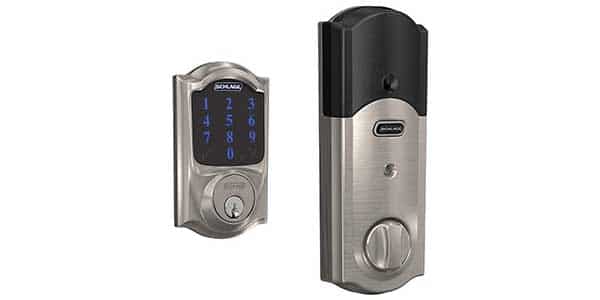 The Schlage Sense™ Smart Deadbolt and Schlage Connect™ Smart Deadbolt, as well as the new Schlage Encode™ Smart WiFi Deadbolt and Schlage connected keypads, allow you to control your lock from anywhere using your phone or even your voice with a wide variety of voice assistant devices. Regardless of your system and the technology powering it, smart lock technology can open many doors for you and your family.
SIDE DOOR/GARAGE DOOR
Secure the outside access door of your garage or even the pass-through door from your garage to your home. Arms full of groceries? No problem. Unlock your door before you even get out of your car. Is your garage door closed and you need to get in to put the mower away? The same phone you were using to listen to tunes while you mowed the lawn can now be used to unlock the garage door for quick and easy access.
BACK DOOR
Do you prefer to have the kids come in through the back door and leave their wet boots and outerwear in the mud room? Let them in remotely, set a schedule for the door to be unlocked when they get home from school or give them their own customizable security codes. Again, it's the picture of convenience. You don't have to worry about them losing or forgetting their keys and you can monitor them coming and going on your phone.
PATIO DOOR
Are you at work on a busy Monday morning and find yourself wondering if you locked the door to the patio after Sunday's barbecue with the neighbors? Talk about needing peace of mind. With select smart locks, you can check the status of your door locks using your phone. Confirm who last unlocked the door and lock it again for good measure, all from anywhere you happen to be: the office, the gym, the grocery store, wherever.
How To: How to Change the Code on a Schlage Keyless Entry Door Lock?
Home Automation

>>

Brands

>>

Amazon

>>

Top Selling Schlage Keyless Entry