Every new piece of technology or appliance is now "smart," which is a remarkable repercussion of the times we live in. We now have devices that have more functions than are required for their intended application. Phones are media and photographic tools as well as communication gadgets. Watches do more than tell time; they also track your fitness and serve as media players.
This trend hasn't skipped the TV sector, hence smart TVs. So, what is a smart TV? What can a smart TV do? What makes it different from a normal TV set? Well, if you are confused, you don't have to be.
In this article, we'll answer all of your questions and show you how to turn your "dumb TV" into a smart one. We'll also look at the benefits and drawbacks of utilising a smart TV. So, let's get started.
What Is a Smart TV?
Smart TVs are televisions with built-in internet connectivity that can connect to the internet via Wi-Fi or an Ethernet cable. Smart TVs combine the characteristics of a computer, television, and digital media player into one device. They provide the essential functions of a television while also providing additional capabilities such as internet television, video streaming, web surfing, and gaming.
Smart TVs have their own operating system, which includes games, apps, and other digital services similar to those found on smartphones. They let you to watch standard television channels without relying on an external antenna, cable, or A/V source. So, what exactly is a smart TV and how does it vary from a traditional (or dumb) television?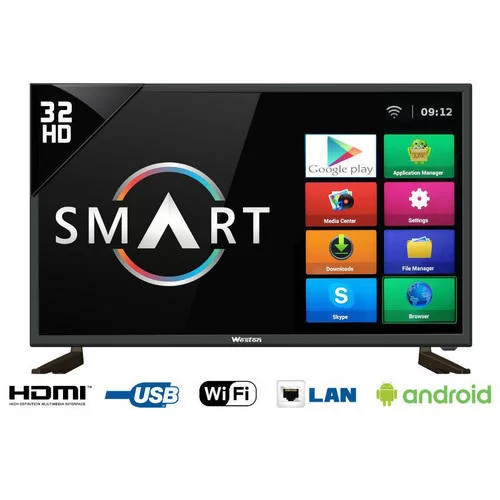 What Can a Smart TV Do?
There are many brands of smart TVs, and they have different smart platforms. Some smart TVs are built with proprietary platforms and some use Android or webOS, but all are built with considerably more features than the normal TVs. They offer different functions depending on brand and price point, but the notable ones are:
How to Watch Kayo on LG Smart TV
Surf the Web
The majority of smart TVs come with built-in web browsers that allow you to access your favorite websites. Without lifting up your phone or laptop, you can check on your favorite social media sites, read the news, and get the most up-to-date weather updates.
Video Calls and Conferencing
Because most smart TVs contain webcams or support for external webcams, they can be used for video calls and conferencing. This is yet another great technique to make advantage of those big screens, particularly in huge video conference gatherings.
Stream Online Content
Because smart TVs have easy internet connectivity and smart platforms that enable several streaming apps, you can watch online content on them. You can also use a smart TV to watch internet-based over-the-top content such as shows or videos. The majority of smart TVs are designed for streaming and have pre-installed streaming apps such as Netflix, Amazon Prime, and YouTube.
Sync and Control Other Smart Devices
You can use Alexa, Google Nest, or Ring to connect your smart TV to your other smart devices. You can use your TV to manage the lighting, temperature, and sound system in your home or business.
Smart Screen for Presentation
Because certain smart TVs include touchscreen capabilities, they can be used as smart displays, particularly for presentations. This is a quick way to navigate through slides using either voice commands or swiping.
Voice Control
Most smart TVs have voice assistants which you can use to control the TV with just the sound of your voice. This convenient feature means even without the remote, you can change apps, control volume, rewind, and turn the TV off with just words.
How to Convert Your Television to a Smart Television
Smart TVs are expensive because they are packed with useful features. So, if you don't want to spend the money on a new one.
Here are two ways to turn your old one into a smart one:
Using a Portable Streaming Stick
These are little sticks that look like USB flash drives. They can use your Wi-Fi or the internet to stream films, photos, and images to your TV via an HDMI connector. You may use these TV sticks to access a variety of streaming apps as well as browse the internet on your television. Amazon Fire Stick and Roku are two notable examples.
Most TVs have an HDMI port and if yours doesn't, get an HDMI-to-RCA adapter that plugs into the red, white, and yellow ports in the back of your TV.
Using HDMI Dongles
This is an even cheaper option. A dongle is small computer hardware that connects the HDMI port on your computer to the HDMI port on your TV. With this, you can access the streaming app on your laptop and cast the screen on your laptop to the TV.
To stream video games from a desktop or laptop computer to a television, you currently have five options:
A Miracast and wireless HDMI
Cast games to a TV with Chromecast
Stream games to TV with Nvidia GameStream
Stream your PC game to a Smart TV or set-top box
1. A Miracast and wireless HDMI
You'll find several wireless HDMI systems available that are compatible with desktop operating systems. Wireless HDMI enables the transmission of audio and video signals between two devices, making other technologies in this list possible.
Microsoft P3Q-00001 Wireless Display Adapter
Price: $39.49
2. Cast games to a TV with Xiaomi Mi Box S
Powered by Android 8. 1 for Superior Functionality: Enjoy the latest Version of Android TV, perfect for home entertainment, home theater, business use, and more
Access Tons of Content: Access to 3000+ channels and Apps, Enjoy movies and TV episodes from Netflix, VUDU, YouTube, and more
High Clarity 4K HDR: Chromecast built-in. Supports 4K Ultra HD resolution and High Dynamic Range (HDR), experience clarity and smoothness like never before
Price: $64.98
3. Stream games to TV with Nvidia GameStream
Utilizing Nvidia GameStream, this effective, but does rely on your PC having a suitable Nvidia GTX series GPU. But with your Nvidia Shield TV connected to the same network as your PC, game streaming can commence.
Price: $199.99
4. Stream your PC game to a Smart TV or set-top box
Big name Smart TV manufacturers like Sony and Samsung offer Steam Link among the apps. If yours doesn't, then you can use Apple TV or Android TV boxes instead.
Whichever method you use, start by following the steps above to configure Steam for streaming. Once this is done, install Steam Link on your Smart TV or on your Apple TV or Android TV box.
Download: Steam Link for AppleTV (tvOS) | Android TV (Free)
Home Automation

>>

Home Theater

>>

Remote Controls & IR Repeaters

>>

What Is a Smart TV and What Can It Do for You?