Here are a few of the top Schlage keypad deadbolt and their features and how to program it using a code are in detail in a late section of this topic.
HERE Are the Detail of Schlage Keypad Deadbolt
Schlage BE489WB CEN 619 Encode Deadbolt Smart Lock | Wi-Fi Touchscreen Keypad, Satin Nickel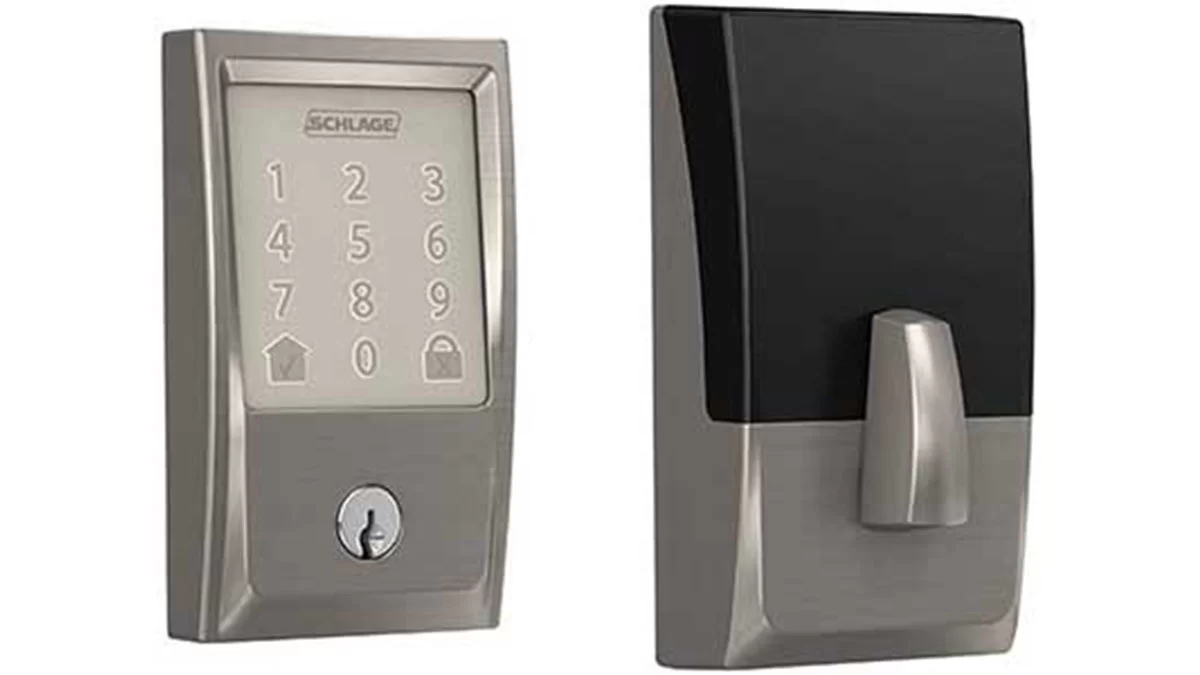 Price: $222.35
Features
Smart Lock with Built-in Wi-Fi allows you to lock/unlock from anywhere – no additional accessories required. Pair with the Schlage home app or Key by Amazon app to create and manage up to 100 access codes for trusted friends and family for recurring, temporary or permanent access
WORKS WITH ALEXA: Check the status of your lock and lock/unlock your door. In addition, Alexa will let you know when your battery is running low or set-up smart reorders through Amazon dash replenishment so you always have replacement batteries when needed.
Fingerprint-resistant, capacitive touchscreen with easy one-touch locking. Optional voice control offers hands-free convenience when using voice-enabled products
Built-in alarm technology senses potential security breaches at the lock, while the low battery indicator offers advanced warning for battery replacement
Easy to install with just a screwdriver. Unique snap 'n stay technology snaps the deadbolt onto the door so both hands are free during installation
SCHLAGE BE469ZP CAM 716 SCHLAGE Connect Smart Deadbolt with Alarm Inbuilt Camelot Trim In Aged Bronze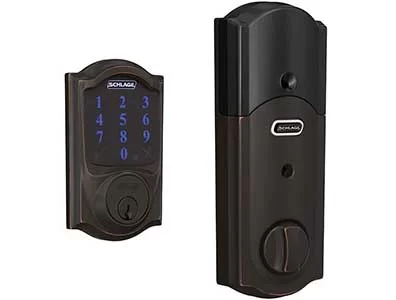 Features
Pair with a Z Wave smart home or security system like Samsung SmartThings or Ring Alarm to lock and unlock from anywhere
Hands free voice control requires Z Wave smart home system and compatible voice assistant; Alexa device (sold separately)
Easy to install with just a screwdriver; Unique Snap 'n Stay technology snaps the deadbolt onto the door so both hands are free during installation
Use the finger print resistant touchscreen to share up to 30 access codes instead of keeping track of spare keys.
Keying: 5-pin tumbler, C Keyway, 1 key included
The keypad is backlight. The keypad illuminates blue so it can be used at night!!
SCHLAGE BE375 CAM 619 Touch Keyless Touchscreen Electronic Deadbolt Lock, Satin Nickel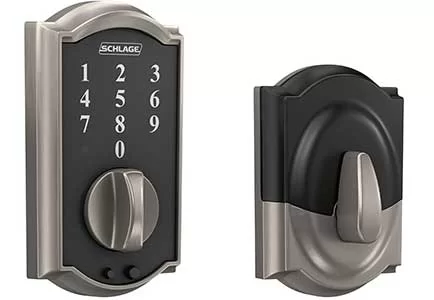 Price: $86.20
Features
KEYLESS ENTRY & CONVENIENCE: Use 2 pre-programmed codes for easy setup out of the box, and assign up to 19 codes for trusted friends and family to experience convenient, keyless security
PREMIUM SECURITY: Cylinder-free design has no keyway to bump or pick, and Grade 2/AAA rating offers trusted security and durability for residential and light commercial applications
BATTERY: Operates with included 9V battery and jump-start feature that provides backup access in case of battery failure
TOUCHSCREEN ACCESS: Down lighting illuminates numbers, making it easy to enter your code in the dark, while the fingerprint-resistant touchscreen helps protect privacy of access codes
INNOVATIVE DESIGN: Slim profile means it easily fits between the front door and screen door, while premium metal construction offers durable security
How to add or delete user codes for Schlage Encode™ Smart Wi-Fi Deadbolt with the touchscreen
Note: After your lock has been programmed with the Schlage Home app, manual programming is disabled. All manually programmed user codes and the programming code are removed if you want to later link your lock to the app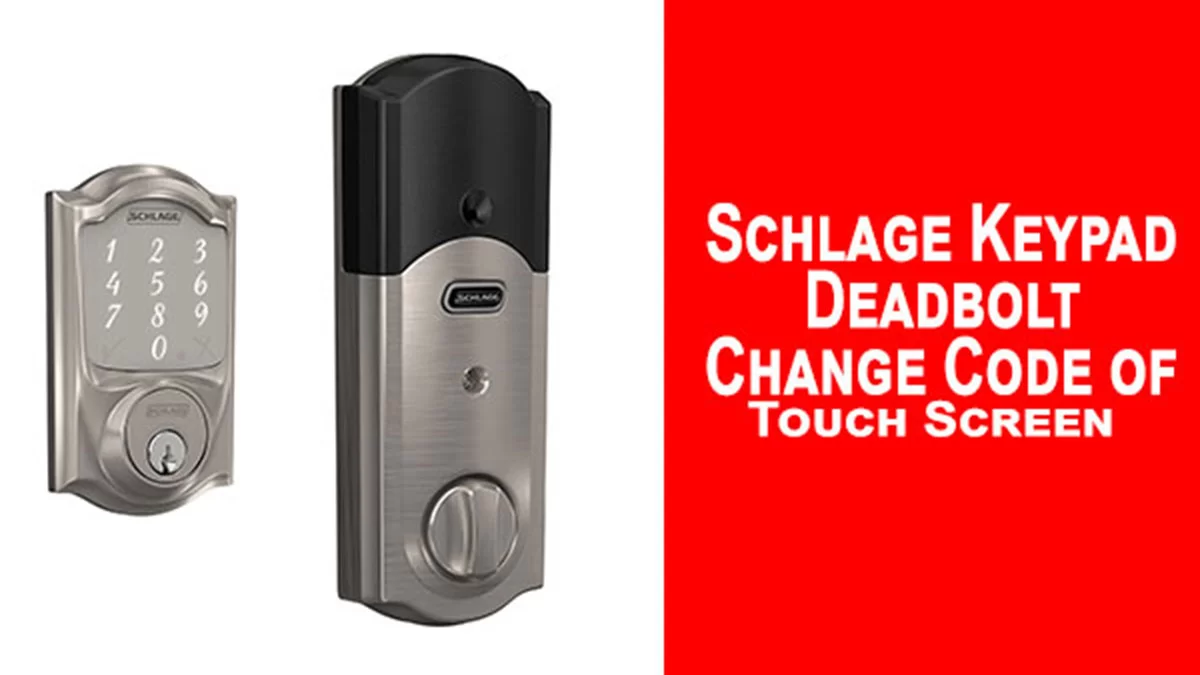 If you need to find your programming code, look inside the back of your lock. Simply remove the battery cover and you'll see a label with your Prog. Code. 





Steps of Schlage Keypad Deadbolt Change Code
Enter your Programming Code (6 digits)
Enter the code you'd like to add or delete. Choose and press either the house button to add, or the lock button to delete.
Enter that code again.
Press (home) to exit.
Find out about how to change 4 digit code and how to unlock or reset without programming code are in detail.
FAQ
Does Schlage connect work with app?
You can operate and manage your lock from anywhere with the free Schlage Home App for Apple iOS and Android. The app walks you through the setup process and gives you total access to and control over your Schlage smart locks. It's no surprise that Schlage is at the forefront of smarter homes.
Can I use Schlage connect without hub?
Because of its built-in Wi-Fi, you don't need a smart hub to connect your Schlage Encode™ Smart Wi-Fi Deadbolt with an Alexa-enabled device.
Do Current Schlage Sense Smart Deadbolt Models Be Compatible With Google Assistant?
Yes. All current Schlage Sense lock models will be compatible with Google Assistant-enabled devices through the Schlage Sense Wi-Fi Adapter.
How Do I Connect My Schlage Sense Lock With Google Assistant?
In order to use the Schlage Sense lock with Google Assistant-enabled devices,
Users must connect the deadbolt to the Schlage Sense Wi-Fi Adapter, sold separately.
Follow the setup steps within the app to link your Schlage account with your Google Assistant account,
Then add the Schlage action.
Once connected, users will be able to access their lock using voice activation.
Home Automation

>>

Brands

>>

Schlage

>>

Schlage Keypad Deadbolt