In this article, we'll go through the most common issues and how to troubleshoot the Samsung soundbar for specific issues.
The majority of soundbar issues may be resolved by resetting the soundbar and adjusting the settings on the television; but, in some cases, resetting the smart television as well as the soundbar is necessary. So don't be concerned and read everything thoroughly.
List of Samsung Soundbar Troubleshoot.
Samsung soundbar not turning on
If the soundbar does not turn on, double-check that it is properly inserted into the wall socket and that the power wire is securely connected to the soundbar. First, disconnect the power cord from the outlet. Then look at the location where the two components of your charger join. Make sure they're firmly connected.
If the wires are in excellent condition, use a multimeter to check that the wall socket has the right voltage for your audio system.
You can also use another device to test the wall socket's functioning. There might be a short in your wall socket if the system won't turn on. Try plugging your soundbar onto a different outlet and seeing if it works.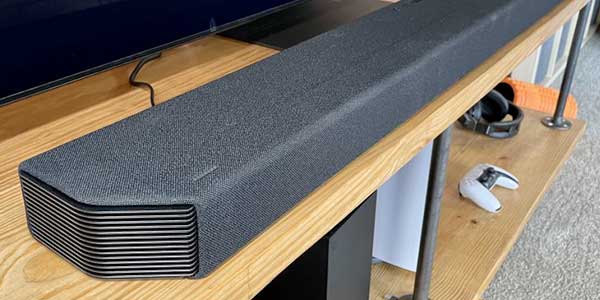 Samsung Soundbar Connected But No Sound
The methods for resolving a soundbar that isn't producing sound are rather straightforward. If none of the above methods work, your soundbar may be faulty, in which case you should contact Samsung for a replacement.
The first step is to make sure that your television is set up to use external speakers. When you try to utilize your soundbar, do you hear sounds from your TV? If this is the case, your television isn't set up to use external speakers. This may be changed in the sound settings on your television.
If your soundbar doesn't respond to your remote control when you try to adjust the volume, try the following steps:
Replace the batteries in the remote control.
Clean the remote control's top edge. Don't forget to clean the transmission window, which is usually a polished panel or small bulb.
Bring yourself closer to the soundbar.
After that, check that the soundbar is configured to use the source your TV is attached to. To do that, select one of the following links with the source button:
HDMI
AUX
Bluetooth
Optical audio/D-IN
Finally, if the device is well-programmed, see if the mute feature is disabled. Pressing either of the volume keys can deactivate silent mode.
Soundbar Not Working With Samsung Tv
If your Samsung soundbar isn't connecting to your TV, try resetting all of your devices to see if it helps.
Disconnecting the wires between your TV and soundbar for roughly three minutes is the most basic troubleshooting option. This technique allows for a thorough re-engineering of their mechanisms, which, if finished, can help in connection.
The soundbar may then be reset by turning it off and holding the pause button until the message 'INIT OK' displays on the display. After that, switch on the device and try to connect it to your television.
You should also turn off your television. When connecting the soundbar for the first time, some customers have found success with this technique. Turn off the TV and unplug the power cable for two minutes to do a power reset.
If nothing of these troubleshooting procedures solves the problem, your television may need to be hard reset. This is especially true when connecting an Android TV. There may be programs that are incompatible with the soundbar, making it impossible to make a connection.
How To Factory Reset a TV
To factory reset your television, follow these steps:
Turn off the television.
Disconnect the power supply cable.
Click the remote's "OK" and "Back" buttons, as well as the actual power button on the television. Depending on the model, you'll need to push the volume down and power keys simultaneously.
Press and hold the power button down for 30 seconds until the Android Recovery Mode appears on the screen.
Use the up-down arrow keys on your remote to access the factory reset function.
Select it by pushing the appropriate button on your remote.
How to Reset Samsung Soundbar?
Power on the Soundbar and press and hold the off button on the remote or on the soundbar itself.
You have to hold the power button until it displays 'INIT OK' on the soundbar display.
If you have an old soundbar without any display then you will see a red led blinking and then stops once the reset is done.
Samsung Soundbar Bluetooth Not Working
If the Bluetooth on your soundbar isn't working, the system may need to be repaired. If your soundbar, on the other hand, shows BT when attempting to connect to Bluetooth, try the following troubleshooting steps:
If the battery is available, perform a hard reset of the soundbar by removing and reinserting it.
Check that the connected device is in pairing mode once the reset is complete. Check the device's instruction manual to make sure it's in the connection mode.
Re-pair the units if necessary.
If the devices still won't connect, attempt adding new components to the soundbar. Consider pairing another device with the one you were trying to connect to your soundbar. This technique will assist you in determining why this problem persists.
If your soundbar and device couple with other devices but not with each other, your device may need to be upgraded or your soundbar may be incompatible.
More: Sonos One Vs Bose Home Speaker 300
How To Connect Soundbar To Samsung Tv Using HDMI?
Connect your devices using an HDMI cable by connecting the soundbar's HDMI output port to the TV's HDMI input jack. Then, using your remote control, select D.IN or HDMI mode.
Connect the Soundbar's digital audio input jack to the TV's optical output socket if you're using an optical connection. You may pick D.IN format as your source, just like with an HDMI cable.
Samsung Soundbar HDMi Arc Not Working
ARC allows you to connect your TV to your speaker with just one HDMI wire. When you're simply connecting the soundbar and TV and not utilizing any other devices, this form of connection is ideal. External devices will not be able to connect to the soundbar, and the soundbar will be connected to one of your TV's HDMI ports.
Use the HDMI ARC port on the TV.
TVs that support ARC usually have one HDMI port that is labeled (ARC), make sure that your HDMI cable is connected to this port.
Connect the HDMI cable to HDMI OUT on the soundbar.
Verify Anynet+ (HDMI CEC) is turned on.
The HDMI-CEC feature will have a different name depending on the brand of TV that you have. For Samsung TV's, it is called Anynet+. On a Samsung TV, you can find this feature in Settings > General > External Device Manager > Anynet+.
Set the source on the soundbar to D. In.
Because ARC is a technique that permits the D. In. signal to be sent via an HDMI connection, choose D. In instead of HDMI or TV as your source. The source will immediately switch to TV ARC if the connection is successful.
If the source changes to TV ARC but you still have a sound issue, disconnect your soundbar from the TV and confirm the TV is able to play sound without it. If your TV does not have sound either, you'll need to troubleshoot that issue first and the soundbar may not need any additional effort.
If the source does not switch from D. In to TV ARC, replace the HDMI cable and try again.
Repeat the previous steps with a brand new HDMI cable.
Connect the soundbar to another TV with ARC.
This step will assist you figure out whether the ARC isn't working on the TV or the soundbar. If you have another ARC-enabled TV, connect it and repeat the process.
If the source switches from D. In to TV ARC when using the 'test' TV, the soundbar does not need service, and the issue is with the original TV.
If the source does not switch when using the 'test' TV, this will require service.
Samsung Soundbar Bluetooth Pairing To TV
Select "Settings" from the menu bar.
Navigate to the audio menu.
Choose the submenu for sound.
Select "Speaker Settings."
Locate "TV SoundConnect."
Enable new devices to connect to your TV
In the same menu where you activated SoundConnect:
You'll see a Speaker Settings option.
Select "TV SoundConnect" from the drop-down menu.
After that, the Samsung TV will allow you to connect the soundbar through Bluetooth.
Samsung Sound Bar Keeps Disconnecting From TV
Here is a detailed explanation of why your soundbar keeps disconnecting from your television. Other common difficulties with each query are listed above.
1. Double-check your cables and inputs.
This may seem obvious, but make sure the volume is turned up and your soundbar is set to the correct input.
If your TV is connected to the HDMI 1 port on the soundbar, check sure your soundbar is set to HDMI 1. Look for an Optical or Digital In option if your TV is connected through an optical connection (also known as TOSLINK). If your soundbar has a companion app for your phone, use that to change the input instead of the remote, as it may be more reliable—or vice versa. (Make sure the volume is cranked up as well.)
Check sure the cords are plugged into the ports you believe they should be. If you think your TV is connected to HDMI 1, but it's actually HDMI 2, you're causing yourself a lot of trouble.
Try a different cable to rule that out as well—remember that some game consoles require specific cables—and it wouldn't hurt to try another streaming box if you have one sitting around to rule that out as well.
Also, double-check that the plastic covering on the ends of your cables has been removed—this
Finally, go to the audio settings on your TV and make sure it's configured to output audio to the right location. Instead of TV Speakers, you may need to pick the appropriate setting for the cable you're using, such as HDMI Out, Digital Out, or something similar.
Whether your "source" is a Blu-ray player, cable box, streaming device, or gaming console, there are a few options for connecting a soundbar to your TV:
Source box > TV > Soundbar over HDMI
Source box > TV > Soundbar over Optical
Source box > Soundbar > TV over HDMI
If you're not utilizing a separate box as a source (and instead rely on your TV's built-in smart applications), one of the first two solutions, with the box removed from the chain, will be your best bet.
The first item on that list, transferring audio from the TV to the soundbar via HDMI, necessitates the use of HDMI ARC, or Audio Return Channel, competent equipment. This may be problematic, so if you're attempting to set things up this way, double-check that you've followed the instructions to the letter.
In addition, you'll very certainly need to enable HDMI-CEC on your TV and soundbar. This lets you to manage your soundbar with your TV remote and vice versa, and it's normally essential for ARC to work effectively. Surprisingly, every TV has a different name for this—Samsung calls it AnyNet+, Sony calls it Bravia Sync, and LG calls it SimpLink. For further information, consult your handbook, and turn this on in the settings.
If HDMI ARC isn't working, try an optical cable instead. In the past, I've found this to be a little more dependable, albeit it may not be able to deliver every audio format, which has its own problem.
2. Look up audio formats that are compatible.
The audio in movies and television shows is frequently encoded in one of many codecs. The majority of streaming video is encoded in Dolby Digital or Dolby Digital Plus, with Dolby formats or DTS available on Blu-ray discs. Some devices have the ability to decode audio and deliver it as raw PCM. The issue is that not all televisions and soundbars can decode all sound formats. Some televisions, for example, may only be able to decode Dolby Digital but not DTS audio, which is found on some Blu-ray discs.
Furthermore, while optical connections are faster to set up than HDMI ARC, they don't have the capacity to transport 5.1-channel PCM or the ability to convey Dolby Atmos information. As a result, if you send a format to your TV or soundbar that it can't decode, you won't hear any audio. You can find out which audio formats your TV supports by looking it up in Rtings' database.
For it to operate correctly, you'll also need to go to your TV's audio settings and choose the appropriate sound format. Look for a setting that lets you choose between bitstream, Dolby Digital, PCM, or other sound formats. Play around with this setting to see what you can come up with—your soundbar and perhaps your source device may have a similar setting.
You shouldn't have any problem selecting the proper option for stereo sound, but if you're attempting to use surround sound, you'll have to play about with the settings. And, depending on the type of music you're streaming, HDMI ARC could be your only option, thanks to its increased bandwidth for high-fidelity audio formats.
3. Connect Your Source to the Soundbar Directly
Remember those three ways of connection I described earlier? If your soundbar has adequate ports, you could find that plugging your source box into the soundbar first, then the soundbar into the TV, makes things more trustworthy. It takes care of a lot of the annoyances associated with HDMI ARC and the bandwidth constraints of optical connections, as well as reducing audio delays.
Remember how I mentioned three different ways to connect earlier? If your soundbar has adequate ports, plugging your source box into the soundbar first, then the soundbar into the TV, may make things more dependable. It takes care of a lot of the annoyances associated with HDMI ARC and the bandwidth constraints of optical connections, as well as helping to reduce audio delays.
4. The Sleep Timer should be turned off
Many TVs and soundbars have built-in functions that turn them off after a certain amount of time has passed. If you've stopped your program for a lengthy amount of time, this may be automatic-check your device's manual—in which case you may have to wake it up using the remote.
5. Re-pair the surround speakers and subwoofer
Try unplugging and re-plugging the subwoofer and/or rear speakers from the wall.
To re-connect the subwoofer or rear speakers to your main soundbar,
You may need to push a "pair" button on the subwoofer or rear speakers.
Check the manual for specific instructions, since they may differ from model to model.
6. Firmware updates or a factory reset are both options
Home Automation

>>

Brands

>>

Smart things

>>

Samsung Soundbar Troubleshoot