The Wemo Wi-Fi Smart Outdoor Plug ($34.99) from Belkin is a dual-outlet smart plug that is weatherproof. It's simple to set up, reacts to voice requests from Alexa, Google, and Siri, and supports Apple HomeKit and IFTTT, so it'll operate with a variety of other smart home devices.
In testing, the plug functioned fine, although it's frustrating that the two outlets can't be regulated separately. The Wyze Plug Outdoor. It doesn't function with HomeKit, but it does connect with a lot of third-party devices and will tell you how much power it's using, and it's the cheapest one we've tested at $10.99.
Third-Party Support
The Wemo Wi-Fi Smart Outdoor Plug is black, like other outdoor variants, and is protected from weather and dust by a plastic IP44 shell. It includes an on/off switch on the front and twin three-prong outlets on the bottom and measures 3.7 by 3.6 by 1.6 inches (HWD).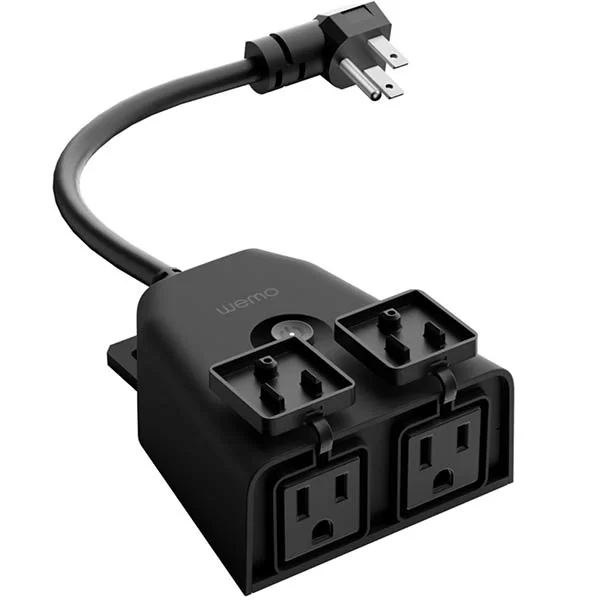 The Wemo plug works with Apple HomeKit and Siri voice commands, as well as Amazon Alexa and Google Assistant voice services. It also supports IFTTT applets that allow it to interact with other smart devices such as security cameras, door locks, thermostats, and more. Power usage reporting is lacking, however.
The plug uses the same Wemo mobile app (for Android and iOS) as other Wemo devices such as the Wemo Mini Smart Plug. It appears in its own panel on the Devices page, along with any other Wemo devices you have installed. It has an on/off button that is green when on and gray when off. There's only one button, which means you can't control each outlet independently like you can with the Wyze Plug Outdoor and the Kasa Smart Wi-Fi Outdoor Plug KP400.
You can create on/off schedules and set an auto-off timer. You can also set the plug to Away mode to have it turn on and off at random times to make it appear as if someone is home while you're away.
Change the security settings, update the firmware, connect to Apple HomeKit, IFTTT, Amazon Alexa, and Google Assistant, and read tutorials for setting up the plug and creating rules by tapping the more button.
More Plugs: Smart Plugs Can Be Used By Hackers To Gain Access To Your Home Network
PROS
Easy to install
Works with Alexa, Google, and Siri voice commands
Supports HomeKit and IFTTT
CONS
Pricey
Can't control each plug independently
Lacks power usage reports
Home Automation

>>

Brands

>>

Amazon

>>

Wemo Wi-Fi Smart Outdoor Plug