Many people use their front door to receive items and politely decline solicitors' pitches. The garage door is the main hub of activity, where the majority of arriving and departing takes place.
Why are smart locks and doorbell cameras so popular for our front doors, while smart garage door technology is frequently overlooked? Renovations to your garage are just as important as upgrades to any other room in the house, if not more so, given how often we utilize the garage door as our primary doorway. Many of the same capabilities as other smart home devices, such as remote locking and unlocking (or opening and shutting) and monitoring through an app, are available on smart garage door openers.
For those who are already aware with smart locks, smart doorbells, and smart cameras, it should come as no surprise that there are a number of decent, simple solutions for converting your old garage door opener into a garage door opener with a smart controller on the market now.
Here is the List of 2022's Top Smart Garage Door Openers
Chamberlain MyQ Smart Garage Hub
Features:
Smart garage control open and close your garage door from anywhere with your smartphone through the myQ App
Universal – Easy-to-add functionality to upgrade your existing garage door opener. Works with all major brands of garage door openers made after 1993 that have standard safety sensors
The requirements needed to start – a router with 2.4 gigahertz Wi-Fi frequency, router with 802.11 B/G/N, a router within 50 feet of the myQ Smart Garage Hub (more details in PDF user manual)
Simple setup: Wireless install with easy step by step instructions provided in the myQ App means you'll be able to enjoy smart garage control in minutes
Guest access: Securely invite up to three people to control your garage with the myQ guest feature (Note: Not intended for guests under the age of 13)
Smart collaboration: Linking your myQ account to Google Assistant and IFTTT is free for a limited time. No credit card required
Core features: Opening, closing, and receiving garage door status notifications are included with myQ App at no additional charge
The MyQ Smart Garage Hub from Chamberlain is a device that adds smarts to a range of garage door openers. With MyQ installed, you may use the MyQ app on your iOS or Android smartphone to monitor the status of your garage door and open or close it remotely. The Chamberlain MyQ system is simple to set up and requires no cables to connect to your current door opener. It does, however, need mounting a bracket to your ceiling rather than using the more popular sticky tape method employed by other manufacturers.
Relevant: Smartlife Garage Door Opener
MyQ integrates with a number of smart home products, including Nest, Wink, Vivint, and Xfinity Home, to allow users to control and operate various smart home devices from a single location. SmartThings and Amazon Alexa aren't compatible with Chamberlain, however Google Assistant and IFTTT are. Chamberlain provides HomeKit connectivity that no other manufacturer in our tests did, however the MyQ Home Bridge adaptor is required. Chamberlain's MyQ system has the quality of a well-known garage brand and should be at the top of your list if you're looking for well-made garage smarts.
Tailwind iQ3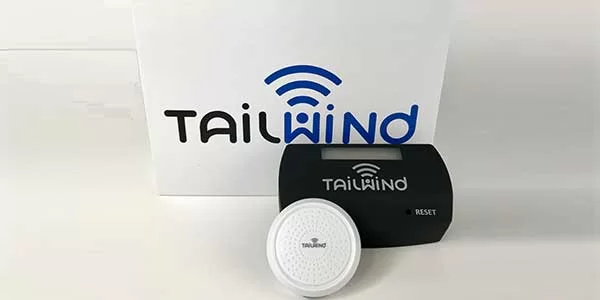 Because of its wired configuration, the Tailwind iQ3 is dependable, and auto opening and shutting performed well in our tests. The iQ3 works with Google Assistant and Amazon Alexa to operate up to three garage doors. You won't get HomeKit compatibility, and cable installation can be a pain.
Overall, if you don't need HomeKit compatibility, this garage door controller checks all the boxes for basic smarts and straightforward automation.
Price: $59.99 USD
Garadget
The Garadget gives your garage door voice control and remote access. A reflective tag put on the top panel of a garage door and a laser embedded within the Garadget gadget make up the sensor system. Garadget knows your garage door is closed when the laser hits the reflective tag. Isn't it simple? The Garadget, like many of the garage door controllers we evaluated, requires some wiring to function.
To your current garage door, the Garadget adds voice control and remote access. A reflective tag put on the top panel of a garage door and a laser incorporated within the Garadget gadget make up the sensor system for the Garadget. Garadget detects your garage door is closed when the laser hits the reflective tag. Isn't that easy? The Garadget, like many of the garage door controllers we've examined, requires some wiring to function.
These are 2022's Top Smart Garage Door Openers According to CNET. http://www.cnet.com/
Another Garage Door You Should See:
Features:
COMPTIBILITY: It is compatible with most major garage door opener in the market. Scroll down and check your model compatibility in the Product guides and documents – Compatibility Guide (PDF). NO MONTHLY FEE or HIDDEN FEES.
REMOTELY CONTROL: Open, close, check door status, receive just within your eHomeLife iOS/android App. Works with Google Assistant, Alexa.
ALERTS: Stay alert by different notification modes, which remind you close the garage door (overtime and overnight notifications) or keep you update with the door status.
EASY INSTALLATION: Just much easier than you think, all you need to do is following the user manual or app guide.
HIGH STABILITY: High sensitivity sensor, reliable connection and quality.