What you need to know
For some Fire TV devices, Amazon is releasing plenty of new capabilities.
The new Smart Dashboard lets consumers monitor and control their smart home gadgets right from their television.
Alexa Shortcuts allows you to quickly access specific functions by simply pressing a button.
For a more immersive home entertainment experience, Fire TV devices may be connected to Echo speakers.
AirPlay 2, HomeKit, and Zoom are also supported by Amazon.
While Amazon works to resolve its AWS outage, it has released a slew of new capabilities for its Fire TV devices, which transform smart TVs into smart displays.
The new Smart Dashboard, which sounds a lot like what it is, is the first significant feature to arrive on its TVs. This new screen provides Fire TV customers in the United States and Canada quick and easy access to their smart home devices right from their television. This screen, like several of the top Amazo Echo Show screens, allows users to quickly control their gadgets.
It also features a designated row for smart cameras, so you can take a quick glance around. In early 2022, support for groups and thermostats will be available.
More: How To Program Firestick Remote To Tv
"Alexa, show me my smart home dashboard," Fire TV owners may say to bring up the Smart Dashboard.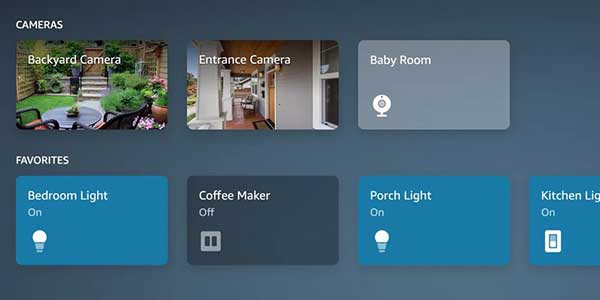 For Fire TV owners in the United States, the new Alexa Shortcut Panel is just a click away if you don't need the entire interface. Users may now access a shortcut panel at the bottom of their screen by pressing the Alexa button on their Fire TV remote. Smart home controls, weather, news, and the photo library will all be accessible quickly.
The Alexa Home Theater, which is available on the Omni and 4-Series Fire TVs as well as the Fire TV Stick 4K Max, is a tempting feature. Users may connect speakers like the Amazon Echo (4th Gen) to their gadgets to create a home theatre experience. The Fire TV Stick 4K Max must be connected to the HDMI eARC port for the capability to activate, according to Amazon.
Finally, Apple AirPlay 2 and HomeKit will be accessible on the Omni and 4-Series in the future weeks, and Zoom will be available on the Omni Series in the next weeks, which will operate as long as you have a suitable webcam attached.
Many of these capabilities are "rolling out over the next weeks," according to Amazon.
Home Automation

>>

Brands

>>

Amazon

>>

Amazon's Fire TV Devices Are Being Transformed Into the Ultimate Smart Home Displays