Choosing the right smart locks for the home hasn't been as simple as it was in the past when only a few items were available, therefore we've compiled a list for you after screening the best locks according to the market's top smart device experts.
So here is the List of Best Smart Locks For Home
Most Versatile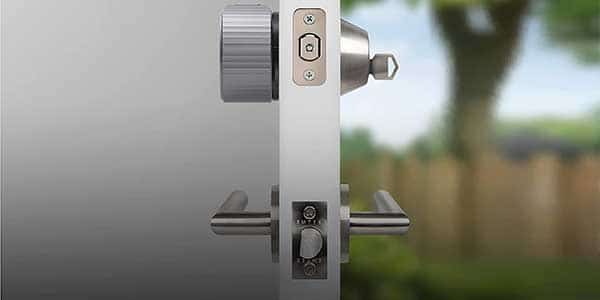 Price: $198.98
Pros
Doesn't need a bridge
Easy to install
Auto unlock and lock feature
Sturdy build
Works with lots of smart home devices
Cons
Batteries aren't rechargeable
Sticks out from the door
Keypad sold separately
August's Smart Lock Pro takes very little fiddling and tinkering. Will you be allowed to maintain the pricey deadbolt that matches your elegant entrance door lockset? You certainly can. Are all of your locks the same key? You are free to keep your current keys. Is it compatible with the Google Assistant or Alexa you have installed in your home? Yup. Apple HomeKit or the Z-Wave smart home hub/network are two options. Yes, once more.
Mechanically and technologically, the Smart Lock Pro is almost a one-size-fits-all solution. However, it isn't compatible with all deadbolts, so double-check before you buy. August provides three connections with the smart lock to ensure compatibility.
These connect the deadbolt lock cylinder's tail to the smart lock. The form of these tail sections varies depending on the manufacturer and model. We couldn't use ours, so we created a shim to fit over the tail and into the coupling. (Though it worked for the sake of our test, we don't advocate doing this at home.) Overall, the installation was simple and quick, requiring only the use of a screwdriver.
To use the Smart Lock Pro, you'll need to download August's free app and link it with your phone. The procedure is simple, quick, and painless. A Door Sense sensor and a Connect Wi-Fi bridge were also included in the model we tested.
The sensor allows you to observe if the door is open or closed via the app, and connect is necessary to access lock operations remotely. This is a useful feature that performed well in our tests. Without the Wi-Fi Bridge, the lock will only work through Bluetooth, which is still useful because it can be configured to unlock immediately when it detects your arrival home. You'll need a Connect Wi-Fi bridge if you have numerous August smart locks.
In short, the Smart Lock Pro with Connect should fit the needs of just about any homeowner or apartment dweller. It has a broad mechanical and digital range of compatibility and an easy-to-use app.
Rating by Top Experts
Best unlocking options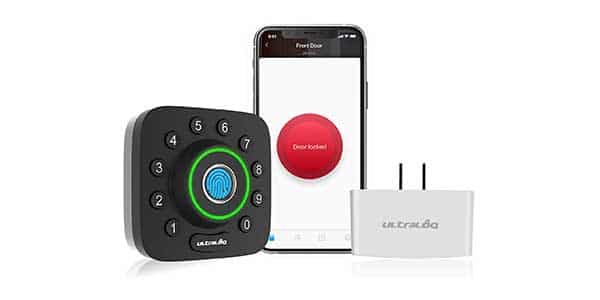 Price: $199.00
Pros
Fingerprint reader
IFTTT compatible
ANSI Grade 1 rating
Cons
The Ultraloq U-Blot Pro is the most durable of our top options and features the most unlocking capabilities. To unlock it, you may use the keypad, app, voice commands, key, or your fingerprint.
The Ultraloq is also the only lock on our list that integrates IFTTT with voice assistants such as Alexa and Google Assistant. This means you can program your lock and other smart gadgets to do practically anything. Set your front door to automatically lock when your smart porch light comes on, for example.
The Ultraloq lock, like the Schlage Encode, is extremely robust and has an ANSI Grade 1 grade.
If someone is peeking over your shoulder, you may also disguise your code inside a stream of numbers. If your code is 4333, you may enter 43330134 and the door will still open. The lengthier code would be more difficult to remember for anyone following you, but you'd still be able to get into your house.
Unfortunately, it has one drawback. It looks . . . weird. It may not blend in with your decor.
Best Value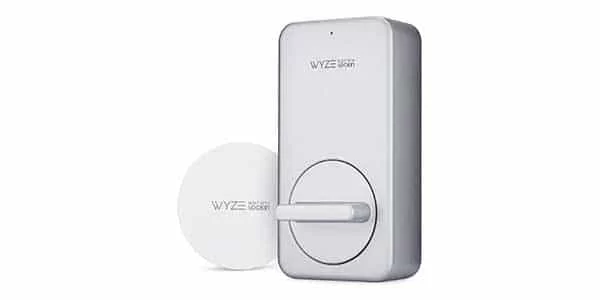 Price: $129.99
Pros
You can't limit digital key access
Intuitive app
Easy to install
Easy to use
Cons
You can't limit digital key access
The app is a bit slow
We wouldn't blame you for mistaking the inexpensive Wyze Smart Lock for a more expensive option thanks to its robust aluminum design and comprehensive feature set. Simply replace the original internal piece of your deadbolt with the Wyze lock to install this type. If you know what you're doing, setup takes around five minutes with only a single screwdriver and is highly newbie and rental-friendly. Because nothing changes on the outside of your door, a family member or landlord with the original keys can simply get entrance to the flat.
The Smart Lock connects to a smartphone using Wyze's free software and is simple to set up. We got down to business programming this lock, using Wyze's rule sets to unlock the door when our phone reached within 500 feet of it. During testing, the software was completely accurate. We could even try out a rule configuration that turned the Wyze camera off when we unlocked the door in "home" mode because we had one on hand.
A gyroscope is incorporated right into the lock to convey the real-time state of your door and may sound an audible alarm if it's left ajar. While this would be a terrific deal on its own, Wyze includes the Wi-Fi Bridge in the package, so you don't have to buy it separately. Remote administration functions properly, opening and shutting without delay. When the battery life falls below 25%, however, the lock is prone to stalling.
This model outperforms many other, more costly versions because to its superior finish and small appearance, as well as a classic thumb lever and affordable pricing. It is held back by its lack of security and the fact that there are just a few screws fastening it to the door, which can loosen somewhat over time. Furthermore, the Wyze Smart Lock does not support Z-Wave, making it less of a one-size-fits-all option.
In summary, most homeowners or apartment residents should be able to use the Wyze Smart Lock. The Smart Lock is compatible with Google Assistant, Alexa, and hundreds of other apps, and Wyze's interface is simple to use. However, because there are only four screw points, it's a little simpler to reach beneath with a crowbar because of the simplicity.
Rating by Top Experts
Best Traditional Key Technology
Price: $169.99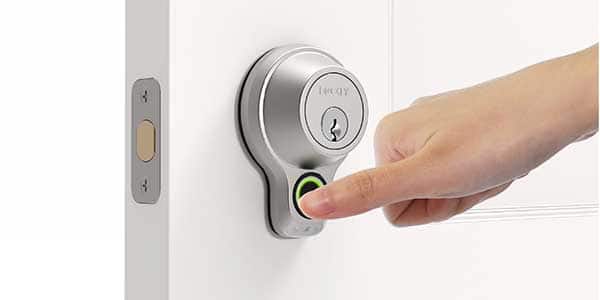 Pros
Quick and easy installation
Responsive fingerprint scanner
Multiple ways to lock/unlock
Simple but efficient app
Cons
Bulky interior design
No rechargeable battery
Requires Wi-Fi adapter for mobile features
The Lockly Flex Touch is a full deadbolt with a solid construction. Its simplicity might be misleading; it seems to be a regular lock from the outside (save for the small external fingerprint reader that sits just below it). However, if you look on the other side of your door, you'll notice a little base with the brains and power hidden behind a turnable knob. Because it installs securely in minutes, is straightforward to operate, and doesn't seem like something out of Blade Runner 2049 with blaring LED lights or strong stylings, this is the ideal smart lock for traditionalists wishing to dip their toes into constructing a smart home.
In addition to physical security, the Flex now offers biometric security in the form of a fingerprint scanner. Images of a registered fingerprint will not deceive this 3D fingerprint scanner, and app control is protected by your phone's password.
We selected this fingerprint reader since it was the most thorough. Its setup took one minute to get numerous comprehensive readings from our finger, which was the longest of any lock in the pool. As a result, it almost never missed a tap while opening the door. Even when we dipped a tester's finger in water to mimic rain, which may cause other locks to malfunction, the Flex Touch detected their print right away.
You may produce offline access codes for trusted users and utilize the two physical keys supplied, just like with "smarter" choices. Household members who prefer not to utilize technology will not be inconvenienced. Unlike the August or Wyze conversion models, this smart lock utilizes its own hardware from the deadbolt to the plates, so you'll have to start from scratch. Lockly's software on a smartphone to setup the lock once it was installed.
With the app, it's easy to manage multiple locks in multiple homes. The Flex Touch also responds to voice commands using Amazon's Alexa and Google assistant.
The Lockly Flex is an excellent choice for new smart homes or as a supplement to a secondary entryway. It meets the demands of people who desire the simplicity of an old-school key and deadbolt system while still providing rapid one-touch entry for those who want to go inside quickly or remotely manage the lock.
Rating by Top Experts
Best Overall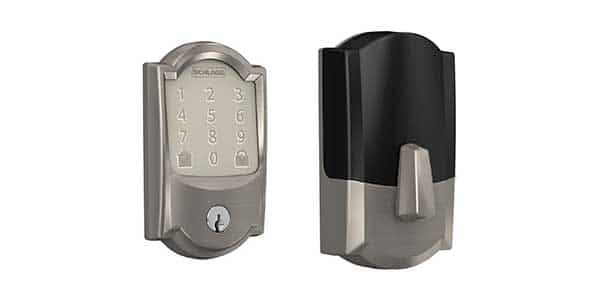 Price: $249.50
Pros
Stylish lock with a choice of finishes and trims
Versatile app control, touchscreen keypad, and traditional key access
Integrated Wi-Fi enables remote monitoring and lock control with no accessories required
Easy to manage access code and virtual key allocation
Support for third-party apps, including Amazon Key and Ring
Cons
Ugly, contrasting rear housing
No auto-unlocking as you approach the door
The majority have been Bluetooth gadgets that link with your smartphone locally. Some devices, such as August Smart Locks, include separate Wi-Fi bridges that link to your home network for remote monitoring and access.
The $250 Schlage Encode smart lock takes one step further by including built-in Wi-Fi connection, which eliminates the need for (and added cost of) a plug-in bridge. This seems like a no-brainer, so why don't all smart locks come with built-in Wi-Fi? It all comes down to battery life. Bluetooth-enabled locks (especially those that implement the most recent protocols) consume less power, resulting in longer battery life. Because Wi-Fi chips drain power more quickly, such Wi-Fi bridge accessories plug directly into a power outlet.
Wi-Fi connectivity unlocks a slew of unique features and integrations that set Schlage Encode apart from the competition. This lock may be operated remotely as well as through a variety of third-party apps, including compatibility for Amazon's Key by Amazon, Amazon's Cloud Cam, and Ring security systems, as well as the upgraded Schlage Home app (previously branded Schlage Sense). When you add in voice control from Google Assistant and Amazon Alexa, it's evident that this is a lock that enjoys making friends.
If all of this connection seems like science fiction to your friends and neighbors who aren't tech-savvy, an integrated touchscreen keypad on the lock's front face enables for quick entry through a private PIN code and one-tap locking while you're leaving. For those who like to keep it old-school, there's even a metal keyhole.
Indeed, versatile. Our issue is whether all of this smart connection can be provided without customers having to replace batteries on a regular basis. The four AA batteries included in the package should last for up to six months, according to Schlage. Obviously, this depends on the context, but it seems logical.
Rating by Top Experts
Here is another list: 2022 The Best Smart Locks To Improve Your Home's Security
You Might be Interested in this: Top Selling Schlage Keyless Lock
Most sophisticated smart lock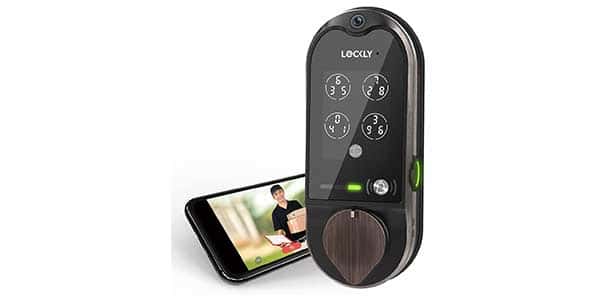 Price: $399.00
The best smart lock for Airbnb
Pros
Fingerprint sensor
Voice commands
Digital and real key options
Extra-secure keypad
Good battery life
Cons
Hard to install
No night vision
Grainy camera footage
With the Secure Pro, Lockly already had a fantastic product, but the Secure Pro 2 goes much farther. The Lockly Vision offers everything an Airbnb host might ever want. There are several unlocking solutions available, including fingerprint, pin code, and even phone unlocking.
Guests who want to stay at your house or Airbnb property can be given temporary key codes to punch into the touchscreen keypad when they arrive, which can be made time-sensitive for further protection. You can have another set of codes for the following guest after their stay is finished.
The app keeps track of everything and can tell you how the lock was opened, including whether it was the old-fashioned way with a key! The Lockly Vision's embedded video camera, which allows it to function similarly to a video doorbell camera, adds to its attractiveness.
Rating by Top Experts
Best retrofit smart lock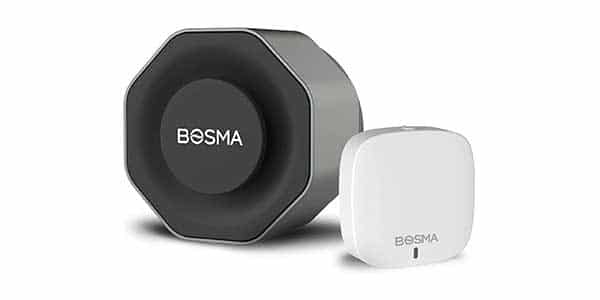 Price: $119.99
Pros
Excellent reliability
Geofencing features worked perfectly in testing
Surprisingly affordable
Cons
A bit large and bulky
Occasional but minor trouble with the app
Here's how the Bosma Aegis works if you're not acquainted with August's lock. The main concept behind most retrofit locks is that you get to keep both the outside and the latch component. Simply detach the two bolts that connect the two current escutcheons together and replace the inner side with a tiny base plate to install the Aegis. The screw holes on the Aegis base plate may be relocated anywhere you need them, same to how the August's intelligently constructed base plate works.
The Aegis connects to the Bosma app through Bluetooth, but if you wish to connect it to Wi-Fi (2.4GHz only), you'll need to use the supplied Bosma Gateway, a simple plug-in bridge that must be permanently placed between your door and your router.
Install the mobile app or use a classic key if you require long-term access to the door. You may also provide a (complicated) 8-character access code that visitors can input through a custom URL, bypassing the app and the key. These codes can be limited in time, but they cannot be used just once.
The Bosma app can be used to set up an auto-lock and/or geofenced auto-unlock system.
An optional chime sounds each time the lock is opened or closed, and detailed activity history of comings and goings are also included. The one function that didn't work for me was the so-called break-in detection feature, which would occasionally sound an alarm if you locked and opened the door too rapidly.
Rating by Top Experts
Best Smart Home Integration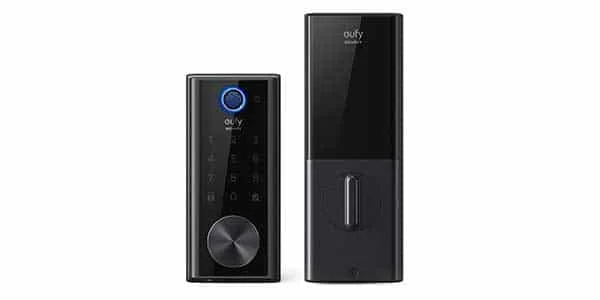 Price: $170.00
Pros
Plays nice with smart homes and other Eufy devices
Cons
Requires purchase of separate bridge for Wi-Fi
The Smart Lock Touch, like the rest of Eufy's portfolio, has a simple interface and doesn't require a membership to access a variety of functions. An IP65-rated zinc alloy and stainless steel frame protects against intruders and the elements. It also helps because the sleek black style is just attractive.
But life is about more than appearances. Eufy's cameras and smart gadgets consistently perform well in our tests. If you're part of the Eufy ecosystem, controlling all of your devices from one app is straightforward. Even if you aren't, this smart lock is an excellent alternative for individuals who haven't dabbled in an ecosystem or who want to establish a linked, integrated house. The Wi-Fi hub is a separate purchase, which is irritating because the lock is physically well made.
However, once connected to Wi-Fi, this model shines. From the same location, you may switch between cameras, unlock the door, and activate a floodlight. When it comes to spinning a linked web of security gadgets, its ability to easily combine a high-quality lock with an established home-automation platform puts it on top. Unlike versions from Ring or Yale, which are limited to certain ecosystems, Eufy technology may be used with Alexa or Google devices without losing functionality.
Rating by Top Experts
Read This: Electronic Door Lock with Remote Control
The best smart lock for fingerprint access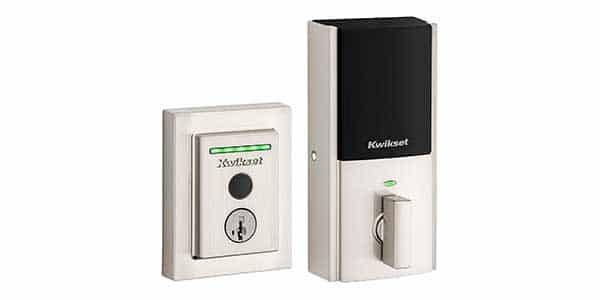 Price: $243.12
Pros
Simple installation
Works every time
Stores up to 100 fingerprints/50 users
Durable
Cons
Limited notifications
Might be a little too security conscious
Nothing irritates me more than wasting time accessing my smart lock. That's why the Kwikset Halo Touch is available to save you time and effort. To unlock it, all you need is a gentle touch of your finger on the fingerprint sensor, which is similar to what you find in today's smartphones.
What's amazing is that it's always correct, guaranteeing that users have the necessary permissions. Some smart locks include features like auto-unlock, which automatically unlocks the deadbolt as you approach, however they can malfunction. Halo Touch from Kwikset works every time.
The Kwikset Halo Touch is still rather modern, with features like auto-unlock, 100 fingerprint storage, and long-lasting construction.
Rating by Top Experts
Best smart lock for Nest users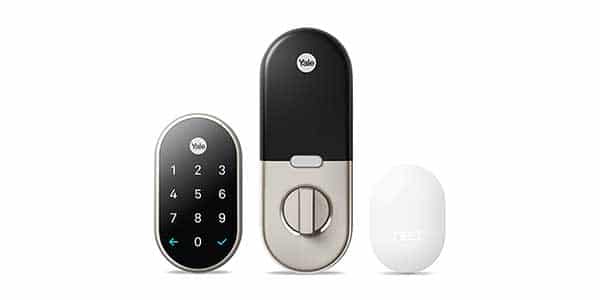 Price: $280.00
Pros
Simple installation
Integrates with other Nest devices
Cons
No support for Amazon Alexa or HomeKit
The Nest X Yale lock is an impressive-looking device, with a small front panel with a light-up keypad and a large back part that fits onto the back of the door. It's available in black, satin nickel and oil-rubbed bronze finishes, all of which have the same smooth, almost organic feel that works well with a clean, sparse outdoor design.
The Nest X Yale comes with a Nest Connect module that connects the lock to your Wi-Fi.
Installing the Nest X Yale was painless: You just tap the Yale logo on the front panel and the keypad lights up, inviting you to enter a keycode. We found the keypad to be reliable to use in both dry and rainy conditions.
The Nest app (for iOS and Android) can control the lock, either triggering it remotely or setting up new keycodes and users who can control the lock. The process to set up a new user is easy: email them a link to the Nest app and an invite code and they can install and open the lock from there. Users are given different levels of access. They can be given the option to open the door only at certain times, on certain days or for one time only.
In addition to the Nest Secure alarm system and other Nest products, the Nest X Yale also integrates with Google Home smart speakers. There is, however, no support for Amazon Alexa or Apple HomeKit systems.
Rating by Top Experts
Home Automation

>>

Brands

>>

Amazon

>>

Best Smart Locks for Home