The Elgato Eve Room is the second generation of Eve Systems' popular indoor air-quality monitor. This version of the HomeKit-enabled accessory provides most of the same capabilities as the earlier model but in a radically different–and much more appealing–modern design.
Our homes can be surprisingly dirty places, with the air in particular being home to dust, allergens, chemical pollutants and more. While one of units on our Best air purifiers can help keep your air clean, with an air quality sensor you'll be able to determine exactly what's in the air surrounding you. The Eve Room is a simple and easy-to-use air quality sensor that integrates with Apple HomeKit.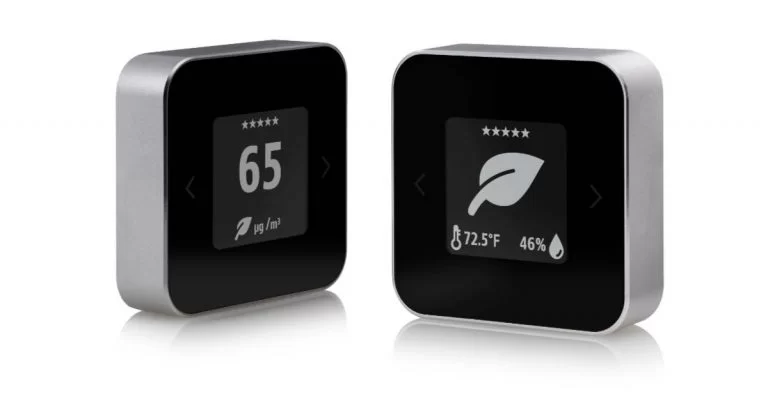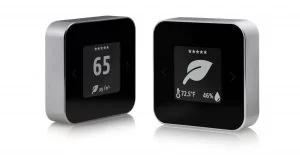 It's easy to install, supports Siri voice commands, and performs as advertised, but it doesn't work with Amazon Alexa or Google Assistant voice commands, or Android devices.
Eve Room was one of the first HomeKit products to hit the market. Now years later, Eve Systems is back with the updated version, the aptly named Eve Room 2.
Relevant: Apple Homekit Devices 2019
Upgrades & Features
There are lots of new aspects to the Room 2over the original. It looks more modern, and is less than a quarter of the original size, replacing the white plastic with a svelte aluminum frame.
There are four different display modes, one showing all three metrics, and the others highlighting one in particular. They can be cycled through using the arrow buttons to either side of the display.
It also adds a 200-by-200 pixel e-ink display that lets you see the current temperature, humidity, and air quality reading without having to pull out your phone.
You can use the Eve Room without any apps; once you charge it up, it displays the current room temperature, indoor humidity, and an air-quality rating shown as a five-star scale. You can toggle through views that display one reading more prominently than the others by tapping the arrows on either side of the display.
The Eve Room has sensors that measure VOC (Volatile Organic Components) levels, room temperature, and room humidity levels.
It uses a rechargeable internal battery that will power the device for up to six weeks, or you can keep it plugged into a USB source using the included charging cable.
Elgato Eve Room 2 home devices, the Room only works with Apple's HomeKit, which means it only works on iOS devices. It supports Siri voice commands, it doesn't work with IFTTT applets, Google Assistant or Amazon Alexa voice commands.
It has a Bluetooth radio that connects to your iPhone or iPad, but lacks Wi-Fi. If you want to access the device remotely, you'll have to use an Apple TV, a HomePod, or an iPad configured as a hub.
Relevant: Apple Homekit Smoke Detectors
Metrics
Elgato Eve Room
Eve Room is quite accurate in its readings.
For temperature, it has an operating range of 0C to 50C (32F to 122F) and is accurate to within roughly half a degree on the Fahrenheit scale. When we used our digital Thermapen to compare, they within .2 degrees of one another, more than accurate enough to adjust your home's temperature.
Humidity, which has a degree of accuracy of within 3 percent, also seemed to be on track, reporting extremely close numbers to our other air quality measurement devices.
Air quality is one of the hardest to pin down because it can mean so many different things.
Elagato Eve Room 2 Metrics
Elgato the Eve Room 2, it measures volatile organic compounds (VOC) in the air. This encompasses any of thousands of carbon-containing chemicals that can be in the air. These gases in the air are detected by the Eve Room 2 and displayed in PPB, or parts per billion.
VOC can be emitted by many things in a home including stoves, chemicals, building materials, personal care products, smoking, air fresheners, office equipment, furnishings, cleaning compounds, and more. These can cause a variety of health issues including eye/airway irritation, respiratory symptoms, inflame allergies, and more, depending on the levels and amount of exposure.
The Eve Room 2 takes these measurements and presents them as a star rating within the app, and on the screen to give you a simplified understanding of your home's air quality.
Relevant: Apple Homekit Light Switches
Eve APP vs Apple Home APP
The Eve app provides more detail and functionality than Apple's Home app, but the main reason to use it is to view historical air quality data. The Room collects measurements over time, and the Eve app can display these in graph or list form for tracking and comparison. The app also allows you to configure settings and share data, and is just a far more elegant way to interact with the device.
For vs Against
| | |
| --- | --- |
| For | Against |
| HomeKit enabled | Expensive for what it does |
| Easy-to-read e-ink display | Doesn't track indoor airborne hazards such as carbon monoxide or radon |
| Tracks air-quality readings over time | User must have an iOS device—it's not compatible with Android devices |
| Easy to install | Confusing controls split between HomeKit and Eve app |
| Sleek design | |
| Long battery life | |
Relevant: Top 10 Timer Switch For Lights
Competitors vs Elgato Eve Room
Air quality sensors in HomeKit are a bit scarce. There is really only LaserEgg 2 (and LaserEgg 2+), Netatmo Healthy Home Coach, and the Eve Room 2.
The Room 2 is well positioned. It is by far the smallest and most compact, and also doesn't require a wall power adapter. The built-in screen provides constant information, and it is discreet enough to blend in to most homes' interiors.
Netatmo has a handy touch-sensitive top with a status color displayed on the front, but that doesn't reveal a lot of information. The Laser Egg 2 and 2+ have a screen, but of course still, require a power adapter like the Netatmo. Between the three, the Room 2 is best for the vast majority of people.
How to Setup Elgato Eve Room
To activate Eve Room, connect it to a standard USB power supply (5 V, at least 500 mA) via the included USB cable. This can be your iPhone's power adapter, for example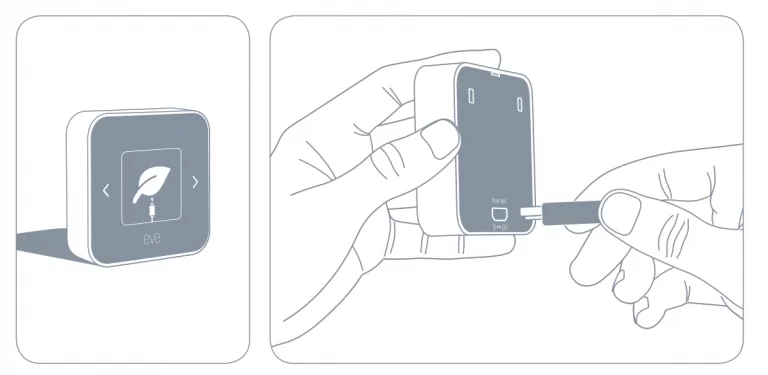 When battery levels are low and during charging, Eve Room will stop measuring air quality. It takes approximately 2 hours to fully charge Eve Room.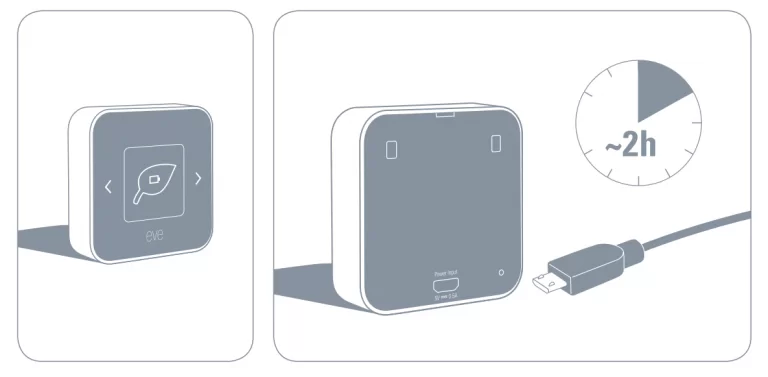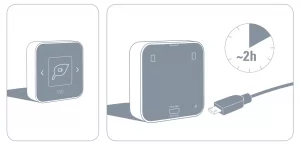 Download the Eve app from the App Store.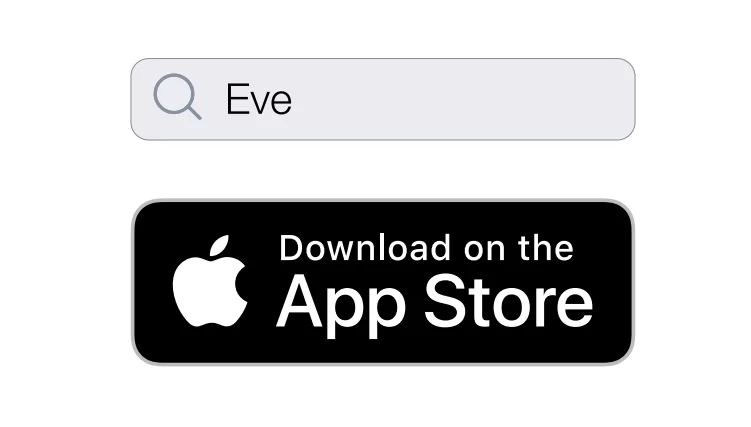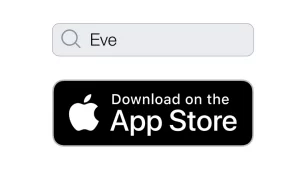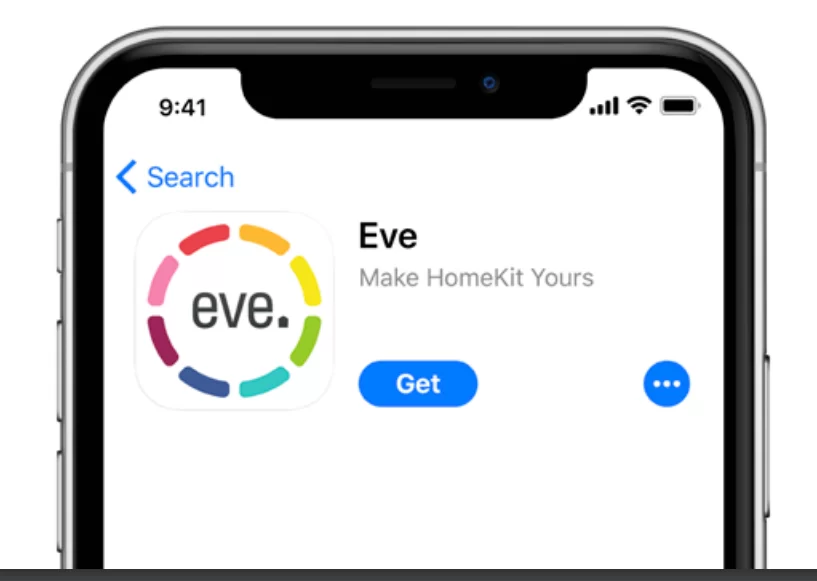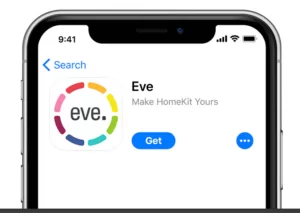 Open the Eve app and tap Add Accessory. Eve will now guide you through the setup process.


If you have already set up another accessory, go to Settings in Eve to add Eve Room to your home.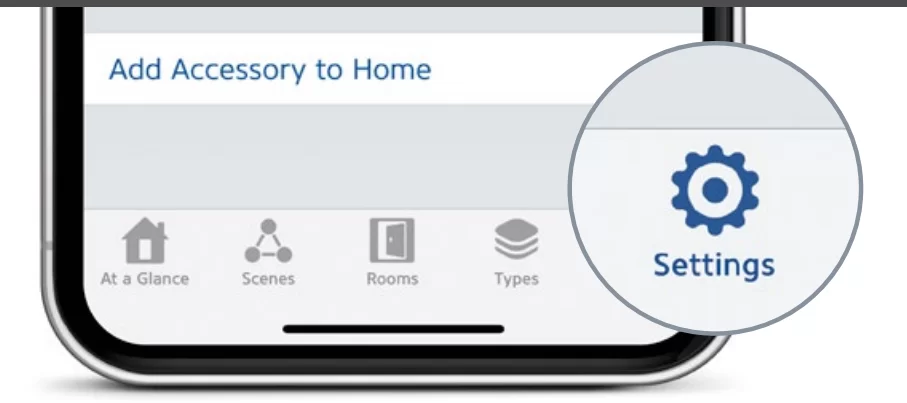 Touch the capacitive controls to cycle through displays.


Eve Room will automatically adjust to your home throughout its first day of operation, during which time air quality measurements may appear irregular.
Price:
Being able to track temperature, humidity, and air quality from a HomeKit-connected device is useful, but at £89.95, the Eve Room is expensive. The new version of the Eve Room is better than its predecessor in almost every way, but it's also pricier.
The Elgato Eve Room isn't going to be for everyone at this price point, but for those who concerned about air quality in sensitive areas where there are pets or children, it has the potential to be worth the investment.
Well, if you only need temperature and humidity monitoring, there's also the Eve Degree, which is cheaper at just over $60 on Amazon. The Eve Room, however, is the only Eve device that measures air quality and one of the few HomeKit-connected devices able to do so.
Home Automation

>>

Brands

>>

Eve

>>

Elgato Eve Room