Roku is making a strong push into the smart home market. The firm, best known for some of the greatest streaming devices, is expanding and introducing a plethora of new smart home devices, all of which are under $100, including video doorbells, security cameras, and smart lighting.
Even though we haven't tested or even physically seen Roku's new products, their competitive pricing is expected to get the eye of other low-cost companies in the smart home market like Blink and Wyze. When it comes to affordable smart homes devices, those two have been the two most well-known brands.
A new Roku smart home software can be used to control any device. Additionally, you will be able to see feeds from the camera-equipped devices on your television if you own a Roku streaming stick or a Roku TV.
The list of devices that Roku is launching is summarised below. They will be accessible from October 17 onward in Walmart locations, Roku.com, and Walmart.com.
Here is a list of Cheap Smart Home Devices That Roku Just Launched
Roku Indoor Cameras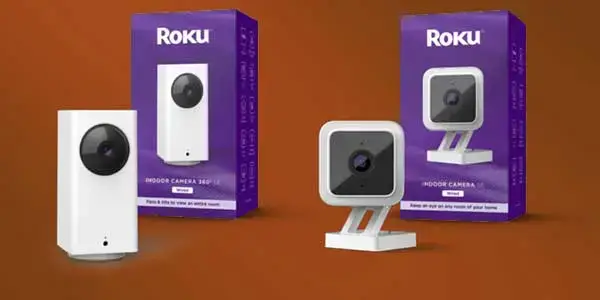 Roku Indoor Camera 360° SE
Price: $39.99
The features of this interior security camera are identical to those of Roku's other indoor camera, but this model allows you to pan and tilt a complete 360 degrees, allowing you to see everything that happens in a room. It can be programmed to "patrol" by moving between up to four predefined waypoints and includes automatic motion tracking, so if it detects someone, it will follow them as they move about the room.
Roku Indoor Camera SE
Price: $26.99
The Interior Camera SE, which is essentially your standard indoor security camera, has a 1080p resolution and provides a full-color view even at night. It features two-way audio and unique motion detection like other security cameras, but strangely, it can also recognize the sound of a smoke or carbon monoxide alarm and send you an alert.
To deter possible intruders, the Roku Indoor Camera SE has an 80dB siren that it can also activate. It has the same appearance as the Wyze Cam v3, which is our top selection for the best home security camera on a budget.
Roku outdoor cameras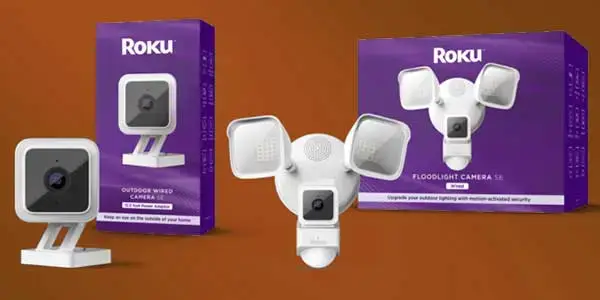 Roku Outdoor Wired Camera SE
Price: $49.99
Roku Outdoor Camera SE
Price: $73.99
Roku Floodlight Camera SE
Price: $99.99
The same core module, which includes a 1080p camera with a 130° field of vision, an 80dB siren, and personalized motion detection zones, serves as the foundation for all three of these cameras. The wireless camera works on a battery that the manufacturer claims would last up to six months on a single charge, in contrast to the wired camera, which must obviously be plugged in. We're interested to observe how the Wyze Floodlight camera and the Roku Floodlight Camera SE differ from one another.
Roku Video Doorbell & Chime SE
Price: starts at $79.99
A wired version of the Roku Video Doorbell & Chime SE will cost $79.99, while a battery-powered version will cost $99.99. The camera on the video doorbell has a 1080p resolution (standard for all video doorbells).
Its 120° vertical and 88° horizontal fields of vision, which are comparable to those of the Ring Video Doorbell Pro 2 and the Nest Doorbell but different from the Wyze Video Doorbell's 150 x 150o FOV, are claimed to provide you a superior picture of a person from head to toe. It will offer two-way communication and a selection of chimes. However, Roku did not specify if package, vehicle, or human detection will be available at launch.
Roku smart lights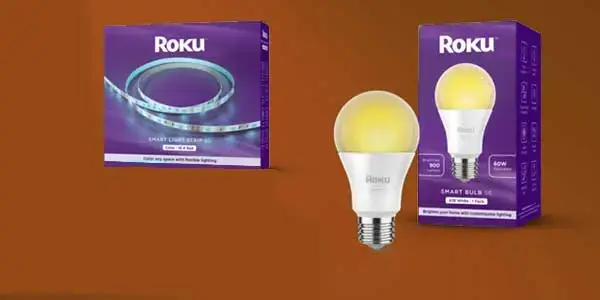 · Roku Smart Bulb SE
Price: $6.88 (White, 1 pack)
· Roku Smart Bulb SE
Price: $11.88 (Color, 1 pack)
· Roku Indoor Smart Plug SE
Price: $8.88 (1 pack)
· Roku Outdoor Smart Plug SE
Price: $14.99
· Roku Smart Light Strip SE
Price: $44.99 (32.8ft)
· Roku Smart Light Strip SE
Price: $22.99 (16.4ft)
Note: So far these are the Smart Home Devices That Roku Just Launched and will continue to share more about smart devices to get you up to date with the latest devices.
You might want to see this:
Home Automation

>>

Lightening

>>

Smart Bulbs

>>

Here's the Lineup of Cheap Smart Home Devices That Roku Just Launched