When looking at HomeKit lamp illumination options, you must select whether you want to utilize HomeKit bulbs or your current bulbs with adaptors. With devices like Philips Hue, there are a lot of dimmable bulb alternatives, but there aren't many dimmable lights that only require an adapter.
Support for dimmable bulbs is what makes the Legrand Smart Switch unique among other outlet adaptors.
Setup experience
Outlet adaptors are some of the easiest products to install with HomeKit. The product works without needing another app, so all you need to do is plug in and scan the HomeKit code using the Home app.
The HomeKit code on the top is the adaptor, unlike some other adaptors, making it simple to scan when the device is connected in. My biggest pet hate with HomeKit items is when they're on the back or on the underside, making it a tough dance to scan and plug it in before it times out.
It will immediately appear as a light in HomeKit after it has been added. However, unlike other switched outlets, it cannot be converted to a fan or simply a regular outlet, so acquire this switch only if you want to use it as a light.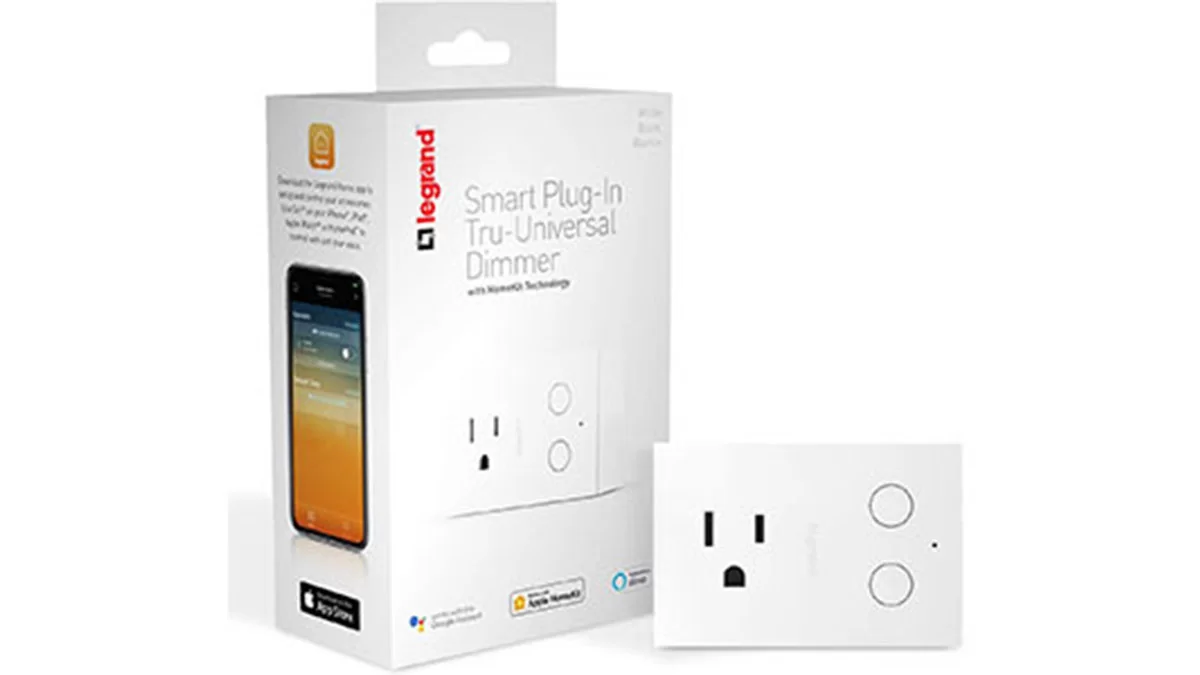 How to use the dimmable feature
As I mentioned initially, the unique feature of the Legrand Smart Switch is the dimmable aspect. There are two hardware buttons on the device, so I am including how to use it below:
Top button: Press to turn the light on or double-tap to raise the dimming percentage to 100%.
Bottom button: Press to turn the light off.
Press and hold any button to quickly change the dimming percentage by 20% per second.
To return the dimmer to factory default, press and hold both buttons for 15 seconds. Then, remove the device from the Legrand Home app (or Apple Home app)
Of course, the Home app is the perfect place to use it, though. You can control the brightness of the bulb using the Home app slider. You can set it using Siri on Apple Watch, iOS, macOS, or using a HomePod to be off, on, or at a certain percentage of brightness
Smart: Best Energy Efficient Smart Thermostat
HomeKit functions
The Home app comes with a number of pre-programmed automation ideas according on the environment you put it in. HomeKit's recommendations are one of the features that has developed in recent years. In my room, for example, I have an Eve Motion sensor. Because I have a Legrand Smart Switch, HomeKit suggests creating an automation to turn on the light when it detects motion and turn it off when it no longer senses motion.
If you enable these automations, you can then have more fine-tune control on how these automations operate.
TIP: The Legrand Smart Switch is on the upper end of the pricing spectrum when compared to other products, and it's equivalent to the Eve option with thread support, so it won't be the most affordable alternative. It is, however, the finest option on the market if you want a HomeKit outlet that supports dimmable lighting.
Home Automation

>>

Outlets

>>

Plug in modules

>>

Homekit Now Has Support for Dimmable Lights Thanks To the Legrand Smart Switch