What does IFTTT Means?
IFTTT is the free way to get all your apps and devices talking to each other. Not everything on the internet plays nice.
IFTTT is a web-based service that allows various platforms, apps and gadgets to trigger responses in one another that otherwise wouldn't be possible.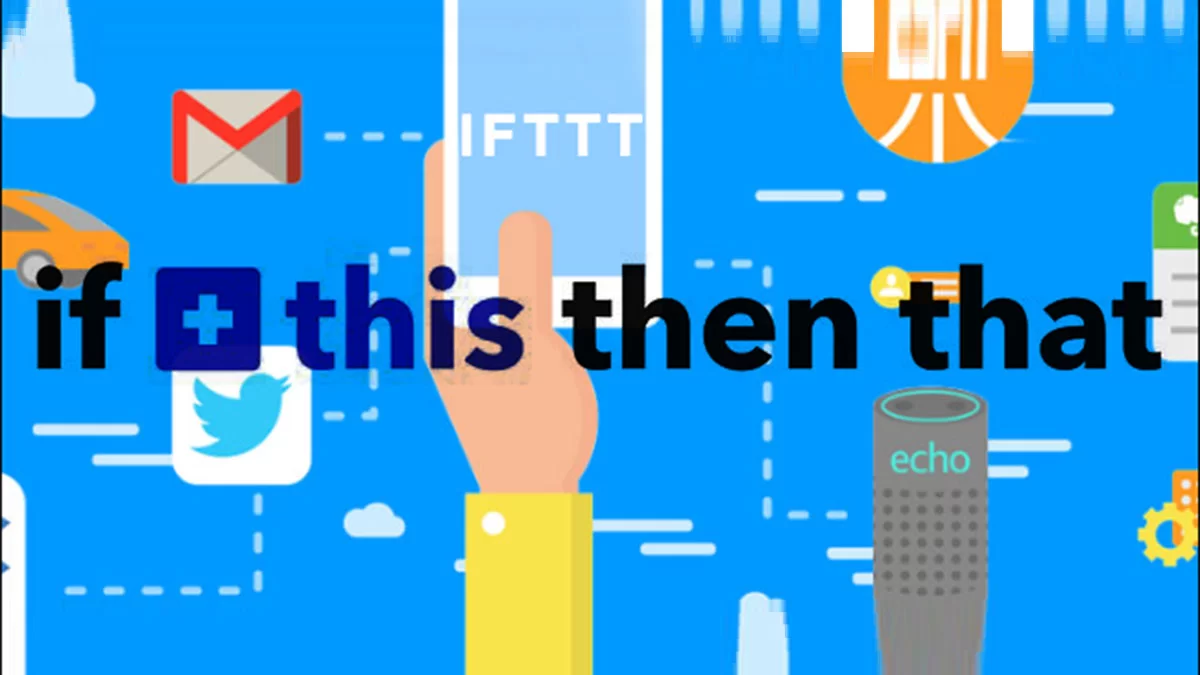 Automate tasks that might otherwise be repetitive or unable to talk to each other. It works like this: users are guided through a process to make simple scripts, aka "applet," where some type of event in one device or service automatically triggers an action in another.
IFTTT is also completely free, and well supported. There are now more than 300 channels — which are what you reference when creating applets — spread across a range of devices and services, including social networks, smart appliances, smart home systems, and devices such as weather stations, audio systems, and wearables.
Categories of IFTTT Home Automation
IFTTT is divided into Services and Applets.
Services
Services aren't just services like Spotify, they also cover apps, whole platforms and devices. Basically anything you might want to control or be controlled by something else. Categories of IFTTT Services include appliances, baby, communication, business tools, cloud storage, environment control, security and monitoring, lighting, photo and video and shopping.
Applets (Formerly known by Recipe)
An Applet connects two or more apps or devices together. It enables you to do something that those apps or devices couldn't do on their own.
Applets are composed of triggers and actions.
IFTTT stands for "If This Then That," where "This" represents a primary app and "That" represents a secondary connected app. When an action takes place on the primary app, the secondary connected app is automatically triggered to also take some sort of action.
Triggers
Triggers tell an Applet to start.
Actions
Actions are the end result of an Applet run.
Compatible devices with IFTTT Home Automation
IFTTT is pretty damn comprehensive when it comes to smart home tech and the services you might want to use with it. There's lots of compatibility with smartphone-based triggers too.
Voice Assistant
Amazon Alexa
Google Assistant
Microsoft Cortana
Invoxia Triby
Jibo
Samsung SmartThings
Wink
Fibaro
Note: Siri isn't officially listed but you can set up Applets using Siri – Apple's own IFTTT-like feature is called Siri Shortcuts
Music
Spotify
Soundcloud
Deezer
Songkick
Linn
Sonos
TV and video
TiVo
AnyMote Smart Remote
Comcast Labs
YouTube
Vimeo
Smart lighting
Philips Hue
Sengled
Hive Active Lighting
LIFX
LightwaveRF
Nanoleaf
TP-Link Kasa
WeMo Lighting, Dimmer, Light Switch
Smart heating
Nest Thermostat, Nest Protect
Ecobee
Hive Active Heating, Motion/Door/Window Sensors
Honeywell
Netatmo Thermostat, Weather Station
Tado Heating/Air Conditioning/Water
Smart security
Arlo
Abode
D-Link
EZVIZ
Hive View
Nest Cam
Netatmo Security
Ring Video Doorbells
August
Smart appliances
iRobot
Neato
GE Appliances
LG Washer, Dryer
iDevices plugs and switches
Samsung Washer, Samsung Robot Vacuum, Samsung Refrigerator
Whirlpool Dryer, Whirlpool Washer, Whirlpool Refrigerator
Rachio
Related: Home Assistant Vs Openhab 2019
How to get started & Here's how it works:
How do I sign up for free IFTTT?
You can sign up for IFTTT via the website by visiting com/join. You can also sign up by downloading the IFTTT app from the App Storeor Google Play.
You can sign up for IFTTT with your email, or you can connect with Google or Facebook.
Using IFTTT is free, and there's no limit to how many services you connect or how many Applets you can turn on.
To use an Applet, you'll need a free IFTTT account. Then you need to connect your apps and devices to IFTTT, so we can help them talk to each other.
Create a free account as above stated
Browse the IFTTT website or app to find an Applet that interests you.
Click into the Applet and turn it on.
Connect the services that are involved in the Applet — this is only so we can use them to run Applets on your behalf.
Find more Applets, and repeat!
Is Anyone can use IFTTT?
IFTTT can be used by anyone who uses several different apps or web services on one or multiple devices, or with one or multiple smart appliances. It's an ideal service for anyone looking to cut down on manual, technologically-driven tasks by automating them.
Related: Node Red Home Automation
Does IFTTT COST ?
The free service lets you run 750 flows per month and create unlimited flows. More advanced functionality costs $5 or $15 per user per month.
How to use IFTTT Applets?
IFTTT has a vast library of existing applets created by other users you can use with your own apps. Alternatively, you can create your own applet from scratch.
Some of the most popular apps that can work with IFTTT include:
Tweet Your Instagram
If you want to share Instagram photos directly and instantly on more than that one social network, let IFTTT tweet them for you, with the full image.
Alexa, Call My Device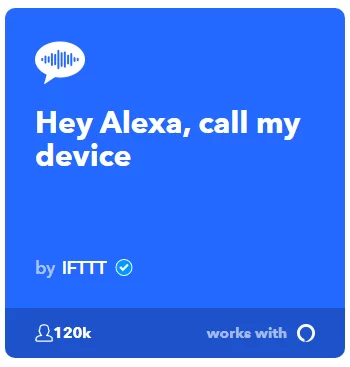 This one does exactly what it says on the tin: it lets you use any Alexa-powered speaker to make a phone call (using the IFTTT VoIP Call service) to a pre-specified number.
Hey Google, Find My Phone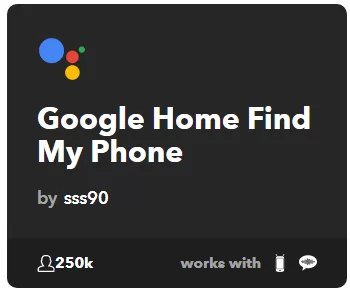 IFTTT also has a Google Assistant version that puts the IFTTT VoIP Call service into action.
Android Wallpaper with NASA's Image of the Day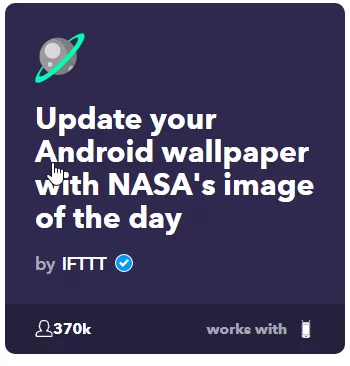 Android phones can enjoy a new look daily, courtesy of the IFTTT Space service, which is powered by NASA, Open Notify, Mars Atmospheric Aggregation System, and How Many People Are In Space Right Now. Space junkies should be checking out this.
When the ISS Is Overhead
Another excellent example of space fun from IFTTT, just specify your location during setup, and the IFTTT Notifications service will send info to your phone when the International Space Station is in your vicinity.
Tweet via Voice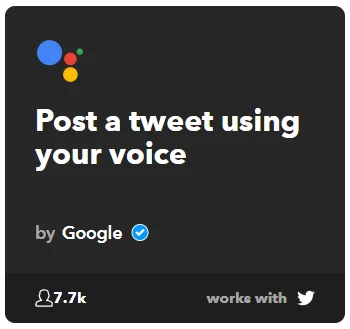 This one only works with Google Assistant because it will parse what you say and turn it into a tweet; Amazon Alexa can't do that right now via IFTTT.
Talk-to-Text Using Google Assistant & Android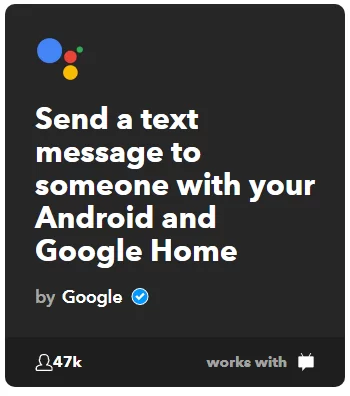 The only way to send an SMS message with IFTTT is using the Android SMS service. (Neither SMS nor iMessage are an option for iOS users through IFTTT; that's how Apple wants it.) This SMS only works if the IFTTT app is installed on the Android phone used to send the message.
Keep Up With Giphy's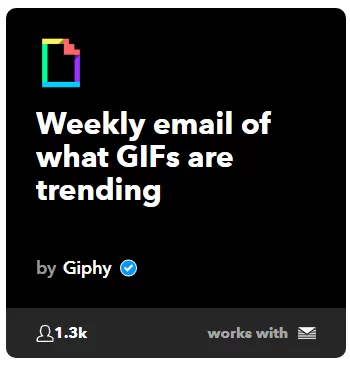 This applet makes sure you get a weekly (or daily) digest message containing all the animated GIFs currently trending from Giphy so you'll be ready to share.
Feedly Saves in Your Pocket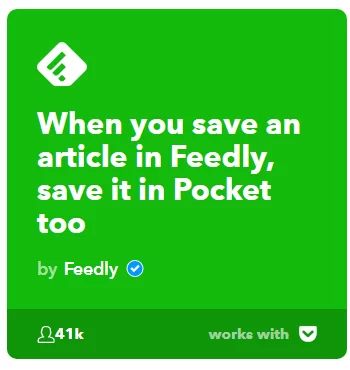 With this applet, IFTTT tosses any article you do save in Feedly to Pocket, the best read-it-later service.
Tweet Your Facebook Status Updates
This applet makes sure if you post a status to Facebook, it instantly gets shared on Twitter.
Create Events in Google Calendar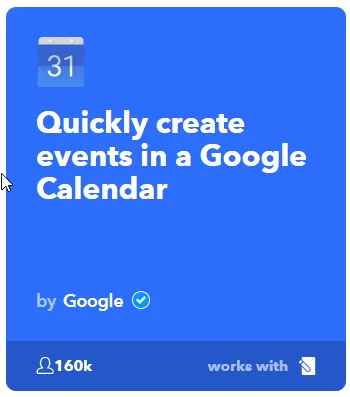 IFTTT has a few services that display as widgets on an iOS or Android device; this one is specific to the IFTTT Note widget.
Extricate Yourself
In this case, you can pretend to be checking a message and hit a button and activate a call back to your phone. Use it to get the hell out of that disastrous date or interview.
Get Smartphone Notification of an Alexa Timer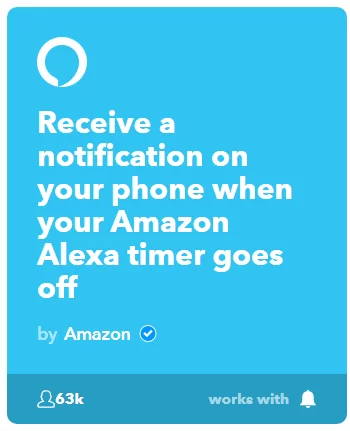 This applet sends a notification—using the IFTTT Notifications option—directly to the IFTTT app on your phone.
Sync weight measurements between your Withings scale and Fitbit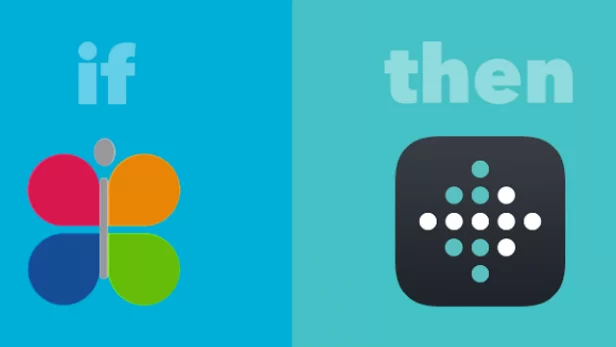 If you're one of those happy Fitbit product owners and you're not using IFTTT already, you're missing out.
For instance, if you just can't get along with the Fitbit app, then this is all you need to keep your data in sync on Jawbone's UP app instead:
Turn your lights on automatically as you arrive home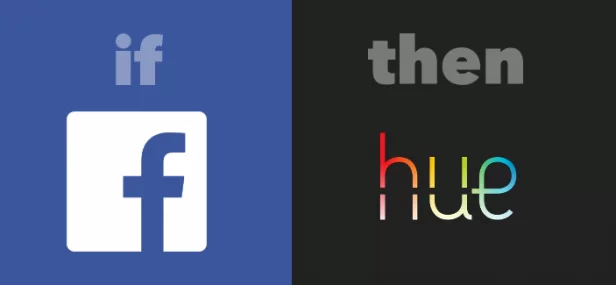 If you're a Philips Hue user there are heaps of applet you'll want to explore. Obvious ones are like turning on your lights when you come home and turning them off as you leave are a starting point.
Get a phone call if SmartThings detects moisture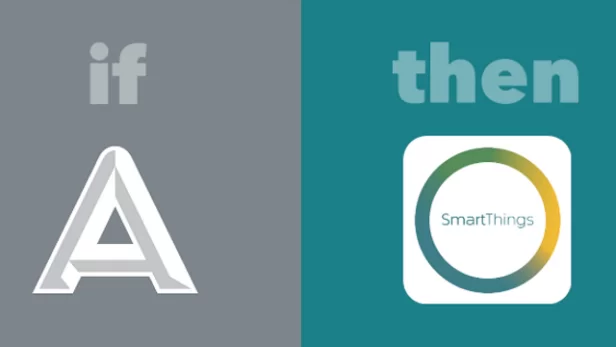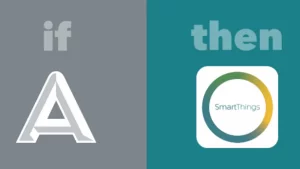 If you've got a smart moisture detector, you can set SmartThings to trigger an alert call if it ever detects a potential leak at home using this IFTTT applet.
Other Apps you can use from IFTTT Platform.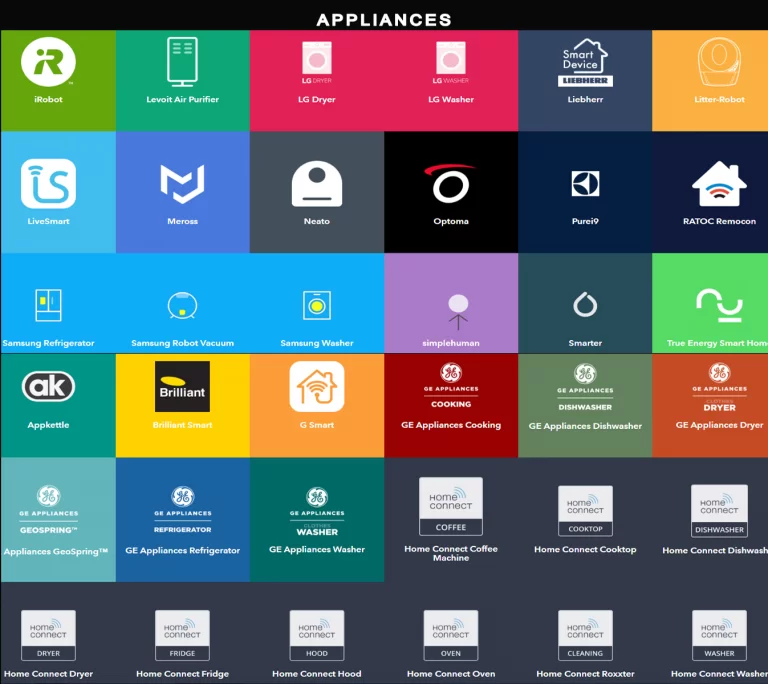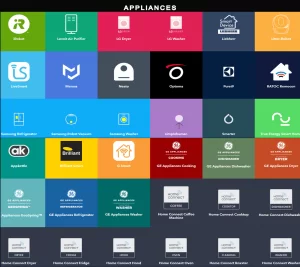 To know the full list of IFTTT APPS
IFTTT Alternative Platforms?
Zapier is arguably the most well-known IFTTT alternative. It works in a broadly similar way to its rival: you can connect apps and devices together so that particular events trigger precise outcomes.
Microsoft Flow is a relative newcomer to the automation game; it went live in mid-2016. At the time of writing, it only supports 153 apps, leaving it well behind the number offered by Zapier and IFTTT.
Tasker is comfortably the best automation app on the Android operating system. Rather than automating external web apps, Tasker focuses on automating your phone.
Automate.io is similar to Zapier: you can create multi-step workflows across numerous apps and services.
It's aimed at professionals and businesses rather than home users.
I'll leave you with something a bit different. Huginn, named after a raven from Norse mythology, is an open-source app that's designed to run on your own server. It's best described as a combination of Yahoo Pipes and IFTTT.
Related: Openhab Alternative
Why I choose IFTTT than other platforme?
The IFTTT Platform is how services on IFTTT are built. Developers and businesses alike can sign up for the Platform and start prototyping their service.
What I like most about IFTTT is its diversity and ever-increasing amount of applets, thanks to the site's growing popularity and the rise of IoT," said Donald Pingaro, marketing coordinator for Redstage, an e-commerce agency. "Almost every day, there will be new applets for something you never thought of but that can show you something new or reduce a simple pain point in your life.
"The strength of IFTTT is how it gives superpowers to people who aren't developers or engineers," said Jesse Robbins, founder and CEO of Orion Labs, which provides voice-based services for businesses such as real-time language translation. "Anybody can use it to personalize the technology in their lives." (Orion Labs.)
Home Automation

>>

Other

>>

Software & Apps

>>

IFTTT Home Automation