Matter, a new smart home standard, was recently declared official with considerable excitement at a dedicated launch event in Amsterdam. In the midst of all of this joy, one potential stumbling block became clear: if you want to use all of your great smart home devices with multiple voice assistants (a new possibility enabled by Matter), be prepared to go through the entire setup process for each of these ecosystems with which you want your devices to work. Thankfully, Samsung, Google, and Amazon are collaborating to make this much easier.
How Matter Is Now Improving The Smart Home?
Let's start with the opportunities that Matter provides for smart home ecosystems. When designing your smart home today, you must first decide which platform you want to use to operate and automate all of your smart devices. You may choose between Google Home, Apple HomeKit, and Samsung SmartThings, but without Matter, the choice is binary: you can operate your smart home through one or the other.
Some firms address this issue by adapting their ecosystems to accommodate each other's ecosystems (which is why you can now operate a Samsung smart home through Google Assistant), but this comes with considerable development overhead and expenses. It's also frequently an all-or-nothing proposition, with smart home builders mainly forced to link all gadgets from one ecosystem to another, or none at all, rather than pick and choose.
Matter modifies this as a result of the protocol's provision for multi-admin. Multi-admin enables you to integrate your smart home devices into many ecosystems at the same time, allowing you to operate a single smart light bulb from Google Assistant, Alexa, and Siri – or any other ecosystem.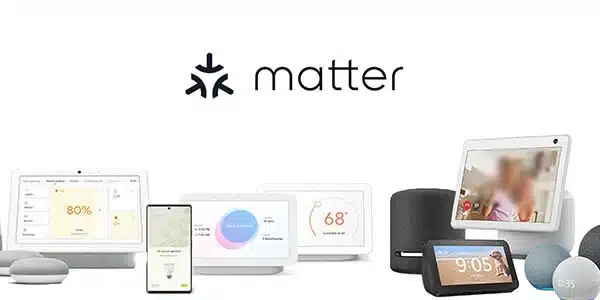 Smart home firm that prioritizes privacy. Eve proved this throughout the event with its own products. In its exhibit, the business demonstrated how it linked the same smart outlet to the Google Home app and a Nest Hub, an Amazon Echo speaker, an iPhone, and a HomePod. With all of the voice assistants, it was able to switch on and off the plug (or rather, the bulb linked to it).
What makes this even more fascinating is that Eve previously only worked with Apple's HomeKit. The business intended for a local-network-only strategy that didn't need consumers to sign up for yet another internet service only to operate their house, and Apple was the only platform that allowed for this. This is the case with Matter.
A Complicated Installation Procedure May Slow The Adoption Of Multi-Ecosystem Homes.
While many smart home enthusiasts probably just use a single platform, the value truly comes into play when other household members or tighter interfaces with mobile devices are considered. Matter allows you to operate your smart home environment via Alexa speakers, the Samsung SmartThings app on your tablet, and Google Assistant on your phone, but your spouse may prefer Siri on their iPhone.
The only significant stumbling block is the complex setup procedure. Right now, you must configure each device on all of your ecosystems from scratch – a Matter smart bulb configured in Samsung SmartThings will not appear in your Google Home app, and vice versa. This makes sense because connecting to a new platform requires express agreement. After all, nothing informs Matter devices that you own both the Google Home app and the SmartThings app on your phone.
Even if you purchase your first set of Matter smart bulbs, you will need to add them to your Google Home and SmartThings apps as a new device. This may get laborious, especially if more ecosystems are added to the mix. However, Samsung and Google are trying to resolve this issue. The firms are partnering together to provide you the ability to import and export smart home devices between SmartThings and Google Home, as Samsung revealed in October during its annual developer conference. This implies that in the future, you'll be able to make your smart home devices operate with both platforms by just tapping a button in the respective applications.
This simplified Matter smart home device connection between Samsung and Google will be available in 2023. Samsung revealed the same relationship with Amazon during the Matter launch event.
Because we are still in the early stages of our business, it is probable that other firms may work on similar integrations. Until then, we'll have to make do with smart homes that are almost flawlessly in sync across ecosystems — except for the setup procedure. We can only hope that this simple setup transfer will spread to additional ecosystems since it has the potential to drastically change how accessible a smart home is to everyone.
Home Automation

>>

News & Updates

>>

It Is A Little Complex To Use Matter Across Many Smart Home Ecosystems, But It Will Grow Easier.