These are best in line in the segment of Smart cctv systems UK, it includes both outdoor and indoor.
OUTDOOR WITH INDOOR CAMERAS
SANNCE
Features
8 channel NVR recorder allows you add more wifi camera for your needs. Surveillance cameras are pre-paired to security NVR to work over WiFi. Once you connect them to power, hook up to a monitor/TV, live video will display on screen in seconds.
Wireless security camera system for true plug-and-play installation; stable Wi-Fi signal and high video encryption level.Video cable for camera is not needed anymore; just a power adapter is enough.
True all-metal cameras built with IP66 weatherproof rating.These indoor & outdoor security cameras are durable enough to endure what mother nature brings, thus keep out dust, water and air.
Once motion detection is triggered, An email with Snapshot and APP Alert will automatic push to your device. Thus, you can know whatever happens in your house and take appropriate precautions in time.
The security cameras are durable enough to withstand whatever Mother Nature brings, even in extreme temperature from -4°F to 140 °F. As they are encased in airtight heavy-duty metal housing, you can always rely on their high performance, day in, day out.
The 8CH wireless 1080P NVR can work perfectly with the 1080P bullet security cameras, together presenting smooth and clear videos. And equipped with 3 pieces of premium array infrared LED, the cameras are able to present extraordinarily clear night vision covering up to 100ft/30m. Just rest assured your properties get effective protection from day to night.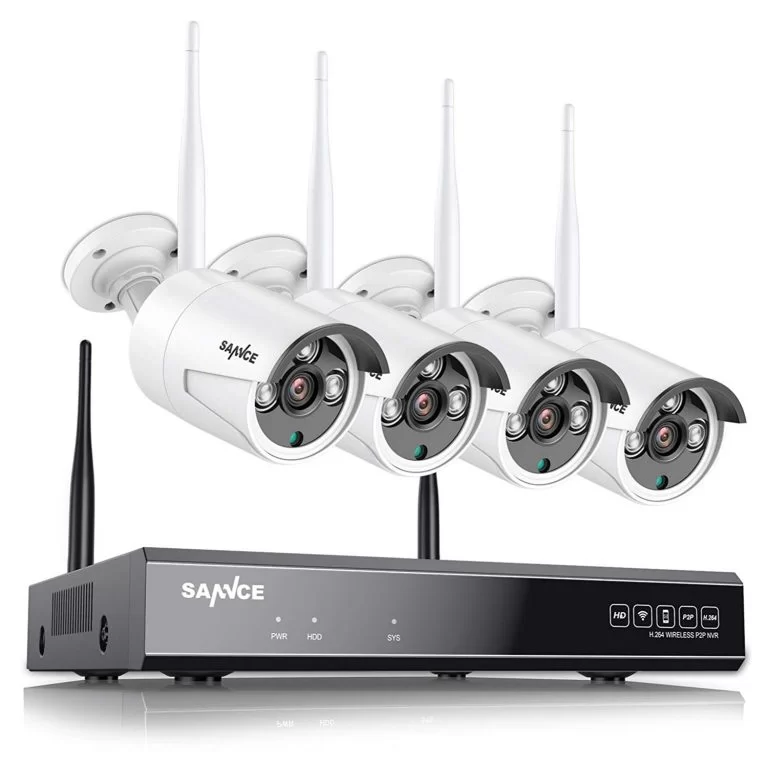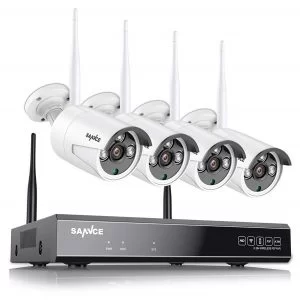 Price: £155.99
ANNKE 8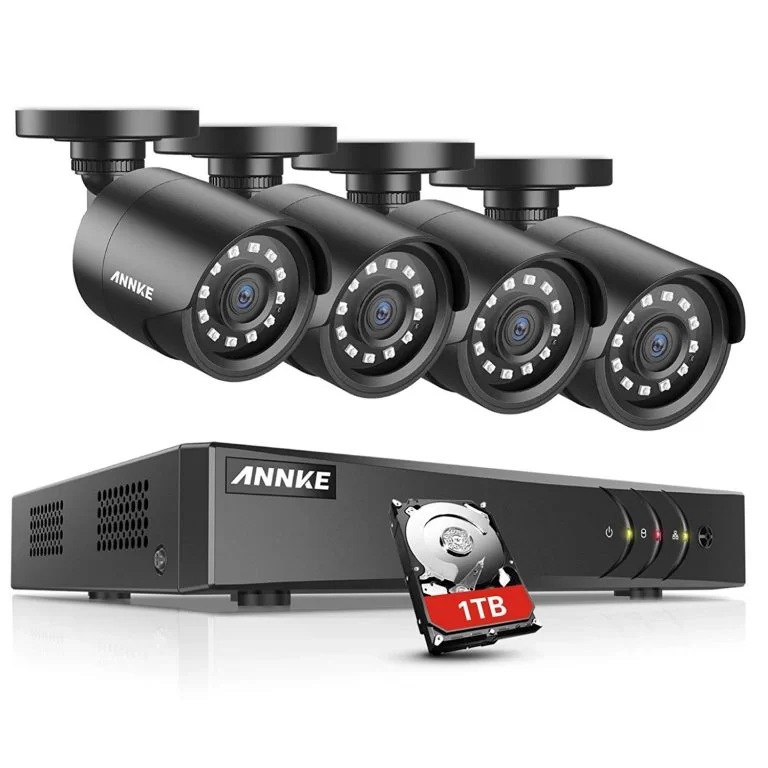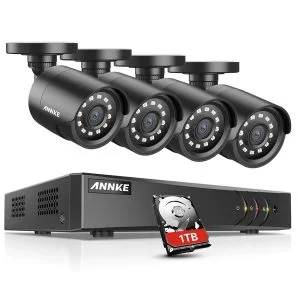 Features
8CH 1080P Lite DVR/4pcs 1080P HD Weatherproof Cameras: Enjoy crystal clear image day or night with the camera's automatic IR-cut filter; night vision covers up to 20m/66ft. With IP66 weatherproof housing, cameras can be used indoors and outdoors.
264+ Video Compression: The exceptional H.264+ considerably improves compression and transmission efficiency, without sacrificing video quality. It allows you to maximize storage space and enjoy ultra-long recording, up to 4x longer than H.264 on normal conditions.
Expandable Camera System: This robust 8-channel 5-in-1 DVR supports CVI/CVBS/AHD/TVI and IP cameras. In addition to 8pcs analog cameras, you can add 2pcs more IP cameras to make the most of this powerful security system.
8CH 2.0MP DVR with 4pcs 1080P Security Cameras 1TB HDD.
With the free ANNKE Vision app you can access footage via smart device (IOS/Android) or computer (Windows/Mac, via IE). Watch live streams and view playbacks instantly, helping you stay informed whenever, wherever.
With or Without the Internet. This wired security camera system can work without Internet Connection, just connect the DVR to internet if you wish to view the cameras remotely via smart-phone, tablet or computer.
Price: £169.99
SANSCO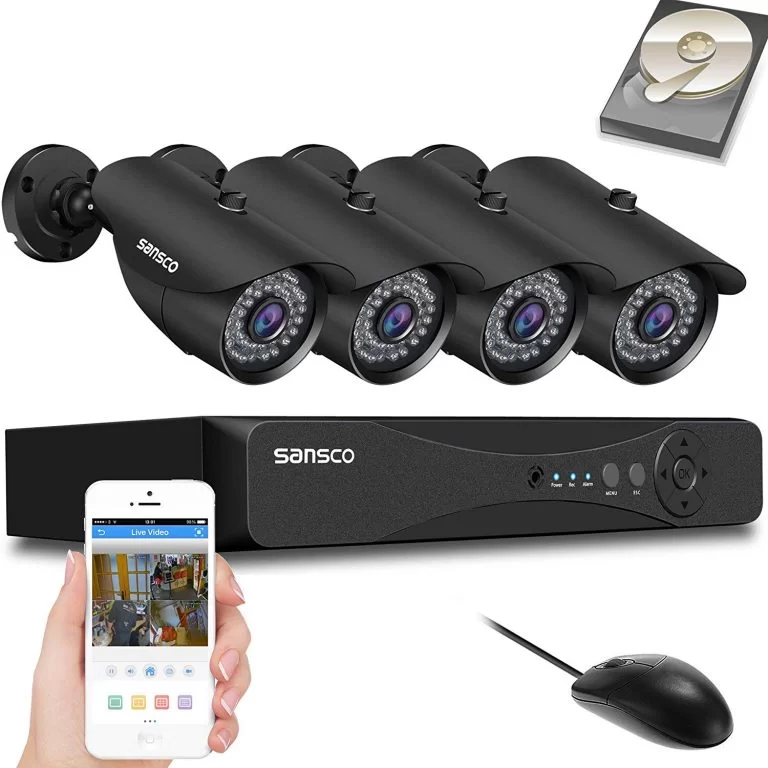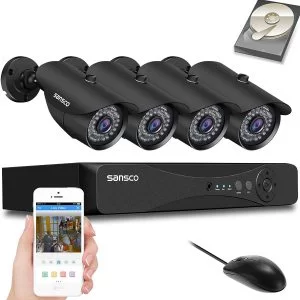 Features:
With or Without the Internet. Standalone camera systems do not need the internet to operate. However, an internet connection will be necessary if you wish to use a smart-phone, tablet or computer to access features such as remote monitoring.
Connects directly to Your TVs and Monitors. Easily watch live video feeds or review video footage on most Monitors or HD TVs by using the HDMI or VGA cable. Make sure your TV or Monitors has a output resolution of at least 1080p (1920×1080 pixels).
[24/7 Duty Cycle Hard Drive Pre-installed] The 1TB hard drives are designed to work in a security environment, including simultaneous recording and playback from various streams. The hard drive will provide a loop recording of 2 weeks for all 4 cameras in FHD 1080p, and it will overwrite itself automatically.
Customize the recording settings to fit your needs. Record at 1080p HD (1920×1080) for the highest resolution, or change the settings to a lower resolution for extended recording time.
All the cameras provide FHD 1080p resolution and record FHD video in real-time manner for smooth playback. All of the cameras are enabled with smart IR-cut filter which ensures good night vision and could detect and show objects up to 15-20m even in darkness. Never been left in the darkness any more.
Don't be afraid to install your cameras outdoors. They are IP66-rated to ensure protection against all types of bad weather. Be it heavy wind, rain, or snow, we've engineered our cameras to withstand the most unforgiving climates. The durable yet lightweight Polycarbonate housing also makes this camera virtually immune to vandalism.
A 1TB hard drive comes preinstalled. If that's not enough to serve, you have the ability to replace the internal hard drive with a bigger one (up to 8TB). Not only that, if you plug in a USB memory stick, or an external hard drive with a USB connection, you can organize and sort your snapshots and recordings however you like.
The DVR included in your system is an absolute powerhouse. It can record on all channels, view live video, playback recorded events, back up recorded footage, and remotely access your system from your smartphone or tablet – all at the same time.
Price: £159.99
Relevant: Best Inexpensive Security Camera
YI-SIQI Wireless CCTV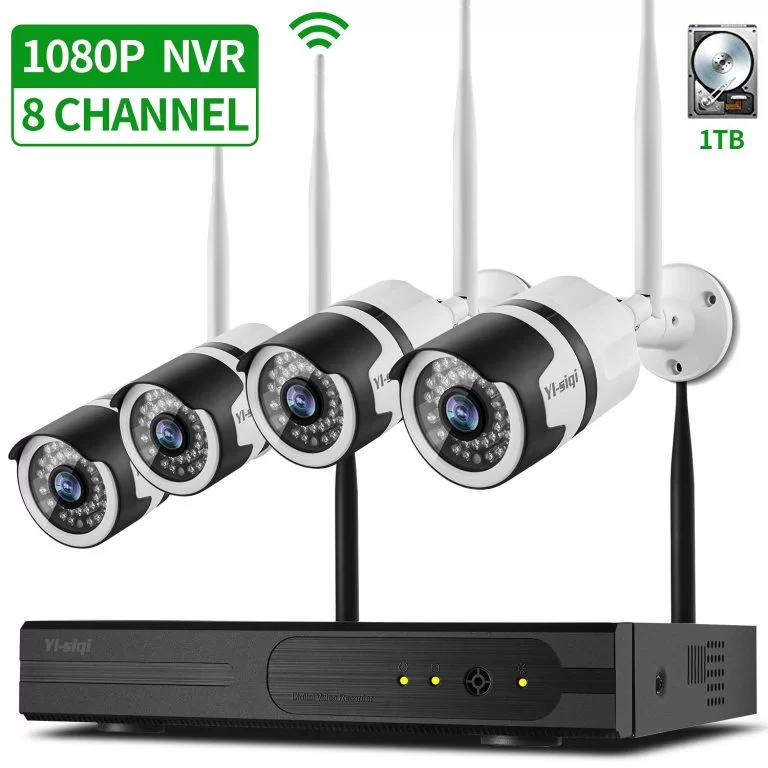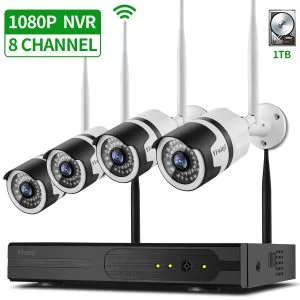 Features:
8CH 1080P NVR VIDEO RECORDER & 4Pcs 2MP HD CAMERAS: This surveillance DVR kit comes with a 8 Channels HD 1080P high resolution NVR which can support 8 cameras in max and 4Pcs 2MP HD CMOS sensor surveillance CCTV cameras. Perfect camera system to protect your home and business 24/7, ideal for parking areas, garage, backyard, front yard, store, or other outdoor or indoor areas.
WIFI WIRELESS CAMERA & REMOTE ACCESS: All CCTV cameras are built-in with WIFI module to provide steady wireless wave, allowing you to access your cameras from 100m for outdoor uses and 30m for indoor uses. You can also remote view your home live video simultaneously at anytime, anywhere with WIFI/4G on Smart Phone,Pad and PC by downloading the free APP from Google Play/ APP Store, which is easy to been setup in seconds.
The cameras will auto pair with NVR and play HD live videos on monitor soon after you plug whole system to power socket.No need complex cables and no complicate setup anymore! Paring with your system automatically. As long as you power on YI-SIQI devices, they're ready to work and stream. It is such Easy-peasy. The system works even without any Internet connection.
Be it heavy wind, rain, or snow, we've engineered our cameras to withstand the most unforgiving climates. IP66 waterproof to ensure protection against all types of bad weather and durable yet lightweight Aluminum alloy housing makes the camera virtually immune to vandalism.
Price: £219.99
Relevant: Best Security Camera without Subscription
Arlo Ultra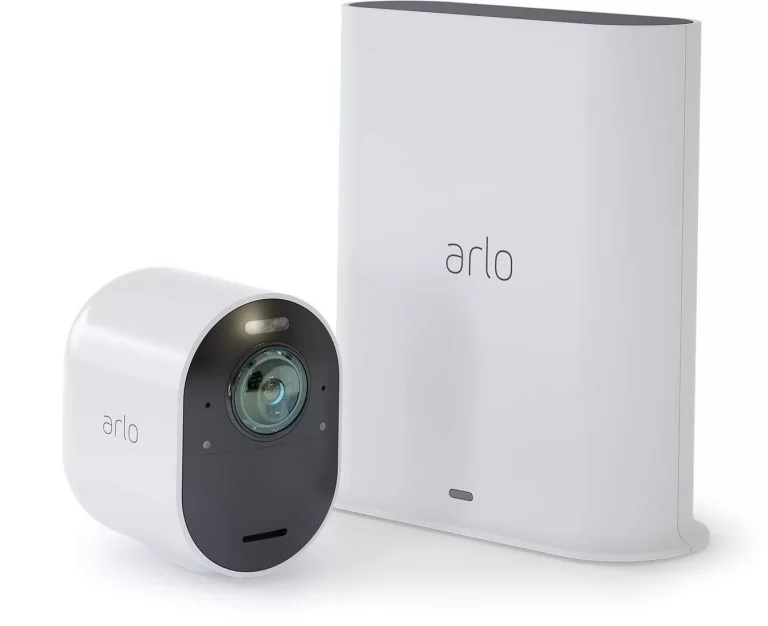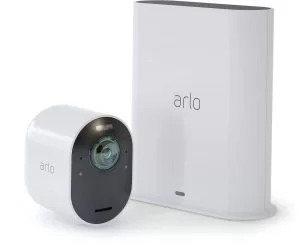 Features:
Wire-free and weather-resistant design, works with Alexa and includes 1-year of Arlo smart premier service with rolling 30 day cloud recordings (up to 10 cameras).
4K and HDR zoom in to see sharp details with Arlo ultra's 4K and HDR advanced image quality technology.
Enhanced night vision: See what's lurking with colour night vision allowing you to see video in colour rather than traditional black and white.
See what's lurking with color night vision allowing you to see video in colour rather than traditional black and white.
Light up the night and ward off unwelcome guests using Arlo Ultra's integrated spotlight.
See more with a wider angle lens that has auto image correction reducing the fish eye effect.
Price: £449.99
More Info: Cheapest Smart Home System
List of Smart CCTV Systems UK (Indoor cameras)
Canary All-in-One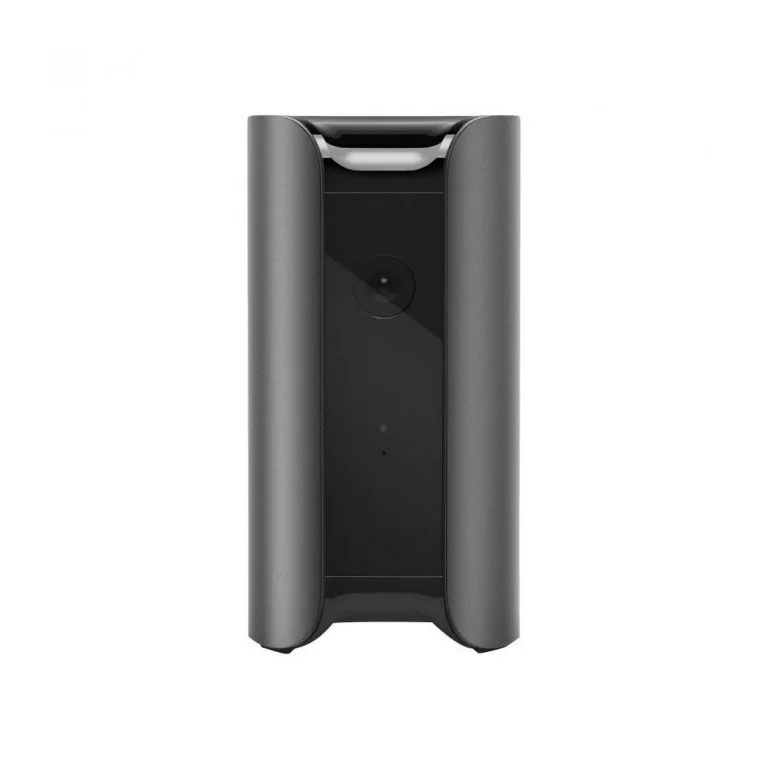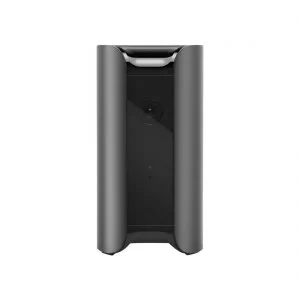 Features:
The camera arms and disarms using the proximity of your family's smartphones to recognise when they leave and return to the house. AI-powered person detection also learns to distinguish sights, sounds and movements to more accurately spot when there's an intruder in your home, as opposed to a pet moving around.
Home, away and night modes let you customize when the camera records or sends smartphone alerts, including whether you allow live streaming when certain users are home.
You can trigger a deliberately, infuriatingly loud siren to scare intruders from your smartphone. For added peace of mind there's also a built-in climate monitor that keeps track of temperature, humidity and air quality to flag up if things go awry.
You will have to pay extra for some premium features such as longer term video storage, desktop streaming, and two-way talk.
Video storage: Yes, £79.99 a year or £7.99 per month
Backup battery: No
Smart home compatible: Yes (Google Home, Alexa)
Two-way talk: Yes (premium users only)
Field of vision: 147 degrees
Camera quality: 1080p HD
Extendable system: Yes
Siren: 90 decibel
Price: £125.00
Somfy One+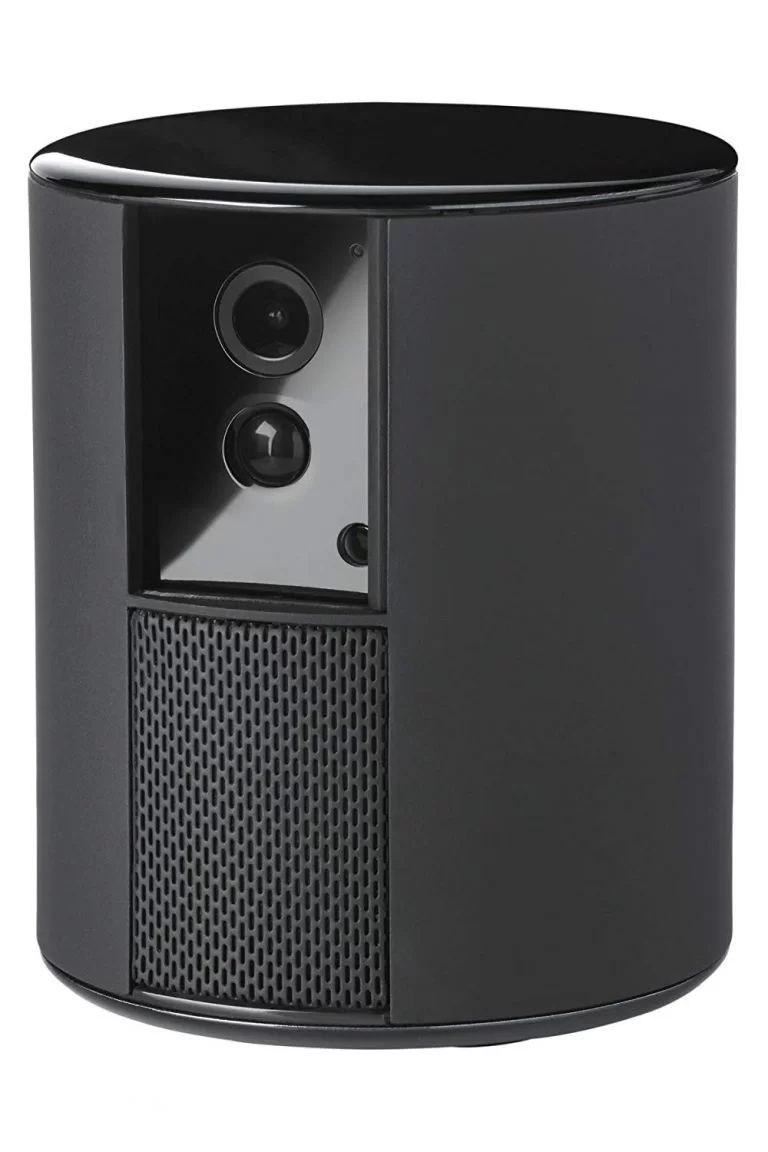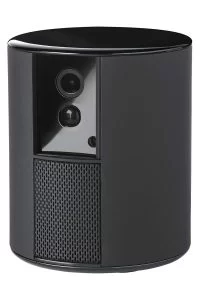 Features:
The motion-detecting camera captures good quality footage in full HD with 8x digital zoom. Pet detection prevents four-legged false alarms while real intruder alerts can be set to flash up on multiple smartphones, where you can view live images and rewind by 10 seconds and trigger a siren to ward off unwanted interlopers.
When you are home a privacy shutter drops in front of the camera so you can be 100 percent sure you're not being spied on. Somfy requires a power source but a backup battery keeps it running in a power outage and there's a fire detector too.
If you want to store photos and videos you'll have to pay extra. For £4.99 per month, images can be kept for seven days and for an additional £3.99 you get 24/7 access to clips of up to 10 minutes each time the camera is activated.
Video storage: Yes, £4.99 per month
Backup battery: Yes (6 hours)
Smarthome compatible: Yes (Apple HomeKit)
Two-way talk: Yes
Field of vision: 130 degrees
Camera quality: 1080p HD
Extendable system: Yes
Siren: 90 decibel
Price: £209.00
Home Automation

>>

Surveillance & Security

>>

Smart Indoor Cameras

>>

Smart CCTV Systems UK