List of all best inexpensive security cameras includes outdoor and indoor with the highest star rating.
Indoor cameras
EZVIZ Full HD WI-Fi Indoor Smart Home Security Camera
[images cols="three" lightbox="true"] [image link="4020″ image="4020″] [image link="4021″ image="4021″] [/images]
The Mini O Plus is designed for simple and quick installation Indoor security monitoring made simple with its 1080p HD video, two-way audio and clear-as-day night vision, balancing cost and top-notch performance.
Features
1080p Video with Wide-Angle Lens
Backed up by HD 1080p video and ultra-wide-angle lens, the Mini O Plus covers a wider range of space so you can keep an eye on what's valuable to you.
When it's dark, the Mini O Plus automatically switches into night vision mode for around-the-clock HD video coverage, allowing for night vision up to 7.5 meters.
When you're away from home and want to speak to loved ones or pets, there's two-way talk. Just press the button on the EZVIZ app and the Mini O Plus will help you do the rest.
Instant Motion Alerts
Up to 8x Zoom
Instant Alerts
Supports MicroSD Card up to 256 GB
1/2.7''2MP HD progressive scan CMOS
Price:
Foscam C2 Indoor Plug and Play" IP Camera
[images cols="three" lightbox="true"] [image link="4023″ image="4023″] [image link="4022″ image="4022″] [/images]
Indoor 1080P FHD Wireless Plug and Play IP Camera with Night Vision Up to 26ft, Super Wide 120° Viewing Angle, PIR Motion Detection.
Features:
Excellent Video Quality: HD1080P Dual-Stream w/ Bandwidth-Conserving H.264 Video Compression
Remote Viewing & Recording from Anywhere and Anytime w/ Standard Web Browsers
Quick Access QR Code Remote Viewing on iPhone, iPad and Android (w/ included Foscam app)
Powerful IR-LEDs for Night Vision up to 26ft with 120° wide FOV
Motion Detection Alerts via Email or Send Images to FTP
WEP, WPA, WPA2 Encryption
Free FOSCAM DDNS Service and Camera Control Software Included
Supports Multiple Network Protocols and Protected Multi-Level Users Management
Price:
Neos SmartCam Security Camera
[images cols="three" lightbox="true"] [image link="4026″ image="4026″] [image link="4025″ image="4025″] [/images]
Works with Alexa, 1080P Full HD, Night Vision, 2-Way Audio Smart Camera.
Features
1080p Full HD with Live Stream and 8X Digital Zoom
The SmartCam's 2.8mm focal length, 110º wide angle lens, and 1/2.9″ CMOS sensor provides clear images when you need them.
Motion tagging technology
It detects and outlines motion in live stream and playback video modes, making it easy for you to see what your SmartCam captured.
When motion or noise is detected a 12 second video clip is stored for 14 days for FREE and secured in a AWS Cloud via an end-to-end encryption.
Supports iOS 11.2 and Android 5.0 or later
Zoom up to 8 x max
Support 32GB cloud storage
Price:
Outdoor cameras
EZVIZ C3W Full HD Wi-Fi Outdoor Security Camera
[images cols="three" lightbox="true"] [image link="4018″ image="4018″] [image link="4019″ image="4019″] [/images]
The C3W, an HD wall-mounted outdoor Wi-Fi camera, uses a built-in strobe light and alarm for deterrence, while also offering two-way talk and durability in any type of weather.
Features
Active Light and Sound Alarms for Enhanced Defense
The C3W activates a loud siren and strobe light to scare off intruders. The siren can reach up to 100 dB strong enough to act as a deterrent.
Two-Way Talk with Hi-Fi Quality
The C3W comes with a built-in microphone and HiFi quality speaker for enhanced two-way talk.
The integration of efficient infrared lighting, an anti-reflection panel and ICR infrared filter enables excellent night vision up to 30 meters.
External Dual Wi-Fi Antennas
The ezGuard delivers long-range transmission with strong penetration and anti-interference capabilities.
Designed for All Weather
360° Swivel and Base
Self-adaptive shutter
8mm@ F2.2, Horizontal angle: 92° Diagonal angle: 108° 4mm@ F2.0, Horizontal angle: 72° Diagonal angle: 86° 6mm@ F2.0, Horizontal angle: 36° Diagonal angle: 42°
1280×720 resolution
Support Micro SD card (Max. 256G)
Intelligent motion detection
Price:
Veroyi Outdoor Security Camera
[images cols="three" lightbox="true"] [image link="4027″ image="4027″] [image link="4028″ image="4028″] [/images]
Wireless Surveillance System is perfect for monitoring many areas like villa, home, office, shop, hotel, warehouse, school, business or elsewhere (outdoor/ indoor). Connecting to the Internet via 2.4GHz Wifi signal, you can view it remotely on your mobile phone anywhere.
More cameras: Homekit Outdoor Security Camera
Features
1080P Full HD & Super Night Vision
Equipped with IR cut & infrared LED lights, comes with 1920×1080 HD
Wi-Fi security camera is made by metal material with exquisite workmanship, the waterproof level is up to IP66, and it is strong enough to withstand rough weather and vandal resistant, even in the storm and snowy weather.
Multiple Users & Multiple View
Outdoor security camera supports 5 users to view simultaneously on different devices at anywhere.
Motion detection & alert push
Two way audio talk
Smart night vision
Price:
Arlo Wireless Home Security Camera
[images cols="three" lightbox="true"] [image link="4016″ image="4016″] [image link="4015″ image="4015″] [/images]
The world's first 100% wire-free, weatherproof, HD security camera that goes anywhere you need it.
Features
Place it anywhere. No cords or wiring hassle.
See everything in more brilliant detail than ever before.
Integrated infrared lights turn on at night to shed light on the smallest wonders.
Don't pay for cloud storage you don't need. Keep 7 days of motion-triggered recordings for free.
Motion Alerts
Configurable up to 1280 x 720
Price:
Nest Cam Outdoor security camera
[images cols="three" lightbox="true"] [image link="4029″ image="4029″] [image link="4030″ image="4030″] [/images]
Protect your home and get peace of mind with the Nest Cam Outdoor Security Camera. This web-enabled security camera is operated with a smartphone app and sends alerts to your mobile phone or email. Packed with intelligent features, this home security camera deters intruders and helps you keep your home or office secure.
Features
Digital, LED Display, High Resolution 1920 x 1080
Expandable up to 8 Cameras
Senses motion
Two way communication
Built-in Microphone, Built-in Speaker
Windows Mobile Cell Phones, Cell Phone Cameras, Apple iOS devices, Android devices
Motion activated with recordable cloud storage
Weatherproof, cable and adaptor, so you can leave it out in the rain
Price:
ieGeek Security Outdoor Camera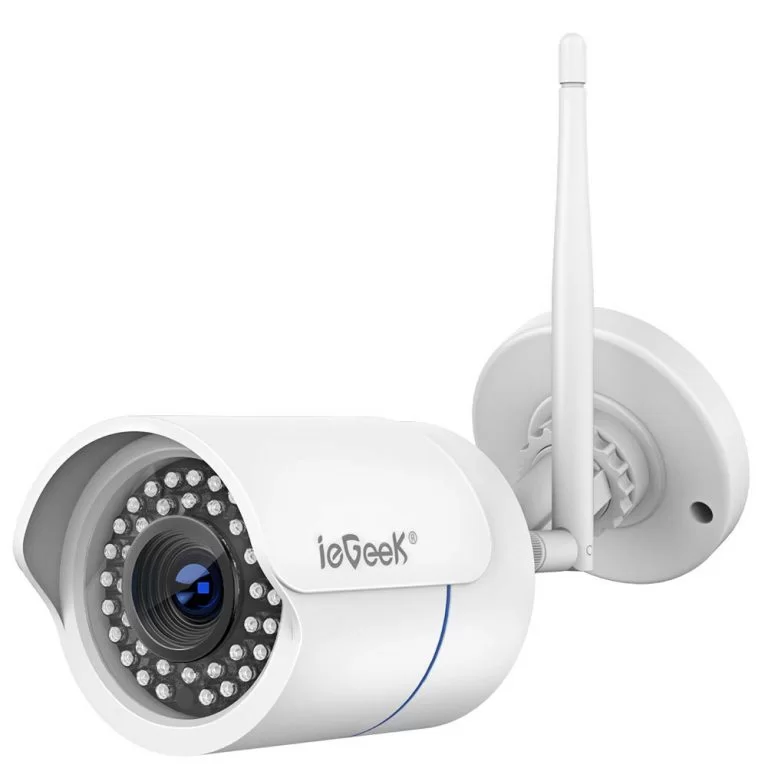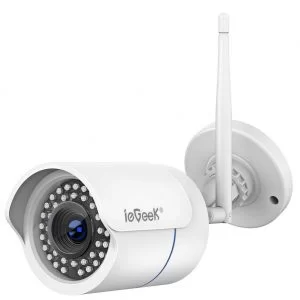 1080P, Wi-Fi Surveillance Bullet IP Camera CCTV Waterproof with 25m Night Vision, Remote Viewing Motion Detection and Push Alerts for Android/Ios.
To know more in detail about Iegeek Camera.
Price:
Home Automation
Average rating:
0 reviews
Home Automation

>>

Surveillance & Security

>>

Smart Indoor Cameras

>>

Best Inexpensive Security Camera