Hundreds of thousands of people around the world listen to music around the house using Sonos devices.
Recently a few months ago Sonos launched an updated app S2 for sonos users, but that update is not as Samsung or apple updated version which almost works to a large number of devices seamlessly without any bug.
In Sonos case S2 is an updated version of their App for their devices, which updates users' system and ushers in a new chapter in the brand's life.
However there is a few misunderstanding and confusion for the users about whether all sonos devices compatible with this app.
Unfortunately not all old devices works with S2 so better be make sure before updating from S1 to S2
Sonos S1 vs S2 Compatibility
Here Is a Complete Detail about Sonos S1 Vs S2 about Which Products Compatibility, mixing new and old products and features between S1 and S2.
SONOS S1 VS S2: Mixing New and Old Devices
WHAT OPTIONS FOR OLD SONOS PRODUCTS WITH S1 APP?
There are three options available to you:
Option 1
Maintain the whole operating system as it is. If you have a home set-up that you are satisfied with, so there is no sense in thinking too much about moving forward. Everything you can do is use the old S1 system, don't upgrade to S2 and don't buy new goods (as S2 is now built-in).
Option 2
Split the system in two. This option is a little bit 'messier', but it can work for family's that use speakers independently of each other. Keep the older 'legacy' products on the S1 system and update the newer products to the S2 system. You'll need both of the apps in order to work each system but if you can get over the effort of switching between them, it could work nicely.
What to know before you split your system?
Each Sonos system is separate from the other and controlled with a different app on your phone. Because of this, it's not possible to group a product running S2 and a product running S1 together to play the same music. You will not see products running S1 in the S2 app, and vice versa.
Limitations of separate S1 and S2 systems
System control: To use split S1 and S2 systems, you'll need both Sonos apps installed. The two apps don't need to be installed on the same device, but they can be.
Grouping rooms: When separated, S1 system rooms can only be grouped with other S1 system rooms. The same applies to S2 Sonos systems as well. Grouping S1 system rooms with S2 system rooms is not possible when S1 and S2 devices have been split.
Stream limitations: For music services with single stream limitations, like Spotify, playback can only be initiated on one system at a time using the same music service. For example, if you begin playing Spotify on your S2 system, playing from the same Spotify account on your S1 system will stop playback on your S2 system.
Voice services: Using the same voice service on both an S1 system and an S2 system requires two separate voice service accounts, one for the S1 system and another for the S2 system. However, this is not recommended as you will experience issues with both systems responding to commands simultaneously.
For more Limitation about splitting the system into two… In Detain.
Option 3
Trade-in the old S1 devices. Sonos is still offering a discount when older devices are traded in for newer products. So, find somewhere in your local area where you can trade the product in and get a whole new set of speakers for yourself.
Best Selling Sonos Products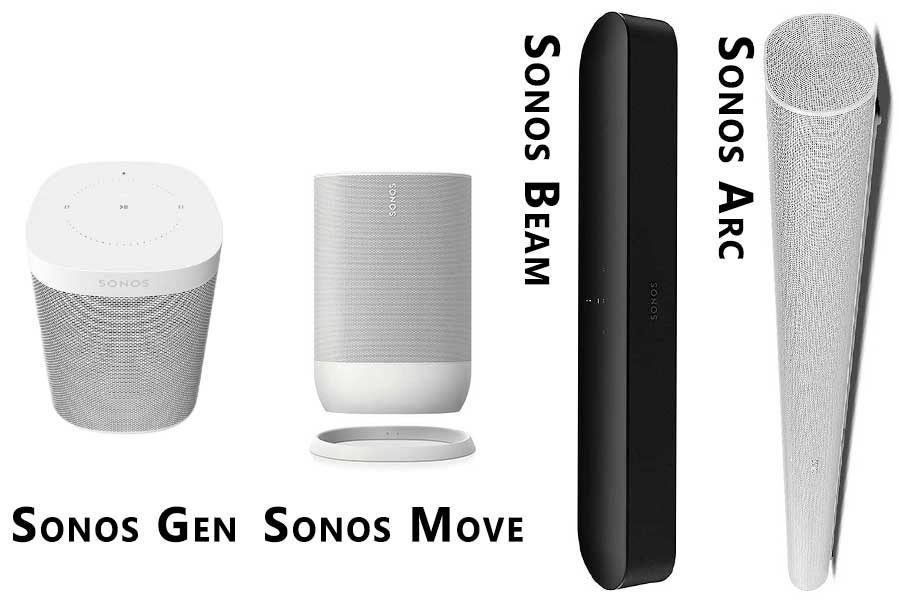 | | | | |
| --- | --- | --- | --- |
| Sonos One (Gen 2) – Voice Controlled Smart Speaker with Amazon Alexa Built-in | Sonos Move – Battery-powered smart speaker, Wi-Fi and Bluetooth with Alexa built-in | Sonos Beam – Smart TV Sound Bar with Amazon Alexa Built-in | Sonos Arc – The Premium Smart Soundbar for TV, Movies, Music, Gaming |
| Price: $199.00 | Price: $399.00 | Price: $399.00 | Price: $799.00 |
SONOS S1 VS S2: NEW FEATURES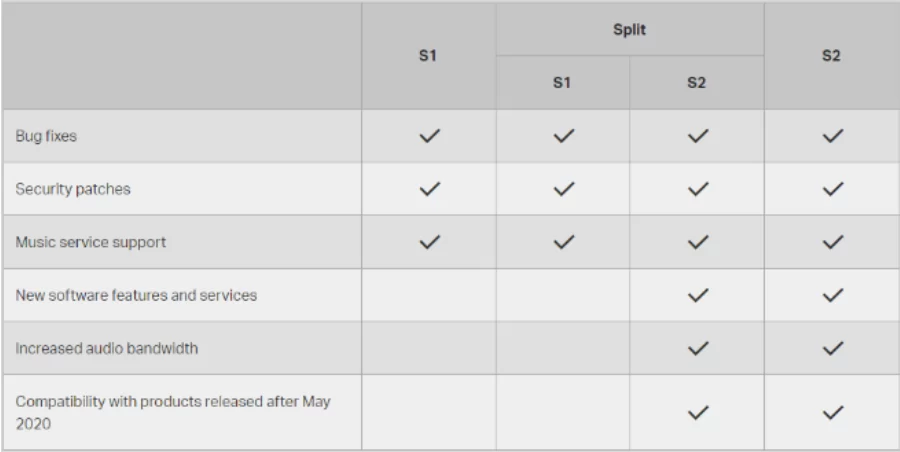 S1 will have control of the oldest equipment released by Sonos. They would not go to waste if you have all of these components. Such devices will also receive security updates, but no future software updates or features will be received.
In the other hand, S2 ushers in the future of the Sonos ecosystem and will allow for years to come for upgrades, new improvements, and new goods.
Sonos S1 Vs S2 Compatible and Non Compatible Products
| | |
| --- | --- |
| S1 ONLY PRODUCT | S2 ONLY PRODUCT |
| Zone Players | Arc |
| CR200 | Five (Replaces Play:5) |
| Bridge | Sub (Gen 3) |
| Connect (Gen 1) | One (Gen 2) |
| Connect: Amp (Gen 1) | AFTER MAY,10;2020 ALL PRODUCTS COMPATIBLE WITH S2 |
| Play:5 (Gen 1) | |
S1 & S2 PRODUCTS
Play:1
Amp
Play: 3
Port
Play:5 (Gen 2)
Boost
Playbase
Symfonisk (Ikea)
Playbar
Move
Connect (Gen 2)
Sub (Gen 1)
Connect: Amp (Gen 2)
Sub (Gen 2)
One (Gen 1)
One SL
PEOPLE ALSO ASK THESE QUESTION FREQUENTLY?
Does Sonos move work with s1?
In Wi-Fi and BT modes, it operates. … It just displays when it is linked to the app in Wi-Fi mode. Sonos has already revised their Sonos Smartphone programed. The Change fits with the edition of Legacy S1 but also with the newer alternative of S2.
What is Sonos s1 controller?
The current Sonos app S1 has been renamed to the Sonos S1 Controller with a new icon.
Can I delete Sonos s1 app?
For most users, as long as you don't have any S1 products, the migration will be easy enough. Sonos says all you need to do is delete the current app from your device and download the new Sonos S2 app.
How do I downgrade my Sonos s2 to s1?
Sonos don't recommend downgrade products to s1 after updating to S2, it is possible to downgrade by resetting the S2 products to their factory settings and adding them to an existing S1 system. An existing Sonos product running S1 software is required to downgrade an S2 product back to S1. Note that all settings and preferences will be lost when downgrading a product from S2 to S1.
For Further Queries… Go to Sonos.Support
Home Automation

>>

Home Theater

>>

Speakers

>>

Sonos S1 Vs S2