Belkin announced the Wemo Stage Scene Controller in April 2021, a smart home device that can be installed on a wall like a switch and popped out of its casing to be used as a portable remote control when needed. Stage is an IoT gadget that, as its name indicates, is designed to operate smart home "scenes," which are also known as automations or routines.
Wemo Stage integrates with Apple's HomeKit to improve the security of one's smart home setup. This controller can activate up to six HomeKit scenes, removing the need to get out one's smartphone or tablet, launch a smart home app, and switch between scenes inside it.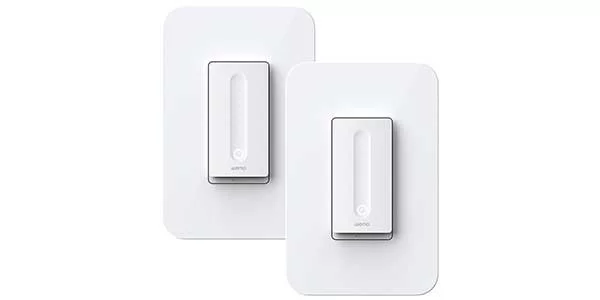 Instead of using an app, a smart home owner may just push Stage on the wall-mounted plate to switch to a different lighting scene, such as one designed for movie night. Stage may also be removed from its wall plate and dragged around to other places, making it as practical as possible.
See larger image
Features:
EASY SMART HOME CONTROL: Integrating exclusively with Apple HomeKit the Wemo Stage Scene Controller allows you to control multiple smart bulbs, smart light switches, and other smart home gadgets with ease.
BUILT WITH THREAD: Thread technology allows smart home products to connect faster and more reliably than ever. The Wemo Stage Scene Controller also supports Bluetooth if your device doesn't support Thread
MULTI DEVICE CONTROL – With 3 distinct buttons, each with single, double, and long-click sensitivity you can control up to 9 different devices, or set them up to control your Apple HomeKit Scenes and make smart home automation easy with just a click
SIMPLE SETUP: with Apple HomeKit and NFC setting up the smart light switch is easy. Just tap your unlocked iPhone on the smart switch, and follow the prompts to start controlling your smart home products in seconds
EASY INSTALLATION – The Wemo Stage Scene controller mounts easily in an empty light switch faceplate, or can be used as a wireless light switch and handheld remote control
Belkin announced plans to add Thread connectivity to its Wemo Stage controller via a future firmware update earlier this month at CES 2022. Simply explained, Thread is a mesh network that allows compatible IOT devices to connect directly with one another.
This direct connection eliminates the need for smart home gadgets to "speak" with a separate bridge or hub, allowing each IOT device to act as its own "micro router" and move away from the home's principal WiFi network. As a result, things like a Wi-Fi bridge in a large home are no longer required, and overall device connectivity is more reliable and quicker.
As we noted in our Wemo Stage review, the lack of Thread support has been a problem for this controller. Range issues mean the remote can, at times, fail to trigger the actions you want, at which point you'll have to pull out your phone and use the app to turn a scene on or off. The time between pressing the controller's button and actual changes in one's IOT scene was also noticeably slow.
The Stage firmware update with Thread support started rolling out to some users in early January 2022 (via HomeKit Authority), though Belkin had said at the time that it would take a few weeks before everyone got access. That rollout has finally wrapped up and, assuming you own a Stage controller, you should be able to control your compatible smart home devices with it over Thread instead of Bluetooth.