Here are the List of Honeywell Thermostat Pro Series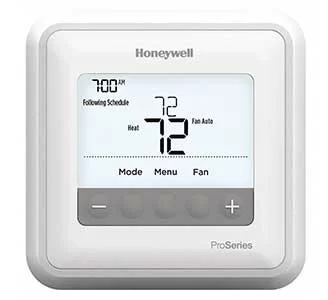 Features:
With on-screen menus that indicate installation stages and a universal mounting method, the T4 Pro Programmable Thermostat is simple to install. Simple push button controls make it even easier to operate, allowing you to modify the temperature or establish a heating and cooling schedule.
The T4 Pro Programmable Thermostat learns how long your system takes to achieve the temperature you desire over time. It switches on the heating or cooling system sooner than usual to ensure that you're comfortable when you want to be.
It takes effort to keep track of your daily schedule, but with the T4 Pro Programmable Thermostat, you can set and forget about your home's temperature. Whether you're awake or asleep, whether home or abroad, program a seven-day plan or create alternative timetables on the weekend so you can always be comfortable.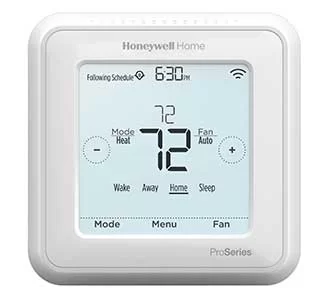 Features:
The T6 Pro Smart Thermostat can keep track of your schedule, even if your life doesn't. Schedule your week ahead of time, or use the geofencing function to adapt to your busy lifestyle. Your temperature settings will automatically alter based on your location as you come and depart. There's no need to plan ahead of time.
Your T6 Pro Smart Thermostat can interface with smart home Apple HomeKit and Amazon Echo when linked to your current Wi-Fi, allowing you to alter your temps as easily as changing music on your playlist. This Wi-Fi thermostat is also compatible with the stages of your heating system, up to 2 Heat/1 Cool with a heat pump.
The responsive settings of the ENERGY STAR® certified T6 Pro Smart Thermostat can help you manage your energy consumption at home by responding to your schedule rather than operating during peak hours. Your smart thermostat can help you conserve energy when it counts most by allowing you to modify temperatures via an app.
WORKS WITH…
Alexa
Google
IFFFT
Cortana
HomeKit
More: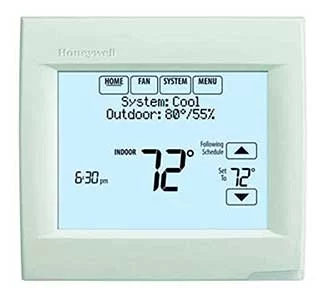 Features:
With the VisionPRO™ thermostat, you can monitor and adjust your system remotely, and receive email alerts using the RedLINK® Internet Gateway. You can also view outdoor temperature and humidity levels using the Wireless Outdoor Sensor, and with the TH8321 model, you can control humidification, dehumidification, or ventilation.
Thanks to its intuitive programming, the VisionPRO™ 8000 thermostat adapts to your lifestyle over time. By anticipating your schedule, it turns on the heating or cooling system earlier to reach your preferred temperature at the time you expect, helping you feel comfortable the moment you walk into your home.
Wi-Fi Programmable Thermostat to set a temperature schedule for any day of the week. Set the same schedule each day, adjust it on weekends, or customize it by the day. Use vacation and holiday scheduling to help save energy while you're away.
WORKS WITH…
Alexa
Google
IFFFT
Cortana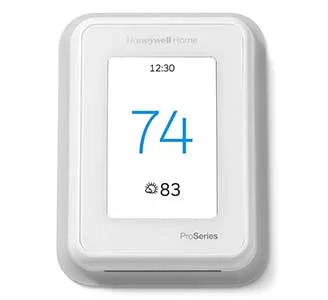 Features:
Control humidification, dehumidification, and ventilation from your Honeywell Home app or your thermostat. Air quality is vital not just for you, but also for the efficient operation of your home's heating and cooling system. Inquire with your professional about which air products are best for your home.
With the Honeywell Home app, the T10 Pro Smart Thermostat knows when you're coming and going, no matter your schedule. Save energy when you're gone and come home to comfort.
The T10 Pro Smart Thermostat records the heating and cooling cycles in your house. When it's time to change your filter or when the weather changes dramatically, you'll be notified, and frost protection will cycle if it gets too cold.
RedLINK™ Room Sensors can automatically focus on occupied rooms. Advanced motion detection knows the difference between someone passing through a room or spending time there.
WORKS WITH…
Alexa
Google
IFFFT
Cortana
HomeKit