There's no reason to go shopping if you already own a smart speaker and a portable speaker with decent volume. Older smart speakers from Amazon and Google work just fine, and most Bluetooth compatible wireless speakers make a fine match for pairing.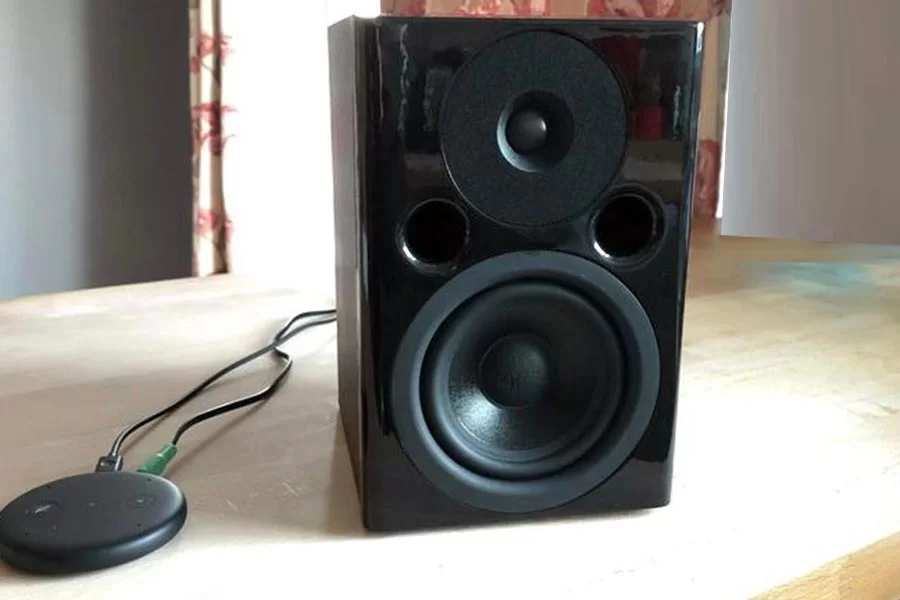 Smart Speaker: Sonos One Vs Bose Home Speaker 300
Pair with Amazon Echo
Start with an already set up Dot (or another Alexa-powered device), then make sure that the other speaker is on and that the volume is turned up. Disconnect all other Bluetooth devices from the Dot so only one device at a time can be attached to it. Do the same for the other speaker and, like your phone, it may have a propensity to scan for devices that it has already been associated with.
Turn on pairing mode on your Bluetooth speaker. If you don't know how to do this, refer to the user guide for your Bluetooth speaker—but pressing the pairing button for a few seconds works for many models.
Open the Alexa app on your smartphone.
Go to the menu at the bottom of the screen and select Devices on the right.
Select the Echo Dot or other Alexa-powered device you are using.
Select Bluetooth Devices.
Select Pair a New Device.
Your Dot should now enter pairing mode.
The Dot could immediately be paired with the speaker in the future after this initial configuration. However, if that doesn't happen at any point, just say, "Connect" and your Dot will connect to the last device that was paired with.
Pair with Google Home Mini
Make sure that both devices are switched on and unpaired to get started and that the volume on the speaker is turned up, so you can hear when it has been successfully paired.
Turn the Bluetooth speaker on and make sure that it's in pairing mode. Usually, this is achieved by pressing the pairing button on your speaker, but you should be able to locate the instructions on the website of the manufacturer or in the user guide elsewhere.
Open the Google Home app on your smartphone, and in the middle of the screen tap the name of the smart speaker you want to pair.
In the top right corner of the screen for that speaker, tap on the icon for Devices, which looks like a gear.
Scroll down to Default Speaker, then tap Pair Bluetooth speaker. Now the Home will start scanning for devices within range.
Tap the speaker you want to pair.
Tap Done.
Home Automation

>>

Brands

>>

Amazon

>>

Turn Your Bluetooth Speaker into Smart Speaker