If you're trying to watch Netflix and constantly getting kicked out of the app, you might be perplexed!
In this article, I'll go over ways to prevent Netflix crashes so you're able to resume watching your favorite programs. So, let's jump right to the point.
Why does Netflix keep kicking me out?
Normally Account or internet connection problems are the most frequent causes of Netflix keeps kicking you out.
Other Reasons:
Software Glitch
Server Crash
Outdated TV Software
Netflix Not Updated
Router issues
Continue reading to learn what steps you may take to solve this problem.
Here are some tips on how to stop Netflix from kicking you out:
Verify to make sure your Netflix account is secure.
Are you going above your Netflix account's limits?
Check Netflix's Server Status.
Turn off VPNs and ad blockers
Restart Your Router
Start the Netflix app again.
Close the Netflix app.
Soft Reset the Source Device.
Update Netflix and your source device.
Inquire using the Netflix app Support
Let's get into a detail of each issue and how we can fix the issue of Netflix Keep Kicking Me Out
Verify To Make Sure Your Netflix Account Is Secure.
Another individual having access to their account is a prevalent reason why people are constantly being banned out of Netflix.
Please check your account information in the Netflix app.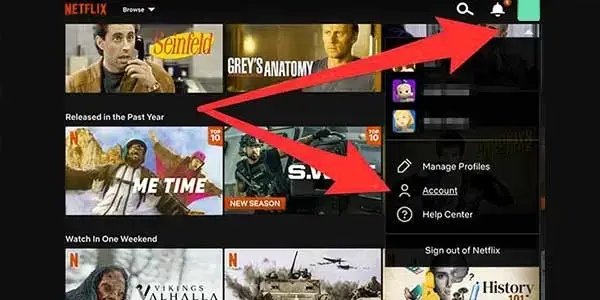 Choose the account option after clicking your profile avatar.
When you go to the account screen, twice check all of your information and make sure it's correct, notably the email address you registered with.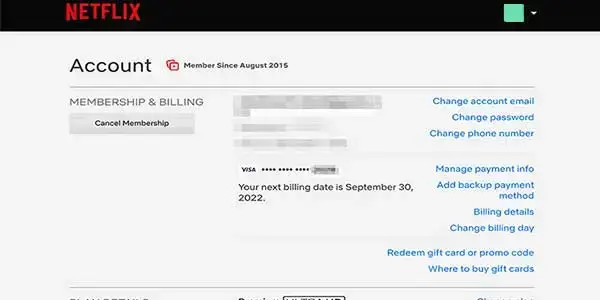 If any of the information is inaccurate, it may indicate that someone has gained illegal access to your Netflix account.
You should correct these facts as soon as possible to ensure that it never happened again.
If a third party without your knowledge has access to the account, this could explain why you continually being thrown out.
Are You Going Above Your Netflix Account's Limits?
If you go above your account limits, Netflix will terminate your access to the program.
If you have been sharing your account information with friends or relatives, this can happen.
As an alternative, the problem can arise from multiple people in your house trying to stream Netflix concurrently on the same account.
The Netflix account restrictions are listed below.
| | | | |
| --- | --- | --- | --- |
| Cost | Basic | Standard | Premium |
| Monthly cost* (dollars) | $9.99 | $15.49 | $19.99 |
| Number of screens you can watch on at the same time | 1 | 2 | 4 |
| Number of phones or tablets you can have downloads on | 1 | 2 | 4 |
| Unlimited movies, TV shows and mobile games | ✓ | ✓ | ✓ |
| Watch on your laptop, TV, phone or tablet | ✓ | ✓ | ✓ |
| HD available | | ✓ | ✓ |
| Ultra HD available | | | ✓ |
Netflix Account Limits
Check Netflix's Server Status
Another reason you may be kicked out of your Netflix account is a problem with the Netflix network's servers.
Before proceeding with the other fixes listed below, ensure that there are no issues or outages with the Netflix platform.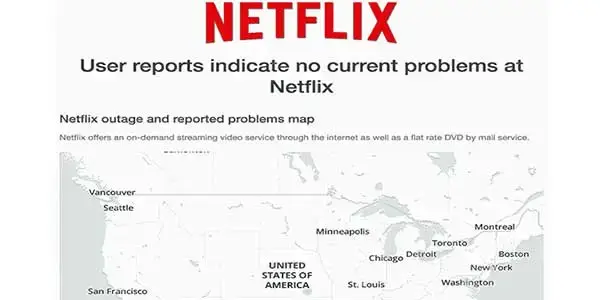 Turn Off VPN and Ad Blockers
Using VPNs and Ad Blockers certainly affects your ability to connect with networks and it will limit you by kicked you out.
As told earlier that Netflix does not allow the use of VPNs to access its network, and if you do, it may knock you out.
We recognize that using a VPN might be a wise decision, especially when it comes to privacy.
Unfortunately you cannot use VPN while using Netflix.
If the above all method didn't fix the problem then follow these below methods to fix it:
| | |
| --- | --- |
| Fix #1 | Try restarting your router. |
| Fix #2 | Start the Netflix app again. |
| Fix #3 | Close the Netflix app. |
| Fix #4 | Soft Reset the Source Device. |
| Fix #5 | Update Netflix and your source device |
| Fix #6 | Inquire using the Netflix app Support |
Restart Your Router
As was previously mentioned, connectivity problems can be a significant factor in Netflix crashes or Kicked out you. To fix network connectivity issues, restart your router by following steps:
Just disconnect your Wi-Fi router from its power supply for around 30 seconds to restart it.
Put it back in and let the internet to connect.
Start the Netflix App Again
Restarting the Netflix app gives you the chance to properly install any updates and create a new connection with the Netflix servers.
Any software incompatibilities that might be locking you out of the account might be resolved with the restart.
Close the Netflix app
You can fix any account-related problems that prevent the Netflix app from loading by signing out of your Netflix account before returning and logging in.
Soft Reset the Source Device
You will be using a playback device to access the Netflix app.
The following are the most typical media players for the Netflix app:
Smart TVs, streaming media players like Netflix, Firestick, or Roku, video game consoles like the PlayStation 4 and Xbox One, and a computer or MacBook laptop
Power cycling these systems is the general guideline for these Devices and the initial step in attempting to resolve the Netflix kicking-out problem.
Unplug the devices for 60 seconds, then plug them back in, to initiate a power cycle.
This restart clears the system cache and enables any updates that have been downloaded in the background to be installed and started.
Software conflicts that are blocking the Netflix app from loading can be reduced by clearing the system cache and any lingering apps that are still operating in Memory.
You can offer the Netflix app the optimum performance by limiting the amount of background apps.
Update Netflix and Your Source Device
If at all possible, I recommend you to upgrade the app if you are streaming Netflix on a Firestick, Roku, or smart TV.
Update your device software/firmware
Smart TV, Content Device, or Game Console, updating your firmware or software to the most recent version can help you prevent problems from emerging over time.
Sometimes updates are missing, or an installation is halted, causing problems with your playback device.
Netflix may perform poorly due to outdated firmware or a partial firmware installation.
Installing the most recent software on your devices provides you access to new apps and a better viewing experience.
Contact Support
Still unable to fix the issue of crashing or kicking you out from Netflix after tried all the methods, then contact their Netflix support team for assistance.
Frequently Asked Questions:
Why Does Netflix Keep Stopping?
The most probable cause of Netflix keep stopping is due to Netflix not updated so, you should upgrade your app if you haven't done so in a while and are still having issues.
Why Has Netflix Disappeared From My Smart TV?
Your device may require a software update if you can't find the Netflix app on your TV or a device that connects to your TV. On the majority of devices, you may use the settings or system menu to check for updates and install them.
Netflix Stops Playing After A Few Minutes
It usually indicates that data stored on your device has to be updated if the Netflix app crashes or closes and returns you to the device's menu screen or live television.
How Do I Fix Netflix From Pausing?
Remove the power cord from your device. The device's power button should be pressed once, followed by a one-minute wait, or you can unplug it for three minutes. Reconnect your device's plug. Restart your device and try Netflix once more.
How Do I Clear My Netflix Cache?
To get app info, tap and hold the Netflix app icon. To clear storage, select Storage & cache > OK.
Home Automation

>>

Other

>>

Software & Apps

>>

Why Does Netflix Keep Kicking Me Out – Solved