So many companies offering Wi-Fi controlled light switch, All these smart smart light switches can be controlled from phone via downloading an app from Android or IOS, in addition most of these light switches are compatible with Amazon Alexa, Google Assistant, IFTTT.
In Terms of this list, these are the best so far when evaluating reliability, quality, compatibility, Customer reviews and price.
Wi-Fi Smart Light Switch by LYASI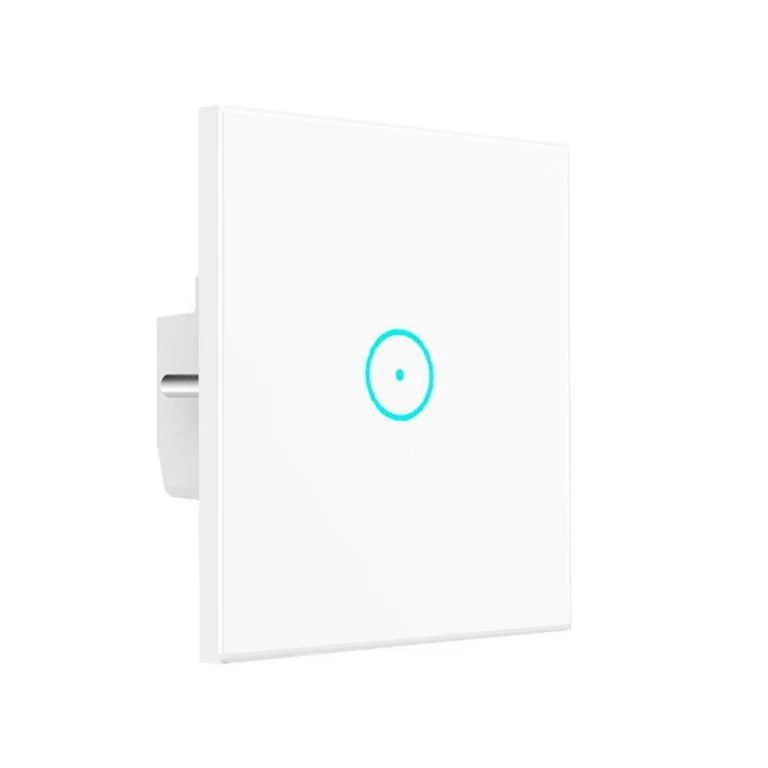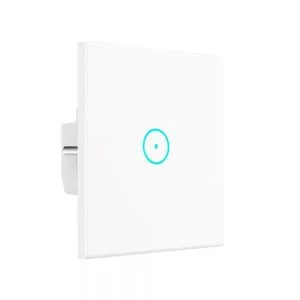 Lighting switch that can be used separate without hub by connecting your router with Wi-Fi.
Features
Work with Amazon Alexa and Google Home
Before going home you can open the air conditioning in the living room, open the bedroom warm light, ready to take a bath of hot water, to eliminate the fatigue of the day.
If you want to go to the bathroom or go to other rooms after you turn off the lights, you can use the Tuya/Smart life app to open the lights in advance, there will never be any fear or accident, it is especially important for the elderly, children and people with disability.
Use Away-Mode to turn devices on and off at different times to give the appearance that someone is home while you are away.
Turn on a light or coffee maker before you get out of bed, make your life easier.
Charge protection. One-touch key to set the device charging time, effectively prevent overcharge. Protect the phone charge, extend battery life, put an end to security risks.
You won't have to worry that you accidentally left the iron or heater on again and conserving energy and helping you save on your electricity bill.
Price:
Related: Top 10 Timer Switch For Lights
Philips Hue Smart Wireless Dimmer Switch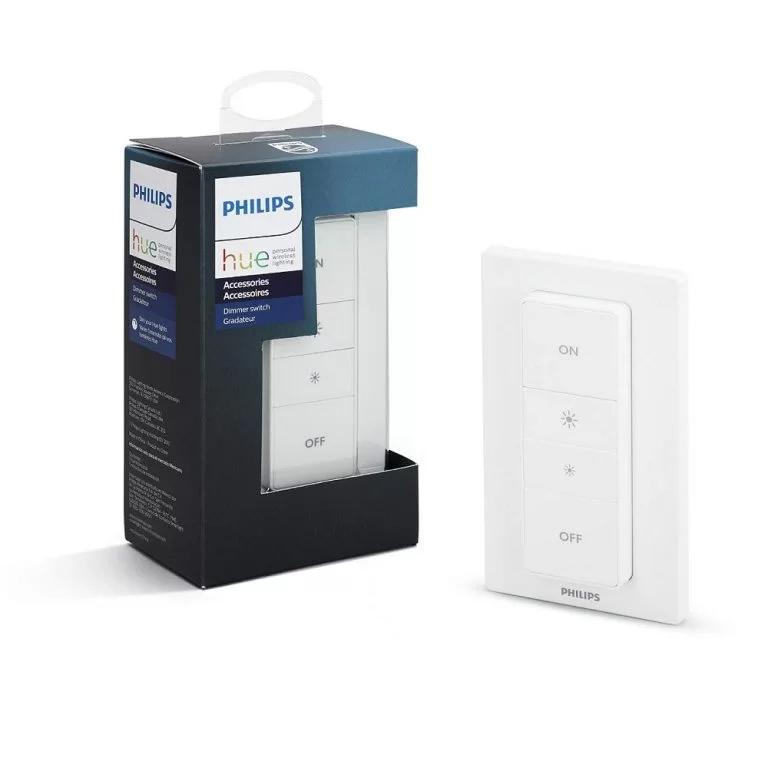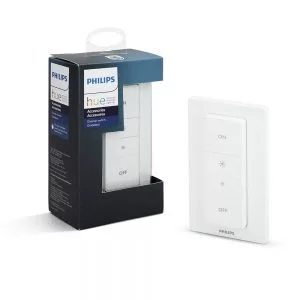 Enrich your system with the Philips Hue dimmer switch and enjoy smooth wireless dimming. The switch works as a normal wall switch and dimmer. Place it anywhere you want, using screws or the adhesive tape on the back plate of the switch.
Features
Battery-operated dimmer switch – no wires,
On/off and dimming functionality,
Control up to 10 lights with one standalone switch; reach: 12 meter,
Place it where it matters with the adhesive tape or screws (incl.
Use as a remote thanks to magnetic back plate,
Link to the bridge for further configuration options,
Philips Hue system is compatible with multiple home automation systems like – Amazon Echo, Google Home, Apple HomeKit, Nest, Samsung SmartThings, Yale, Razer, IFTTT and Logitech.
Price:
Smart Light Switch by RuiDaXiang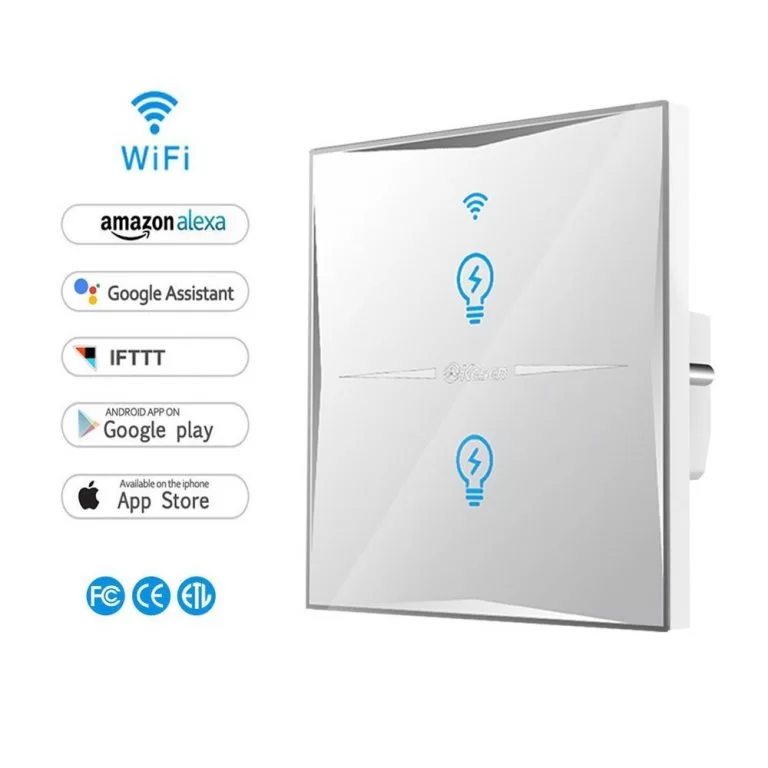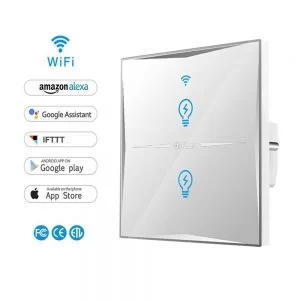 Features:
Control your appliances from anywhere in the world from your phone or tablet by using Tuya app,turn on/off the light or adjust the lightness.
Control your devices globally with Wi-Fi access, no hub or monthly fees required.
Work with Amazon Alexa for voice control, instantly turn on or off devices by voice control with Google Home and Amazon Alexa,also fit for ifttt.(Compatible w/ Android 4.1 or higher & iOS8 or higher.
Schedule the intelligent Wi-Fi light switch to automatically power electronics on and off based on specific time you set; Power saving eliminate wasteful standby power and prevent overcharging and overheating save on your electric bills and extend product life.
Touch the number of up to 20 million times, life expectancy of more than ten years. High-performance design, nice&durable,equivalent to ten ordinary glass.
Price:
Related: Smart Light Switch Alexa
Sonoff White Glass Touch Sensor Light Switch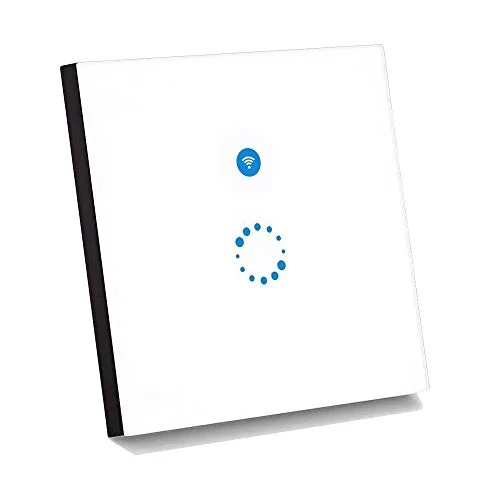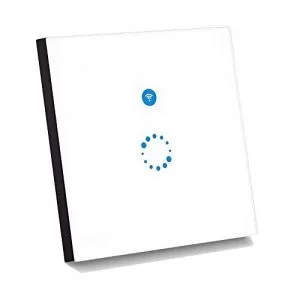 The Sonoff White Glass Touch Sensor Light Switch can be controlled with an app called eWeLink. It's also compatible with Amazon Alexa (Echo and Echo Dot) and Google Home for voice control. On the smartphone app, you can set up to 8 groups of timer settings to turn cut electricity costs. In addition, the whole family can connect the app to the switch so you can all get a fair share on controlling the smart WiFi light switch.
Features:
Turn lights on/off from anywhere
Turn on/off the device even when WiFi has no Internet access
Free iOS and Android mobile App eWeLink
Real-time device status provided to App
Set scheduled/countdown timers to turn on/off at specified time
Control your smart home together with your family
Turn on/off a gang of devices with one tap
Triggered on/off by temp, hum or other environmental conditions from sensor
Works perfectly with Amazon Alexa, Google Assistant, IFTTT, Google Nest
Price:
Windy5 WIFI Smart Touch Switch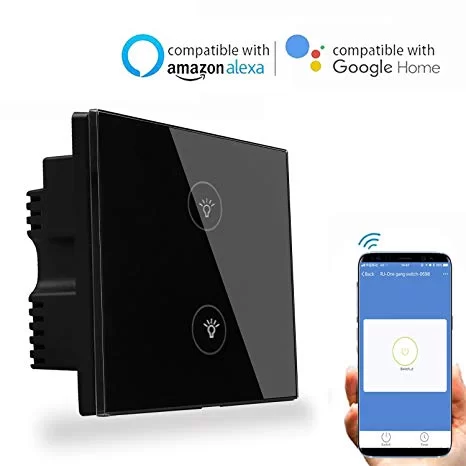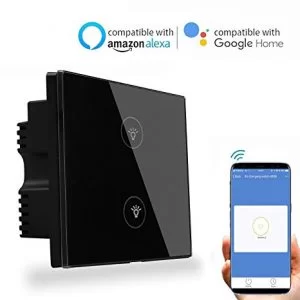 If you're into dark colours, this Windy5 WIFI Smart Touch Switch would fit your taste because it's one of the few that are in black tone. It's a modern and stylish alternative to your traditional light switches. It can be controlled using the eWeLink app via WiFi, but it can also be used even without network connection. You can turn the lights on and off or adjust the brightness no matter how far you are from the switch, even if you're miles away.
Features:
Save yourself the effort of pressing buttons and give your voice command! Activated smart life with Alexa, voice control of your lights or device switch will make your life easier and worry-free. Compatible with Amazon Echo/Dot/Tap.
Special pannel material & up to 20 million touch times, Windy5 smart light switch life expectancy of more than ten years. Pure Color & Elegant Design with LED Indicator helps find the switch easily even at night, perfect for your home.
Smart light timer switch, you can easily set schedule and timer so that the light to turn on at sunrise/sunset, or keep your house comfortable by scheduling any home appliance to turn before you arrive via free app, live a easy and smart life.
Designed with protection circuits for safe operation, when it is overloaded the switch will cut off automatically. Fireproof material box, prevent accidents.
Price:
Related: Apple Homekit Light Switches
Iotty Wifi Smart Switch 2g Black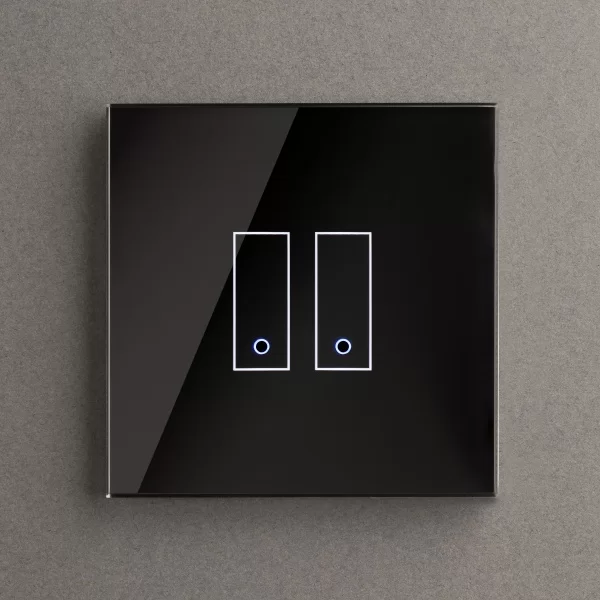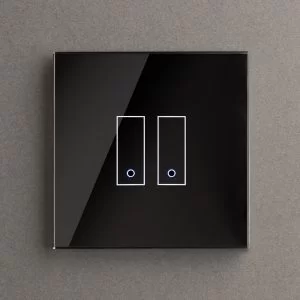 Our Crystal iotty 2 gang smart WiFi touch switches boast a LED backlight halo for a sophisticated lighting solution. These sleek switches can be controlled wirelessly via App or voice control via Alexa or Google Assistant and are the perfect choice to bring home automation a touch of class to your home or business. A sleek black finish provides an elegant look for any modern interior.
Features:
Use Alexa or Google Assistant to voice control your switches, making it even easier to activate your lights.
Iotty can turn your lights on/off at sunrise and sunset, and during specific weather conditions.
Activate your open/close mechanisms, e.g. garage doors, driveway gates etc.
Set the Intensity of Backlight Glow to easily find your switches in the dark
Control switches via IOS/Android App.
Price:
Innens WiFi Smart Dimmer Switch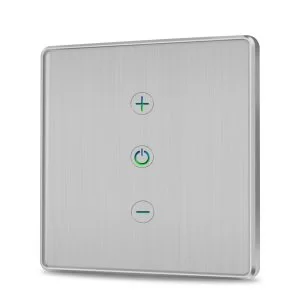 Features:
WiFi Wall dimmer switch compatible with Amazon Alexa (Echo/Dot/Tap) and Google Home – With Innens Smart Light Switch, you can turn on/off and dimming your light with your voice (Only to be paired with 2.4g wifi.
Control and dim lights from anywhere with your phone or tablet by using the free "Smart Life" app. No need to control it manually, No Hub required (Load power: 0~400W).
Innens Wall Switch with Timer removes your worry about forgetting to turn off your devices. Customize and save scenes or schedules to dim and control lights automatically.
Innens light switch features a smart touch control button. Chic, elegant flat surface, safely lit in the dark due to the LED light, it will definitely make a stylish addition to your room décor.
Made of flame-resistant PC base, aluminum alloy frame and toughened glass brushed panel that ensures a good durability, CE/RoHS/FCC certified, overloading and overheating supported for your safety. (Note: requires a neutral wire.
Price:
£25.99
Konesky WiFi Smart Switch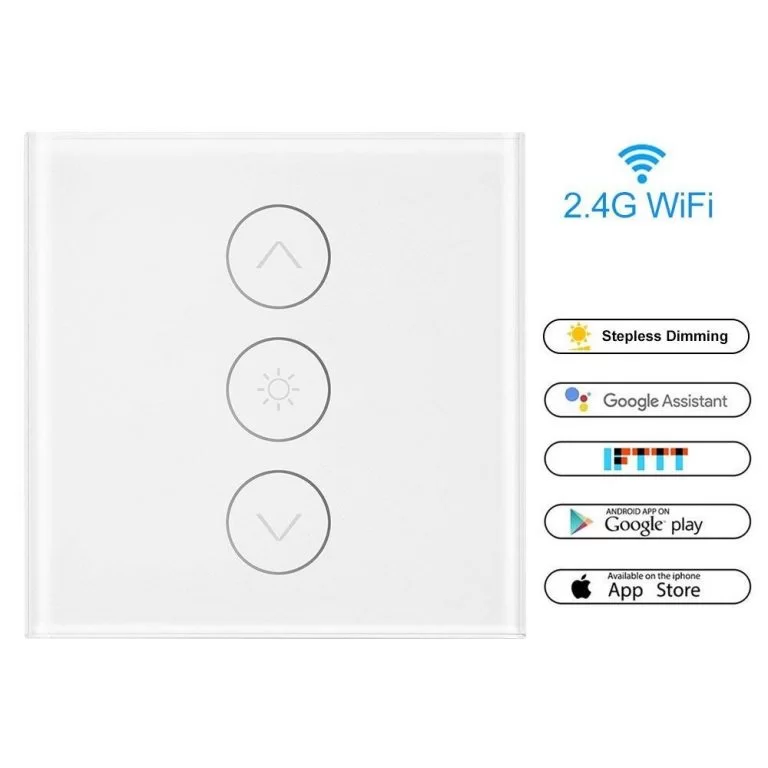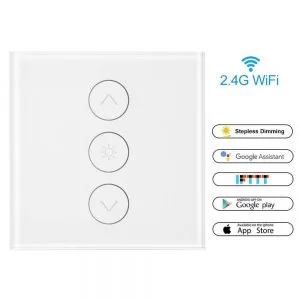 Konesky is similar to Wifi smart switch with little deign modification, compatible with Alexa, google, Apple and IFTTT, set schedule, control lights from anyhwhere with your phone.
If someone donet like the design of Innens then Konesky is the best alternate.
Price:
Lightwave L21 Smart Series Dimmer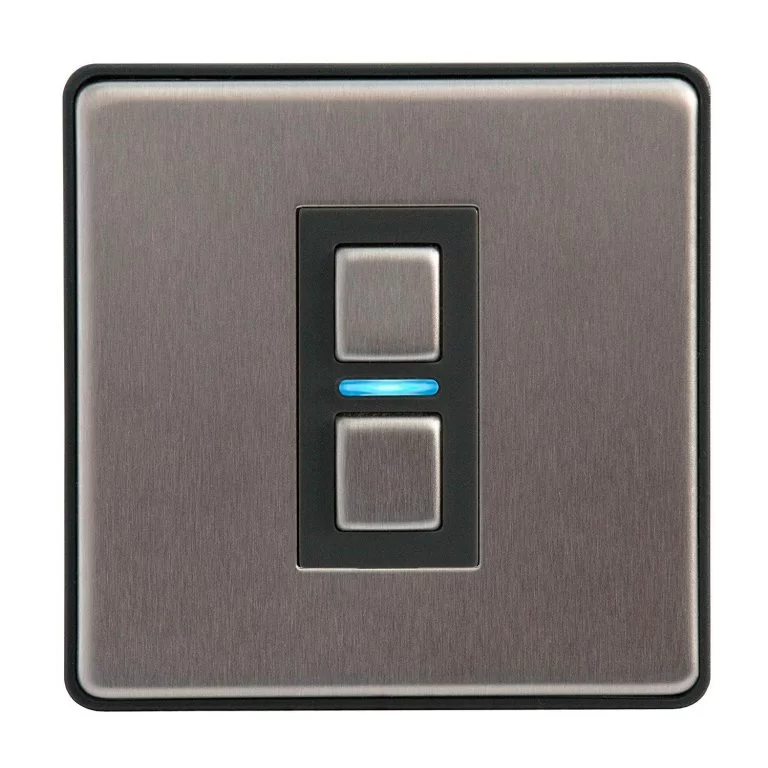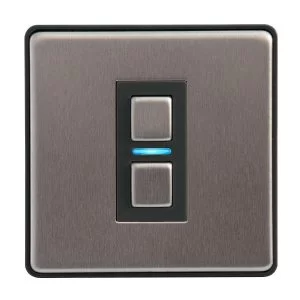 Lightwave is the smart home of the future. With a full range of lighting, heating, and power devices, Lightwave provides the comfort, security and convenience of being able to control your home from anywhere using your smartphone. By simply plugging your Link Plus into your wireless router, you'll be able to create spectacular scene lighting, set room by room temperatures, automate security lights, monitor your energy consumption – the possibilities are endless.
Features:
This smart dimmer is simple to install DIY and requires no extra wiring. Once installed, pair this smart dimmer with the Lightwave Link Plus and use the Lightwave app to control every aspect of your smart lighting (available for iOS or Android). Always consult a suitably qualified expert if you have any concerns
Lightwave's smart dimmers allow you to control the look and feel of your home – Entertaining? Quiet evening in? Create the perfect mood, room-by-room
Away from home? Gain peace of mind and use Lightwave's home automations to set schedules for lights to come on at certain times to simulate occupancy. Two-way communication allows you to instantly see the state of each smart dimmer, from wherever you are
You can start with just one device and expand your system to transform your entire home – Discover the true potential of your smart home with Lightwave. Requires Lightwave L2 Link Plus to enable voice or app control
Price:
Home Automation

>>

Outlets

>>

Switches

>>

Wi-Fi Controlled Light Switch