Are you searching for the accurate device that can tell you the precise temperature/weather at a precise location anytime you want to check, this is the one of a few devices on which you can guarantee of a exact temperature, by far not anyone close to this device data reading accuracy.
Elgato Eve Weather now launched Eve degree 2nd as a generation with more precise and more features than the predecessors.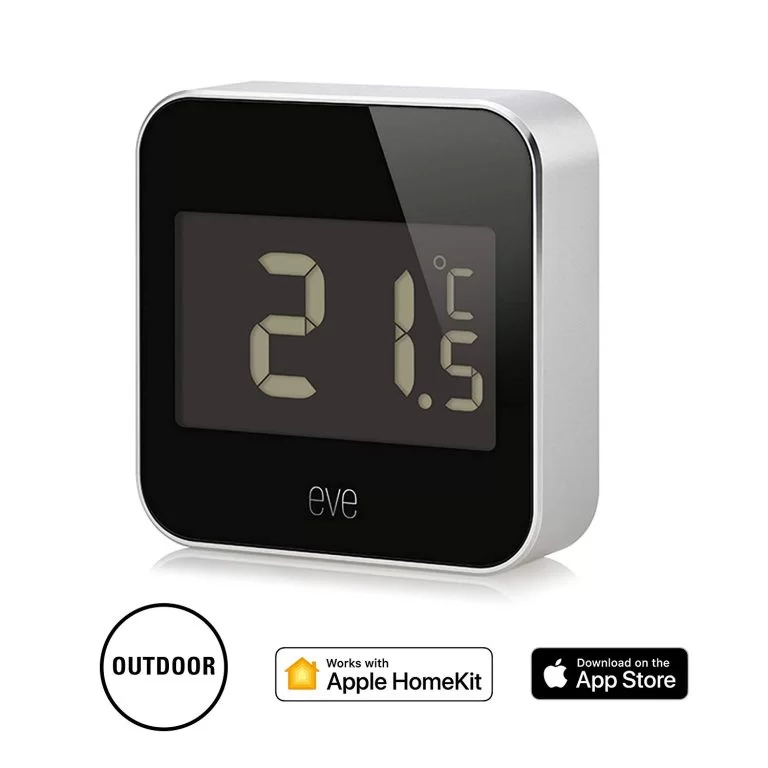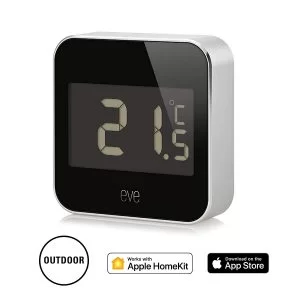 Related: Elgato Eve Room
Features & Specification
Unlike the Eve Weather which just had a white plastic front, the front of the Eve Degree has an LCD display which displays the current weather.
Elgato Eve Degree tracks temperature, humidity and barometric air pressure — but it doesn't do anything. HomeKit is a stronger platform, though, so the device benefits from being able to trigger other gadgets.
Eve Degree logs each of these measurements every 10 minutes, and can store up to two weeks of measurements on the device.
It works indoor/outdoor but keep away from water such as accidently fall into deep water or water spray that would damage it, although it does survive rain but try to put on a shade.
Related: Add Apple Tv To Homekit
It works with Apple Homekit, you can control this device directly from Homekit App or download eve app on your IPhone, you can also connect this device with Apple TV, IPAD, Homepod as a hub.
Related: Homepod Automation
The Eve Degree is a HomeKit device, you can use Siri with it. Thus, instead of opening up the Eve app, you can just ask Siri the current temperature at your house or your backyard.
Every time you use the Eve app to check the current measurements, that log is downloaded to your iPhone. Thus, as long as you use the Eve app to check in with the Eve Degree at least once every two weeks — or, to be safe, once a week — your iPhone will have an unlimited historical log of all of the measurements.  Using the Eve app, you can even export this data to a spreadsheet.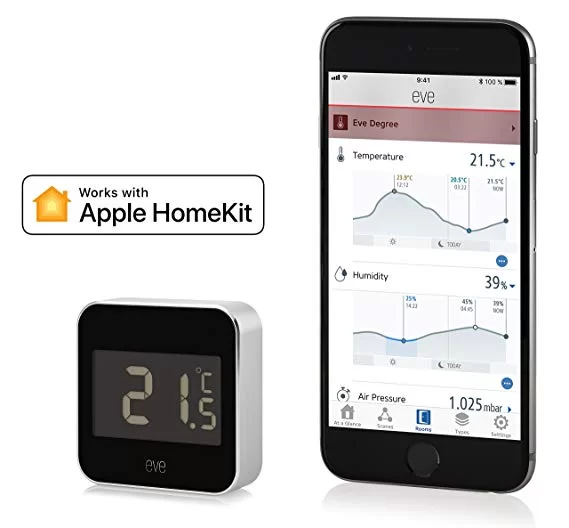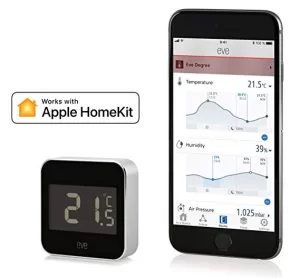 The back of the device has a hole, so you can hang the Eve Degree on a nail to mount it on a wall.  There is also a reset button on the back, and a cover for a replaceable CR2450 battery.  Elgato says that the battery should last about a year, and replacement batteries cost around $1 to $3 on Amazon, depending upon the brand and the quantity that you buy.  (The Eve Weather used AA batteries which only lasted about three months.
Related: Apple Homekit Devices 2019
The Eve Degree is a small 2.1″ x 2.1″ square which is 0.6″ deep, a much smaller size than the Eve Weather, which was 3.1″ x 3.1″ and 1.3″ deep.  The body is made of anodized aluminum, and the front is acrylic glass.  It looks very nice.
Critics
It just too expensive sensor for basic reading even if its works flawlessly.
Only target Apple consumer therefore a bit frustrating for the users.
It lost all accuracy when it put on a direct sunlight.
Price:
Home Automation

>>

Brands

>>

Eve

>>

Elgato Eve Weather