Sprinkler controllers with smart features provide you with more and better control over your irrigation. To save time, effort, and money on your water bills, you can make schedules manually or automatically and use real-time data. Our comprehensive information will assist you in making the right decision.
In 2022, what should you look for in a smart sprinkler controller?
You can easily maintain your lawn with a smart sprinkler controller. Controllers are capable of considerably more than simply turning on or off your sprinklers at the touch of a button, with a number of options to choose from.
The first thing you should think about is convenience and ease of use. You want a sprinkler controller that is simple to install and use. To get it to function, you shouldn't have to spend hours reading the handbook or rearrange your yard. The greatest controllers will be simple and easy to use.
Look for controllers that allow you to access its features in the most convenient way for you. This includes using a touch screen, an internet interface, or voice control from your phone or another mobile device. If you wish to use your voice assistant to operate your sprinklers, make sure the sprinkler controller is compatible. If you have a smart home ecosystem, you'll want to see if it works with it.
You should also be able to program your sprinklers to turn on and off at specific times. Some sprinklers can modify their schedules automatically dependent on the weather, which is a useful function. They'll use weather forecasting systems to properly estimate when your grass needs to be watered, and then make the necessary adjustments.
These features not only save you money on your water bill, but they also save you time and work in manually turning your sprinkler systems on and off based on the weather. It may be worth upgrading to a smart sprinkler controller just to avoid the frustration of many traditional sprinkler controllers.
So here is the list of 2022's Top Smart Sprinkler Controllers
Best Budget Smart Sprinkler Controller: Wyze WSPRK1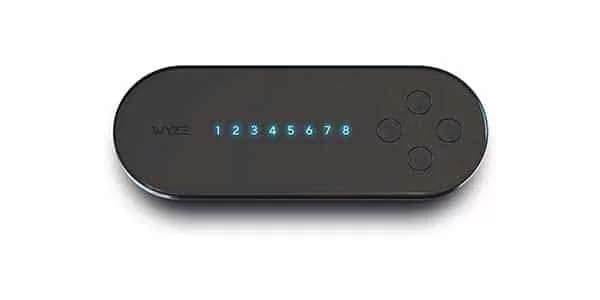 The Wyze WSPRK1 Smart Sprinkler Controller is a wonderful solution for people on a budget. This inexpensive controller costs about $50 and has all of the functionality you'd expect from such a gadget.
The WSPRK1 has an eight-zone design, which is sufficient for most household sprinkler installations. However, if you have a large lawn to handle, you may need two controls. On the Wyze app for iPhone and Android, you can easily access all of the controller's capabilities from anywhere.
With the WSPRK1, you have two scheduling possibilities. The first is to manually create watering schedules for specified days and hours. Smart Scheduling, on the other hand, analyses local weather data to determine when to water each of your zones automatically. Weather reading isn't something you'd expect to find on a budget sprinkler controller, so this is a pleasant surprise.
You'll also have peace of mind knowing that the Wyze WSPRK1 does an excellent job of managing your irrigation. When the weather is bad, such as on a windy or cold day, it knows not to run. There's even an offline mode that tells the controller to operate for the next two weeks based on the schedule you previously saved.
Following the setup instructions in the app, you can get this small controller up and running in within 20 minutes. You can control it from anywhere as long as it's linked to Wi-Fi or Bluetooth, even if it's not presently compatible with any voice assistants.
Pros
✓ One of the cheapest but highly functional options
✓ Two scheduling features
✓ Advanced zone control (up to eight)
✓ Unique offline mode
Cons
✗ Not compatible with smart assistants currently
Related: What Are Smart Garden Devices And What Can They Do For You?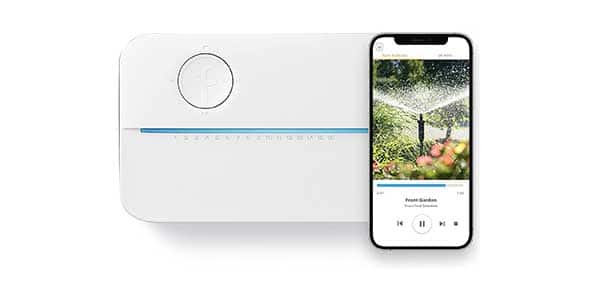 Installing the Rachio 3 16-Zone Smart Sprinkler Controller is your best bet if you're searching for a highly functional controller that might lower your water cost in half. At $230, it's a touch pricey, but the money you'll save on your water bill will make it worthwhile.
One of the controller's biggest characteristics is its ability to accurately forecast local weather utilizing over 300,000 weather stations. This enables it to properly monitor and water your grass without wasting water. When it rains, the Rachio 3 will not run unless extra water is required, and you may create bespoke schedules to suit your needs.
You can control all of the above and more from the app on iPhone and Android devices, including setting up the schedules, turning the sprinklers on and off, and observing water usage. Even with an abundance of smart features, the Rachio 3's 16-zone design gives you more control to manage each section of your lawn perfectly.
The installation process is easy if you follow the setup instructions—you can get it done within 30 minutes. Just remember to connect the device to your Wi-Fi so you can control it remotely. You may need to get a Wi-Fi extender if your router's range doesn't make it to the controller, but it's worth the extra investment given the Rachio 3's features.
Pros
✓ Easy installation and precise weather forecasting
✓ A large number of useful features
✓ Precise weather forecasting
Cons
Best Smart Sprinkler Controller for HomeKit: Eve Aqua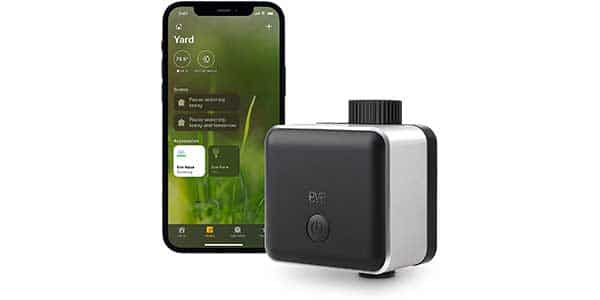 Looking for the ideal controller for your Apple HomeKit setup? Look no farther than the Eve Aqua Smart Sprinkler Controller, which costs $100.
This controller works flawlessly with HomeKit and can be set up in a matter of minutes. Once installed, you may use Siri or the speech assistant to control the gadget. Alternatively, you can use the Eve app to access and control all of the Aqua Sprinker Controller's features remotely.
It's only available for iOS. There's also an onboard button as a traditional method.
The controller is Bluetooth-enabled and Thread-compatible. To connect to the Thread network, you'll need a HomePod Mini to operate as a border router. Because everything you need is included in the box, you can use the controller without a bridge or gateway.
There are other useful features, such as a child-lock mechanism that prevents unintentional control modifications. You can make schedules that will run whether or not you are connected to the internet. Your sprinklers won't overwater with an auto shut-off option, and you can track your water usage over time. There is no cloud service, registration, or external tracking, therefore your privacy is protected.
Pros
✓ Best integration for HomeKit, Siri enabled
✓ Many useful features
✓ Siri enabled and supports Thread
✓ Inexpensive option
Cons
✗ Eve app not available for Android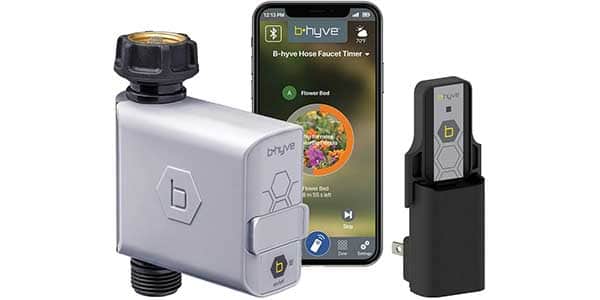 Need a hose-based controller for your home? You can install the Orbit B-hyve Hose Faucet Timer to instantly turn your faucets into EPA Certified smart sprinkler controllers.
These controllers are more expensive for a single zone as they provide exceptional functionality to your hose faucets. It's $67 for a single controller, $100 for two, or $180 for four. They come in a weather-resistant cabinet that you can mount and lock up for security.
You'll have no trouble employing as many controllers as you need in your yard. This is due to B-hyve network meshing, which boosts each controller's signal to ensure a steady connection to your Wi-Fi network.
To install the controller, twist it in your outdoor faucets, then follow the setup instructions on the B-hyze app on iPhone or Android devices. You can then control each hose from the app whenever and however you'd like.
For example, you may set manual timers for each controller or use the built-in Weather Sense technology to construct them automatically based on real weather feeds. Alternatively, you may use the built-in flow meter to precisely track your water usage by volume and time.
Related: B-Hyve Watering System
Pros
✓ Great value when buying multiple controllers lockable
✓ Comes with a lockable and weather-resistant cabinet
✓ Network meshing for a stable connection
✓ Works with other B-hyve devices
Cons
✗ Timers consume battery life quickly
✗ Expensive
Home Automation

>>

Brands

>>

Amazon

>>

2022's Top Smart Sprinkler Controllers